* Chicago Tribune, May 07, 1991…
A Woodridge man was arrested and charged with being a fugitive from justice after police discovered he is wanted on a larceny charge in Montgomery County, Va.

Police said they stopped a car driven by Keith R.W. Matune, 21, of 5921 Jackson Drive early Friday on the 6200 block of Belmont Road for driving with bright headlights.

Matune, who was taken to Du Page County Jail, will be extradited to Virginia, police said.
* Matune is now running for the Illinois House as a Republican against Rep. Ron Sandack (R-Downers Grove). He's expected to have lots of support from groups on the right because of Rep. Sandack's vote for gay marriage and his years-long battle with Dan Proft (whose PAC just received a $1.5 million check from a far right businessman). The House Republican Organization found the above story with a simple Google search, I'm told. HRO has vowed to defend all challenged incumbents in the primary.
The 1991 arrest in and of itself is probably no big deal. Things happen in life. But Sandack wanted to make sure Matune knew about this, so, apparently as a courtesy, he asked for a sitdown with Matune, and the two met with one person from each camp present to talk it over.
* Matune then issued a blistering press release…
Keith Matune, who is challenging State Rep. Ron Sandack, claimed today that the incumbent Republican legislator threatened him at a meeting the two had at Omega restaurant in Downers Grove yesterday, January 12.

According to Matune, Sandack told him the meeting was a "courtesy" to inform him that members of the House Republican Organization (HRO) will be releasing unflattering, personal information about his past. Information that could damage Matune's reputation in the community.

The information Sandack may have been referring to is a newspaper article from 1991 that noted Matune had been arrested for larceny, was an out of state fugitive from justice, and was being extradited.

Matune said the incident was an "innocent misunderstanding" and explained that he "unintentionally wrote a $150 check that was returned for insufficient funds while attending college out of state." While home for the summer, he was stopped by local police for a broken headlight and was notified during the stop that there was an out of state warrant issued for an insufficient check.

Matune said he was "completely surprised and unaware of the situation," and that he was not arrested and all charges were dropped within 24 hours after he made full restitution.
Sandack totally denies that any threats of any kind were made.
And he wasn't arrested? Well, not according to the Tribune, but maybe the paper made a mistake. Still, there's also this little matter of what looks to be mugshots…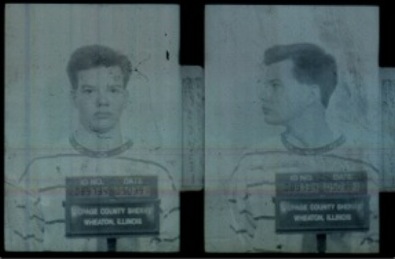 * And check out this DuPage County record by clicking here…
the said defendant after having been charged in Montgomery County, Commonwealth of Virginia with the offense of Fraud - Insufficient Funds Check, in violation of Virginia statute 18.2-181, fled the Commonwealth of Virginia with the intent to avoid prosecution of that offense. [Emphasis added.]
* Back to Matune's press release…
According to the Illinois State Police database, Matune has no record of arrest, which is reflected in his employment applications. [Emphasis added]
Uh-oh. If he really was arrested, that might turn out to be a huge problem for Matune because he's a teacher.
* And then he revealed something that HRO didn't know about. Back to the Matune press release…
Matune apologized for the incident in a press release, including an indecency charge during a fraternity prank. [Emphasis added]
Um, OK.
* Ormsby…
Meanwhile, a GOP source told The Illinois Observer that Matune had contacted the Daily Herald and asked if he "could amend his questionnaire and they confirmed he answered NO to the question: Have you ever been arrested for or convicted of a crime?"

Oof.

If Matune is now attempting to cover up his 1991 arrest, he may have compromised the value of "it was a long time ago" argument by allegedly committing a fresh transgression, a transgression that would strike at the heart of his current character. Not good.

While the original charge would haunt Matune's campaign, if he mishandles the response – that could doom it.
Uh-oh.
I'm assuming more will be on the way. Stay tuned.
44 Comments



































































































































Sorry, comments for this post are now closed.