* Cartoonist Scott Stantis sent out this narrative along with his latest cartoon last night…
Illinois House Speaker Michael Madigan has proposed a coporate income tax cut. This, in an attempt to beautify a business environment he and his fellow Democrats have polluted for decades,

It may be a good first step for slowing the free fall the state is in towards the bottom of the list of states to do business in. We have one of the highest unemployment rates in the country. (It hasn't budged in over a year). Businesses leaving in droves and virtually zero new business start-ups.

Something tells me it is going to take a lot more than a maybe tax cut to stop the hemorrhaging.
* The cartoon…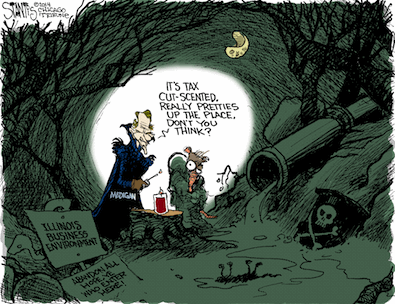 * I don't disagree with much of what Stantis said, and I kinda like the cartoon. And I really don't want to make the comments about Stantis here.
But, "virtually zero new business start-ups"? C'mon. Just hang out in Chicago for a while and you can't miss the growth. There are things happening there, and elsewhere in this state.
Coincidentally, check out this Wednesday story from EconomicModeling.com…
As we documented in a new analysis with CareerBuilder, Texas created 22% of the nation's net private-sector business establishments from 2009 to 2012 (more than 29,000). New York created 16% of all net establishments (nearly 21,000) and Illinois created 14% (18,000-plus). That's more than half of all net establishments since the end of the recession in three states. [Emphasis added.]
Wait.
14 percent of the net private-sector business establishments created in the country were right here in Illinois?
And if you look at their chart, Illinois was 7th in the nation in per capita new business establishments.
Who woulda thunk that?
* The Question: What slogan should Illinois use to combat the pervasive negative stereotyping about it?
95 Comments




























































































































































































































































































Sorry, comments for this post are now closed.