* As I told subscribers this morning, Republican challenger Keith Matune conceded defeat to Rep. Ron Sandack (R-Downers Grove) yesterday. Sandack won by 153 votes. Matune's concession…
This has been a particularly tough and public race. Both sides were passionate about supporting their candidate and that's a good thing, because we need people to become reengaged with their government and the democratic process. But this current race has come to an end and I want to congratulate Representative Sandack and his supporters for their dedication. Further, I encourage all of us to come together to ensure that Mr. Sandack holds onto this seat for the Republican Party in November.
* Not everyone is ready to shake hands and call it a day, though. From former GOP Chairman Pat Brady's Facebook page…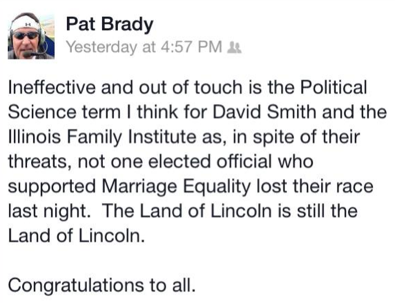 * Illinois Review has Smith's response…
"While Brady's candidates may have won, the Republican Party lost, as it slid further leftward, and became even more indistinguishable from the Democrats and more irrelevant."
One of Smith's anti-Sandack mailers featured two men kissing. Smith's political organization has not yet registered with the Illinois State Board of Elections. But if it's advocacy only and not political in nature, it doesn't have to.
21 Comments






























































Sorry, comments for this post are now closed.