* From the Rauner campaign…
Introducing Quinnocchio

Pat Quinn's alter-ego, Quinnocchio, is making his first appearance today alongside the governor at his noon campaign stop at Linné Elementary School to remind him of his broken promises.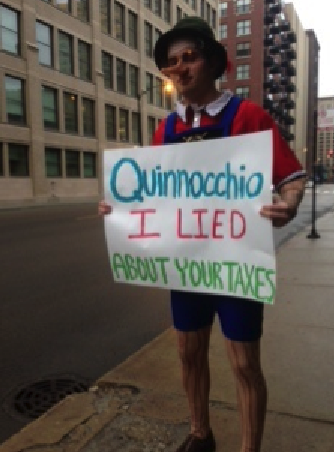 Discuss.
…Adding… Here's the governor's press release for today's school visit…
Governor Pat Quinn today visited Carl von Linné Elementary School in Chicago and discussed his fiscal year 2015 budget proposal and five-year blueprint to raise state investment in the classroom to its highest point in Illinois history. As a result of tackling the cost drivers behind the financial crisis he inherited, the Governor was able to present a budget that invests an additional $6 billion in education over the next five years.

"The future of Illinois' economy depends on the quality of our education," Governor Quinn said. "All students—no matter where they live—deserve to go to a first-rate school. That is why my budget proposal invests like never before in education and support for early childhood development."

The Governor's investment in education in the FY15 budget includes:

· Investing $100 million in Birth to Five in FY15, with a total five-year investment of $1.5 billion, a game-changing investment to expand access to prenatal care; early care and learning opportunities for every child; and strong parent support.
· Expanding dual enrollment and early college programs.
· Investing an additional $50 million in the Monetary Assistance Program (MAP) to expand opportunity for 21,000 students to attend college. The proposal calls for doubling MAP scholarships over the next five years.
· Modernizing classrooms across the state to ensure every student attends a first-rate school.

Since taking office, Governor Quinn has fought to preserve education from radical budget cuts, and built and repaired 978 schools. In his Fiscal Year 2015 Budget Address, Governor Quinn laid out an honest and responsible budget for the next fiscal year along with a five-year blueprint that will secure the state's finances for the long-term, provide significant tax relief to homeowners and working families and invest like never before in education and early childhood.

For more than 100 years Carl von Linné School has been providing a world-class education to children in the Avondale neighborhood of Chicago. The mission of Carl Von Linné Elementary School is to prepare students for college and career by providing a rigorous research-based instructional program, aligned to the Common Core State Standards, with a focus on educating the "whole child."
106 Comments





























































































































































































































































































































Sorry, comments for this post are now closed.