* With a big hat tip to a commenter, House Speaker Michael Madigan has introduced a new constitutional amendment…
Proposes to amend the Suffrage and Elections Article of the Constitution. Provides that no person shall be denied the right to register to vote or to cast a ballot in an election based on race, color, ethnicity, status as a member of a language minority, sex, sexual orientation, or income. Effective upon being declared adopted.
Driving turnout again?
Discuss.
- Posted by Rich Miller 68 Comments


* Sen. Don Harmon unveiled his progressive tax proposal today…
Progressive income tax rate proposal for $12k-$180k bracket is 4.9%: decrease from 5% rate now, but up from 3.75% in Jan, when hike expires

— Amanda Vinicky (@AmandaVinicky) March 25, 2014
Oy.
Cue the screamers.
* However, that's not the rate people pay with standard deductions. Here's the actual tax rates under the new plan and the supposed cuts…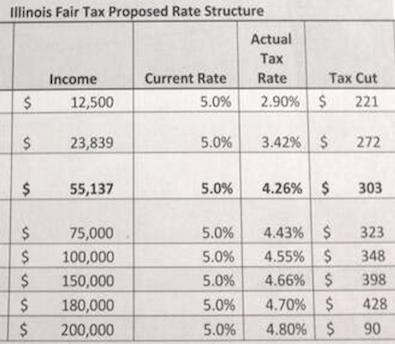 Top rate would be 6.9 percent.
* And speaking of screamers, I haven't been a big fan of "A Better Illinois" for the way it handled the progressive tax rollout. But a group with ties to the Illinois Policy Institute has created a website to denounce the pro-tax group and uses fake mugshots to drive home its point.
Actually, I'm not sure what the point of the site is except to tell us what we already know. They're a group of liberals with union ties and funding.
- Posted by Rich Miller 31 Comments


* Mess with the bull, get the horn…
Lake County Circuit Court Clerk and Republican Committeeman for Precinct 205 Keith Brin announced he's vying to oust Bob Cook as chairman of the Lake County Republican Party in next month's election. […]

Brin has already received support in his bid for Chairman with endorsements from State Representative and Former Lake County Republican Party Chairman JoAnn Osmond, Lake Villa Township Supervisor and Former Lake County Republican Party Chairman Dan Venturi, Lake County Treasurer Bob Skidmore, Lake County Board Chairman Aaron Lawlor, State Representative Ed Sullivan, and Illinois Comptroller Judy Baar Topinka.

The current chairman led an effort to oust Sullivan in last week's GOP primary when he supported Bob Bednar, building up to a challenge for Cook's spot.
Rep. Sullivan, who was opposed because he voted for the gay marriage bill, beat Bednar 59-41.
- Posted by Rich Miller 8 Comments


* There's a big discussion about this topic on another post, so let's make it the question…
Two state senators say Illinois needs another Big Ten Conference school.

A bill has been introduced by Lisle Republican Michael Connelly and Palatine Republican Matt Murphy.

The two say their measure would study what's needed for a public university in the state to join the conference that already includes Northwestern and the University of Illinois.

"The University of Illinois at Urbana-Champaign has become highly competitive to the point where we are seeing students with excellent grades and test scores get shut out of attending our in-state, public Big Ten school," Murphy said in a statement.
* More…
The commission would comprise a variety of individuals, including Illinois students paying out-of-state tuition to an existing Big Ten school, students who have left the state for another conference university and higher education professionals.

The bill passed the Senate Higher Education Committee March 19. A commission's report would be presented to the General Assembly by the first of next year.

"We should make it easier for these students to stay in Illinois, not look for greener pastures across state lines," Murphy said.

Connelly added: "It is my hope this commission can find a way to deliver a higher education system that gives our young people the opportunities they seek at a price they and their parents can afford."
* The Question: Good idea or goofy? Take the poll and then explain your answer in comments, please.
survey solutions
- Posted by Rich Miller 86 Comments


* Umm…
Congressman Rodney Davis (IL-13) says he has not yet signed the petition that calls for limiting members of the Illinois General Assembly to eight year terms. But he says that he would.

Davis, a Republican from Taylorville, says he also backs term limits for Congress, at least in concept.

But he says he will not set a self-imposed term limit on his time in Washington.

"Unfortunately, what's happened is there have been so many good legislators that have had self-imposed term limits and they leave, or they break their pledge," he said. "The problems in Washington are caused by those who have been there and have no intention of ever leaving."
He'd sign Rauner's petition, and he's for term limits, but not for himself?
- Posted by Rich Miller 24 Comments


* From a December 30th Wall Street Journal article on a Parisian tussle over the ride-sharing service Uber…
Paris has been a fertile ground for the new app-based car-service companies, with more than more than 12,000 vehicles now available—compared with nearly zero in 2010. It is one of Uber's two biggest markets outside the U.S., alongside London. Revenue at Chauffeur-Prive.com is growing 10% week to week, its founder says.

In response, French taxi companies lobbied heavily for new rules, saying that they had been put at a disadvantage since rules created in 2009 allowed a new class of cars to take reservations, but not street hails, with fewer certification requirements.

Taxi drivers say that the new online services, in which a taxi can be ordered via an app and arrive at your GPS coordinates at a prearranged price within five minutes, effectively compete for passengers who would otherwise be hailing taxis. Drivers and taxi companies buy expensive licenses for exclusive rights to offer street-hail trips.
* I was in Paris just days after that article appeared. We stayed at a little, out of the way (read: relatively inexpensive) hotel. No taxis milling about anywhere. Not close to a train.
I was told that a taxi reservation would cost me 5 Euros on top of the normal fare. The wait could be up to an hour.
So, for the first time ever, I tried Uber. It worked great from my hotel (we cabbed everywhere else) and, when you included that taxi reservation fee, it was about the same price as a cab. It was also quicker than ordering a taxi, even with Paris' goofy regulation requiring at least a 15-minute wait before Uber could pick me up (if I was staying at a 4 or 5-star hotel, however, the mandatory wait would've been waived).
Taxi companies everywhere are fighting back against Uber. Some Parisian cab drivers even went on strike over the issue.
Uber isn't for everyone or for every situation. Some of its "surge pricing" could be seen as downright scandalous. They charge what the market will bear, and that means an Uber "black car" ride from the United Center to the Loop can cost more than a hundred bucks after a game or concert.
* What we don't want to do with regulation is to be worse than Paris. A new bill (HB 4075) seems to provide some reasonable requirements, but would step on some Uber business practices as well. From a press release…
House Bill 4075, named the Ridesharing Arrangements and Consumer Protection Act, would require commercial ridesharing companies to have adequate insurance, contract with drivers who are appropriately licensed, use vehicles that are inspected for safety and serve customers with disabilities and in underserved communities.

The statewide standards in House Bill 4075 also:

· Close the insurance gap, requiring $500,000 combined commercial liability insurance;
· Require chauffer licenses for all drivers;
· Eliminate the use of waivers of liability by rideshare companies;
· Require vehicle safety standards, including regular inspections;
· Limit hours drivers can be on the road with a maximum 10 hour driving shift in a 24 hour period;
· Prohibit price gouging;
· Require accessible vehicles for passengers with disabilities;
· Require compliance with local service standards, including service to low-income communities;
· Require vehicle marking and clear posting of a phone number for customer complaints;
· Allow communities to establish and enforce stricter oversight over rideshare companies, but not to ignore the statewide regulatory threshold established by the General Assembly
Requiring vehicle marking seems silly to me. And allowing cities to go all Paris on these companies at willl probably isn't a great idea, either.
* Let's go back to the press release…
The Illinois General Assembly passed the Ridesharing Arrangements Act in 1983 to permit carpooling and other similar activities. The legislation was narrowly crafted to prohibit alternative taxi services or "jitney cabs" from operating in the state. Despite the narrow allowance for for-profit ridesharing activities other than those specified in the Ridesharing Arrangements Act, UberX, Lyft and Sidecar have been openly operating in the City of Chicago and the city's affluent suburbs without abiding by any regulations.
Pretty harsh tone, no?
And think about this for a second: Illinois had to actually change a law to permit carpooling in 1983?
Sheesh.
* And, from the bill, this is a bit silly…
No person participating in a commercial ridesharing arrangement shall collect, and dispatchers shall not charge, any fare that is more than the highest per-mile rate charged by taxicabs within the unit of local government where the commercial ridesharing arrangement is conducted.
If people are willing to pay more and are told in advance of the rate, what's the problem?
Why is everybody always so afraid of "the new"?
* This company is very aggressive and has fought on several fronts…
"What we did in Chicago, what we do in all these cities, is reach out to all of our users and say, take action–email your councilperson; email the mayor," Kalanick says. "Uber riders are the most affluent, influential people in their cities. When we get to a critical mass, it becomes impossible to shut us down."

Denver is a more recent test of the playbook. In January, Colorado's Public Utilities Commission proposed rules under which the company could be classified as a motor carrier–meaning it would be treated like a taxi company. This issue is at the core of many of Uber's regulatory challenges. That's because, city by city and state by state, transportation companies of all sorts–cab, sedan, limo–are heavily regulated in terms of the insurance they carry, the structure of their fares, the background screening of their drivers, and the condition of their vehicles.

Uber neither owns vehicles nor employs drivers; it makes the technology that connects a user to a driver, one who is ostensibly already abiding by all these local regulations. As Kalanick often says, "They need to decide whether we are Orbitz or American Airlines."

To be classified as a transportation company would amputate from Uber the exact things that make it an exceptionally good business: its ability to scale fast, control how a rider pays, and not be bogged down by owning vehicles.
The future is here. Let's not blow it.
*** UPDATE *** From ride-sharing company Lyft…
After weeks of working diligently with Mayor Emanuel, we have made significant progress on a proposed city ordinance that prioritizes public safety while protecting innovation. HB 4075 is a backdoor attempt by state legislators to undermine all the work that's already been done to reach a solution on this issue, and ultimately kill peer-to-peer transportation. HB 4075 would effectively shut down new transportation options in Illinois and eliminate consumer choice for residents who depend on safe and affordable transportation alternatives like Lyft. While safety is often brought up as a reason to apply an old regulatory model to an innovative transportation solution, the truth is that new technology provides an opportunity to increase safety above and beyond what has been done previously, which is why Lyft's safety criteria are far more strict than what is required of taxis and limos. These proposed regulations have no bearing on public safety, and the motivation behind their development was planned behind closed doors. We hope that the House Committee will listen to its constituents who want more transportation options and vote against HB 4075.
- Posted by Rich Miller 18 Comments


* Ben Yount…
The now former president of Illinois State University is getting almost a half million dollars to walk away from a job he may have been close to losing.

Tim Flanagan abruptly resigned Saturday, pocketing a $480,000 payout and three months of rent-free living at ISU's presidential mansion.

"You don't want to get into an argument about the terms of resignation," ISU trustee Michael McCuskey said.

McCusky wouldn't say how close the university was to firing Flanagan for his role in an alleged assault on a university groundskeeper. […]

ISU trustees were to meet Saturday to discuss "personnel matters," but Flanagan resigned before any action was taken.
* Background…
R. Patrick Murphy, a superintendent of grounds, has said his crew was aerating the lawn outside Flanagan's home when the president rushed outside to confront him. Flanagan's spit flew in Murphy's face and clothes during the dustup, Murphy told police.

"He cuts loose on me. I've never seen such a thing happen. I was shocked," Murphy told The Pantagraph newspaper in Bloomington.

Murphy was fired five days after the incident and is seeking his job back, The Pantagraph reported.

University police have forwarded their case to McLean County prosecutors, who intend to ask a special prosecutor to investigation to avoid a potential conflict because a member of the state's attorney's family works at the school in Downstate Normal, according to The Pantagraph. […]

Flanagan was appointed in May to replace Al Bowman, president of the university for a decade. Flanagan received an annual salary of $350,000 plus benefits under his three-year contract. He previously was the president of Framingham State University in Massachusetts.
- Posted by Rich Miller 52 Comments


* Speaker Madigan recently talked about how he came to know Bruce Rauner, and how he informed Rauner that quite a few House Republicans were on the other side of Rauner's education reform push…
"We've met over the years, it's not that we've had a recent meeting. We've known each other for several years. The first meeting we had was concerned with education. We met concerning a group called Stand For Children which he was involved with, he was involved in fundraising for Stand for Children. When I learned of his interest in education and Stand for Children, I asked for a meeting with him. We had a very lengthy discussion about education, education funding."

Bruce Rauner, the GOP's 2014 gubernatorial candidate is credited with bringing the state chapter of Stand for Children to Illinois in 2010. Right away the group became actively involved in Illinois political campaigns. During the 2010 election cycle, the bipartisan group - funded by donors including members of the Lester Crowne family, the Pritzkers and the Chicago Tribune owner Sam Zell - raised nearly $5 million, of which $110,000 went to Madigan-backed candidates. In 2011, the group gave $50,000 directly to the Illinois Democratic Party of Illinois, of which Madigan is chairman.

"I made an effort to explain that there were plenty of Republicans in the Illinois legislature that were interested in the positions of people in the Illinois Education Association, the Illinois Federation of Teachers. I gave him some documents showing that, so he was appreciative of the information," Madigan said of his meeting with Rauner.
*** UPDATE *** I suppose this passes for informed comment at the Wall Street Journal…
The speaker knows which switches and levers to pull and has grown accustomed to running the machine, even with Republican governors nominally at the helm. No Democratic legislator gets elected without his blessing.

Our sources say that Mr. Madigan is petrified that Mr. Rauner will usurp him. Since Mr. Rauner isn't beholden to the Democratic boss or labor unions, he wouldn't be afraid to use his veto pen or as disposed to cut deals. We're also told that Mr. Rauner knows where the skeletons are buried in Springfield. And unlike past Republican nominees, Mr. Rauner isn't afraid to play hard ball. While Democrats may portray the businessman as Mitt Romney in training, Mr. Rauner has sharper political instincts more akin to Scott Brown.
"No Democratic legislator gets elected without his blessing"? Maybe somebody should talk to Will Guzzardi.
- Posted by Rich Miller 49 Comments


* Sneed on a likely and important piece of Bruce Rauner's Cook County strategy…
"The black vote in Cook County is paramount for Rauner; especially if they don't vote," said a top political strategist. "The strategy is pretty clear. Rauner already blocked out Rev. James Meeks and every black who doesn't turn out in the November election hurts Gov. Pat Quinn.

"Rauner's strategists are smart enough to replicate what Republican Gov. Jim Edgar did to defeat Democrat Neil Hartigan by getting the black reverends on his side to make it look like [Edgar] got the base of black support," the Dem source said.

"That ensured low black voter turnout, which would be disastrous for Pat Quinn."
All true.
- Posted by Rich Miller 75 Comments


* It's no surprise that the Illinois Policy Institute hates Speaker Madigan's proposed 3 percent tax surcharge on incomes above a million dollars. But the group has connected the dots to the Chicago Public Schools' pension problems. The proposal would distributes the billion dollars in projected revenues equally to school districts based on student headcount. Since CPS has the most students, it gets the most money, which the Policy Institute claims is basically just a "Chicago bailout"…
It just so happens that [Madigan's] home school district is suffering from a collapsing pension fund and pension contributions that are set to triple in 2014.

Chicago Public Schools' pension contribution spiked to $613 million in 2014, up from $208 million in 2013, and CPS doesn't have the money to pay for it.

But rather than call for sensible pension reforms, Madigan would rather pour more state tax dollars into CPS's pensions.

Nearly 20 percent of Madigan's proposed tax, or $200 million per year, would go to CPS. With nearly 400,000 students, CPS makes up about one-fifth of the entire student population in Illinois.

Sure, all school districts in the state stand to receive more money from Madigan's short-sighted plan (how much they'll get depends on how many millionaires decide to leave); but it's only CPS that's dealing with such a large contribution spike.

Madigan's plan makes his tax increase retroactive to January 2014. That means CPS would stand to gain a combined $400 million in new revenues for 2014 and 2015.

That money would help pay CPS's increased pension contribution, but the district's pension system is past the point of a quick fix. Which is what Madigan's plan really is – a bailout with state tax dollars.
Madigan's proposal can be read by clicking here.
Discuss.
- Posted by Rich Miller 50 Comments


[The following is a paid advertisement.]
As not-for-profit financial cooperatives, credit unions exist to help people, not make a profit. With a goal to serve all members well - including those of modest means - every member counts. The movement's "People Helping People" philosophy causes credit unions and their employees to volunteer in community charitable activities and worthwhile causes. Take for instance SIU Credit Union in Carbondale. They know all too well the damage natural disasters can cause, having seen the impact of tornadoes that have ravaged their nearby communities, including Harrisburg and Brookport. In the immediate wake of those storms, the credit union sent employees, already trained as members of a local Community Emergency Response Team, to assist in the emergency supply relief effort. In addition, the credit union donated numerous cases of water and hosted a pizza lunch for the community. It also utilized all of its branches as places where members could make monetary and other donations of needed items. Credit union members know their credit union will be there for them in bad times, as well as good. And they are fiercely loyal for this reason.
- Posted by Advertising Department Comments Off


* Let's get back to that Paul Simon Public Policy Institute poll, shall we? Respondents were asked…
Do you favor or oppose a proposal to make permanent the temporary state income tax increase passed in 2011?
As we've already discussed, 60 percent opposed making the tax hike permanent, while a mere 26.5 percent favored making it permanent.
* So, a follow-up question was asked of respondents who said they were opposed to making the tax increase permanent…
The Governor's budget office estimates that if the temporary tax increase expires, it will add $2 billion dollars a year to the state's budget deficit. If you were convinced this was the case, would you favor or oppose making permanent the temporary income tax increase?
Even with that information about a $2 billion hit to the budget, 74 percent still opposed making the tax hike permanent and just 17 percent changed their minds. 49 percent of Democrats still opposed making the tax hike permanent, versus just 38 percent who changed their minds and backed it. 47 percent of self-identified liberals remained opposed to making the tax hike permanent, compared to 41 percent who changed their minds.
* Moving along to pensions, respondents were asked…
Last year the legislature passed and the governor signed a pension reform bill. It is designed to save Illinois' under-funded public employee pension system $100 billion dollars over 30 years, and would eventually fully fund the system. It would decrease the amount workers' pay into the program, but would also cut cost-of-living increases for state retirees. Generally speaking do you approve or disapprove of the new law?
47 percent approved of the law, while 39 percent disapproved of it. 48 percent of Democrats and Republicans approved of the new law, while 46 percent of independents approved.
Conservatives and Republicans were more likely to strongly disapprove of the new pension law (24 and 23, respectively) than liberals and Democrats (17 and 18). That's quite an interesting result, considering the firestorm of controversy the bill ignited on the labor left end of the spectrum during the primary season.
- Posted by Rich Miller 36 Comments


* I was driving on I-55 late yesterday afternoon when I saw a guy in my rear-view mirror who was about to pass me. He was holding his cell phone with one hand and gesturing wildly with the other hand. Neither hand was on his steering wheel as he shot by me at about 80 mph. I watched him for as long as I could behind me, alongside and in front of me. He never put either hand on the wheel.
Anyway, IDOT did a study last November of drivers ahead of a statewide ban on hand-held cellphone use…
In Chicago, nearly 18 percent of all drivers who were observed during the study — about 21 percent of female drivers and 15 percent of male drivers — were holding cellphones or other electronic devices close to their ears or faces.

The statewide rate was about 12 percent, the study found. There was a similar gender gap among the smaller portion of violators statewide, with about 14 percent of female drivers and 10 percent of male drivers.

Electronic device use by drivers in Cook County was 12 percent and almost 13 percent in DuPage, Kane, Lake, McHenry and Winnebago counties, the IDOT study found.

Six downstate counties (Champaign, Bureau, Effingham, Rock Island, Madison and St. Clair) had the lowest rate of illegal electronic device use, at 9 percent , the study reported. […]

The campaign comes as newly released research shows virtually no change in the percentage of drivers text-messaging or visibly manipulating hand-held devices in the U.S. The percentage stood at 5 percent in 2012 — which means that at any given time during the day, an estimated 660,000 vehicles are driven by people using hand-held cellphones, according to the latest annual study conducted for the National Highway Traffic Safety Administration.
The chances of being able to legally drive 70 mph on Chicago-area expressways and tollways anytime soon hit a major speed bump Friday after a Senate panel rejected Republican U.S. Senate nominee Jim Oberweis' push to allow higher speeds in the city and suburbs.

The 2-1 vote along party lines effectively kills legislation the state senator from Sugar Grove is carrying to clarify a law he helped pass last year that allowed 70-mph speed limits — up from 65 miles per hour — on rural interstates.

Oberweis had intended last year's law, which passed overwhelmingly, to apply to Chicago and suburban expressways and tollways. But Gov. Pat Quinn's administration interpreted it to apply to less heavily used arteries only outside Cook and the collar counties.

The senator's new, clean-up legislation wouldn't have mandated higher limits on city and suburb routes such as the Stevenson Expressway or Jane Addams Tollway, but it would have empowered the Illinois Department of Transportation and Illinois State Toll Highway Authority to impose them if the agencies wished.
* And…
Blue Line service to O'Hare International Airport will be halted for at least until Tuesday as federal authorities investigate what caused a CTA train to jump the platform this morning and injure more than 30 people.

More than 10 hours after the crash, the train remained atop the escalator at the end of the track. Transit officials declined to discuss how or when they would dismantle the wreckage.

"The train is not going to go anywhere for the foreseeable future," said Tim DePaepe, a railroad accident investigator with the National Transportation Safety Board. "It's not going anywhere today. We need to examine the train and the position it's in prior to its movement."

Trains continue to run between Forest Park and Rosemont, where passengers then can catch a shuttle to the airport. The large, articulated buses are operating on a load-and-go basis instead of a schedule, adding 5 to 10 minutes to the typical airport trip, officials said.
- Posted by Rich Miller 39 Comments


* Lynn Sweet…
Sen. Mark Kirk R-Ill. ruled out on Monday campaigning for GOP Illinois U.S. Senate nominee Jim Oberweis, saying he would rather "protect" his relationship with Sen. Dick Durbin D-Ill. and not launch a "partisan jihad."

I asked Kirk and Sen. John Cornyn R-Texas, in Chicago on Monday, if they would be seeing or campaigning for Oberweis, the newly minted GOP nominee who beat businessman Doug Truax in the Illinois primary last Tuesday. Oberweis, a state senator from Sugar Grove—who comes to the November race with some baggage–is given little chance to beat Durbin.

"I'm going to be protecting my relationship with Dick and not launching into a partisan jihad that hurts our partnership to both pull together for Illinois," Kirk said.
Left unsaid, of course, is that Kirk is up for reelection himself in two years and will undoubtedly expect the same "partnership" with the senior Senator.
*** UPDATE *** Twitterville…
Mark Kirk isn't a Republican and needs to go in 2016

— Joe Walsh (@WalshFreedom) March 24, 2014
Mark Kirk can never run as a Republican in this state again, ever. If he tries, I'll make sure he never wins.

— Joe Walsh (@WalshFreedom) March 24, 2014
- Posted by Rich Miller 85 Comments


* From a blast e-mail sent by John Bouman, the President of the Sargent Shriver National Center on Poverty Law, which backs the "Fair Tax" proposal…
One Springfield blogger voiced his opinion that [House Speaker Michael Madigan] made the [millionaire's tax] proposal because the A Better Illinois proposal will have a hard time passing. That opinion is cynical "insider" conventional wisdom — always one of the main enemies of an ambitious and unusual effort like A Better Illinois that is driven by outside people power. If you follow the cynics, nothing of value ever gets done.
"Outside people power" can be a very good thing. But there's a big difference between cynicism and reality, and between optimism and hopeless naivete.
* The harsh reality is the progressive tax proposal doesn't have the votes to pass and I seriously doubt it will ever get enough votes to pass. The House Republicans are unanimously against it and Democratic state Rep. Jack Franks has signed on to a House resolution opposing it. That means, at most, it has 70 votes, which is one vote shy of passage. That might not mean much except Rep. Franks is just the tip of the iceberg on that side of the aisle.
Until I see any evidence at all that the A Better Illinois coalition has found significant House Republican votes for this thing, I'll happily stick with life in the real world.
- Posted by Rich Miller 22 Comments


* Chuck Todd of MSNBC says these are Illinois' rising stars…
* Chicago Ald. Will Burns "A serious contender for Congress."

* Cook County Commissioner Bridget Gainer "Talk she could be the first female mayor since Jane Byrne."

* State Rep.-elect Will Guzzardi "Big endorsements from several unions."

* Lake County Board Chairman Aaron Lawlor "the type of younger Republican that the GOP is desperately seeking on fiscal issues instead of social issues."

* Rep. Darlene Senger "Hopes she is on her way to DC"

* Doug Truax "Lost to a better known and better funded rival by just 12 percentage points and that's got national Republicans taking notes."
* The Question: Who are your picks for Illinois' rising political stars?
- Posted by Rich Miller 104 Comments


* I told subscribers a bit about this poll earlier today…
The Paul Simon Public Policy Institute survey showing that 60 percent of those polled favor rolling back the tax comes as Gov. Pat Quinn plans to deliver his 2015 budget address Wednesday. Nearly 27 percent favored making the tax hike permanent. […]

An overwhelming majority of 79 percent oppose raising the state sales tax.

The next most popular revenue alternative to the income tax was extending the state sales tax to include goods and services not taxed. Nearly 44 percent favored that option, while 53 percent were opposed, the poll found.

And taxing retirement income, as one government watchdog group – the Civic Federation – proposed recently, was opposed by 72 percent of those surveyed.

However, the numbers shifted when pollsters questioned respondents about applying a retirement tax to those earning $50,000 or more during their golden years. Nearly 43 percent approved of that concept, while 50 percent were opposed, the poll found.
The Civic Federation honchos aren't the only ones talking about imposing taxes on retirement income. Bruce Rauner says he's open to it. Not a good position to have when 72 percent oppose the idea.
The poll results are here.
* The poll also asked voters what should be cut. Here are the answers for those favoring and opposing, respectively, cuts in various areas…
K-12 - 17.7%-78.8%
University - 36.7%-56.6%
Public Safety - 24.1%-71.0%
Natural Resources - 31.4%-61.1%
Poor People - 26.2%-64.8%
Disabled - 14.8%-82.1%
Pensions - 41.5%-51.1%
Pensions highlighted above for obvious reasons. From the Institute…
Republicans and conservatives were more likely to favor cuts to university budgets and state pensions than Democrats and Independents were. Independents were more likely to support and less likely to oppose cuts to Public Safety than either Democrats or Republicans.
* When asked how they would handle the state's budget problems a majority, 52.3 percent, said "cut waste." I really wish they'd drop that choice. From the Institute…
Conservatives and Republicans were significantly more likely to choose the "cut waste" option (61.2 percent for the conservatives and 62.6 percent for the Republicans) than were liberals and Democrats (38.5 percent for the liberals and 42.9 percent for Democrats), with the moderates and Independents falling between the two partisan groups (52.1 percent for moderates and 57.1 percent for Independents).

Likewise, liberals and Democrats were far more likely to choose the "increase revenue" and the "combination of both" approaches than were conservatives and Republicans: 16.9 percent of the liberals and 13.6 percent of the Democrats chose the increase revenue option compared to 8.0 percent of the conservatives and 6.5 percent of the Republicans who chose that option. The moderates and Independents were much closer to the conservative and Republican position on increasing revenue.

On the "combination of both" option, 35.5 percent of the liberals chose that option compared to 21.1 percent of the conservatives. Also, 33.5 percent of the Democrats chose the combination of approaches compared to 24.7 percent of the Republicans and 25.4 percent of the Independents who chose that option.
- Posted by Rich Miller 41 Comments


* The African-American publisher of Ndigo.com took a Republican ballot last week, but not to vote for Kirk Dillard…
"We've got a one-party system in Chicago and Illinois. We've got to break it up," said Hermene Hartman, Ndigo.com publisher.

Online publisher Hartman says the black community's high unemployment and total lack of economic development caused her this week to vote Republican for the first time.

"We've got to bring about some change. And you're not going to change, if you don't change," he said.

Major Chicago black church leaders, all one-time Democrats, have endorsed Rauner, including the Reverend and former State Senator James Meeks, West Sider the Reverend Marshall Hatch and the South Side's Reverend Stephen Thurston.
* And Laura Washington takes a look at a nascent political wing…
Chicago's organizing community is restless. They actually agree with Rauner on one thing: The Democratic Party establishment is not working in their best interests.

So they are looking past November, to 2015.

Four major Chicago progressive operations have been in quiet but intensive planning for a brand-new political organization that will identify, train and run candidates for the 2015 citywide elections.

They aim "to build an infrastructure that allows community folks to act political and exercise political power in a way that doesn't exist right now," a top member of the planning team told me late last week. As Bill de Blasio did in New York City, this group thinks the time is ripe to move Chicago to the left. They will formally announce and launch the new organization this summer.

"This is the moment to be bold," the activist said.
One of those organizations is the Chicago Teachers Union, I'm told.
*** UPDATE *** SEIU is also part of the "progressive" Chicago community, but the union went with the governor today. From a press release…
Governor Pat Quinn today received the endorsement of the Illinois State Council of the Service Employees International Union, a major labor union that represents more than 150,000 workers across Illinois.

Today's endorsement adds to the growing momentum for the Governor's re-election in 2014.

"I am extremely honored to have the support of the hard-working women and men of SEIU," Governor Quinn said. "We know how to work hard and we know how to organize. Together we will continue to bring more families into the middle class and continue to move Illinois forward."

"The clear choice for residents of Illinois in the upcoming November election is between a future in which we all have access to a quality standard of living, or one in which workers are increasingly stuck in low-wage jobs with a widening income inequality gap," said Flora Johnson, Chair, SEIU Healthcare Illinois Executive Board. "That's why SEIU is proud to endorse Governor Pat Quinn for another four-year term so he can continue his fight to eradicate the economic and social inequality that currently thrives in the state."

Since taking office in the worst recession since the Great Depression, Governor Quinn has fought to create jobs and build a brighter future for working families, driving unemployment down to its lowest point in five years. Quinn championed and signed into law the largest capital construction program in state history, supporting more than 400,000 jobs to update Illinois' roads, schools and bridges.

Throughout his time in office, the Governor has always worked to make sure Illinois workers are safe and treated fairly in the workplace. He has enacted more Project Labor Agreements than any other governor in the country and is leading the nation in fighting worker misclassification to ensure employees receive the pay they have earned.
* Other stuff…
- Posted by Rich Miller 41 Comments


* David Yepsen on Speaker Madigan's proposed income tax surcharge on income over a million dollars and Bruce Rauner's term limits proposal…
Rauner's term-limit push reinforces his theme that Illinois government is in shambles because it is overrun with career politicians. Madigan's plan, however, may provide a way for disillusioned Democrats to come home despite their frustration with the Democratic-sponsored, Quinn-signed law to curb public employee pension benefits.

"I can see people voting for both (proposed amendments) — screw the rich people and throw the bums out," Yepsen said. "But this is a way Democrats can get a piece of that anger."
* From the Tribune editorial board…
House Speaker Michael Madigan, who helped create the Quinncome tax hike, now wants to change the subject. On Thursday he said he'll ask lawmakers to put on the November ballot an income tax increase of 3 percentage points on personal income that exceeds $1 million. Seven weeks earlier, though, Madigan proposed to cut in half the state income tax on corporations. But a month before that, he complained that some companies "don't pay their fair share."

Go figure. If Madigan hasn't yet offered a tax policy you like, give him time. Will he and other Quinncome taxers now raise rates or cut spending?
* Mark Brown on Rauner's term limits proposal…
Based on the emails I'm receiving, I think many voters will be surprised to learn it wouldn't bring the immediate end of Madigan's reign, but would immediately give more power to Illinois' next governor. (Now, who might that be?) […]

The other provision would make it more difficult for legislators to override a governor's veto by increasing the required 3/5 majority vote of both chambers to a 2/3 majority. The obvious purpose is to strengthen Rauner's hand against Madigan, which isn't a good reason to tinker with the state Constitution.

Did any of you feel Rod Blagojevich wasn't given enough power? Do you think Illinois would be better off today if only Blago could have kept the Legislature in better check with his veto? See what I mean.

The strangest part is that neither of these proposals were the result of public clamoring or offered by some good government think tank. Instead, both were dreamed up by Rauner and his lawyers in hopes of cobbling something together that would help the term limits amendment pass muster with the Supreme Court.
Discuss.
- Posted by Rich Miller 26 Comments


* The Sun-Times sat down with Gov. Pat Quinn, who showed more fire than he has in a very long while. Here's Quinn on Bruce Rauner's minimum wage flip-flop….
He got caught red-handed calling for a cut in the minimum wage. I think that's the bottom line. That's the real Bruce Rauner, a billionaire who doesn't have any understanding of what it's like to live from paycheck to paycheck. Folks who do hard jobs, who don't want to live in poverty, who are following all the rules, working 40 hours a week. We ought to raise their pay to help our economy if we want to be competitive, we should make sure that those literally hundreds of thousands of folks who would benefit from a wage increase, they should come first. Billionaires like Bruce Rauner should move to the back of the line. We're not going to let him get away with what he said in the primary. He's trying to duck that issue.
* On Rauner claiming he's in the 0.01 percent…
Well, I have one home, I don't have nine mansions. I will never be part of the 1 percent. Matter of fact, I'll be about 102 before I pay back my kid's college loan.

I think it's important to understand it isn't going to be about who has the most money who wins this election, it's who connects to everyday people who are the heart and soul of Illinois. I believe in government of the many; he believes in government of the money. I think there will be a real contest of values here … he's just going around bragging about his abundance of money, I don't think that connects you to the real lives of every day people. We want a government that is fair to all, not just the billionaires.
* On Rauner's contention that taking campaign contributions from public employee unions is the same as accepting a bribe…
I think it's a lot of baloney. People have a right to form organizations, unions to bargain for their wages and their working conditions. That's as American as apple pie. That's good for America. It helps our economy to make sure that people have a decent wage and decent health care and decent benefits. I just don't know what he's driving at. First of all, he's against minimum-wage workers, he wants to drive them down and literally take $2,000 out of their pockets. And then for folks who vote for a union, he wants to attack those unions and make it hard for people to have that ability at the bargaining table.

These plutocrats at the top of the power heap, they may have a lot of money, but they don't have any understanding of everyday people and what they go through.
- Posted by Rich Miller 37 Comments


* As I told subscribers this morning, Illinois Policy Action, which is run by the folks at the Illinois Policy Institute, has a new cable TV ad blasting the proposed progressive tax, calling it a "wolf in sheep's clothing." Rate it…
Subscribers have the specific ad buy data, but it's about $94K and targeted at specific House districts. The ad is in addition to another ad buy by Americans for Prosperity Illinois which I told you about last week. Both ads target specific rates that have not yet been formally proposed and probably won't ever be. Also, this idea, as we talked about last week, is pretty much dead.
- Posted by Rich Miller 30 Comments


* Bernie…
According to figures from comprehensive annual financial reports of the State Employees' Retirement System, the number of employees covered by that system was 81,680 as of June 30, 2002. That would be during the final year of Republican Gov. George Ryan's single term. Back in 1994, when Republican Gov. Jim Edgar was on the way to winning his second term, the number was 78,440.

The big drop came by the summer of 2003, when the number fell nearly 11,500 from the previous year to 70,192. Most left under an early retirement initiative that thousands decided to take as Democratic Gov. Rod Blagojevich came into office.

The reported figure as of June 30, 2013 — which generally includes state workers other than legislators and judges in executive, legislative and judicial branches, but doesn't include higher education institutions — was 61,545.

Thus, the number of state employees dropped by more than 20,100 people — nearly 25 percent of the workforce — from 2002 to 2013.
- Posted by Rich Miller 70 Comments


A warrant for the search of former state Rep. Keith Farnham's Elgin legislative office shows authorities were looking for evidence of the possession of child pornography.

The warrant, released by the Illinois House in response to a Freedom of Information Act request by the Chicago Tribune, was executed by U.S. Immigration and Customs Enforcement's Homeland Security Investigations officials at the Democrat's office last week.
Advertisement

First in its list of items to be looked for are "documents in any format or medium pertaining to the possession, receipt, or distribution of child pornography."
In addition, a federal agent on Thursday took a laptop computer that Farnham used in the Illinois House chamber, and last week agents removed a computer from a legislative office building next to the Capitol, according to the documents and an interview with a state technology official. […]

Farnham has not been accused of any wrongdoing. Randall Samborn, a spokesman for the U.S. attorney's office in Chicago, said no charges have been filed and refused further comment. […]

The Thursday request for the laptop Farnham used in the House chamber came from an agent with the U.S. Immigration and Customs Enforcement, part of the federal Department of Homeland Security, said Tim Rice, who oversees information technology for the General Assembly.

"They basically made a request, and I consented to it," said Rice, executive director of the Legislative Information System, which oversees electronics in the House.
Farnham, who took office in 2009, is listed as the co-sponsor on two state bills that sought to increase the penalties on individuals who possess child pornography in certain circumstances.

One bill states that child pornography or aggravated child pornography that does not involve mere possession shall be deemed crimes of violence. The other increases the penalties for individuals that film child porn.
- Posted by Rich Miller 28 Comments


* My weekly syndicated newspaper column…
It didn't take long for Republican gubernatorial nominee Bruce Rauner to drop the word "unions" from his vocabulary.

After bashing public employee union leaders for months as corrupt bosses who buy votes in order to control Springfield, Rauner and his campaign have assiduously avoided the use of the "U-word" since his victory last Tuesday. Instead, he's switched to a line about how "our government is run by lobbyists, for special interests, and the career politicians in both parties let it happen."

Rauner's campaign manager said on primary night that his boss is "pro-union." Rauner himself insisted last week that he's not anti-union and never has been.

The candidate's record clearly shows otherwise however. Rauner kicked off his campaign with a widely published newspaper op-ed in which he called for legislation to allow individual counties to approve their own so-called "right to work" laws. Rauner has also repeatedly demanded that Illinois follow the lead of states like Michigan, Indiana and Wisconsin, which have all passed anti-union laws.

And Rauner's only personal and extended interaction he's had with an Illinois labor leader went horribly wrong. Rauner reportedly marched into the office of the president of Operating Engineers Local 150 late last year to pledge to the president that if he was with Rauner, then the candidate would go all the way with him, but warned that if the president was against Rauner, the candidate would essentially work to destroy him once elected. That message didn't exactly go over too well.

Weeks ago, some folks in the higher echelons of Rauner's campaign assured me that their candidate believed there was an opening with unions and he would try to exploit it. But that was when Rauner enjoyed a double-digit lead in the polls.

I think the expectation at the time was that at least some unions would consider a rapprochement with Rauner if he won the primary big. Better to cut a deal with an almost surefire winner than be crushed after he became governor.

But Rauner didn't win big. His 2.8 percent winning margin fell infinitely short of almost all expectations. And that's mainly because the unions appeared to have convinced lots of their Republican members to vote for Sen. Kirk Dillard and persuaded lots of non-Republicans to take GOP ballots.

If you look at Sangamon County, the home of the Illinois capital and lots of state workers, you'll see stark and convincing evidence of just how effective the union push was.

In 2010 and in 2006, total Republican gubernatorial votes cast in the county were very similar, averaging just under 16.000.

This year, the county's turnout was abysmal, with under 20 percent of registered voters participating overall. But Republican votes for governor shot way up to almost 25,000. Sen. Dillard, the union favorite, won Sangamon with about 15,000 votes, almost equal to the total GOP turnout in the previous two primaries.

Democratic votes for governor in 2010 and 2006 were both 34 percent of the total gubernatorial votes cast in Sangamon County. This year, that number fell to just 15 percent, with Republican percentages rising from 66 percent in the two previous primaries to a whopping 85 percent this year. Some of that can be attributed to the lack of interest by all Democrats everywhere due to a dearth of contested races, but most of it was related to the unions' strong GOP ballot push.

These numbers can't be extrapolated statewide because AFSCME is so influential in Sangamon, but it doesn't take a genius to see that something unprecedented happened in Illinois on Tuesday. The polls and prognosticators were wrong because tens of thousands of union members and their loved ones took GOP ballots for the first time. Changing the landscape of a party primary is almost impossible, but the unions did just that.

And because they almost beat Rauner I doubt that few if any unions will be at all interested in cutting a deal with him. There could be an odd straggler that Rauner can parade as "proof" that he's not anti-union. But the overwhelming attitude will be "We almost beat him once, so we'll just ramp it up in the fall."

The question then becomes how long it will take the public employee unions to forgive Quinn, who pushed hard to cut their members' pension benefits. They simply don't trust the man, and they truly wanted to nominate an alternative last week.

And the danger for Quinn is that the public employee unions do what they did in the primary with Dillard - wait too long to finally make a decision.
- Posted by Rich Miller 84 Comments