* Holy moly…
Every state has at least some residents who are looking for greener pastures, but nowhere is the desire to move more prevalent than in Illinois and Connecticut. In both of these states, about half of residents say that if given the chance to move to a different state, they would like to do so. Maryland is a close third, at 47%. By contrast, in Montana, Hawaii, and Maine, just 23% say they would like to relocate. Nearly as few — 24% — feel this way in Oregon, New Hampshire, and Texas.
* Yeesh…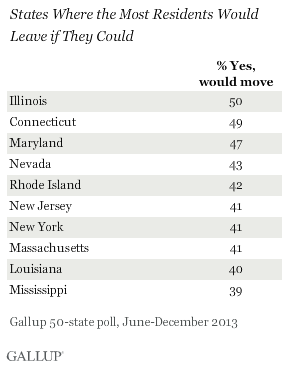 * Context…
Thirty-three percent of [US state] residents want to move to another state, according to the average of the 50 state responses. Seventeen states come close to that 50-state average. Another 16 are above the average range, including three showing an especially high desire to move. In fact, in these three — Illinois, Connecticut, and Maryland — roughly as many residents want to leave as want to stay.
* More…
In the same poll, Gallup asked state residents how likely it is they will move in the next 12 months. On average across all 50 states, 6% of state residents say it is extremely or very likely they will move in the next year, 8% say it is somewhat likely, 14% not too likely, and 73% not likely at all.
* Oy…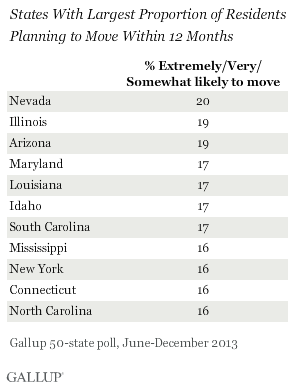 * Keep in mind that the follow-up question of why they are planning to move has an extremely small sample size…
In most states, it is not possible to view these answers because there are too few respondents, but in each of the 11 states with the highest percentages wanting to leave, roughly 100 answered the question.
* In Illinois, 8 percent of those who said they were leaving claimed it was because of taxes (versus 14 percent of New York respondents, 8 percent of Marylanders, 6 percent of Connecticut folks, and 2 percent of N. Carolinians.
26 percent of Illinoisans who said they were leaving claimed it was work/business related, 17 percent said weather/location, 15 percent said it was for a quality of life change, 9 percent said cost of living, and 6 percent said it was for family/friends or school related.
79 Comments












































































































































































































































Sorry, comments for this post are now closed.