* If he wanted to be taken seriously, perhaps he should've abandoned the idea of featuring a cage of live chickens while unveiling his new budget proposal…
Standing beside a trio of caged chickens, Republican gubernatorial candidate Bruce Rauner says he has a plan to cut $1 billion in "wasteful spending" in state government that calls on lawmakers to forfeit their pensions as they know it, to scrap a state plane system and, among other changes, stop the practice of flying in prairie chickens from out of state.

Rauner contended that state planes were used to fly the chickens. During budget debate in the Legislature, lawmakers noted that a federal grant paid for the project.
* Sun-Times photo…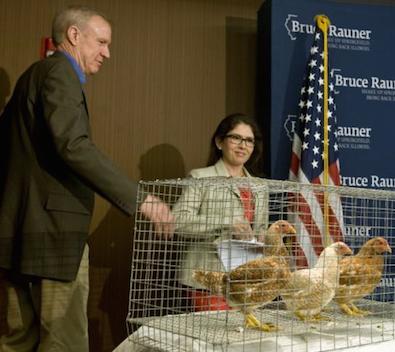 So, we get a copied and pasted high school freshman-level "budget plan" and live chickens. This is so Pat Quinn 30 years ago.
Man, it's gonna be a long season.
*** UPDATE *** From WLS Radio we get Rauner's rationale…
GOP challenger Bruce Rauner is now attacking Governor Pat Quinn with live poultry. […]

"They are clear visualization of the fundamental problem," Rauner said. "We have out of control spending. We have irresponsible politicians making decisions with taxpayer money on a sloppy, unaccountable basis."
…Adding… I just asked an editor who was there if the chickens clucked throughout the press conference. They were amazingly quiet the whole time, he said. At least they got that part right. Chickens can be quite noisy.
108 Comments



































































































































































































































































































































Sorry, comments for this post are now closed.