* Yesterday was supposed to be a statewide "day of action" for anti-fracking activists. Not so much…
A statewide "day of action" in support of renewable energy and against fracking throughout the state brought a group of about 20 protestors to Marion Monday morning.

The protestors, who call themselves "fracktivists," gathered in front of Rep. John Bradley's office at 11 a.m. to begin a one-hour protest.
* Photo…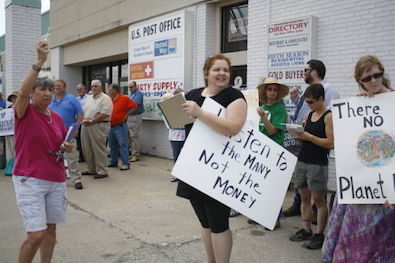 * More…
The anti-fracking gathering in Marion Monday was one of three events of its type across the state.

Similar events were held in Springfield and in Chicago as well.
If there were other events, I haven't seen any coverage online. The Springfield organizer touted the event on his Facebook page, but hasn't yet posted any pics. Same goes for the planned Chicago event.
* And a group of counter-protesters matched the anti-fracker turnout in Marion…
They were met by another group of about 20, composed mostly of people who work in the building trades, who turned out to show their support for the controversial oil and gas extraction method and Bradley's efforts to jumpstart the use of it in the state.

"We're here in support of John Bradley and what he's trying to do to get fracking started in the state," Southern and Central Illinois Laborers District Council business manager Clint Taylor said. "The (Hydraulic Fracturing Regulatory Act) bill has been passed with the toughest regulations in the country and it's time to put people to work."

Taylor said his counterparts in North Dakota, Pennsylvania and Ohio frequently talk about the positive effects a fracking boom has had on their regions.

"They are building schools and roads, their communities are being lifted up," he said. "These are good jobs, the kind of jobs Southern Illinois needs."
I've asked the anti-fracker organizers for photos of their events. I'll post the pics if I ever get them.
*** UPDATE 1 *** Chicago pics…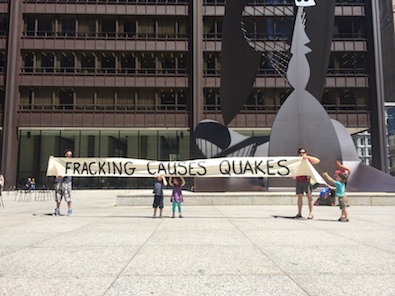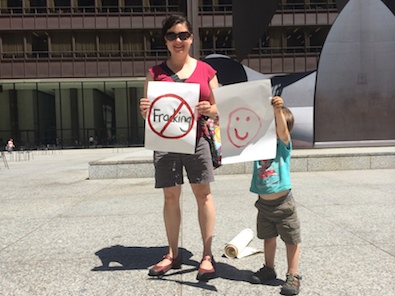 *** UPDATE 2 *** From Will Reynolds, the Springfield anti-fracker…
I see you already have pics of the Marion action.
Back in December you wrote about the fracking rig in Quinn's front yard: "I'd love to see those elves head down 'yonder and put up a rig in Gary Forby's front yard. Heh."
Well, it's not Forby's front yard, but the Marion protest is in Forby's district and since I know most of the people in the photo I can tell you that many are voters in his district.

Did you ever get a chance to link to a pic of the 500+ people who showed up to hear Josh Fox speak about fracking in Carbondale? I know it doesn't fit the "radical fringe" narrative you and Denzler have been pushing for over a year now, but here's one in case you'd like to use it sometime. Heck, NRDC and ELPC probably couldn't get 20 people in a room in southern Illinois, unless those people were there to protest those organization's support for the fracking law. Also, did you ever watch video of the Ina, IL fracking hearing? If you did, you'd see how many Sierra Club members and board members specified that they're involved with the Shawnee Group of the Sierra Club but not the state chapter due to the state chapter's support for fracking. It's pretty unusual for elected leadership to publicly criticize their own organization over an issue. Sorry to burst your bubble, Rich, but the "radical fringe" includes leaders of the organization Sierra Club lobbyists claim to represent and they've said so publicly, many times.
He didn't send a pic of yesterday's rally.
37 Comments














































































































Sorry, comments for this post are now closed.