* WalletHub compared "the 50 states and the District of Columbia in terms of three key metrics: 1) Return on Taxes Paid to the Federal Government; 2) Federal Funding as a Percentage of State Revenue; and 3) Number of Federal Employees Per Capita"…
* Overall, Illinois ranked "second least dependent" of all states, behind only Delaware. Here are the categories, the actual numbers for the categories and our individual ranking within those categories…
Return on Taxpayer Investment - $0.56 - 3

Funding as % of Revenue - 26.23% - 8

Federal Employees Per Capita 6.45 - 11
* They weighted the results…
1. Return on Taxes Paid to the Federal Government – Weight: 1
(Federal Funding in $ / Federal Income Taxes in $) This metric illustrates how many dollars in federal funding state taxpayers receive for every one dollar in federal income taxes they pay. We have excluded from the Federal Funding the Loans/Guarantees component because it does not represent permanent transfers from the Federal Government to a state.

2.Federal Funding as a Percentage of State Revenue – Weight: 1
(Federal Funding in $ / State Revenue in $) * 100 This metric shows how much of a state's annual revenue, and theoretically its spending, is provided by the federal government. Without this money, revenue would have to be found elsewhere – perhaps via tax hikes – or else key state services would suffer.

3. Number of Federal Employees Per Capita – Weight: 0.5
(No. Federal Workers / No. State Residents) This metric speaks to the federal government's role as a nationwide employer, indicating the percentage of a state's workforce that owes its very livelihood to Washington.
* They also used some items to put the numbers in context, such as "Direct Payments," which "reflects the return on taxpayer investment in terms of federal entitlement payouts"…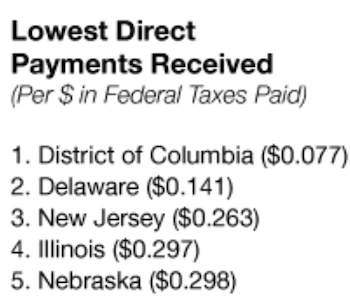 And…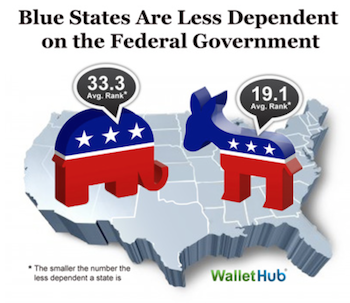 54 Comments

































































































































































Sorry, comments for this post are now closed.