* I wandered into a pleasant little outdoor cafe near the John Hancock Building to have lunch on Friday, and sat there blissfully alone, collecting my thoughts and peacefully enjoying a beautiful day…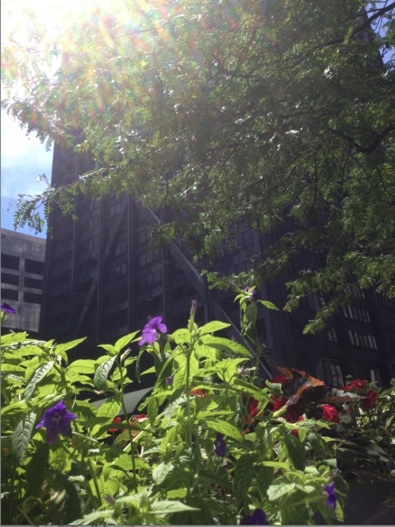 Yeah. Quite the place. Everything was à la carte. Even the bread was extra. I didn't eat much.
All of a sudden, somebody set off some firecrackers down the street. Crack! Crack! Crack! Crack! Crack!
I saw some of the tourists visibly jump.
One of the waitresses tried to calm the tourists down, cooing that it was just a firecracker. "They don't shoot up here," she said.
* But they do shoot elsewhere…
For 10 minutes, it seemed like the shooting was everywhere in the South Chicago neighborhood.

It started when someone shot and wounded a couple, then two people fired at the shooter, then there was a chase and shots exchanged and a man sitting on a porch was hit. Responding officers kept cutting each other off on their radios as they reported other gunfire in the area late Sunday night and early Monday morning.

Then the heavy equipment rolled in: A helicopter and SUVs packed with lockers of rifles. SWAT teams in green coveralls patrolled the streets with uniformed officers.

It was just one of dozens of shooting scenes across Chicago over the long Fourth of July weekend. In all, at least 82 people were shot, 14 of them fatally, since Thursday afternoon when two woman were shot as they sat outside a two-flat within a block of Garfield Park.
* More…
Hundreds of extra officers were assigned Chicago streets this past weekend, Police Supt. Garry McCarthy said […]

Nearly all of those killed were black or Hispanic men age 35 or younger. Two — Shaquille Ross, 18, and Kezon Lamb, 19 — were teenagers. One was a woman. And details of the most recent shooting victim was not yet available Monday morning.

In places like West Englewood, South Shore and Austin, gunshots seemed almost as common as fireworks this past weekend.

"Englewood and South Shore had it lit up," Andrew Holmes, an anti-violence activist who frequently goes to crime scenes and operates an anonymous crime tip hotline, said of the shootings Sunday night. "You had some people that were literally limping to the ambulance. They weren't waiting."
* More…
Talking to a large gathering of reporters at a West Side police station, McCarthy noted that Sunday's surge of gun violence made the weekend more violent than last year's holiday weekend, a head-scratcher for him and his staff.

"It was yesterday that we lost it," McCarthy said. "We're square-rooting nine ways from Sunday what is it that happened. Was it a fatigue factor? Did we give people off? Because the fireworks (at Navy Pier) were Friday and Saturday. That's where we had a lot of folks deployed during those timeframes."
* OK, I totally understand that if they hadn't deployed extra coppers to Navy Pier on Friday and Saturday and something bad had happened the news media would scream absolute bloody murder and McCarthy would be tarred and feathered and run out of town strapped to the front of the next departing Greyhound.
But a rethink might be in order here. Were all those Navy Pier police truly necessary?
* Another thing I did over the weekend was attend the American Music Festival in Berwyn. Here's a pic I took of country music legend Billy Joe Shaver…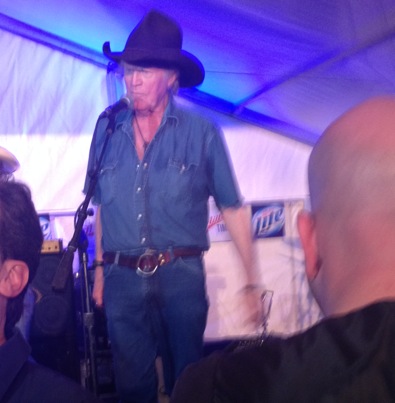 Click here for lots of videos from the festival.
* Aside from the incredible music, the coolest thing about the event was the unobtrusive to the point of invisible security, despite the large, somewhat inebriated crowd. One of the managers told me he'd been working the festival for five years and they'd only had one serious fight - between a mother and her daughter.
Whenever I go see a show in Chicago, even if I'm at a super-chill jam band concert, there's always tons of aggressive security with fancy radio earpieces, bulging muscles and even cops at the door screening patrons. It's just a goofy waste of resources. How many people get shot at a Rat Dog show, for crying out loud?
Again, priorities, please.
45 Comments






































































































































Sorry, comments for this post are now closed.