* After snidely whacking the "conservative savants" on his own newspaper's editorial board, the Tribune's always thoughtful John McCarron turns to Senate President John Cullerton for answers about how to deal with pension reform going forward…
His idea is to present them with a stark choice as their contracts come due for renewal: Workers could agree to a scaling back of the COLA they've been promised in retirement or forgo any pay raises while they're still working.

"The state constitution," said Cullerton, "does not guarantee pay raises."

Cullerton predicts most workers nearing retirement will opt to keep their 3 percent COLA. But enough younger and middle-age workers will choose continued pay raises that will achieve more substantial long-term savings. Current retiree benefits wouldn't be touched, and since 2011, new "Tier 2″ hires already have had their promised benefits reduced.
That's actually brilliant. He's done it again. Whether the state could get the union to agree to such a change without a strike is another story, but it's probably worth a shot.
* And whether you agree with Cullerton or not, he's offering up more insight and thought than we'll ever possibly get from those afore-mentioned "savants," one of whom throws up her hands in the Tribune today about the future of pension reform and Illinois…
Anyone want to go halvsies on a moving van? Last one out of Illinois, hit the lights.
Whatever.
* From a March, 2014 report by the Commission on Government Forecasting and Accountability…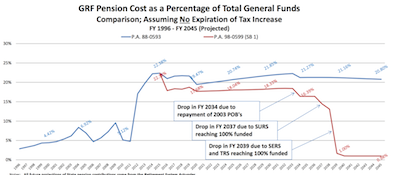 As I've been telling subscribers, we're at the top of the Jim Edgar "ramp." There is another significant bump up next year because the three biggest systems adjusted their ROI percentages after COGFA released its report, but then that's pretty much it.
And, as is obvious by the chart, most of the pension reform law's savings occur decades from now.
But the "savants" at the Trib (or anywhere else) will never tell you that. They'd rather just scare you into believing the worst without any actual facts. It's utterly and despicably shameful. Not to mention that nobody will ever give up a sweet gig at the Mother Ship and move to Hoosierland or the equivalent because pension reform is in peril. The Trib loves its victimhood.
134 Comments

















































































































































































































































































































































































































Sorry, comments for this post are now closed.