* Sun-Times…
Mayor Rahm Emanuel on Thursday blamed the economic squeeze on the middle class for his 35 percent showing in a Chicago Tribune poll that also shows him trailing Chicago Teachers Union President Karen Lewis. […]

"There's tremendous economic stress in people's lives, which is why I've pushed for the minimum wage, which is why I've pushed for policies to make sure our small businesses have a fair chance and an equal chance with big companies," the mayor said.

"You have to have a set of policies in place — from pre-K to community colleges to playgrounds to parks to after-school activities — to give everybody a chance to not just look at the gains, but know that they have a future in those gains. We're not where we need to be. We're not repeating the mistakes that got us into the problems. But we're not at the pace or place we need to be where everybody's feeling an opportunity that they have a chance at a middle-class job."
* But that ain't all of it. No way. Check out these newly released Tribune poll results…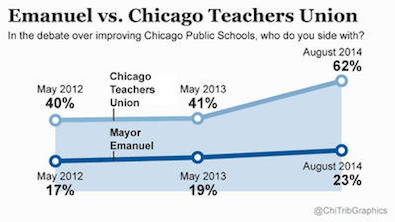 Yikes. When the overwhelming majority is siding with the CTU against you, that's trouble with a capital T. That sound you hear is Karen Lewis' cackling.
* And…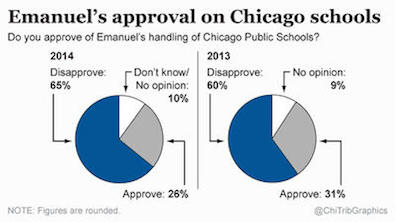 * While this is admittedly a loaded question, Emanuel's clear preference for charter schools is downright unpopular in the city…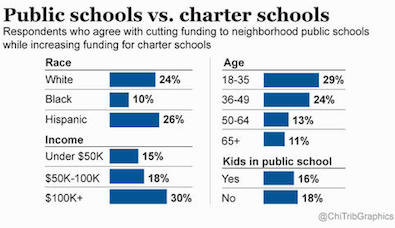 * From the Tribune…
Among parents of children in Chicago Public Schools — about one-fifth of those taking part in the survey — nearly 4 out of 5 disapproved of the mayor's handling of public education while only 19 percent approved. But even those without children in the public schools disapproved at a 62 percent rate, while only 27 percent approved. […]

While dissatisfaction with the mayor on education crossed racial lines, it was more intense among African-American voters. Critics contend black neighborhoods were disproportionately targeted for school closings. Fully 77 percent of black voters disapproved of Emanuel's handling of the city's schools while only 14 percent approved. […]

Among white voters, 52 percent disapproved while 38 percent approved. Those numbers slipped from May 2013, when 46 percent of white voters approved of Emanuel's handling of the schools and 44 percent disapproved. The poll found a similar dynamic among Hispanic voters. […]

Emanuel's approach on charters versus neighborhood schools was roundly criticized by voters: 72 percent disagreed with that approach, compared with 18 percent who agreed. African-American voters most severely opposed the policy — at 83 percent — while only 10 percent agreed with Emanuel. Nearly 8 in 10 parents of CPS children also were opposed, as well as 75 percent of female voters, 69 percent of men and 63 percent of whites.
41 Comments


























































































































Sorry, comments for this post are now closed.