* Sun-Times…
Bruce Rauner remained defiant in insisting he's released enough on his taxes and wouldn't commit to making public his full tax schedules for inspection before the Nov. 4 election.

"We will release our tax returns when they're prepared and filed on Oct. 15 and at that point we will have released four years of our tax returns. We outlined and detailed our tax rate. My tax rate is the same as Pat Quinn's," Rauner said to a packed scrum of reporters after riding into the fairgrounds on his Harley.

Rauner ducked when asked if he would release his full schedules, talking over reporters and repeating that he'd release his 2013 tax documents in October. Rauner has asked for an extension and that is the due date. Gov. Pat Quinn and other Democrats on Wednesday repeatedly called on Rauner, a multi-millionaire with hundreds of investments, to release the full details of his finances for public inspection. While candidates are not required to do so, it has become the new norm to release full tax schedules and it was something that Mitt Romney eventually did in the 2012 presidential election. His tax documents were some 700 pages.
* Watch the exchange…
* But not every Republican agreed with Rauner. Charles Thomas…
Earlier at the state county chairman's meeting, other Republicans differed on how much Rauner or any candidate should reveal of his or her personal finances.

"I think that basically candidates need to be a transparent as possible," said Paul Schimpf, R-Attorney General candidate.

"I think you have to see where your money is and I think people need to be upfront about that," said Judy Baar Topinka, R- Illinois comptroller.
* From the DGA…
"If Bruce Rauner doesn't want to trust the people of Illinois with information about his finances, the people of Illinois shouldn't trust Bruce Rauner. He has hidden his policies from them. He has hidden his foreign investments from them. He has hidden the details of how he built his corporate empire at the expense of workers, seniors and communities.

"Releasing tax information is a low bar of disclosure for a public official, not a 'diversion' as Rauner says it is. It's an easy test of whether he is worthy of the public's trust. Bruce Rauner has failed that most basic test and he shouldn't be trusted."
* And the Quinn campaign released a photo comparing Romney's disclosed tax returns to Rauner's…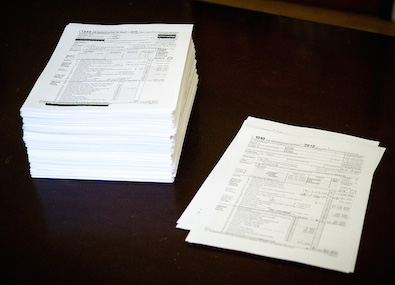 More here.
49 Comments


















































































































































Sorry, comments for this post are now closed.