* AP…
Last week, an Office of the Executive Inspector General review concluded more than 250 IDOT "staff assistants" got jobs in the past decade based on clout, when the positions should have been publicly available to any candidate and filled based on qualifications. Quinn's administration announced last week it was laying off 58 people who still held those jobs.

But they didn't get rid of others who have moved into other positions still on the state payroll.

Those include two former employees of ex-U.S. Rep. Philip Hare, a Democrat. The workers were hired by IDOT as staff assistants in 2010. Rather than follow typical state hiring procedures, IDOT gave them jobs using an exemption that is supposed to be used only when the job involves policymaking or confidential information. Their jobs involved planting trees and implementing training classes, the review found.

Quinn said his administration "acted promptly" to address problems at the department, including putting in a new transportation secretary who is conducting a full analysis of all positions. He wouldn't answer a question about why some of the improper hires still have state jobs.
* The easiest explanation for why those folks weren't laid off with the others is that they've been successfully burrowed into the bureaucracy, like these folks might have been…
The Illinois Department of Transportation hired four former staffers of ex-U.S. Rep. Phil Hare, D-Ill., after he lost his re-election bid in 2010, according to an inspector general's report released late last week that said the state DOT improperly hired more than 250 people over the past decade.

The inspector general's report focused mostly on the hiring of "staff assistants" to get around hiring rules.

Hare represented the Quad-Cities after being elected in 2006 and again in 2008. But after Hare lost in 2010, three of his former staffers were hired on at the DOT as staff assistants, while a fourth was brought on as an assistant to the regional engineer in District 2 of the Division of Highways, according to the report by Executive Inspector General Ricardo Meza.

The report doesn't identify the employees by name, but it says one worked for Hare as a regional field organizer and two others as district schedulers.

A fourth person is referenced, too, though it doesn't list the person's position with Hare.
According to that story, nobody knows nothing about nothing and nobody. It's just a series of coinkidinks. Nobody made a call, nobody reached out, nobody did anything to help out Hare's people.
Yep.
Right.
* OK, remember this guy from yesterday?…
Employee 140's Duties Included Producing Spreadsheets And Planting Trees. "Employee 16 told the OEIG that as a Staff Assistant, Employee 140's duties included producing spreadsheets and other computer-generated documents and assisting in the Services Development area. In that capacity, Employee 140 planted trees and performed other preventative maintenance tasks." ("In re: Ann Schneider, Gary Hannig, Matthew Hughes and Michael Woods, Jr – OEIG Final Report, Office Of The Executive Inspector General, 8/22/14, p. 75)

IDOT Employee Andrew Waeyaert Was Employed By Phil Hare Until March 12, 2010, And Was The Only Hare Employee To Leave In March Of 2010. (Statement Of Disbursements Of The House – January 1, 2010 to March 31, 2010, U.S. House Of Representatives, p. 1266)

Waeyaert Does Not Appear On The List Of Illegal Hires Being Fired By IDOT As A Result Of The Inspector General Report. (IDOT Layoffs List, State Journal-Register, 8/27/14)
Andrew Waeyaert Is Still Listed As Being Employed By IDOT. (Employee Salary Database, Illinois Comptroller, Accessed 8/28/14)
* The Rauner campaign dug up this photo from a 2010 Illinois Statehouse News story…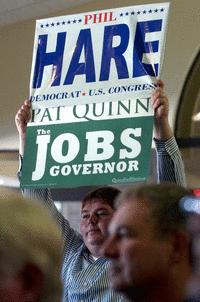 The newspaper's caption…
Standing in the back of the room Andy Waeyaert makes sure that Illinois Gov. Pat Quin can see his show of support for the Democratic incumbent during Gov. Quinn's campaign stop at the Quad City International Airport in Moline on Monday afternoon, November 1. Mr. Waeyaert also held a sign supporting U.S. Rep. Phil Hare who is in a tight race a day before voters head to the polls.
* Meanwhile, is an unfortunate turn of events…
Sean O'Shea, the deputy chief of staff to Gov. Pat Quinn who resigned just as his boss came under fire for patronage hiring, is going to be unemployed awhile longer.

Mr. O'Shea was going to become chief of staff to venture capitalist J.B. Pritzker but walked away from the job after his departure was reported earlier this week by Greg Hinz and became fodder for Bruce Rauner's campaign. […]

Mr. O'Shea withdrew from the job with Pritzker Group earlier this week when it became clear he was going to be part of the campaign narrative.

"I met Sean a few months ago through our search process and was impressed that he was universally praised by every reference I spoke with as a man of high integrity with exceptional professional accomplishments," Mr. Pritzker said in a statement. "Unfortunately, the kind of political blood-sport that smears a guy like Sean O'Shea is exactly what drives good people away from public service. I wish Sean nothing but the greatest success."
I get why JB might not want to have been dragged into this mess, and I get that O'Shea is in an unflattering spotlight right now, but his life is really going to suck from here on out and, personally, I don't wish it on anybody.
43 Comments
































































































































Sorry, comments for this post are now closed.