* Gov. Pat Quinn took questions for over 15 minutes from reporters this afternoon. His comments ranged on issues from the NFL scandals, to the investigations into his own office, to Bruce Rauner's various claims. You might wanna skip the first couple of minutes, but here's the raw audio…
- Posted by Rich Miller 15 Comments


* Democratic congressional candidate Ann Callis may have some residency issues because of papers she and/or her husband signed…
The records show her signature appearing on a notarized 2008 mortgage agreement for one of the couple's Arizona homes, as well as a 2006 deed transfer for property in Laguna Beach, Calif.

The latter includes a statement identifying Callis and Holloran as "residents of the County of St. Louis, State of Missouri." A 2005 deed for a second home in Scottsdale, Ariz., also lists their address as in Kirkwood.

In 2004, records show Callis was added to the Forest Street deed. The document begins, "I, Ann Callis, of the County of St. Louis, State of Missouri …"
Oops.
* Response…
"These new attacks on my mom, my brother, and me are completely false, and it's really shameful that Congressman Davis would try to say our family wasn't living in Illinois while my mom was a judge," [Callis' daughter, Caroline Rongey] said.

"I was proud to grow up in Madison County and I have great memories of cheerleading for Troy's Triad High School and watching my brother take Triad to the Class 5A playoffs as a starting quarterback. Congressman Davis needs to leave our family alone."
* From the NRCC…
Ann Callis can't seem to get anything right these days. While Callis is attacking Rodney Davis on lobbyists she is also planning to attend a fundraiser in DC tomorrow at the home of mega-lobbyist Tom Trotter.

A question for Ann Callis – why is it okay for her to raise money off of mega-lobbyists in DC all while attacking Rodney Davis?

We know Callis is busy trying to figure out how to untangle her web of lies over her residency but this seems worthy of a quick ask.

NRCC Statement: "Ann Callis should be explaining why over numerous years she signed notarized documents saying she lives in St. Louis, but instead she bailed from the 13th District to raise money with a mega-lobbyist in DC. We know Callis is trying to figure out if she is from Missouri or Illinois, but she should know better than to hob-knob in Washington with Pelosi's lobbyist friends." – Katie Prill NRCC Spokeswoman
* In other newsish-related stuff, the Callis campaign has responded to Congressman Rodney Davis' latest ad (which was a response to Callis' recent ad) with a YouTube video…
The campaign of former Chief Judge and Congressional challenger Ann Callis released the following video in response to Congressman Rodney Davis' deceptive new ad. In the video, Jerseyville farmer Gene – who appeared in Callis' "Trim the Fat" ad – calls out Congressman Davis for featuring him without permission to attack Callis.
* Video…
* And in "news" from another district, for some reason Mike Bost thought it was a good idea to spend 15 minutes talking to a Rockford radio program about his infamous blow-up video. Rockford is at the opposite end of this very long state from Bost's district…
* Related…
* Schneider gets endorsement from IEA union that backed Dold in 2012
- Posted by Rich Miller 45 Comments


* US Sen. Dick Durbin has a new TV ad. Rate it…
The ad is not replacing the spot featuring the wife of a wounded veteran. It'll run concurrently.
* Script…
Man I: Sixty-six thousand dollars.

Woman: A hundred thousand dollars.

Man II: Sixty thousand dollars in college debt.

Senator Durbin: The high cost of college is weighing down America's middle class. That's why I'm fighting for a law so college loans can be refinanced at today's lower interest rates. It would erase thousands of dollars of debt for millions of American families. After all, if you can refinance a car loan and a home loan, why can't you refinance a student loan?

I'm Dick Durbin, and I approve this message because Illinois' middle class deserves a break.
* In other Durbin-related news, an atheist group rated Durbin an "A" for separation of church and state and his opponent Jim Oberweis was given an "F"…
The Secular Coalition for America today released its Congressional Voter Guides for several Congressional Districts of Illinois and the Illinois Senate race. The Guides are meant to help secular-minded Illinoisans make informed decisions on the candidates for the upcoming elections in November, based on secular issues.

The Voter Guide is part of the Secular Coalition's "50 Secular Races to Watch" list which the Coalition is currently rolling out based on the U.S. House districts that received the worst grades on the Coalition's 2013 Congressional Report Card. The Secular Coalition will also grade seven Senate races across the country.
The full rationale for the ratings is here.
* Other stuff…
* Durbin has cushy lead over Oberweis, Tribune poll finds

* Durbin's views on issues as he faces re-election

* Study finds conservatives and liberals smell different
- Posted by Rich Miller 30 Comments


* NBC 5's Mary Ann Ahern asked Bruce Rauner today about the Ray Rice punchout video and the child abuse charges against Adrian Peterson…
Ahern: You are part owner, a minority owner with the Pittsburgh Steelers. Have you spoken to your group about how the NFL has handled Ray Rice and Adrian Peterson? Are you onboard with what's going on?

Rauner: "I have not spoken with the Steelers organization at all. Not in many months.

Ahern: Why would you not want to reach out and find out what…?

Rauner: "I am working here in Illinois to win an election and transform our government so it's working for the people again. That's 100 percent my focus."

Reporter: So, would you also comment, though, could you comment on the situation?
The candidate moved on to another reporter instead of answering that last quesiton.
* The Question: Fair questions or not? Take the poll and then explain your answer in comments, please.
polls
*** UPDATE 1 *** The Quinnsters were apparently ready for this one. From a press release…
Amidst the NFL controversy sweeping the nation about standing up against abuse of women and children, Lt. Governor Sheila Simon and State Senator Toi Hutchinson (D-Chicago Heights) today criticized Republican billionaire Bruce Rauner's Tax Plan for the devastating impact the budget would have on at-risk families in Illinois, particularly those struggling with abuse and violence. While Rauner's Tax Plan puts $1 million into his own pocket, it leaves an $8 billion hole in the state budget. Most of the burden of this massive funding deficit will fall on education - which would suffer an unprecedented cut of $4 billion - but crucial programs helping women, children and other victims of domestic abuse would also be significantly slashed by Rauner's proposal.

Today Rauner, a part owner of Pittsburg Steelers, refused to stand up for battered women and children when asked directly about the NFL controversy sweeping the nation. Rauner become an owner of the team in 2009, shortly after an abuse scandal was brushed off by the team.

"Bruce Rauner needs to answer specifically for the radical reductions he proposes, which will harm some of the most vulnerable individuals in Illinois: the children and spouses who are victims of abuse," Lt. Governor Simon said. "Time and again Rauner has failed to explain how exactly he would preserve critical programming with such unrealistic economic projections. Few specifics have been provided by his campaign at any rate."

"A billionaire and self-proclaimed member of the .01 percent, Bruce Rauner has made much of his ability to invest and make money," Senator Hutchinson said. "Investing in abuse prevention and intervention has been proven to provide long-term returns to the state of Illinois, but when it comes to domestic abuse and its victims, Rauner always seems willing to put politics ahead of people."

Once implemented, Rauner's Tax Plan would have a devastating impact on critical programs funded by the state.
And then it goes on and on like their usual press releases.
* But a Republican, on background, wants you to know this…
State Funding For Domestic Violence Shelters Has Been Cut 13.7% From FY2009 To FY2015 - Nearly $3 Million. (Appropriations Report - FY2009, Illinois Comptroller, p. 204; Enacted FY2015 Budget By Line Item, Governor's Office of Management and Budget)
*** UPDATE 2 *** He shoulda just answered this one to begin with and scored some points…
Rauner new statement: "NFL has badly mishandled the situation" he "stands for women's health and safety" #ilgov14

— Mary Ann Ahern (@MaryAnnAhernNBC) September 17, 2014
*** UPDATE 2 *** The full response from the Rauner campaign did not come from Rauner himself…
"Bruce thinks what Ray Rice did is deplorable and the NFL has badly mishandled the situation. As a husband and father of four daughters, Bruce stands for women's health and safety everyday. Sadly, Pat Quinn has done just the opposite and cut funding for domestic violence shelters by nearly 15 percent. That never should have happened, but Pat Quinn was too busy funneling millions into his own political slush fund that is now the subject of two federal grand jury investigations." - Rauner spokesperson Lyndsey Walters
- Posted by Rich Miller 122 Comments


* The Quinn campaign has a powerful new ad running exclusively on African-American radio stations. There's no music, just a black woman expertly reading her script and a single audio quote of Bruce Rauner. It's an absolute must-listen…
Oof.
* Script…
AFRICAN-AMERICAN WOMAN: Do you know how many professionals work at billionaire Republican Bruce Rauner's investment firm?

51 people.

Do you want to guess how many of those employees are African-American?

None.

Zero.

Not a single African-American.

Why do you suppose that is?

Well, when ABC News asked Rauner he said he couldn't find anyone…

RAUNER: "We weren't finding the folks that, that uh, you know, that weren't there."

Really, Bruce Rauner?

You couldn't find anyone?

You couldn't find a single qualified African-American to work for and represent your firm?

And now you're running TV ads claiming how close you are to our community?

[Chuckles]

Well, we know how to judge our true friends, and those who aren't.

Zero employees out of 51.

So, Bruce Rauner, if you're listening, did you really think no one would ever find out?

PAT QUINN: Taxpayers for Quinn paid for this message because there's so much at stake.
Again, this is playing on black radio. Judge it in context.
- Posted by Rich Miller 116 Comments


* Two points…
Keep in mind that the Tribune's recent poll is included here, which is definitely making things look tighter than they may be.
- Posted by Rich Miller 23 Comments


* Click here to read Bruce Rauner's new ethics plan. Some of it is much-needed, some of it is obvious overkill or rehash.
* Hiring…
* Fire all IDOT employs who got an "illegal" job

* Launch an online portal that includes info on all non-civil service workers

* Request a federal hiring monitor to oversee IDOT
* Revolving door…
* A firm, one-year lobbying ban for all senior executive officials and legislators
I'd go even further and bar any of those folks from negotiating private sector jobs while in office.
…Adding… Gov. Quinn has a bill in the hopper to address part of this. From the LRB synopsis…
Provides that (in addition to current restrictions on chiefs of staff, deputy chiefs of staff, and deputy governors) a chief of staff, deputy chief of staff, or deputy governor serving in the Office of the Governor is prohibited from lobbying or consulting in any fashion before or with the executive or legislative branch of State government for a period of one year immediately after termination of State employment.
* Ban government contract lobsters…
* Any government entity receiving state funds would be barred from hiring an outside lobbyist
* No outside income for legislative leaders (he's already proposed that one)
* Conflicts of interest…
* Expand powers of Legislative Ethics Commission powers to include fines and censure. Legislators whould be prohibited from voting on matters where there are conflicts of interest
It's not clear if that means farmers couldn't vote on a generic farm bill, or whether it would mean farmers couldn't vote on a farm bill that mainly impacted them. Devils are always in the details.
* Recall…
* Recall expanded beyond governor to all constitutional officers and legislators
* No pensions for felons
* Multiple expulsions…
* Amend Constitution to allow for multiple expulsions for the same offense (addresses Rep. Derrick Smith case, when he was expelled and then re-elected and couldn't be expelled again)
That is definitely needed.
* Term limits
* Slush funds…
* More transparency and accountability for state grants
Much of that was already addressed this spring.
*** UPDATE *** From the Quinn campaign…
Quinn for Illinois Communications Director Brooke Anderson issued the below statement regarding Bruce Rauner's desperate attempt to hide his own proven record of profiting from pay-to-play, fraud and corruption:

"Bruce Rauner has zero credibility when it comes to ethics - he has profited from fraud, abuse and mismanagement of his own businesses and taxpayer dollars throughout his career.

"For example, the U.S. Attorney had this to say about one of Mr. Rauner's companies: 'APS Healthcare took Medicaid's money for itself and left some of our most vulnerable citizens without the aid they deserved.'

"Unlike Governor Quinn who takes responsibility and fixes problems whenever they arise, Bruce Rauner takes no responsibility but always takes the profits.

"Mr. Rauner may have been able to take the money and run in the private sector but he can't hide from his own business record of pay-to-play, corruption, fraud and hiring swindlers.

"Bruce Rauner can't be trusted."

Below is a recap of the Governor's record of reform.

Governor Quinn's Record of Reform

Enacted a strong new ethics code that forbids the promise of state jobs and contracts or political favors in exchange for campaign contributions and increases scrutiny of officials, state workers and lobbyists.
Signed legislation that imposes a first-ever contribution limits on candidates, political parties and political action committees and created a Campaign Finance Reform Task Force, which will study the impact of contribution limits and make recommendations following the 2012 & 2014 elections. Mr. Rauner promptly took advantage of a loophole to smash the limits and benefit himself, so he and his fellow billionaires could try and take over Illinois.
Fought for an enacted a law that allows the power to recall a Governor who is not working in the public's interest.
Established he Illinois Reform Commission to examine and present solutions against corruption and taxpayer abuse, including in state hiring.
Issued Administrative Order to strengthen hiring controls and ensure compliance with all Rutan rules.
Fought for and signed law to strengthen the OEIG authority as a hiring watchdog by allowing the OEIG to self-initiate investigations, requiring publication of state employee wrongdoing including wrongdoing related to hiring, and empowering the Inspector General with new authority to review hiring of all agencies to ensure compliance with Rutan and all applicable employment law.
Fought for a signed Grant Accountability and Transparency Act, which is landmark legislation that overhauls the state's grant oversight and accountability process, while providing the strongest grant oversight in the nation.
Vetoed legislation that would have reduced government transparency by limiting the ability of citizens to seek public records under the Freedom of Information Act (FOIA).
Signed legislation creating a permanent public access counselor within the Attorney General's Office to oversee enforcement of the FOIA and strengthening fines for noncompliance.
Launched the Illinois Transparency and Accountability Portal to provide Illinoisans with access to state government spending information.
Launched the Illinois Sunshine Portal Sunshine.Illinois.gov, a new one-stop shop where the public can view many public records and documents online.
Launched data.illinois.gov, a searchable clearinghouse of information from state agencies that will help inform residents about the operation of state government and encourage the creative use of state information, including the development of applications for mobile devices that can be built around the data.
Signed legislation that creates a position of a state actuary to oversee the five state-funded pension systems to help increase transparency of the systems.
Issued an executive order that encourages state agencies and local governments across Illinois to increase the amount of raw data they share with each other, businesses, academic institutions and the general public.
Signed legislation to strengthen the Illinois Open Meetings Act by ensuring that a copy of the meeting notice and agenda is available to the public for the entire 48 hours preceding the meeting.
Signed legislation that strengthens ethics provisions in certain Illinois county governments to help establish ethical guidelines and simplifies the removal process for individuals who violate those guidelines.
It would've been nice if the Quinn campaign found one or two good ideas to praise, but this being the nastiest campaign in modern state history, I suppose that's too much to ask.
- Posted by Rich Miller 66 Comments


* Yes, there are very real problems with the Chicago Tribune's latest poll. But as I told subscribers today, there's good news for Gov. Pat Quinn beyond his alleged 11-point lead…
For his part, Rauner has stepped up his efforts to try to tarnish Quinn's positive reputation on ethics. The Quinn administration faces a federal grand jury probe into an anti-violence grant program he launched shortly before the 2010 election, and a state inspector general's report concluded illegal patronage hiring was done at the governor's Illinois Department of Transportation.

Asked about the impact of those controversies, 56 percent said it makes no difference in their likelihood of voting for Quinn, while 30 percent said it would make them less likely to cast a ballot for the governor.
I don't have the xtabs, but to put that into perspective, 30 percent would equal all the Republicans and about a quarter of the independents. It's a "meh" issue out there.
Discuss.
- Posted by Rich Miller 30 Comments


* The Chicago Tribune reported yesterday shortly after noon about that new federal grand jury subpoena of Gov. Pat Quinn's anti-violence program.
But the Sun-Times had filed a Freedom of Information Act request "seeking 'any state or federal subpoenas' received by the governor's office dating back to Aug. 1." Instead of releasing it to everybody at once, the governor's office chose to give the Tribune the scoop. The CS-T understandably ain't pleased and found a Springfield attorney who was more than happy to pile on…
Quinn's administration released a copy of the two-page grand jury subpoena Tuesday to the Chicago Tribune. When a Sun-Times reporter called to complain about the selective release, the administration finally provided a copy to the Sun-Times, even though the newspaper's subpoena request had been in the administration's open-records pipeline for nearly two weeks.

One of the state's preeminent experts on the Illinois Freedom of Information Act said those justifications by the administration don't hold muster, particularly given the gravity of a federal subpoena.

"We're talking about two pieces of paper. It's not a complicated subject. They know the rules about release of federal subpoenas, and they're playing games with you," Springfield attorney Donald Craven said.

"Then, they further play games when they pick and choose who they release records to. For Mr. Openness and Transparency," Craven said in a barb at the governor himself, "it stinks."
Actually, my colleague David Ormsby scooped both papers in his subscriber-only edition early Tuesday morning, but, whatever, I feel the CS-T's pain here.
The Tribune has a pretty darned big foot. It can hurt sometimes.
* And the Illinois Republican Party relished jumping into the fray today…
Quinn's Not The First Governor To Play Games With Subpoenas

Experts say Quinn's handling of media requests for subpoenas "stinks" — because it smells like Rod Blagojevich

After Being Hit With Three Subpoenas In Late 2005 By Federal Investigators Looking Into Illegal Hiring Practices, The Blagojevich Administration Stopped Releasing Subpoenas It Had Received. " Last fall, the Tribune reported that federal investigators had begun issuing subpoenas to Children and Family Services, Corrections and Transportation–as well as the governor's office–in response to allegations of wrongdoing in state hiring. Those subpoenas sought documents on hiring that dated to March 2002, the month Blagojevich won the Democratic primary for governor. After acknowledging those original federal subpoenas, the Blagojevich administration adopted a new policy in which it has refused to say whether any additional subpoenas have been received." (John Chase and Matt O'Connor, "State memo hints at broad jobs probe," Chicago Tribune, 6/29/06)

In 2007, The Better Government Association Sued The Blagojevich Administration To Force The Subpoenas' Release. "The Better Government Association plans to sue Gov. Blagojevich's office today to force it to release copies of all subpoenas that corruption-busting federal investigators have sent it. Told of the planned lawsuit Wednesday, a Blagojevich aide didn't stray from the administration's long-standing opinion that the subpoenas can't be made public." (Chris Fusco, "Watchdog Puts Heat On Gov's Office: Suit To Seek Copies Of Feds' Subpoenas," Chicago Sun-Times, 1/4/07)

In 2008, A State Judge Ruled The Blagojevich Must Release The Subpoenas. "The Blagojevich administration must release the subpoenas it has gotten from federal prosecutors who are investigating possible corruption, a judge has ruled. The U.S. attorney in Chicago is looking into possible misconduct in the way Gov. Rod Blagojevich awards state jobs and contracts. He has issued subpoenas requiring the administration to turn over various documents. Blagojevich has refused to show the subpoenas to reporters and government watchdog groups, so the Better Government Association sued. Sangamon County Judge Patrick Kelley ruled Wednesday that the subpoenas must be released to the public." ("Judge Rules Blagojevich Must Release Federal Subpoenas," The Associated Press, 1/9/08)
- Posted by Rich Miller 21 Comments


* Congresswoman Cheri Bustos voted for the Paul Ryan, Patty Murray budget plan last year and is now under fire from her GOP opponent for voting to cut spending. From a press release…
The Bobby Schilling for Congress campaign has released their second commercial of the 2014 campaign cycle. The commercial features veterans who are disappointed with Congresswoman Cheri Bustos (D-East Moline) for her heartless vote to cut veterans benefits by $6 billion last year.

In December of 2013, Cheri Bustos voted to cut veterans benefits by $6 billion by voting for the Ryan-Murray budget. Shortly afterwards, Cheri Bustos said that her vote to cut veterans benefits was "right for America." Veterans across the Illinois 17th District were outraged by this heartless vote.

In addition to voting to cut benefits to veterans and their families in her own district, Congresswoman Bustos failed to lead when veterans needed her most during the VA crisis. While veterans were dying on wait-lists at VA hospitals, Cheri Bustos said and did nothing until Bobby Schilling stepped up.

Bobby Schilling opposed the Ryan-Murray budget. In an op-ed he wrote in January, Schilling said "we should be cutting our debts, not our vets."

Schilling also led first to solve the VA crisis. Schilling introduced the Enhanced Veterans Health Care Experience Act back in 2011, a bill that would fix the VA wait-listing issue by allowing veterans to use their own doctors in their own hometowns. Schilling's bill was included as a provision in this summer's VA reform legislation that passed the House unanimously 426-0 and has now been signed into law.

There is a clear contrast between Cheri Bustos' disappointing record on veterans issues and Bobby Schilling's aggressive advocacy for veterans in his district.

It is very hypocritical for Cheri Bustos to run a TV commercial about what her staff did for one veteran while she voted to hurt tens of thousands of veterans. This new ad shines light on Cheri Bustos' failure to stand up for veterans.

Jon Schweppe, communications director at Bobby Schilling for Congress, released the following statement:

"Cheri Bustos spent more than a year voting against veterans and ignoring their concerns, and now she's trying to flip the script in an election year. If Cheri Bustos wants to work on her image with veterans—which she clearly does, judging by her first two commercials—maybe she should just follow through on her promise to give up 10 percent of her pay and donate the $34,800 to a veterans charity. That would be the right thing to do."
* Schilling's new ad…
* Script…
Bobby Schilling (Colona): I'm Bobby Schilling, and I approve this message.

Councilman Eric Turner (Peoria): We've risked our lives.

Brian Munos (Silvis): We've put it all on the line.

Ken Moffett (Moline): And how did Congresswoman Cheri Bustos repay us?

Munos: Bustos voted to cut veteran benefits by six billion dollars.

Ron Tady (East Moline): Six billion dollars!

Moffett: That's billion with a B.

Munos: After promising she never would.

Moffett: How could you cut our benefits, Cheri?

Turner: How could you?

Munos: How could you?

Tady: How could you? Shame on you.

Moffett: Shame on you.

Turner: Shame on you, Congresswoman Bustos.
* The bipartisan lesson here is that budget cuts never play well in general election campaigns. That's why Bruce Rauner vows to increase state spending on education, infrastructure and IDNR even though he also pledges to cut taxes. Bustos tried to position herself in Congress as a fiscally conservative Democrat. So, she gets this hit.
However, the hard reality of governing is that when you demand cuts (as Schilling has and does), then stuff like this happens.
*** UPDATE *** From the Bustos campaign…
Today, Colin Milligan, the Communications Director for Cheri Bustos for Congress, released the following statement on ex-Congressman Bobby Schilling's new desperate and dishonest negative ad:

"Ex-Congressman Schilling wasted little time going negative. In an apparent act of desperation, Schilling has responded to Cheri Bustos' strong support from Illinois veterans by airing a dishonest attack ad in the hopes of confusing voters about her record. Veterans are such a priority to Cheri that she not only led an effort to protect military retiree benefits, but has combat veterans on her staff. And voters have already seen first-hand that when veterans speak up, Cheri Bustos listens.

"Once again, ex-Congressman Schilling is trying to distract voters from his anti-middle class record by pointing to cuts that never happened, but voters know the truth."
- Posted by Rich Miller 24 Comments


- Posted by Rich Miller Comments Off


* After months of portraying Bruce Rauner as an out of touch rich guy, the Quinn campaign is now turning to how Rauner made his money. From a press release…
An FBI criminal probe that led to a $13 million settlement for Medicaid fraud by a company owned and controlled by GTCRauner is featured in a new ad released Wednesday by the Quinn for Illinois campaign.

APS Healthcare agreed to the settlement after the criminal investigation concluded that the GTCRauner-controlled firm had engaged in defrauding the government for services that were never provided and denied needed care to the most vulnerable.

The settlement on behalf of the Georgia Medicaid program was made in 2011, while Rauner was still chairman of GTCRauner.

The U.S. Attorney overseeing the investigation said that Rauner's firm not only defrauded taxpayers, but "took Medicaid's money for itself and left some of our most vulnerable citizens without the aid they deserve."

GTCRauner sold APS to another company in 2012, which called the firm a $222.3 million lemon as part of a lawsuit in which the Medicaid fraud features prominently. Rauner has refused to take responsibility for business failures like APS, instead choosing to only take the profits.
* The ad…
* Script…
NARRATOR: Bruce Rauner's healthcare company APS was caught by the FBI defrauding taxpayers and cheating patients.

Rauner's company had to pay a $13 million settlement.

The U.S. Attorney said Rauner's company "took Medicaid's money for itself and left some of our most vulnerable citizens without the aid they deserve."

Did Bruce Rauner really think no one would find out?
Discuss.
- Posted by Rich Miller 43 Comments


* This ad was recorded by a friend off his TV at my request this morning because the Rauner campaign has yet to release its own version.
It's pretty hard-hitting, but one of the first times I've seen the lesser-known Senate President John Cullerton used in a negative hit. They probably needed his 25 years in office to push the total to an even 100…
…Adding… The Rauner campaign has a press conference scheduled for 10 o'clock this morning to "make a major policy announcement." The ad will likely be released after that. The campaign has set up the ad with a press release, however…
Across Illinois, They're Talking About Pat Quinn's Corruption

Grand jury subpoenas. Illegal patronage hiring schemes. Secret insider deals. We've seen this move before; we know how it ends.

Federal grand jury subpoenas…

A new subpoena seeking records about Gov. Pat Quinn's botched 2010 anti-violence program has been issued, this time from a federal grand jury based in Chicago.

The request marks the first subpoena issued by Chicago-based federal authorities in the probe into Quinn's $54.5 million Neighborhood Recovery Initiative. Numerous prior subpoenas had come from federal authorities in Springfield.

The federal grand jury in Springfield has subpoenaed emails from the governor's former chief of staff, Jack Lavin, and several others heavily involved in implementing the program.

Illegal patronage hiring schemes…

Sanguinetti says it's wrong that the governor's administration is allowing a little more than 100 of those people to keep their jobs at IDOT. The Rauner campaign says the hirings are wrong considering Quinn says he's working to clean up state government.

"We should get rid of all these illegal hires and going forward, we should do the right thing, the fair thing, which is hiring people based upon merit," Sanguinetti said.

Sanguinetti says one of those keeping their job is a woman married to a Peoria labor official who has contributed to the Democratic Party.

Secret insider deals…

Republican governor candidate Bruce Rauner said Tuesday he wouldn't have signed legislation creating Illinois' medical marijuana pilot program because it includes a secret process for deciding who may grow and sell the drug.

Rauner said it's "another hallmark" of a culture of corruption under Democratic Gov. Pat Quinn. He said the public should know who's applying for a limited number of state permits, and whether the permits are given to "insiders" with political clout.
"Millions of dollars in business licenses are up for grabs, and Pat Quinn wants to keep taxpayers in the dark," Rauner said.
- Posted by Rich Miller 91 Comments


* Let's try a late-night, non-political, non-Illinois post for a change. I napped twice today because I wasn't feeling well, and was having trouble sleeping tonight, so, among other things, I read this story about how a former corporate CEO is ruining Michigan football…
If the people running college football see their universities as just a brand, and the athletic departments merely a business, they will turn off the very people who've been coming to their temples for decades. Athletic directors need to remember the people in the stands are not customers. They're believers. Break faith with your flock, and you will not get them back with fancier wine.

If you treat your fans like customers long enough, eventually they'll start behaving that way, reducing their irrational love for their team to a cool-headed, dollars-and-cents decision to buy tickets or not, with no more emotional investment than deciding whether to go to the movies or buy new tires.
Beware, Ricketts family.
HT: Zorn.
- Posted by Rich Miller 15 Comments


* Congressman Bill Enyart has a new TV ad highlighting the infamous Mike Bost House floor rant. The tagline is, "Mike Bost, 20 years yelling, 20 years being the problem"…
Since Bost has a new ad portraying himself as calm and reasonable, I'm figuring that Enyart believes this line of attack works well.
Your thoughts?
…Adding… Script…
This is the problem. That's Mike Bost

That's Mike Bost 20 year Springfield Politician

Bost voted for dishonest budgets and raised taxes, borrowed billions, and wasted money

And we're paying the price

Mike Bost, 20 years yelling

20 Years being the Problem
- Posted by Rich Miller 32 Comments


Uh-oh
Tuesday, Sep 16, 2014
* Tribune…
A new subpoena seeking records about Gov. Pat Quinn's botched 2010 anti-violence program has been issued, this time from a federal grand jury based in Chicago.

The request marks the first subpoena issued by Chicago-based federal authorities in the probe into Quinn's $54.5 million Neighborhood Recovery Initiative. Numerous prior subpoenas had come from federal authorities in Springfield. […]

The new federal subpoena comes from a special February grand jury in Chicago. It was delivered to the Illinois Criminal Justice Information Authority, a state agency that took over the anti-violence program two years after it started, according to a copy the Tribune obtained. […]

What's unclear is how the two grand juries differ or if federal authorities in Springfield and Chicago are working in tandem. The Chicago-based district covers the city and the suburbs where the grants in the anti-violence program were distributed, but the central district has increased its focus on grant fraud over the past few years.
…Adding… I'm told the Chicago grand jury has subpoenaed the same records as the Springfield US Attorney. It appears they're working together somehow.
Also, the grand jury already had the records via the state's attorney, but they apparently needed the originals from the state.
- Posted by Rich Miller 54 Comments


* From Bernie's Sunday column…
[Professor emeritus of political science at the University of Illinois Springfield Kent Redfield] said he doesn't think either candidate for governor is telling the real story [about the budget and taxes].

"The best we're going to do is … end up with less services and higher taxes," Redfield said. "And that's not a great campaign slogan."
Indeed.
- Posted by Rich Miller 19 Comments


* From WUIS…
The endorsement can be viewed less about support of Quinn, and more about fear, rejection, and even loathing of Rauner.

A statement issued by AFSCME, quoting its director, Roberta Lynch, is telling. There's no praise for Quinn, but heaps of criticism of Rauner. Lynch is quoted as saying, "We won't let our great state become the latest victim in this venture capitalist's long line of hostile takeovers."

"Although we have had serious differences with Governor Quinn in recent years …he acknowledges the right of workers to collective bargaining, advocates for the revenue needed to provide public services, and has pushed to raise wages for the lowest paid workers.The stark contrast between these two candidates—with Rauner so clearly opposed to the interests of working families—impels our union to support Governor Quinn's re-election," Lynch says.

Rauner has consistently pointed to Wisconsin Gov. Scott Walker and Indiana's former Gov. Mitch Daniels as political role models; both leaders oversaw making their states "right to work" — a policy that diminishes unions' strength. During the primary, Rauner consistently blamed "government unions bosses" for Illinois' financial troubles — pointing to just these sort of scenarios: If Quinn does win, it would be thanks in part to AFSCME and its large campaign apparatus; the next governor will have to negotiate a new contract with the union.
* Here's the official resolution…
* The Chicago Teachers Union was royally upset when Quinn picked Paul Vallas as his running mate, but the union endorsed the governor last week…
"I am proud CTU's rank-and-file has made Governor Quinn their choice to lead Illinois. He is a consensus builder, will support public school educators and will continue his work to strengthen public education in Illinois and protect working families," Lewis said. "Governor Quinn believes in public schools and I know he will fight to make sure every child has a great education."
- Posted by Rich Miller 50 Comments


* Both campaigns have taken extraordinary measures in recent weeks to keep opposition "trackers" out of their events. But this was a bit much, if you ask me…
Team Rauner wouldn't allow 12 Columbia College journalism students into press conference. Nor would Rauner stop to talk to students.

— natasha korecki (@natashakorecki) September 16, 2014
Rauner tells Columbia College students/professor that pressers are open to "working press only." Locked them out. #twill #ilgov

— natasha korecki (@natashakorecki) September 16, 2014
Oh, c'mon, man. That's just overkill.
*** UPDATE *** Sun-Times…
"When I asked about future events, she said that it was their 'policy' that only credentialed press would be allowed in," [Columbia College Professor Curtis Lawrence] said. "When I mentioned that some of the students were published in the school-sponsored website, ChicagoTalks, she reiterated that they too would need credentials. This has never been an issue with other campaigns and we do this regularly during campaign season." […]

"It appears we just got a sneak preview of what it would be like to cover a Bruce Rauner administration: little access and no respect for young journalists," said Quinn spokeswoman Brooke Anderson. […]

"When I reminded some of the students that have taken classes with me before that this experience was totally different from when we covered Quinn's press conference announcing Vallas as his running mate, one replied: "Yeah, they gave us candy."
- Posted by Rich Miller 49 Comments


* From the Bruce Rauner campaign…
Bruce Rauner today called for openness and transparency in the application process for Illinois medical marijuana licensing. Recent media reports have shined a light on Pat Quinn's effort to block public access to information regarding Illinois medical marijuana facility license applicants. The legislation enabling the sale of medical marijuana makes the applications for companies vying for facility licenses "secret."

"My message to Pat Quinn is this: Governor, the jig is up. Stop this rigged process before it moves forward any further," Rauner said. "The application process for medical marijuana should not be held in secret where insiders win and taxpayers lose; it should be open and transparent."

Under legislation signed by Pat Quinn, 22 licenses will be issued by the Illinois Department of Agriculture for "cultivation centers" that are legally allowed to grow medical marijuana. The Department of Financial and Professional Regulation will issue 60 licenses for medical marijuana dispensaries. By statute, Pat Quinn's administration will get to pick the winners and losers for both types of licenses.

Enter Quinn's former chief of staff, Jack Lavin. During Tuesday's televised Chicago Tribune gubernatorial debate, Pat Quinn was pressed to explain who in his office recommended illegal patronage hires to the Illinois Department of Transportation. Quinn pointed the finger at his former chief of staff and best friend, Jack Lavin. A federal grand jury also recently subpoenaed Lavin's email as part of the U.S. Attorney's investigation into Quinn's failed anti-violence program. After signing off on illegal hires at IDOT, Lavin is now representing one of the potential medical marijuana applicants. Last week, Bruce called on Quinn to direct all state agencies to refuse lobbying efforts from Lavin.

"The medical marijuana process is straight out of the Rod Blagojevich playbook," said Bruce Rauner. "Instead of a non-transparent program manipulated by Pat Quinn's cronies, we should auction off licenses to the highest qualified bidder, with full disclosure of each company's financial interests."

The Illinois General Assembly should pass new legislation authorizing a competitive and transparent process for pre-approved applicants to bid on medical marijuana growing and dispensary licenses, ensuring appropriate safeguards for intellectual property, financial and security capabilities and detailed information on the financial interests of bidders. Winning participants unable to meet the terms set forward by the state would lose their license, allowing the state to competitively rebid for services.
* But according to a Democratic backgrounder, Rauner has his own connections to med-mar investors…
Turns out 2 of Rauner's top supporters - Steve Denari and Tom Cronin are trying to cash in on medical marijuana big time:

Steve Denari is on the Board of Democrats and Independents for Rauner SuperPac: http://www.bnd.com/2014/04/15/3162876_carl-officer-forms-superpac-to.html


Denari is also the Chief political strategist of Democrats and Independents for Rauner, Denari and Tom Cronin, the River Forest Republican Committeeman got together to start a fund to give loans to companies starting marijuana businesses. They are trying to raise between $50 and 100 Million [according to Crain's Chicago Business]
…Adding… It doesn't appear that the SuperPAC mentioned above (via the Belleville News Democrat) has yet been formed. However, Denali says in the article that he backs Rauner and Cronin is a Rauner contributor.
* From Crain's…
Prairie Wellness Fund originally intended to raise about $50 million to meet demand in Illinois, but after announcing its plans earlier this month the level of interest among potential applicants has increased its goal to "somewhere between $50 million and $100 million," said Mr. Denari, who is CEO of Political Action League and chief political strategist for Democrats and Independents for Rauner, a super PAC formed by East St. Louis Mayor Carl Officer. In 1994, Mr. Denari was the Democratic opponent of former House Speaker J. Dennis Hastert after chairing Texas billionaire Ross Perot's 1992 presidential campaign in the Chicago area.

The organizers of Prairie Wellness Fund are still gauging demand and aren't yet soliciting investors until they prepare and issue a private placement memorandum, probably around Sept. 1. They plan to seek investors only from Illinois, primarily wealthy individuals and family-run investment pools.

In addition to the short-run opportunity of providing loans and letters of credit for applicants, there may be long-term financing needs to get marijuana businesses up and running. With plans to charge interest rates of about 24 percent, Mr. Griffin said returns to investors should range somewhere above 20 percent, net of fees and before taxes. […]

"If anybody can't afford 2 percent a month in this business, you don't want them," Mr. Denari said. "There's something wrong with their business model."
That's a pretty hefty vig, if you ask me.
*** UPDATE *** From Illinois NORML…
Illinois NORML (National Organization to Reform Marijuana Laws) is appalled that Bruce Rauner wants to delay the application process for the dispensary and cultivation center licenses of the Medical Cannabis Pilot Program by having the Illinois legislature pass a new law regarding transparency and bidding in the application process. Medical cannabis patients have been waiting for years for the bill to pass and have now had to wait months for the agencies to adopt rules and regulations that would guarantee a professional program to help ensure that program will eventually be made permanent.

Dan Linn, Executive Director of Illinois NORML commented, "Bruce Rauner essentially told every cancer, ALS and Multiple Sclerosis patient in Illinois that they are now pawns in his political game. If he wanted to comment on this law or any aspect of the Medical Cannabis Pilot Program he could have done so during the public comment period of the draft rules or at any of the three town hall meetings that took place over the summer. By calling for a delay in the application process and the issuing of cultivation and dispensing licenses now, he is telling seriously ill patients that they should wait longer to get access to this medical treatment."

The fact that Bruce Rauner wants to auction off licenses to the highest bidder shows how familiar he is with using his vast fortune to squash attempts for small businesses and entrepreneurs to gain a foothold in an industry. Medical cannabis patients should not have to wait any longer to get access to this medicine, as many are struggling to survive and are in constant pain; to use them as a tool for political leverage is disgusting. Furthermore, the pilot program is set to expire in less than four years and medicine will probably only be available for less than three years of that time, so any further delay is going to negatively impact the health of many patients who are eagerly awaiting safe and legal access to this medicine.

"Mr. Rauner has now demonstrated his lack of compassion for those who are seeking relief through the use of medical cannabis." Linn added.

Illinois NORML also noted Rauner's lack of familiarity with the law since as written it is designed to cost the taxpayers of Illinois nothing and must be financially self sufficient. By claiming that the application process will cost taxpayers he has revealed his lack of understanding of one of the basic aspects of the Medical Cannabis Pilot Program.

Illinois NORML Assistant Director added, "Many Illinois patients have died while waiting for legal access to this important medicine, including some who worked for years to help pass the law but were never able to take advantage of it themselves. This proposed delay is unacceptable and patient access should be provided as soon as possible."
*** UPDATE 2 *** From Evelyn Sanguinetti…
"As a woman living with Multiple Sclerosis, I will not allow Pat Quinn's allies to politicize MS or any other disease in order to mask his cronyism and corruption. There is nothing that prevents medical marijuana from proceeding in an open and transparent manner except the corrupt insiders who have something to hide."
- Posted by Rich Miller 39 Comments


* From the Bost campaign…
The Mike Bost for Congress campaign released its latest ad "Standing Up" today. In the 30 second spot, Bost highlights the reasons he's running for Congress and why do-nothing politicians, like Bill Enyart and President Obama, have neglected Southern Illinois families.

"This ad reinforces that Mike Bost is a leader who isn't afraid of straight talk," said Bost Campaign spokesman Jim Forbes. "In Springfield he stood up against Pat Quinn and in Washington he'll stand up against Barack Obama, Nancy Pelosi and other liberal Democrats."

The ad highlights Bost's famous stand against Chicago politicians on the floor of the State House and the frustration he feels over Obamacare, EPA regulations and the economy. It will air district-wide beginning today.
Actually, the ad doesn't "highlight" the rant at all. It merely has Bost showing the ad (without audio) on a laptop screen for a second or two, before closing the computer.
Bost smiles gently, and is cool, calm and collected throughout the ad. So, all the screaming from the right the other day about how the Democratic ad would backfire may not have been accurate. If the rant was helpful, Bost's campaign would've used the actual audio and video.
* Rate it…
- Posted by Rich Miller 18 Comments


* Dan Mihalopoulos looks at the GTCR sale of APS Healthcare to Universal American Corp. in 2012…
In a federal lawsuit filed against GTCR, Universal American says Rauner's firm essentially sold it a $222.3 million lemon after APS and GTCR executives engaged in a "deliberate campaign to conceal the truth."

In the suit, filed in November in Delaware, Universal American says it was told that APS estimated 2012 revenues of $44.8 million for 2012. Within six weeks of the deal closing, the revenue forecast dropped 40 percent. And four months later, projected revenues were down 90 percent. The final amount was a fraction of the initial forecast, according to court records.

Much of the lawsuit centers on APS' dealings with an unspecified government agency, referred to in court records only as Customer A. The company's deal with the agency represented nearly 42 percent of APS revenues, court records show. But Customer A officials allegedly told the company before the sale that it had failed to deliver promised mental health services and could lose the public contract.

Universal American says the gravity of the situation was hidden from the potential buyers by APS executives and by a GTCR managing director named David Katz, who left the firm recently. Katz is a defendant in the suit, which does not name Rauner personally. […]

"Bruce is not involved with this, and it is best to let GTCR's motions speak for themselves," Rauner spokesman Mike Schrimpf said Tuesday. "Bruce was never on the board at APS, did not put together the deal and played no role in the management of the company."
Reuters had this story back in October of 2013. Doug Ibendahl posted the complaint back in March.
* The Quinn campaign yesterday…
Democratic nominee for Lt. Governor Paul Vallas, State Representative Greg Harris (D-Chicago) and Medicaid advocates on Monday questioned Republican billionaire Bruce Rauner's credibility to run the state's finances after he profited off fraud and abuse at one of his companies that led to an FBI investigation - and a $13 million penalty for defrauding Medicaid.

While Rauner was at the helm of GTCRauner, his company APS Healthcare, Inc. falsely billed the Georgia Medicaid program and lied about providing disease management care to the poor and the sick.

Following a criminal probe of APS Healthcare by the FBI, the U.S. Attorney said at the time that Rauner's company "took Medicaid's money for itself and left some of our most vulnerable citizens without the aid they deserved."

A Health and Human Services Inspector General Investigator who worked with the said the Rauner company's crime was compounded by the fact that the criminal Medicaid fraud diverted, "desperately needed resources from those who need it most."

At a Monday press conference, Vallas said:

"Bruce Rauner has no credibility when it comes to addressing waste, fraud and abuse - in fact, he has profited from fraud and abuse at his company.
* The Quinn campaign today…
New information revealed Tuesday by the Quinn for Illinois campaign shows that a firm controlled by GTCRauner was giving campaign contributions to Georgia lawmakers at the same time it was defrauding the state of Medicaid funds.

It's already been reported that, following a criminal probe by the FBI, GTCRauner-controlled APS Healthcare settled the charges in 2011.

What hasn't been revealed, until now, is that APS Healthcare gave $25,150 in political contributions to lawmakers involved in maintaining a troubled contract that the Rauner company eventually lost.

Previous to GTCRauner's control of the company in 2007, records show, APS had never made political contributions to Georgia lawmakers. This is consistent with Mr. Rauner's record of pay to play, from Pennsylvania to Stuart Levine to contracts in Cook County.

The U.S. Attorney overseeing the investigation that led to the settlement said that the GTCRauner-controlled firm didn't merely defraud taxpayers, but "took Medicaid's money for itself and left some of our most vulnerable citizens without the aid they deserved." […]

"While defrauding the most vulnerable, as well as the taxpayers, now we learn that yet another Rauner firm was paying lawmakers to keep the spigot open," Quinn for Illinois Deputy Press Secretary Izabela Miltko said Tuesday.

"The revelations about this apparent pay-to-play arrangement raise new questions. Did Rauner personally approve the political contributions to preserve his contracts? Did he know about the criminal fraud taking place at the time of the contributions? When did he learn of it? What did he do about his own company systematically defrauding Medicaid and exploiting the most vulnerable?

"Time and again we see Bruce Rauner presiding over businesses that exploited the most vulnerable, while he took the profits. The Georgia records appear to show him using money again to get what he wants. Bruce Rauner must explain his role."
Discuss.
- Posted by Rich Miller 36 Comments


* Sun-Times…
Coming off a weekend where he's reportedly down in the polls, Republican gubernatorial candidate Bruce Rauner launched one of the harshest attacks yet against Gov. Pat Quinn, likening Quinn to a crafty political patronage boss who heads an "Outfit" that's steeped in cronyism.

Rauner described himself as decidedly different: "I'm nobody that nobody sent," he said.

Looking down at prepared remarks, Rauner read off a lengthy attack on Quinn and a patronage hiring scandal at the Illinois Department of Transportation, saying Quinn has failed to fire more than 60 percent of those who were deemed political hires at the agency.

"This scam, perpetrated by Pat Quinn has got to end," Rauner said. "Pat Quinn is not the folksy, bumbling fool he'd like us to think he is. He knows what he's doing. He knows what he's done."

Rauner said if elected, he would partner with Michael Shakman to work out a settlement that includes a federal hiring monitor. His remarks came after Quinn on Friday released the names of more than 100 clouted state transportation employees who were part of what the state's top ethics watchdog dubbed an improper hiring scheme. Quinn also said he would keep the 103 IDOT employees on the payroll.
* Video…
* Rauner's comments referred to this Friday AP story…
Gov. Pat Quinn's administration hired more than 60 percent of the Illinois Department of Transportation workers whose employment was deemed improper by a state watchdog, a document released Friday shows.

The IDOT document shows that 173 of the 245 people hired as "staff assistants" since 2002 still work for the state, including 161 at the transportation agency. […]

An IDOT spokesman said none of the remaining employees will be fired, as Rauner has demanded.
…Adding… The Quinn campaign notes a mathematical error in the AP story. They didn't subtract the 58 "staff assistants" laid off by Quinn.
* And speaking of the Shakman case, this is also from the AP…
Gov. Pat Quinn contended in a federal court filing late Monday that a court-appointed monitor is not necessary to ensure compliance with political hiring bans, as suggested by an anti-patronage attorney.

In the filing by the attorney general's office, Quinn says his response to allegations of political hiring in the Department of Transportation has been "prompt, appropriate and aimed at a long-term solution to preventing any such improprieties in the future." […]

Quinn said he ordered that all Transportation Department executive-level staff members undergo training on proper hiring practices; that the department employees receive written performance evaluations on an annual basis; the creation of a merit board to "ensure the integrity of all personnel matters" and provide greater accountability and transparency, and a moratorium on the creation of positions that can be filled with political hires until the inspector general's recommendations are implemented satisfactorily.

"Despite plaintiffs' contentions, the uncontested facts do not demonstrate a widespread patronage problem," the filing
* Rauner campaign response…
"This is a flagrant betrayal of the public's trust," Rauner said. "If Pat Quinn was willing to brazenly mislead a federal court, there is no reason to start trusting him now."

Protecting cronies, public deception, misleading the courts - those are not supposed to be the actions of a governor.

Those are the actions of someone leading the outfit - and make no mistake about it, Pat Quinn is leading a patronage and cronyism outfit in Springfield and Chicago.
* Related…
* Tribune editorial: A management problem? Give us a break. This was a patronage hiring scam, pure and simple. And Quinn owns it.

* News-Gazette editorial: Gov. Quinn should have wiped the entire slate clean. The decision to allow some to stay reveals a disturbing double standard while the lawsuit challenging the layoffs demonstrates a deceitful political calculation. That's exactly the wrong message to send to the public.

* Rauner's call for firings of 'illegal patronage hires' would affect many in Springfield
- Posted by Rich Miller 37 Comments


* A friend sent me this text message Saturday evening. I enhanced it with links…
Just witnessed: Quinn's van attack ad immediately followed by the Rauner van ad

Took ALL of the wind out of Rauner's ad
An hour and a half later, from the same friend…
Dude. It just happened again but with the minimum wage ad
The more I think about it, the more I believe that van ad is a silly mistake on Rauner's part.
* And speaking of the minimum wage…
The [Tribune] poll found 69 percent of Illinois voters back an increase in the state's $8.25-an-hour minimum wage to $10 by Jan. 1 for adults over age 18. Only 27 percent oppose the proposal, while 5 percent had no opinion. The statewide poll, conducted among 800 registered voters Sept. 3-12, had a margin of error of 3.5 percentage points. […]

Nearly 9 in 10 Democrats favor a wage rate increase. Republicans are split, with 51 percent opposing it and 42 percent supporting it. But among independent voters, traditionally a swing voting bloc, 65 percent favor a wage rate increase and 30 percent oppose it.

Even a majority of voters who consider themselves either very or fairly conservative — 54 percent — backed a higher minimum wage in Illinois, compared with 41 percent who oppose it.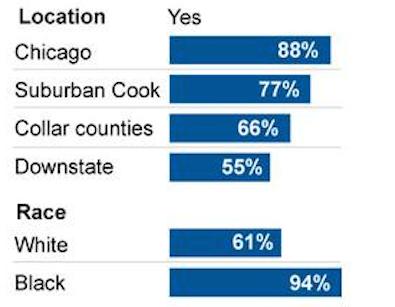 …Adding… Related…
* Bridge Project Video: Bruce Rauner: Adamantly Against What's Right for Illinois
- Posted by Rich Miller 42 Comments


* My Crain's Chicago Business column…
"I've seen that DGA poll," a friend of mine says about a survey showing Gov. Pat Quinn leading Bruce Rauner 43 percent to 40 percent.

My friend says the Democratic Governors Association survey, released Sept. 11, shows big-time danger for the GOP challenger. Voters will "move off him in droves when given the right nudge."

What "nudge" would that be?

Several, he says. The allegations from the Republican primary about abuse in nursing homes that Mr. Rauner's company once owned. Being a rich guy who didn't pay payroll taxes two years straight was another.

And then there was "the fraud company thing."
Click here to read the rest before commenting, please. Thanks.
- Posted by Rich Miller 48 Comments


* My weekly syndicated newspaper column…
The Illinois House Democrats launched their direct mail and TV program weeks earlier than the House Republicans in an attempt to knock the GOP candidates down before they even had a chance to stand up.

The mail started going out not long after the mid-August Illinois State Fair. Four years ago, during a national Republican tidal wave, the House Republicans preemptively launched their advertising program in mid-September, catching the Democrats off guard. The Republicans won a few seats they might not have picked off had they started at the usual time. The Democrats learned a valuable lesson, raised an absolute ton of money, and began their mail and TV programs even earlier.

As a result, the Republicans, who don't have much money, have been buried by hundreds of thousands of dollars in early Democratic advertising.

And the Democrats have also clearly beaten the Republicans to the punch when it comes to parroting the "message track" used by the current leader in the governor's race, Republican Bruce Rauner.

Rauner's been running his "Shake up Springfield" ads all year long. He's spent millions building his anti-incumbent, outsider message of term limits, tax cuts and property tax freezes.

But if you look at what the Democrats are doing everywhere in the state, the long-entrenched super-majority party is running very similar ads to Rauner's. They are, in one GOP operative's view, protecting their members by portraying Republican challengers as tax-loving incumbents and "tying them to the dysfunction."

"Mel Thillens in charge of our tax dollars is as reckless as a bull in a china shop," blares the headline on a recent House Democratic mailer that attacks the suburban Park Ridge Republican.

"Mel Thillens never met a tax increase he didn't like," the claim is made on the mailer's other side, noting that Thillens had voted to raise property taxes by almost 50 percent and voted for "deficit spending."

Rep. Marty Moylan (D-Des Plaines) is "fighting against unfair property tax hikes" by pushing legislation to cap them, it continues. A concurrently running cable TV ad presses home the same message: Thillens loves tax hikes and deficit spending.

"Politicians get enough perks when they retire," another pro-Moylan mailer states. "They shouldn't get free health care, too."

On the flip side, the mailer makes note of the fact that Moylan opted out of the legislative pension system and sponsored legislation to get rid of health care for retired politicians. "Marty Moylan will fight to make sure our tax dollars are spent on our priorities, not perks for politicians."

The Republicans have a positive piece in the mailboxes for Thillens. It points out that Thillens "helps run a multi-million dollar family business," and explains why he wants to work "60 hours a week as a state Representative."

Um, in the age of Bruce Rauner's $18 watch and an intense anti-Springfield mentality, the Thillens' message track is decidedly different than Moylan's. Suggesting your candidate is a millionaire and claiming he can't wait to dive into the business of Springfield probably isn't a good idea.

As a result, Rep. Moylan is doing almost as well as Rauner in the 55th House District, according to a new Capitol Fax/We Ask America poll.

The poll of 334 likely voters taken September 10th found Moylan was leading Mel Thillens 48-39. Rauner was ahead of Gov. Pat Quinn 52-39 in the district. The poll had a margin of error of +/-5.4 percent.

The early and quite expensive "independent outsider" messaging has attracted significant Republican support for Moylan. He's getting 19 percent of self-identified Republicans, compared to Thillens' 9 percent of Democrats. And the two are so far splitting the conservative-leaning independent vote, which made up 46 percent of the poll's voter sample.

That can also be seen as a sign of trouble for Moylan, however. If Republican voters "come home" and independents break more heavily against the incumbent Moylan, this thing could tighten up. The House Democrats' messaging is obviously designed to prevent that from happening.

Of course, this is just one poll - a "snapshot in time." The House Democrats say their polling shows them "in the driver's seat" in the district and the Republicans actually liked the We Ask America results.

But a poll taken near the beginning of the huge Democratic paid media onslaught found Rep. Moylan ahead 47-33, with Rauner leading 51-36.

That poll was done by respected national pollster Fabrizio Lee on behalf of WLS Radio talk show host Dan Proft's political fund. The live-caller survey of 300 likely voters was taken the week of August 25th and had a margin of error of +/-5.5 percent. The House Democrats much preferred those numbers, of course.
Discuss.
…Adding… Greg Hinz…
* Mike Madigan pulls in $358,000 — in one weekend
- Posted by Rich Miller 7 Comments


* The antibiotics are starting to do their job. I'm still not feeling great, but I think I'll be blogging some today.
It seems like half the people I know have been sick during the past week. So, we'll make this an open thread about recent illnesses.
- Posted by Rich Miller 26 Comments


* I'm still sick as heck. But I'm so weirded out about this new Chicago Tribune poll showing Gov. Pat Quinn leading Bruce Rauner 48-37 that I had to post something. I'm just going to point out two things because I'm nowhere near up to strength.
* First, the poll was taken using registered voters…
The poll, conducted Sept. 3 through Friday by APC Research Inc., featured interviews on landlines and cellphones with 800 registered voters.
I don't know anybody polling registered voters in mid-September. Everybody is polling likely voters.
Also, the universe of registered voters is always going to skew more Democratic than the universe of likely voters (hence the Democratic Party's huge push to increase turnout this year), so that explains a lot.
* Secondly…
Helping fuel Quinn's early advantage was the poll's finding that 43 percent of voters identified themselves as Democrats while only 24 percent called themselves Republicans and 28 percent said they were independents. The partisan split is identical to a Tribune poll in fall 2008, when home state Democrat Barack Obama made his first bid for the White House, and also represents a high-water mark for Democrats in Illinois in a nonpresidential year since 1998.
Everyone who thinks that this is an Obama '08 wave year in Illinois, please raise your hand.
The Tribune's polls have been pretty good over the years. They were the first to point out how close the governor's race really was in 2010, for instance. But this one, I'm afraid, appears to be a flawed outlier.
- Posted by Rich Miller 116 Comments


* I was trying to fight off something all week last week. A bunch of people I know were down for the count, but I somehow managed to carry on and thought I'd actually beat it.
Well, this morning, I woke up with a miserably painful ear and throat infection. I have a doctor's appointment, but I'm really in no condition to blog until I get this taken care of. Sorry, folks, but no show today.
- Posted by Rich Miller Comments Off