* Reboot…
The automated poll, conducted Oct. 7 among 1,083 likely voters by We Ask America, found Cross leading Frerichs 40 percent to 39 percent, with Libertarian candidate Matthew Skopek at 6 percent and 15 percent undecided. Party identification of respondents was 27 percent Republican, 35 percent Democrat and 38 percent independent. The margin of error is 2.98 percent. Cell phone contacts made up 24.5 percent of the respondents.

Frerichs, a Champaign Democrat, had trailed Cross, an Oswego Republican, in Reboot Illinois polls on June 17, July 31 and Sept. 4, by margins of 7, 11 and 6 percentage points, respectively.
* Xtabs…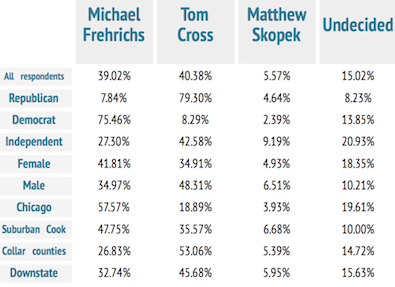 * And the new result ought to help Frerichs raise money. From a recent NYT article entitled "How to Win at Raising Money: Warn That You're About to Lose"…
Why do campaigns keep saying they're losing? These doom-and-gloom messages seem to be effective at motivating donors. The best evidence to support this claim comes from a new study by the social scientists Todd Rogers of Harvard and Don A. Moore of the University of California, Berkeley.

In other contexts, they note, projecting confidence is often a successful leadership strategy. But in politics it may serve to demobilize potential donors by convincing them that their contributions are unnecessary. Why give if your preferred candidate is going to win anyway? By contrast, people are often more motivated to act when trying to avoid an undesirable outcome — in this case, losing an election.

To demonstrate this point, Mr. Rogers and Mr. Moore conducted experiments in which they showed that online survey participants are more supportive of hypothetical preferred candidates if they are just behind in the polls instead of just ahead.

These differences matter in the real world of campaigns, as the two professors show using fund-raising experiments conducted by the Democratic Governors' Association and Anne Lewis Strategies, Inc. Emails from the D.G.A. saying that Rick Scott, the Republican candidate for governor in Florida, was ahead of the Democrat Charlie Crist in the polls were almost 50 percent more likely to result in a donation and raised approximately 60 percent more than those saying Mr. Scott was behind.
53 Comments






























































































































































Sorry, comments for this post are now closed.