* As we've discussed before, state law is pretty clear about offering inducements to register or vote…
Sec. 29-1. Vote buying.

Any person who knowingly gives, lends or promises to give or lend any money or other valuable consideration to any other person to influence such other person to vote or to register to vote or to influence such other person to vote for or against any candidate or public question to be voted upon at any election shall be guilty of a Class 4 felony.
* So, was this rally illegal?…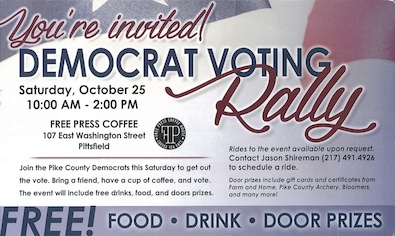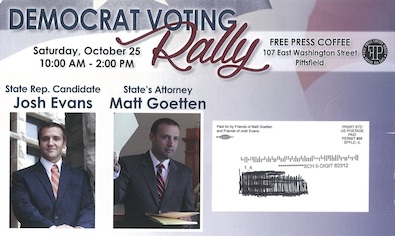 * Before you answer, the rally was held just 89 feet from the county building, the only early voting location in Pike County. It's almost right next door. The flier was sent to me by a Republican, by the way.
I called the number on the flier and the guy on the other end didn't say much. I called and e-mailed the state's attorney and left a message, but he hasn't responded.
* I reached out to noted election law attorney Burt Odelson, and his response, in a nutshell, was yes, it's illegal because it clicked all the legal switches.
* This is the only response I've received from the Pittsfield area…
Please find the Pike County Democrats response to your inquiry. On October 25th the Pike County Democrats held a Democrat rally. We were pleased with the turn out and we're happy with the event. We had people at the event who had already voted, people who who planned to vote later, and people who were voting on election day. Everyone was welcome at the event. Thank you for your interest in the pike County Democrats.

Rick Toumbs
* But as usual with these things, another election law attorney I consulted, a Democrat, said it could go either way…
It can be argued that it is a rally and that people are eligible for a prize for going to the rally and not for voting. Or one could argue that it is for voting.

But the mailer says door prizes which would appear to make them attendance prizes.
He also hinted that he doubted the state's attorney would do anything, since he's on the flier.
Your thoughts?


Click here to help buy presents for LSSI foster kids!
46 Comments









































































































































Sorry, comments for this post are now closed.