* Sun-Times…
A new poll conducted just days before Tuesday's election shows the race between Gov. Pat Quinn and Republican challenger Bruce Rauner is "too close to call."

The poll, released by Public Policy Polling, shows Quinn getting 47 percent support, while Rauner comes in at 45 percent. Libertarian candidate Chad Grimm is polling at 3 percent, while 5 percent say they're undecided. The poll, conducted Saturday and Sunday among 1,064, has a margin of error of +/- 3 percentage points.
* From PPP…
Pat Quinn is one of the most unpopular Governors in the country. Only 31% of voters approve of the job he's doing to 54% who disapprove. But he's still clinging to a slight lead for reelection over Republican challenger Bruce Rauner, 47/45. Only 58% of Democrats approve of the job Quinn is doing, but 83% are nevertheless voting for him. Rauner is under water on his favorability but still in much better standing than Quinn, at 39/42. This is a race where the Libertarian candidate could play spoiler for GOP hopes. Chad Grimm is only polling at 3%, but those voting for him say they would pick Rauner over Quinn 54/14. In a head to head without him Quinn and Rauner would be tied at 48.

PPP surveyed 1,064 likely voters in Illinois
* But check this out…

* OK, now look at the difference in results between phones and Internet…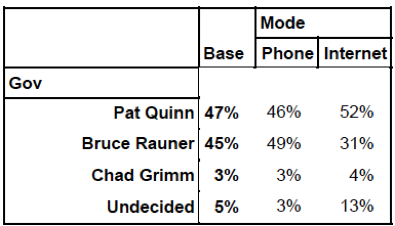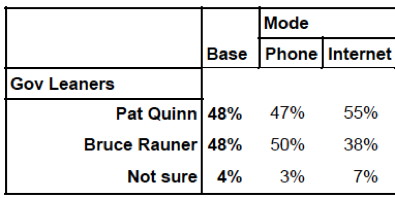 Iffy, to say the least.
* And here's one that the Rauner campaign is shopping…

* They have Rauner leading…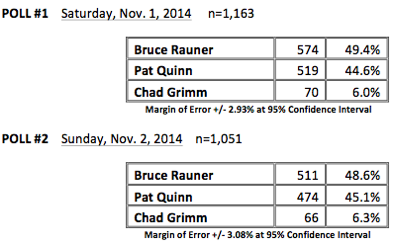 But what about that methodology?…

That means, of course, that new voters aren't contacted.
Ogden & Fry is owned by Tom Swiss, the Chicago Republican who attempted to fly under the radar a couple of years ago in the Democratic primary and lost. His company is mainly about robocalls and the like, although he did come pretty close on the Chicago mayor's race a few years ago.
49 Comments


















































































































































Sorry, comments for this post are now closed.