* The Sun-Times ran a big, splashy headline the other day about how Speaker Madigan's captains were passing petitions for Mayor Rahm Emanuel. Madigan was neutral four years ago, but Emanuel is now the incumbent, so of course Madigan is with hizzoner. That's not exactly news.
But the paper also delved into the backgrounds of some of Madigan's people. You wanna know how the machine is oiled? This is one way…
◆ [Patrick J. Ward], a key figure in the scandal that led to Alex Clifford getting a $718,000 severance package and leaving his post as Metra's chief executive. Clifford accused Metra board members of forcing him out after he rebuffed Madigan about giving Ward a raise and refused to hire another Madigan loyalist. Ward left Metra and got a state job as a labor administrator after Madigan recommended him to Gov. Pat Quinn's administration. Ward is paid $69,996 a year. As a retired city of Chicago employee, he also gets a $57,591-a-year city pension.

◆ Hugo Chavez and William E. Nambo, who were hired as "staff assistants" for the Illinois Department of Transportation under Quinn — a job class the state's executive inspector general determined was designed to skirt anti-patronage hiring rules. Chavez resigned in May after a reprimand for an "unauthorized" absence from work in 2012 and for "insubordination" for bringing his dog to work last year against his boss' orders, records show. Nambo gave $600 to Madigan's ward organization four months after being hired at IDOT in April 2011. He now works in Republican Comptroller Judy Baar Topinka's office.

◆ August A. Olivo, who has given $8,100 to the speaker's ward organization and is the younger brother of former 13th Ward Ald. Frank Olivo. August Olivo, 52, is retired from the Cook County Highway Department and gets a pension of $81,204 a year. Since 2011, he's been working for the CTA, where he makes $80,194 a year.
The 13th Ward has always been thus.
* In other MJM news, Crain's published some recent quotes in an attempt to discern a Madigan agenda…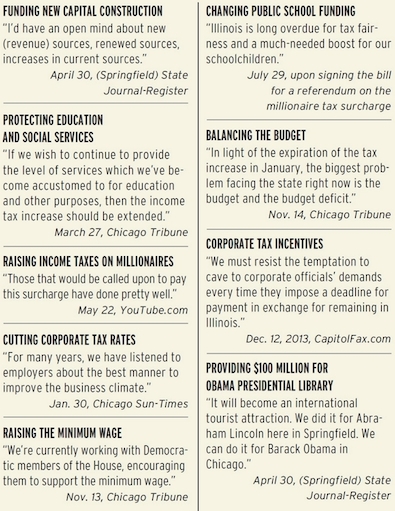 * From the story…
Michael Madigan is confronting the drawbacks of power.

The Illinois House speaker could spend some of his vast political capital on an ambitious Democratic agenda to tackle the state's tough problems, with or without the cooperation of incoming Republican Gov. Bruce Rauner. Or he could minimize risks to his overwhelming majority through partisan standoffs and sidestepping meaningful votes.

Guessing Madigan's true agenda is a popular drinking game in Springfield, but over the past year he has offered a wide range of proposals, including a surtax on millionaires, a hike in the minimum wage and making the 2011 income tax increase permanent to avoid severe budget cuts.

The question now is the extent to which Madigan will use his clout to address the state's huge budget problems and other issues, persuading vulnerable members to take tough votes, as he did when the General Assembly passed pension reform and marriage equality last year.
You can bet the house (and the Senate) that his agenda will include taking care of his captains, as the Sun-Times story illustrates. At his very core, he's a 13th Warder. It has always been thus.
45 Comments






































































































































Sorry, comments for this post are now closed.