* From Fox 55…
But Downtown Springfield, Inc says over the last decade, almost 3,000 state jobs that were once in downtown Springfield have relocated with the majority moving to Cook County. "That's a huge deficit to our area and it's really been felt. It's felt in morale of our city, it's felt economically, the energy is different," said Victoria Ringer of Downtown Springfield, Inc.

Now, Ringer says there's 17,000 state employees in Cook County compared to 13,000 in Sangamon County.

"Property tax values have been affected, the sales tax of people not buying that greeting card, or that cup of coffee, or paying for parking or what have you. That's a huge impact of those 2,600 bodies missing downtown," Ringer said. […]

Springfield mayor Mike Houston says when he first served as mayor from 1979 through 1987, most agency directors lived in Springfield. "When you have agency directors right here in the community, they can have a very major, important impact on our future. And that's what I'm really looking forward to having in the community again," said Houston.
*** UPDATE *** The Governor's Office of Management and Budget disputes the split between Cook and Sangamon and sent these numbers along which were painstakingly researched over several months…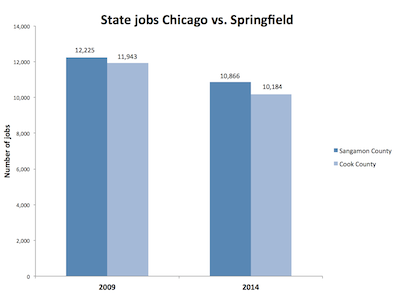 46 Comments









































































































































Sorry, comments for this post are now closed.