A new study by the Institute on Taxation and Economic Policy (ITEP) and the Fiscal Policy Center at Voices for Illinois Children finds that the lowest income Illinoisans pay nearly three times more in taxes as a percent of their income compared to the state's wealthiest residents.

The study, Who Pays?, analyzes tax systems in all 50 states and factors in all major state and local taxes, including personal and corporate income taxes, property taxes, sales and other excise taxes. Unfortunately, Illinois ranks fifth worst in ITEP's "Terrible 10" states with the most unfair, or regressive, tax systems. Among Midwestern states, Illinois is the worst.

One positive aspect of Illinois' tax system is the state's Earned Income Tax Credit, which lets low- and moderate-income working families keep more of their earnings to help pay for things that help them keep working, such as child care and transportation. To improve tax fairness in Illinois, lawmakers should increase the value of the state's Earned Income Tax Credit.

"Illinois has the most unfair tax system in the Midwest. As a percentage of their income, the poor pay more, and the rich pay less in taxes here than in any of our neighboring states." said David Lloyd, director of the Fiscal Policy Center. "That's what happens when taxes are not based on ability to pay, but rather on a flat rate."

Illinois' tax system is regressive, because the lower one's income, the higher one's tax rate. This is in part because Illinois, unlike most other states, does not have an income tax where taxpayers with higher incomes pay a higher rate and taxpayers with lower incomes pay a lower rate. Without such a fair income tax, there is nothing to offset the higher share of income that poorer taxpayers pay in sales and property taxes.

How Illinois taxes residents matters for a variety of reasons. In recent years, anti-tax advocates have pushed for tax policies across the country that would reduce tax rates for the wealthy and businesses. In Illinois, the recent income tax cut disproportionately benefits the wealthy, while many of the proposed ideas to partially offset the deep revenue losses would increase taxes on poor and middle-income families.

There's also a more practical reason for Illinois and all states to be concerned about regressive tax structures, according to ITEP. If the nation fails to address its growing income inequality problem, states will have difficulty raising the revenue they need over time. The more income that goes to the wealthy (and the lower a state's tax rate on the wealthy), the slower a state's revenue grows over time.

"In recent years, multiple studies have revealed the growing chasm between the wealthy and everyone else," said Matt Gardner, executive director of ITEP. "Upside down state tax systems didn't cause the growing income divide, but they certainly exacerbate the problem. State policymakers shouldn't wring their hands or ignore the problem. They should thoroughly explore and enact tax reform policies that will make their tax systems fairer."
They're obviously referring to the governor's service tax idea when they talk about proposals that would "increase taxes on poor and middle-income families."
From the intro…
This study assesses the fairness of each state's tax system by measuring state and local taxes paid by non-elderly taxpayers in different income groups in 2015 as shares of income for every state and the District of Columbia. The report provides valuable comparisons among the states, showing which states have done the best — and the worst — job of providing a modicum of fairness in their overall tax systems. The Tax Inequality Index (Appendix B) measures the effects of each state's tax system on income inequality and is used to rank the states from the most regressive to the least regressive.
The ten most regressive…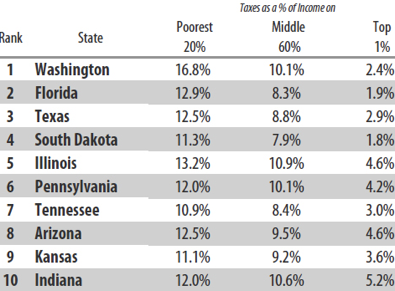 * From the Illinois page, this is the percentage impact of state and local sales and excise taxes based on family income…

79 Comments












































































































































































































































Sorry, comments for this post are now closed.