[The following is a paid advertisement.]
While the state budget crisis increasingly hits struggling Illinois families, Exelon demands a corporate bailout. This is exactly the wrong thing for Illinois' citizens and businesses.
Exelon is a successful, profitable company. While we appreciate success, when they claim they need more of OUR MONEY, it's time to be skeptical.
EXELON 2014 PROFITS: $2,068,000,000.00
That's two BILLION with a B. And yet this wildly profitable company is asking US for a bailout while Illinois struggles. So let's review: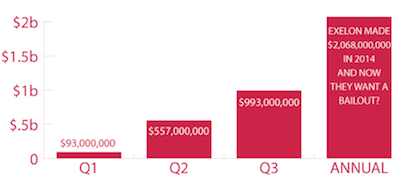 In 2014, EXELON made $5,665,753 per day or $236,073 per hour
When legislators are being asked to slash everything from education to healthcare to mental health services, and when Crain's Chicago Business says Exelon actually MADE money from its Illinois Nuclear Fleet, how can anyone think having struggling Illinois businesses and families bail out a highly profitable company is a good use of OUR money?
It just isn't fair.
Just say no to the Exelon Bailout.
- Posted by Advertising Department


No Comments
Be the first to comment.
Sorry, comments for this post are now closed.