* Usually, I'm not a big fan of organized Statehouse protests. They've been done to death and usually make no difference.
But a group called Action Now is holding a big protest today against the new governor's proposed budget plan. Rep. Greg Harris claims "thousands" are present and posted this pic on Facebook…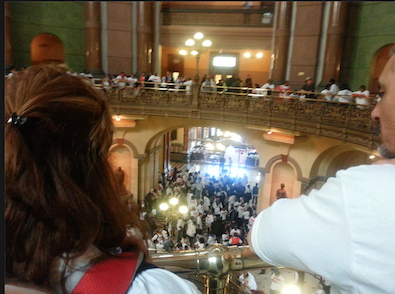 * From the group's Twitter feed…
Crowd sings "We shall overcome" as @ActionNowChi & other protestors refuse to move from Gov #Rauner's office! #WeRise pic.twitter.com/sIkHN0eu0x

— Action Now (@ActionNowChi) March 11, 2015
Here's what's happening at #IL capital now! #WeRise against #RaunerBudget that is disastrous 4 working families! #1u pic.twitter.com/WAUYaCp0D0

— Action Now (@ActionNowChi) March 11, 2015
A few @ActionNowChi members risking arrest in front of gov office to say hell no to budget cuts. #WeRise #WeRiseIL pic.twitter.com/23qohRufg0

— Action Now (@ActionNowChi) March 11, 2015
* Things are getting tense outside the governor's office…
Protesters chanting 'Tax the Rich' close in slowly at Rauner's Capitol office, Capitol Police stop with straight arm pic.twitter.com/SNIVEkLdW9

— Ray Long (@RayLong) March 11, 2015
Also, if you're monitoring our live session coverage post, you already know that the group disrupted House proceedings from the gallery and security had to remove them.
* Even though I'm no fan of these sorts of things, this one might be different in that it's the first really big Statehouse protest of our new governor. To date, most media coverage has focused on Democratic lawmakers' opposition to the governor's proposed budget cuts, but this protest might possibly add a new dimension to the way this issue is perceived, both inside and outside the Statehouse.
Or not.
It's probably too early to gauge the impact, particularly since things are a bit fluid at the moment. So…
* The Question: What do you think of organized Statehouse protests in general? Explain, please. And feel free to also opine on today's event if you want.
I have to do some inescapable errands/meetings today (nothing bad, don't worry), so I won't be able to update until later this afternoon. Keep an eye on our live session coverage post for updates on the protest.
64 Comments































































































































































































Sorry, comments for this post are now closed.