* Attorney General Lisa Madigan has just issued two formal opinions. One was about the ability of local units of government to establish their own "right to work" zones. Nope, says Madigan…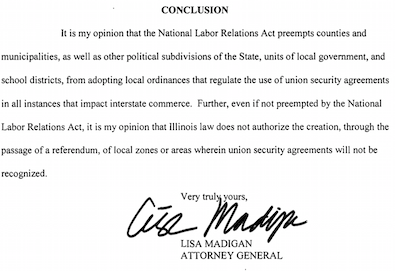 She also said local governments cannot opt out of state prevailing wage laws.
I'll have the links in a moment.
…Adding… The right to work opinion is here. The prevailing wage opinion is here.
There has been some fear within organized labor that Gov. Bruce Rauner and/or his anti-union allies were hoping to convince a local government to set up its own right to work zone or attempt to opt out of other labor laws. These opinions make that much less likely to happen.
…Adding… Sen. Gary Forby and Rep. Jay Hoffman requested the opinion. Here's Forby's statement…
"I guess that's that. The Attorney General's opinion makes it pretty clear this is a matter for state lawmakers, and the Southern Illinois lawmakers I know – on both sides of the aisle – aren't going to hurt working families," said Senator Forby.

"Maybe now the governor can start focusing on putting people back to work in Southern Illinois. People around here just want jobs where they'll be respected with an honest wage for an honest day's work."
*** UPDATE 1 *** This is more of a repudiation of Rauner than I previously realized. The opinion says basically that it's "all or nothing." Rauner has been saying he doesn't want the whole state to be right to work, but does think locals should be given the opportunity to create their own zones. Madigan says in the opinion that the entire state has to be right to work. Local zones aren't permitted, even with a state law.
…Adding More… Illinois AFL-CIO President Michael T. Carrigan…
"While Gov. Rauner continues his obsessive war on unions and the middle class, he just keeps running into huge road blocks – like the law.

The Attorney General's opinions on right to work zones and prevailing wage are confirmation of what we suspected from the outset.

I think the people of the state would actually appreciate the Governor working on the pressing issues in front of us, instead of continually proposing illegal and politically-motivated fixes to non-existent problems."
*** UPDATE 2 *** The response…
"The Rauner administration respectfully disagrees with the Attorney General's opinion regarding local right-to-work. The administration is confident that with enabling legislation from the state, local governments can create employee empowerment zones."
74 Comments





























































































































































































































Sorry, comments for this post are now closed.