* KSDK…
During his stop in O'Fallon, Illinois Monday, Gov. Bruce Rauner was asked about the possibility of building a new NFL stadium in the Metro East.

"Metro East would be a terrific location for that sort of a facility. We've got the infrastructure, we've got the hard working people to build it. And we've got access into St. Louis without a lot of the congestion issues, and I'll see what I can do to encourage that," said Rauner.
It's doubtful, however, that Metro East is in the running.
* The governor also wants to snag a major federal installation for the region…
Rauner and his staff toured Scott Air Force Base, Boeing's St. Clair County operations and Mid-America Airport. He was asked about the possibility of bringing the new National Geospatial-Intelligence Agency to St. Clair County. He said that it would be the best location for it.

"It would be a huge opportunity for Illinois," he said. "It's a great location. It's a very strategic and safe location as well."
* But…
"We need to learn financial discipline," Rauner said. "Right now businesses don't want to come to Illinois. They don't have confidence in the state."

Rauner said the cuts he is making will drive more businesses into Illinois instead of Wisconsin, Michigan and Indiana. Once those businesses were in place, he said that more revenue would flow.
And that, I believe might be why Rauner isn't joining Mayor Emanuel's overt attempt to poach jobs from Indiana. It would undermine his meme that budget and labor reforms need to be in place before the state can hope to begin attracting businesses from Hoosierville. It also puts him in a somewhat tricky political box because it's about gay rights and Rauner professes not to have a "social agenda," even though he clearly does.
*** UPDATE *** Virginia lives up to its famous bumper sticker slogan…
Virginia Gov. Terry McAuliffe issued an open letter to Indiana corporations saying Virginia is a business-friendly state that does "not discriminate against our friends and neighbors."
[ *** End Of Update *** ]
* And speaking of Indiana, longtime commenter OneMan sent over this Facebook post by state Rep. Stephanie Kifowit…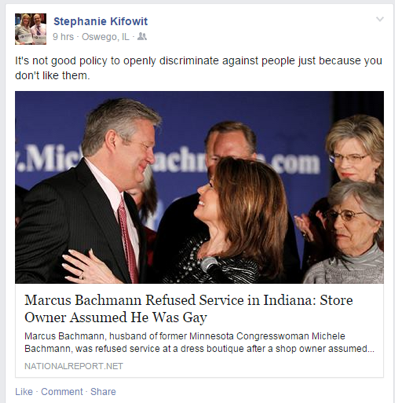 Um. OK. As OneMan suggests…
When you are trying to make a point about Indiana, you might not want to use a spoof web site
Oops.
* Other headlines from the National Report…
Starbucks Halts 'Race Together' Initiative After Burn Unit Overcrowdings

Sesame Street To Feature News Segment Sourced By Al Jazeera

Amazon Says They Will Be Removing All Bob Marley Music and Merchandise From Their Website
Heh.
39 Comments




















































































































Sorry, comments for this post are now closed.