* Uh-oh…
According to campaign records with the Illinois Elections Board, Illinois State Senator James Clayborne from East St Louis, the number two man in the state senate, spent some $42,000 on chauffeured limousines between 2003 and 2014.

Fox 2 also discovered Clayborne spent $50,000 in campaign funds during those years on overseas travel to a dozen nations.

The senator represents some of the most impoverished areas of the metro east.

When asked to explain himself, Clayborne said, "Campaign dollars are donations. They're not public dollars."
* Ugh. Here is just a small handful of the Senator's disclosures. Click here for the full file…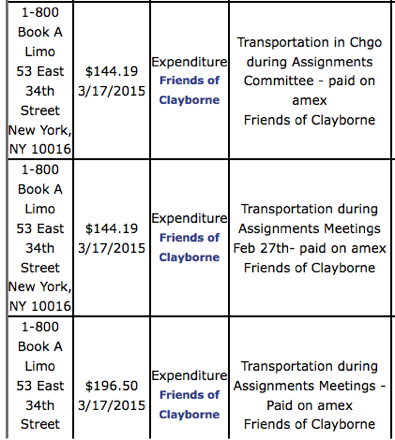 * One quibble…
But clearly the public cares how candidates spend dollars. The Illinois Policy Institute helped with this investigation.

"Campaign money should go towards campaigning," said executive director Kristina Rasmussen.
Actually, state law allows legislators to use campaign money to pay for legislative functions. It saves taxpayers some money. But that many limo rides? Sheesh.
* Video…
44 Comments



































































































































Sorry, comments for this post are now closed.