* The IFT continues to aggregate "right to work zone" resolution votes. From yesterday…
Jefferson County - (38,827) - no vote
Lexington (McLean) - (2,060) - tabled
Lindenhust (Lake) - (14,462) - tabled
In addition, Morton Grove passed a resolution last night which omitted the more blatant anti-union stuff. Click here to read it, starting on page 35.
* That Jefferson County non-action was interesting…
An effort to bring an employee empowerment zone to Jefferson County didn't get off the ground.

Hundreds of union workers showed up to protest the proposal Monday evening. County Chair Bob White says Governor Rauner is calling for the zones across the state, which would give communities more local control over union contracts.

White called for a motion to vote on the proposal twice, but no other board members would make the motion.
The meeting had to be held in the county building's lobby to accommodate the huge crowd…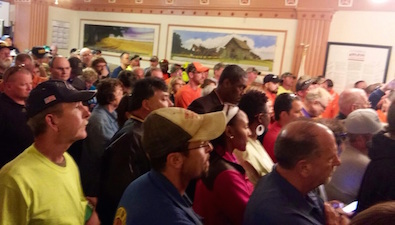 So far, I haven't heard anything from the governor's office. I'll let you know.
* Next up, Chicago…
Chicago aldermen and union representatives will get to voice their opposition to Gov. Bruce Rauner's proposed right-to-work zones Tuesday at a hearing on a symbolic measure that's the latest bit of political posturing on the issue.
* Some other mayors are not too keen on the governor's "Turnaround Agenda"…
The mayors further complained about Rauner's statewide tour asking local towns to sign onto his Turnaround Agenda, arguing he has failed to provide details on what exactly it is and what it would do. Tully said in his experience, the details from the governor's Turnaround have "evolved," leaving him at a loss over what he's asking his community to sign on to.

Hanover Park Mayor Rodney Craig said he was equally at a loss for details.

"Up to date, it's like a shuffling of the deck. We don't see the cards, and basically we're asked to respond to a number of platitudes," said Craig. "If they can't put it in clear writing, give me the clear facts and legislation then we're going to struggle with that. . . . We're happy to work with him, [but] we're struggling with the facts that don't exist."
Village of Mahomet (Champaign County)
Tuesday, April 28 at 6:00 p.m.
503 E. Main Street, Mahomet

Kane County Board
Tuesday, April 28 at 4:00 p.m.
719 S. Batavia Ave, Geneva

Cook County Board
Wednesday, April 29
* Related…
* Let's kill all the unions: Unions have been gradually losing public support as they have lost membership. From the 1930s through the 1960s, about two-thirds of Americans approved of labor unions in Gallup polls. That proportion has fallen to barely over half in 2014. Since the 1960s, the proportion of workers in unions has fallen from one quarter to one tenth.

* Foster Speaks Out Against Right-To-Work Zones On House Floor: These zones are a gimmick to pit communities against each other, to deprive workers of their rights, and to weaken unions.
25 Comments










































































Sorry, comments for this post are now closed.