* From Facebook…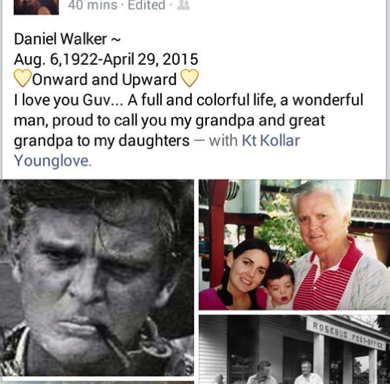 *** UPDATE 1 *** Bernie…
Former Gov. Dan Walker, who served in the state's top job for a single term from 1973 to 1977, died early Wednesday at a veterans hospital in Chula Vista, Calif., according to his son, Will. He was 92.

Will Walker, of Crystal Lake, said old age caught up to his father.

"Ultimately, it was heart failure that got him," the younger Walker, of Crystal Lake, told The State Journal-Register.
*** UPDATE 2 *** Gov. Rauner…
"Diana and I are saddened to learn of the passing of former Governor Dan Walker. Our thoughts and prayers are with his family and friends during this difficult time."
*** UPDATE 3 *** Pat Quinn…
Gov. Pat Quinn has issued the below statement on the passing of Gov. Dan Walker:

"As a member of the United States Navy, Gov. Dan Walker served our country with courage and distinction in World War II and the Korean War.

"He fervently believed in the power of democracy and the importance of including everyone in our democracy. He loved his family and leaves behind many friends. His patriotism, service and compassion will never be forgotten.

"May God rest his soul."
42 Comments





























































































































Sorry, comments for this post are now closed.