* Sun-Times…
In March, Rauner tapped Beth Purvis, a former charter school director, as his education secretary at an annual salary of $250,000. […]

But her contract, signed March 13, indicates that she's being paid out of the Department of Human Services, even as it indicates she will "report directly to the governor's chief of staff or designee."

Three weeks after Purvis' contract was signed, the governor's office announced that the Department of Human Services was strapped for cash, and sliced $26 million in services including for autism, epilepsy and burials for the indigent. The cuts, later known as "the Good Friday Massacre," caused some programs to completely shut down. The cuts caused a furor, prompting House Speaker Michael Madigan, D-Chicago, to call a public hearing on why it happened after Democrats said they believed a budget deal with the governor protected such services.
* But check this out…
Reached by phone while at a conference in California on Wednesday, Purvis declined comment
Um, wait.
It's May 28th, three days before the May 31st end of session deadline and she's in California?
* Ms. Purvis…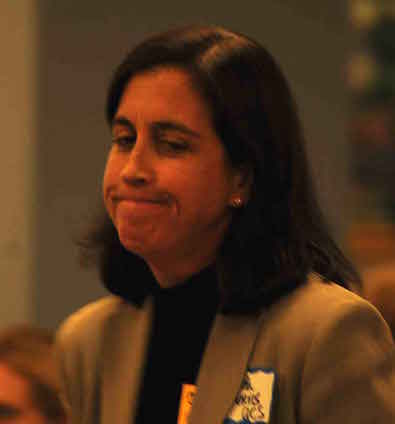 * The Question: Caption?
And keep it clean, people.
*** UPDATE *** Sun-Times…
llinois House Democrats are asking Gov. Bruce Rauner to appear before a House committee to explain why the governor's office arranged to have his $250,000-a-year education czar paid out of money meant for "the frailest and most vulnerable populations in the state." […]

In a letter to Rauner, obtained by the Sun-Times, state Rep. Greg Harris, D-Ill., questions testimony by then-Acting DHS Secretary Gregory Bassi and then-interim secretary James Dimas "that the lack of available funding was responsible for the decision to eliminate or reduce funding for these vitally needed programs. These programs serve many of the frailest and most vulnerable populations in the state."

"I invite you to appear before the House Human Services Appropriations Committee to explain the decision-making process that led to this situation. We are also interested to know if there are other department heads whose compensation is buried within the budgets of departments other than those that they lead," wrote Harris, chairman of the committee.
The full letter is here.
159 Comments




























































































































































































































































































































































































































































































Sorry, comments for this post are now closed.