* AP…
Gov. Bruce Rauner's office has revised its plan to change state hiring to allay concerns of Democrats and unions.
* Um, well, maybe. Check out the Rauner press release…
Refusing to Reform: Democrats Also Walking Away from Fixing Illegal Political Hiring

"By protecting illegal political hires, Democrats are proving to the people of Illinois that they don't care at all about reforming anything that's broken in state government."

– Lance Trover, Director of Communications

After walking away from compromise reforms to turn around Illinois' economy, Democrats appear to now be blocking compromise reforms that will fix illegal political hiring in state government.

After Senator McConnaughay filed reform legislation last month, the Governor's Office met regularly and frequently with leadership staff from each of the four legislative caucuses. As detailed below, the legislation has been significantly revised to provide a clearer, more tailored framework.

The Governor's Office and the legislative caucuses also met with representatives of AFSCME, Teamsters, and Laborers. While there is general agreement that reforms are needed, labor organizations will not agree to reforms that impact positions already in the bargaining unit. Unfortunately, as evidenced in the conflict between the two pending lawsuits, the State must resolve the status of current employees too. Nonetheless, the legislation has been narrowed to minimize the adverse impact on labor organizations.

An amendment to the original bill has now been filed, which represents compromises that were negotiated. Despite this, Democrats are now refusing to support the reform bill.
I've asked various folks for comment. I'll let you know.
*** UPDATE *** Statement from Michael T. Carrigan, President, Illinois AFL-CIO…
"Yet again, Gov. Rauner seems to be using the cloak of so-called 'reform' to attack union members. Our unions strongly oppose political influence in the hiring process and would support a good bill to eliminate it. But this legislation is a Trojan Horse the Rauner Administration is trying to use to limit all workers' right to bargain collectively. He is intentionally using an ax for legislation that calls for a scalpel.

"We remain ready to work toward legislation that addresses the real problem—political influence in hiring—which has no relation to collective bargaining rights."
- Posted by Rich Miller 39 Comments


* I don't in any way condone or excuse this behavior. No way. No how. It's stupid and cruel.
'
But, seriously, how many people were shot in Chicago last weekend? You'd think the police and the state's attorney would have better things to do with their time…
A West Side man whose video of himself smoking marijuana with his pet chameleon went viral and led to a misdemeanor animal cruelty charge was acquitted Wednesday by a Cook County judge who found his behavior immature but not criminal.

Bruce Blunt said he sometimes blew smoke into the mouth of his chameleon, Binna, because it seemed to calm the sometimes aggressive reptile. […]

Chicago police arrested Blunt near his mother's home after conducting brief surveillance to find him over several days, according to trial testimony. […]

Prosecutors said the video proved Blunt had criminally mistreated his pet.

"It's just a little guy," said Assistant State's Attorney Mike Bagnowski, speculating what effect the marijuana smoke would have on Blunt's attorney before withdrawing the remark. "He blew smoke not once but twice into its mouth." [Emphasis added.]
There are people literally rotting in Cook County Jail waiting on misdemeanor trial dates and they're clogging the courts with this stuff?
Sheesh.
- Posted by Rich Miller 27 Comments


* From a press release…
Illinois Senate to Vote on Governor Rauner's Cuts

The Governor Rauner budget cuts will be voted on today.

HB 200 –

50 percent cut to Local Government Distributive Fund

SB2038 –

A1: Human Services. Cuts to autism, child care, early intervention, teen reach and breast and cervical cancer screenings
A2: Higher education. 31 percent state funding cut to state universities
A3: TRS: Eliminates state support for Teachers' Retirement Insurance Program, College Insurance Program.
A4: Medicaid: $1.5 billion cut to Medicaid services.
Watch our live session coverage post for updates.
- Posted by Rich Miller 30 Comments


* I'm not yet convinced that AFSCME will strike. I figure they'll wait for a lockout attempt. But one never knows, so this "Contingency Preparation Assessment" form sent out to agencies asking them for their plans for and the potential impact of a public employee strike seems like a prudent administrative move.
Click the pic for a larger image…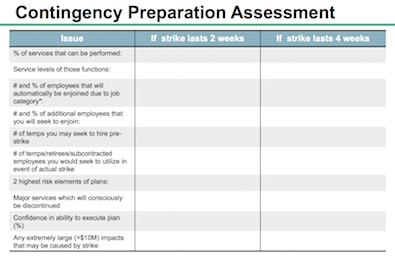 Notice that temp workers will apparently be hired.
* Something that got cut off from my screen grab above…
Only peace officers, security officers, firefighters and fire protection district paramedics can be automatically enjoined due to their job category.
- Posted by Rich Miller 103 Comments


* From a few days ago…
Illinois community college and university presidents are enjoying a "fantasy world of lavish perks" — including housing allowances, cars, club memberships and generous bonuses — as part of sometimes secret deals that show disregard for taxpayers, according to a new report from state legislators.

The perks include a $32,000 housing allowance for the president of Harper College, a $450,000 retention bonus for a former University of Illinois at Chicago chancellor and $30,000 toward two retirement plans in addition to state pension contributions for the Elgin Community College president. […]

Though the report blasts the Glen Ellyn-based college for its recent scandals, it also chastises public universities and community colleges statewide for providing "excessive fringe benefits" and lucrative exit deals for top administrators, including a $480,418 severance package to the former Illinois State University president after less than a year on the job. […]

In addition to highlighting the compensation packages, the report also takes aim at the "skyrocketing" number of administrators at the public schools as tuition and fees have increased.

At public universities in Illinois, full-time administrative staff increased 31.1 percent from 2004 to 2010, according to the report, while there was only a 1.8 percent increase in full-time faculty and a 2.3 percent increase in students.
* As noted below, university presidents/chairmen/chancellors were in Springfield yesterday and posed for a photo in front of the Statehouse…
Pictured, left to right are: front row, University of Illinois President Timothy L. Killeen, Northeastern Illinois University President Sharon Hahs and Governors State University President Elaine P. Maimon; middle row, University of Illinois at Springfield Chancellor Susan Koch, Illinois State University President Larry H. Dietz and Chicago State University President Wayne Watson; back row, Southern Illinois University President Randy J. Dunn, Eastern Illinois University Acting President Blair Lord, Western Illinois University Board of Trustees Chair Cathy E. Early and Northern Illinois University Board of Trustees Chair Dr. John R. Butler.
* The pic…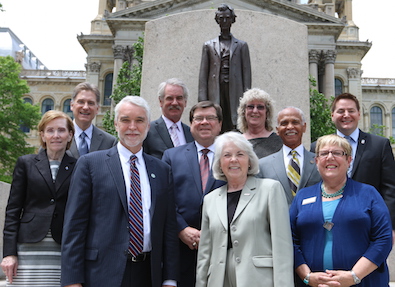 - Posted by Rich Miller 59 Comments


* The press release…
Don't miss the Traveling World of Reptiles Show, Touch-a-Truck exhibit, interactive safety demonstrations and more at this year's Children's Safety Expo hosted by State Sen. Christine Radogno (R-Lemont) and State Representatives Jim Durkin (R- Western Springs) and Ron Sandack (R- Downers Grove) on Saturday, June 6 from 9:00a.m. to Noon at Lakeview Junior High School, 701 Plainfield Rd. in Downers Grove. […]

Admission is free. There will also be free giveaways at the event, and the first 300 children will receive a FREE lunch bag! Demonstrations at this year's expo include: True Balance Karate class, the Traveling World of Reptiles Show and the Darien Police K-9 Unit. Also, the LIFESTAR Chicago medical helicopter will be there from 9:30am - 11:30am.
* The Question: Suggestions for next year's event?
- Posted by Rich Miller 59 Comments


* From DCEO's "Why Illinois" website…
Highly Educated Workforce

In Illinois, our workforce is one of our biggest competitive advantages. According to the last census, 34 percent of Illinoisans have a bachelor's degree or better. 11 percent have an advanced degree. TechAmerica says that our workforce is in the Top 10 for hi-tech workforces. That means that you will have an easier time finding the talent you need to make your business grow. And since two of the nation's top engineering schools and top business schools are located in Illinois, you can rest assured that talented personnel will be available for a long time to come.
* There's a reason for that emphasis…
This year, for the first time since CNBC began keeping track in 2007, workforce is the attribute most frequently cited by states in their efforts to attract business. […]

It's a sentiment echoed by members of the CNBC Global CFO Council, which includes chief financial officers from a broad array of public and private companies. Asked to rank 10 factors in deciding where to locate or expand facilities, 53 percent of the respondents ranked workforce No. 1. No other factor came close. […]

"We've undermarketed ourselves," [DCEO Director Jim Schultz] said, noting that 56 percent of Illinois' population has more than a high school diploma. "We think the opportunity is to locate business where the best skill sets reside."
* But there are two big problems…
Roughly two-thirds of our CFO Council respondents consider so-called "right to work" laws banning mandatory union dues an important or very important factor in deciding where to locate.
Ugh.
* And…
As for Illinois, if last year's rankings are any guide, it may need to do some catching up to its new workforce sales pitch. Illinois' workforce finished 32nd last year, contributing to the state's overall 27th place ranking.
- Posted by Rich Miller 28 Comments


* I mentioned this to subscribers the other day, so I went back today and watched part of my December 17, 2014 City Club speech to pull the quotes. It was a warning I often mentioned to the governor's people in subsequent weeks…
The Speaker's being really nice to the governor-elect right now.

[Steve Brown] disagrees with this analysis, which I brought up to him last night.

Madigan is siding with [Bruce Rauner] on everything, just about.

Um…

I would be wary of that.

I mean, you dig? The man ain't nice to anybody, except his children and his wife.

Man, I've never seen him be this nice to a governor-elect.

And, it's like, wow, he's gonna have a big ask, man.

"Oh, yeah, I did this for you. Now, let's go over the list. I did this. I did this. I did this, you didn't even ask.

"You'll just have to figure out what I want."
By the way, I'm working on dates with the City Club for this December's annual "Christmas with Rich Miller." I'll let you know when tickets go on sale.
- Posted by Rich Miller 20 Comments


* A good point by Madeleine Doubek …
1. Madigan reminded all within earshot that when Rauner first gave his state budget address, which did indeed include more than $2 billion in pension savings that were unlikely to be achieved, that the Speaker called it "reckless" then and has been calling it "reckless" since.

2. Then the Speaker proceeded to tell reporters that he consistently has said Illinois needs a balanced approach of both spending cuts and new revenue. Therefore, he said, House and Senate Democrats will work this week to pass a budget for next year that spends more than $3 billion more than the state takes from taxpayers.

3. So, you might logically ask, if Rauner's budget with $2 billion in phantom savings was "reckless," what does that make Madigan's admittedly out-of-whack $3 billion-plus budget? Extremely reckless? (Actually, it appears to be closer to a $4 billion hole.)
- Posted by Rich Miller 65 Comments


* From a press release…
Presidents and Board of Trustee chairs representing each of Illinois' nine public universities met face-to-face with top legislative leaders Tuesday to urge support for higher education funding in the state's fiscal 2016 budget.

University of Illinois President Timothy L. Killeen arranged the afternoon of meetings to make the case that proposed funding reductions for public universities would damage a key engine for the state's economic growth and competitiveness.

"We understand the difficult decisions that legislators face this spring to put Illinois on the road to recovery," Killeen said. "But investing in public universities is an investment in solutions – and in the future of our state."

Public universities are large-scale incubators of the human capital that is essential to drive progress, presidents and board chairs said during a series of meetings with House Speaker Michael Madigan; Senate President John Cullerton; House Republican Leader Jim Durkin; Senate Republican Leader Christine Radogno; Michael Zolnierowicz, Gov. Bruce Rauner's chief of staff; and Beth Purvis, the governor's chief education advisor.
Notice anybody missing?
- Posted by Rich Miller 34 Comments


* No surprise here. The plug has been pulled on all the big energy-related bills this session…
"I think what will end up happening is, we'll compromise. we'll get everybody to the table and we'll compromise on one omnibus bill," House Energy Chairwoman Linda Chapa LaVia says."So I'm pretty excited, but it's definitely going to take a little bit longer than May 31."

Chapa LaVia says she's also watching and waiting for action on the federal level that could have big effects in Illinois. That's when its expected rules will be finalized on President Barack Obama's Clean Power Plan. There's also a PJM capacity auction scheduled for July, which could have repercussions for Exelon's fleet.

In a statement, Exelon spokesman Paul Elsberg recently said the company continues to believe its so-called Low Carbon Portfolio Standard is needed, and says "we remain open to participating in any and all discussions designed to enact a legislative package. The session is still in progress, and we will consider next steps after it has concluded."

Elsberg did not directly respond to a question about whether the failure to pass Exelon's legislation will result in a shutting of nuclear plants, nor did he say when a decision on their future will be made.
* Crain's…
[Steve Brown, spokesman for House Speaker Michael Madigan] cited concerns lawmakers have about where electricity rates are heading, in particular after recent news that rates are spiking downstate beginning next month. That's thanks to the surprise results of an annual auction held by MISO, the regional grid operator for downstate Illinois and all or part of 14 other states, to set the price of reserving capacity at power plants for when demand spikes during the year. […]

That puts Exelon on the spot. Without legislative action, executives have issued various threats that they will have to close as many as three Illinois nukes they say are losing money. At times, they've laid out May 31 as their deadline; at others, they've signaled they might be willing to wait a few more months if they thought progress was being made.

In an interview in April, Exelon Executive Vice President Joseph Dominguez said the company wouldn't agree to wait until the fall veto session in November for an answer.

For this story, the company declined to reiterate that warning. Instead, in a statement, Exelon said, "We remain open to participating in any and all discussions designed to enact a legislative package. The session is still in progress, and we will consider next steps after it has concluded."
- Posted by Rich Miller 11 Comments


[The following is a paid advertisement.]
Credit unions are committed to several cooperative principles, including social responsibility. At First Illinois Credit Union in Danville, reaching out to area school children as part of their financial literacy program is a top priority.
For over 20 years, the credit union has partnered with area schools, educated students in the classroom and has invited them to open savings accounts. Scholarships are awarded to graduating eighth graders. Members that are high school graduates are also granted scholarships. By giving out scholarships at school-wide functions, it affords the credit union the opportunity to provide financial education to hundreds of students in the audience.
Educating children is just one facet of the credit union's extensive outreach, which also includes breakfast meals for low income families, financial education for seniors during Money Smart Week, volunteering as a buddy at baseball games for children with disabilities, and many more local clubs and organizations. For all their efforts, First Illinois Credit Union has been recognized by their members and the community as a top financial institution.
At the heart of the credit union philosophy is the principle of people before profits – and another reason why members are so fiercely loyal.
- Posted by Advertising Department Comments Off


* House GOP Leader Jim Durkin during floor debate over the Democrats' budget proposals…
"Why in the world are we sending for the second year in a row an unbalanced budget to the governor?" Durkin said. "We've all seen this Greek tragedy before."

Durkin even raised the old saying about repeating the same action and expecting a different outcome being the definition of insanity.

"If we pass these budgets and send $36 billion of budgets to the governor, this is insanity," Durkin said. "You're insane, and history will look upon you unkindly."
All Republicans voted against all the approp bills. Most, but not all, Democrats voted for them.
* But Leader Durkin and several other House Republicans voted for this bill yesterday, which was sponsored by a GOP lawmaker…
Provides that on and after the effective date of this amendatory Act of the 99th General Assembly, every insurer that amends, delivers, issues, or renews a group or individual major medical policy of accident and health insurance in this State providing coverage for hospital or medical treatment shall provide coverage for hepatitis C screening and confirmatory testing consistent with reasonable medical standards. Makes conforming changes in the State Employees Group Insurance Act of 1971, the Counties Code, the Illinois Municipal Code, the School Code, the Health Maintenance Organization Act, the Voluntary Health Services Plans Act, and the Illinois Public Aid Code.
* From the fiscal impact notes…
Balanced Budget Note (Office of Management and Budget)

This bill will likely have a significant fiscal impact to the State's Medicaid and Group Health Insurance programs due to increased screening and treatment of Hepatitis C. The anticipated costs are not available at this time. Passage of this bill without an accompanying source of revenue will result in an unbalanced budget.

Fiscal Note (Dept. of Healthcare & Family Services)

For purposes of this analysis, it is assumed that primary care providers are offering and/or recommending testing to at-risk populations based on sound medical reasoning. However, there may be an indirect impact to the Department from the publicity of hepatitis C legislation and the new hepatitis C drugs. Increased awareness of those in an at-risk population coupled with a mandate is likely to increase testing utilization. In FY14 and FY15, the Department did and is estimated to spend about $1.5 million for testing. A 10% increase in FY16 testing utilization would increase liability by $150,000 thousand. Additional testing would potentially double the population receiving treatment. This would result in an added pharmaceutical cost of $8.5 million annualized.
Emphasis added.
Look, this is a very worthy bill. Hep C has to be stopped. And $8.5 million is a teensy, tiny drop in the budgetary bucket.
But, if you're gonna argue that nothing should be appropriated without a bipartisan budget deal (and that's a reasonable argument to make, especially considering the Illinois Constitution: "Appropriations for a fiscal year shall not exceed funds estimated by the General Assembly to be available during that year"), you shouldn't then vote for bills like these.
- Posted by Rich Miller 24 Comments


* Tribune editorial…
House Speaker Michael Madigan joined the Illinois legislature 44 years and four months ago. Senate President John Cullerton arrived 36 years and four months ago. During their nearly 81 years, the Chicago Democrats engineered, sponsored and voted for pension giveaways, chronic overspending and tax laws that broke Illinois
No argument there, except maybe for how the tax laws "broke" Illinois and the general tone.
* Continuing…
And Gov. Bruce Rauner, the guy Madigan and Cullerton are always vilifying? He got to Springfield just four months ago. Having played no role in creating the devastated Illinois of Madigan and Cullerton, Rauner has had to trim spending to correct the diabolically unbalanced budget that Madigan and Cullerton passed last spring for the fiscal year that ends June 30. Headline writers keep using the phrase "Rauner budget cuts" not because it tells the story, but because it's more economical than: "Budget cuts you can blame on Mike Madigan and John Cullerton, who tried to placate angry voters before the 2014 election by appropriating gazillions of tax dollars that they knew Illinois never, ever, would collect."
Those dollars would've been appropriated had Pat Quinn been reelected, but again, they're mostly right about Rauner, except he demanded that the GA not pass a bill extending the tax hike, which would've avoided almost all the FY 15 problem. And he made $26 million in cuts that didn't have to be made and which were quickly rescinded. Those are on him.
* Onward…
The Democrats' evident strategy [for Fiscal Year 2016] is to hand Rauner a massively unbalanced budget, force him to make billions in unpopular spending cuts and coerce him to accept a big tax increase.
It's not so much the cuts, it's what'll happen if they don't get a budget deal and the government falls apart and lots of schools don't re-open. But, whatevs.
* Downward…
Huh? We know voters aren't dumb enough to be misled about budget slash 2.0 precisely because those voters weren't dumb enough to be misled by budget slash 1.0. This isn't some low-information yesteryear that Madigan and Cullerton fondly recall; Illinoisans understand that they have a financial crisis and a $100 billion-plus unfunded pension liability because their politicians played this game of trying to spend nonexistent money.
Um, didn't they just say that the spending cuts would be "unpopular"?
* In conclusion, the editorial board notes approvingly that Rauner's $34 million campaign warchest (ten times larger than the money Madigan and Cullerton have on hand) will help him explain these problems to the voters.
I'm assuming they wouldn't be so thrilled if such a giant pile of cash was spent on the other side, however.
But, hey, to each his own.
- Posted by Rich Miller 109 Comments


* From the governor's office…
A Time for Choosing
State Senators Will Either Choose Reform or Side with Mike Madigan to Block it

SPRINGFIELD – With House Speaker Mike Madigan refusing to compromise and doubling down on a broken system, the state Senate is scheduled today to hold hearings on parts of Governor Rauner's Turnaround Legislation.

Senate committees will conduct hearings on worker's compensation reform, lawsuit reform and property tax freeze legislation that were filed last Friday. The Senate, however, is refusing to consider Term Limits and Redistricting Reform measures that were also introduced.

"Governor Rauner has made it clear that we cannot ask taxpayers to put more money into a broken system. The legislation being considered today represents some compromise reforms that are critical to turning Illinois around," Rauner spokesman Lance Trover said. "Speaker Madigan and the politicians he controls in the House have made it clear all they want to do is raise taxes. Today, the Senate will begin to make clear whether they support reform or will side with Mike Madigan to block it."
* From the Senate Republicans…
Senate Republican Leader Christine Radogno's legislation that embodies portions of Governor Rauner's Turnaround agenda will be considered in committee [today], Wednesday.

Senate Bill 884 (Lawsuit Reform) and SB994 (Workers' Comp Reform) would have a dramatic impact on the state's economic health and jobs climate. The bills will be considered in Senate Judiciary Committee, 10am Wednesday. The committee has moved to Room 212 of the Capitol.

Senate 1046 which would enact a statewide property tax freeze and empower local governments to lower their costs is posted for the Senate Executive Committee on Wednesday at 2pm, Room 212.

The Senate Democrats have bottled up the Constitutional Amendments which would allow term limits (SJRCA14) and redistricting reform (SJRCA15) on the ballot. Sen. Radogno's letter to Senate President Cullerton calling for those amendments to be assigned to committee is attached.

Sen. Radogno's letter says, in part:

"In response to the public argument made on your behalf that Constitutional Amendments are only considered in even-numbered years, I remind you of House Joint Resolution Constitutional Amendment 31, introduced on May 27, 2009 and adopted by both houses that same year. The chief Senate sponsor was Sen. Michael Noland.

HJRCA31 – establishing a gubernatorial recall process — was adopted after Governor Rod Blagojevich was impeached, convicted and removed from office by the General Assembly. The argument can be made that was an extraordinary time in Illinois history.

I argue this is no less extraordinary. People in this state fundamentally understand our system is corrupt and broken. It's time to change it."
* Meanwhile AFSCME Council 31 is also getting into the act…
TO: All Local Union Executive Board Members – Local Government and School District Locals

FR: Roberta Lynch, Executive Director
Mike Newman, Deputy Director

RE: Rauner Bill to Wipe Out Bargaining Rights

Many of you have been involved in the highly successful labor campaign to beat back Bruce Rauner's "Turnaround Agenda" resolutions in local governmental bodies all across Illinois. Given how little progress he's made there, Rauner is now taking his anti-union schemes directly to the Illinois General Assembly.

In the final days of the legislative session, he's suddenly introduced a bill aimed squarely at employees of local governments and schools districts—taking away your rights to bargain over wages, benefits and other key conditions of employment. In a characteristically sneaky move, he's packaged this ferocious attack on collective bargaining rights in the same bill as a freeze on property taxes. He's trying to scare legislators into voting to obliterate union rights for fear that they'll be painted as being in favor of higher property taxes if they don't.

We've got to act immediately to block this legislation. In addition to harming every employee of local governments and school districts, it would also hurt every building trades employee in your area by barring local governments from paying the prevailing wage on construction projects.

SB 1046, SA #1 (Radogno) – Removes the ability of employees to collectively bargain with school districts and local governments over:

o Privatization of services;

o Pay increases;

o Health insurance;

o Use of employee time for union business

o Levels of staffing;

o Personnel evaluations

Prevailing wage would not be applicable to work done on projects performed on behalf of a local government or school.

SB 1046, SA #1 will be heard in Senate Executive Committee on Wednesday, May 27th. Please try to generate as many calls as you can from your members IMMEDIATELY. Choose the senators whose districts you are most likely to have members in.
…Adding… Press release…
Statement by Nick Klitzing, Executive Director, Illinois Republican Party

"Illinoisans are experiencing déjà vu this year because they've seen Speaker Mike Madigan's political games time and time again. Instead of reforming a system that Madigan uses to reward those blindly loyal to him, he will pass a budget with a $4 billion hole and admit that the state doesn't have the money to pay for it. For Madigan, kicking the can down the road is a lot easier than making tough choices and upsetting the status quo in state government that he has controlled for decades."
- Posted by Rich Miller 55 Comments