* AP…
A southern Illinois speech meant to build public support for Gov. Bruce Rauner's legislative agenda amid a budget impasse with majority Democratic lawmakers instead turned into a test of the first-term Republican's ability to stay on message, as he faced a flurry of taunts from union protesters.

Sign-carrying members of the International Brotherhood of Electric Workers Local 309 in Collinsville and the Caseyville-based Steamfitters Local 439 repeatedly interrupted Rauner's nine-minute pitch at Eckert's Country Store and Farm. The St. Clair County rally Monday afternoon followed a similar event earlier in the day in Marion. […]

"This is going to be a rough summer," [Rauner] told reporters after the rally, during which he repeatedly laid fault for the impasse with the "Chicago political machine," a reference that drew the event's loudest cheers of support. "They've just not negotiated in good faith. We need bipartisan compromise."
I think this was the first time since the campaign ended that union protesters have booed the governor.
* BND…
When Rauner met with reporters after the speech, he repeated a warning he's been giving a lot lately: Get ready for "a rough summer."

"We've got to get the power away from (Madigan and Cullerton). They're not going to give it up easily, this is going to be a rough summer," Rauner said. "We're going to negotiate in good faith. We have been for months. We want bipartisan agreement."

"It's going to be a number of weeks" before a deal is made, but Rauner said he wants to avoid a state government shutdown. But he said his office is "making contingency plans" anyway since none of the budget bills the General Assembly passed have been delivered to his desk.
* News-Democrat video…
* And in Marion…
A mix of cheers and boos among about 200 people greeted Gov. Bruce Rauner on Monday in Marion.

Both Mayor Robert Butler, as he introduced the Republican governor, and Rauner himself noted Democracy at work in response to the split crowd.

Many who turned out for the appearance at Black Diamond Harley-Davidson were union members with signs calling Rauner bad for Illinois and for jobs. Pro-Rauner signs carried a contrary message.
* He didn't seem too perturbed…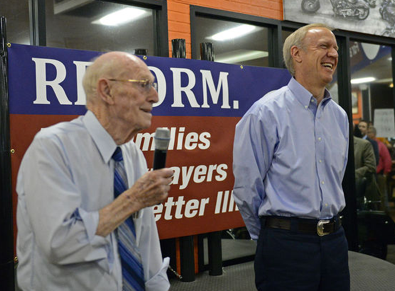 …Adding… Missed this one…
Rauner, when asked later about the protesters, characterized them as partisan supporters of Democratic House Speaker Michael Madigan and Democratic Senate President John Cullerton.

"There are folks who, the status quo is good to them, and they're loyal to Madigan, they've got a relationship there," said Rauner. "The reality is, working families in this state are suffering. Suffering … Madigan and Cullerton aren't for working families. They're for the political class."
* More video…
* Gov. Rauner Blasts Democrats During Visit To Marion

* Gov Bruce Rauner Marion Press Conference
83 Comments
























































































































































































































































Sorry, comments for this post are now closed.