* He may yet beat these federal charges, or get them reduced. But Denny Hastert had better get used to feeling what this portrait shows because he's now a pariah everywhere he goes and, barring a miraculously effective alibi, will forever remain so…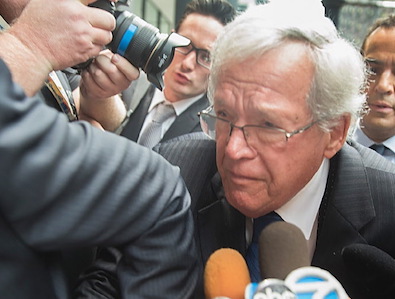 * Mark Brown…
A seething mass of news people swarmed the former speaker of the U.S. House of Representatives on his way in and out of the Dirksen Federal Building like piranha drawn to a crippled calf.

Gawkers and protesters vied on the sidewalk for a mere peek at his hunched frame as he made his first court appearance since being charged in a federal indictment.

Inside the courthouse, Hastert found no respite either. Although the news media was kept at a more respectful distance, the eyes of an entire courtroom seemed to sear into his flesh as he squirmed self-consciously under the attention.

How would I describe Hastert?

Beleaguered. Humiliated. Frightened. Ashamed.
He should be all of that and more.
* Tribune…
Hunched and tight-lipped, he was ushered into the elevator, ignoring shouted questions. There will be a lot of that in the months ahead, if the plan is to go to trial. But Hastert already looks like he's doing time.
70 Comments

















































































































































































































Sorry, comments for this post are now closed.