Seven Illinois activists participated in civil disobedience late Monday afternoon during a Chicago "Moral Monday" protest against Republican Gov. Bruce Rauner's proposed budget cuts.

As part of the protest, a few hundred clergy and grassroots activists with Fair Economy Illinois marched from the Thompson Center to 131 S. Dearborn St., the downtown office building of Citadel LLC. The hedge fund firm's founder and CEO Ken Griffin has given Rauner millions in campaign donations.

Seven protesters, including five religious leaders, were taken into Chicago police custody after refusing to leave the Citadel building lobby, where they held up a banner reading, "Rauner/Griffin. Fair Budget Now! No Cuts! Tax the Rich!" […]

During the demonstration, activists chanted, "Love thy neighbor as thyself. Tax the rich and share the wealth." They also staged a "die-in" outside the Citadel building while the seven protesters were being put into police vehicles.
ABC7 reported nine arrests.
* Photo…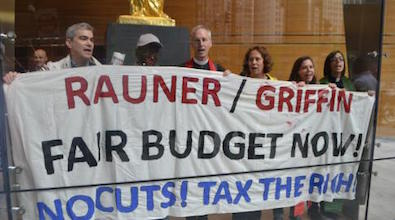 * Video…
This same group picketed Sam Zell's office earlier this month.
35 Comments








































































































Sorry, comments for this post are now closed.