* Rep. John Bradley held yet another committee hearing yesterday in an attempt to figure out which state agency budgets are being tapped to pay the governor's staff, and how much the governor's staff is actually costing taxpayers.
Once again, the governor's legislative liaison refused to attend, instead sending yet another snarky letter, which ends…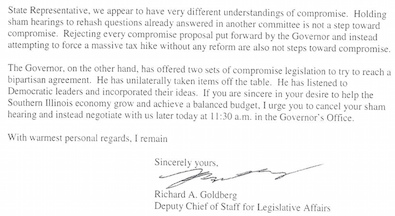 * The committee's minority spokesman Rep. David Harris asked both sides to cool their jets…
"I would ask you to desist in this effort," said Harris, the ranking Republican on the House Revenue and Finance Committee, which is chaired by Bradley. "Let's put it to rest."

At the same time, Harris also blasted the Rauner administration, saying letters being sent to Bradley by Rauner aide Rich Goldberg are insulting and hurting efforts to bring the issue to a close.

"These letters have got to stop," Harris said. "They are an insult to the chairman of this committee. The letters are not helpful. They do not move the negotiation process forward.
* But this is interesting…
Bradley, who may face a Rauner-backed opponent in the 2016 election cycle, said the hearings will continue because the budget cuts being sought by the governor could be offset by some of the $1.7 million difference in the salaries he's paying.

"That may not be a lot of money to someone from Chicago, but down in my area that would pay for a juvenile detention center. It would pay for summer jobs. It would pay for an autism program. That's a lot of money to the folks I represent," Bradley said.

"Don't send me a letter from Chicago telling me how the folks I represent feel," Bradley said
* Bradley isn't alone. The southern Dems are cranking up the rhetoric against "Chicago"…
Rep. Brandon Phelps, D-Harrisburg, and Sen. Gary Forby, D-Benton, have recently stated their beliefs that Chicago continues to stick it to downstate residents.

The Harrisburg Daily Register recently quoted Phelps defending cuts Gov. Bruce Rauner proposed to 4-H agricultural programs for youth. "The fact that the governor wants to target children in Southern Illinois rather than cut wasteful government in Chicago and Springfield puts him lock-step with some of his recent predecessors.

"We've heard this song before, with a Chicago governor targeting Southern Illinois for their own political games. "I will fight until the dogs come home for the families in Southern Illinois …"

And here's Forby recently discussing slated closure of the Hardin County Work Camp with the Benton Evening News:

"We need to keep this facility open. It's one of the largest employers in one of the most economically challenged areas in my district. I will continue to fight Governor Rauner and this war on Southern Illinois."
You can pretty much always tell when Downstate politicians feel politically vulnerable by the way they talk about Chicago.
And, like it or not, the tactic is usually effective.
46 Comments









































































































































Sorry, comments for this post are now closed.