* Illinois Supreme Court Justice Anne Burke spoke to the City Club today…
Asked Tuesday if there was any legal road map that lawmakers and the governor should follow to pass a legal version of pension changes, Burke said, "All the legislature has to do is read what we said" and interpret it.

"Read the whole decision," she said.
- Posted by Rich Miller 76 Comments


* The entities that need lobbyists the most are usually those in some sort of trouble. I suppose this qualifies…
Request for Qualifications 2016-R0006

Statements of Qualifications are being are being accepted by the College of DuPage for a Government Relations Professional.

Documents and specifications may be obtained from the Purchasing Department, Berg Instructional Center (BIC) Room 1540, 425 Fawell Blvd., Glen Ellyn, IL 60137 by email: purchasing@cod.edu Completed Responses must be delivered to the Purchasing Department at Room 1540, Berg Instructional Center (BIC), College of DuPage up to and no later than 2:00 p.m., Wednesday, July 29, 2015.

There will be no public opening of responses. College of DuPage Board of Trustees reserves the right to reject any and all responses.
They could also prolly use a proofreader.
Just sayin just sayin…
- Posted by Rich Miller 9 Comments


* There is no budget. They're under a federal court order to provide services at the same levels. So, this cut looks like they're ratcheting up pressure on the majority party…
With no signs of a long-term budget agreement, or break in the political stalemate, contractors with Illinois' Dept. of Children and Family Services are being told to prepare for 10 percent cuts.

The threat of reduced services comes as a federal judge mandated the state continue the same level of care for vulnerable children during the ongoing impasse as it did at the end of the previous fiscal year, which ended June 30. The agency has given no indication of when the 10 percent reduction in contracts would be implemented, leaving child welfare service providers little direction for how to plan their own budgets.

The order from DCFS to its contractors does not contradict Judge Jorge Alonso's ruling on the existing consent decree, which was intended to provide consistency to service providers. The threat of reductions adds to the uncertainty many child welfare providers, including Children's Home and Aid, have faced since July 1. Those groups are now left to balance maintaining the same level of services for now, while potentially facing a condensed schedule later in the fiscal year to enact drastic cuts. […]

"In response to ongoing budget negotiations, we have been required to initiate steps to responsibly manage the departments (sic) finances and have cut contracts by 10 percent," DCFS spokeswoman Veronica Resa said in an emailed statement responding to questions about how the department settled on telling contractors to cut 10 percent when there hasn't been a set budget agreement.
- Posted by Rich Miller 17 Comments


* Finke…
An overflow crowd packed into a Senate hearing room Monday to voice their opposition to Gov. Bruce Rauner's plan to close the Illinois State Museum and related facilities because of the state's budget impasse.

Their message was that closing the facilities is short-sighted, will not save the state much money and could lead to lawsuits and loss of accreditation for a nationally recognized institution.

"The administration says it will save $4.8 million," said Guerry Suggs, chairman of the Illinois State Museum Board. "If we have a $4 billion budget hole, $4.8 million is a very tiny percentage." […]

The museum is part of the Department of Natural Resources. Director Wayne Rosenthal told the commission that the museum is one of the only areas of DNR's budget that has largely escaped spending cuts in recent years. DNR's general funds budget — the amount that comes from general state taxes — has dropped from $167 million in 2002 to just $39 million now.

"We've taken cuts everywhere else, while the museum continues to grow," Rosenthal said. "It was quite simply one of the few places where we could go."
* The Question: Do you think the governor will do another "u-turn" and rescind this closure? Take the poll and then explain your answer in comments, please.
panel management
- Posted by Rich Miller 52 Comments


* WaPo…
The small flock makes McAuliffe the first modern Virginia governor to keep farm animals at the 200-year-old mansion. It also appears to make him a rarity among governors nationwide — although for some reason, the National Governors Association does not track data on gubernatorial chicken-keeping. […]

The only other governor's flock that local food experts were aware of was in Illinois, and a call to the governor's office there revealed that those birds are gone.

Then-governor Pat Quinn (D) kept nine hens at the Illinois governor's mansion in 2014. At some point, the birds made a quiet exit under his successor, Bruce Rauner (R).

"They're in a loving home, and it's all good," was all an official in his office would say, adding to the mystery by requesting that she be identified only as "the Rauner administration."
Gotta love that "ck," but the impression I got when I visited the mansion a while back was that Quinn's chickens were driving Gov. Rauner's bird dogs a bit batty.
If I had a choice between my dog and Pat Quinn's chickens, I'd take Oscar every time.
So, I probably don't have to tell you my advice to the governor back then, except to say that he has my full editorial support.
- Posted by Rich Miller 35 Comments


* Erickson a few days ago…
Republican lawmakers may be following Gov. Bruce Rauner's lead when it comes to his battle with House Speaker Michael Madigan, but some members of the minority party say the governor's decision to dole out $400,000 in campaign contributions to them during the final days of the legislative session was unusual and possibly inappropriate.

In what amounts to a rare departure from the unity GOP lawmakers have shown in Rauner's first six months in office, a handful of downstate Republicans say they have not cashed the checks Rauner's political fundraising arm made to their campaign funds because it could be viewed as him buying their votes.

"I don't want to make it look like someone is influencing me from the administration. So, it's setting in a drawer and we're going to hold it," said state Rep. David Reis, a Willow Hill Republican, speaking of the checks worth $3,000 to $10,000 that Rauner sent to each Republican member of the House and Senate. […]

According to a review of the contributions as of last week, six members of the Senate had still not cashed their checks, including state Sen. Chapin Rose, R-Mahomet.

In the House, 16 of the 47 GOP members had not cashed Rauner's checks.

In all, the lawmakers have collectively left $119,000 of Rauner's money on the table.
* Erickson today…
Gov. Bruce Rauner ended the most recent fundraising quarter with more than $19.7 million in his campaign war chest.

The Republican from Winnetka, who spent record amounts of his own cash to beat Democratic incumbent Pat Quinn in November, raised $614,357 between April 1 and June 30, according to a report filed at the Illinois State Board of Elections.

Most of the money Rauner raised came from his personal bank account. Records show the former private equity investor received small contributions from just four people but gave his account $550,000. He later refunded a check to himself for $300,000.

The report also notes Rauner spent more than $515,000 during the three-month span, including more than $152,000 on out-of-state media and political consultants.
"$152,000 on out-of-state media and political consultants." The never-ending campaign.
* But take a look at his D-2 by clicking here.
He has no record that I can find of any Republican lawmakers actually returning their contributions.
- Posted by Rich Miller 34 Comments


* The governor and legislative Republicans have all spoken against the Democrats' proposed one-month budget, which the Senate could vote on again today.
But other opposition is out there as well. For instance, this was sent a few days ago by the Illinois Partners for Human Services…
"Realizing the immediate impact the budget stalemate is already having on large groups of the most vulnerable Illinois residents, the lawmakers in Springfield have come up with a temporary, short-term budget to keep some resources flowing. But the proposed temporary budget does little to relieve the distress now facing human service providers across the state. Entire services, such as homeless youth, early childhood intervention, and after school programs are ignored altogether in this Band-Aid budget. Even for the services that are funded, a month-only commitment provides little security. Politicians need to stop trying to score political points and do the responsible work of creating a year-long budget that doesn't leave our most at-risk families out in the cold."
* The Responsible Budget Coalition…
The one-month budget measure fails to provide the stability that service providers, businesses, families, communities, and our economy need to prosper. 


The proposal fails to fund many services that are critical to families and communities, such as after-school programs for kids and services for people with HIV and those who may become homeless. It also neglects to fund vital state operations - like the Department of Revenue - which are necessary for daily government functions and services. 


Even if this measure is signed into law, service providers will have to close their doors and state agencies will be forced to cut vital services for families.

Our leaders need to recognize that families and communities are more than line items that they can pick and choose from. The only real choice to make is how to raise the revenue we need to invest in our future.

The Governor and the General Assembly need to immediately end this senseless crisis by passing a fully funded, year-long budget.
* And Voices for Illinois Children sent this out today…
As you know, despite warnings from bond houses that a failure to maintain 2014 tax rates would cause serious harm to Illinois' families, lawmakers chose to cut taxes. Now Illinois has a $5-6 billion revenue gap, and neither the Governor nor lawmakers have developed a plan to fully fund a year-long budget that invests in children, families, and communities.

Click here to ask lawmakers and the Governor to choose revenue to fully fund a year-long budget.

A proposed one-month "emergency" budget is making its way through the General Assembly, but Voices does not support it because it fails to fund many services that are critical to families and communities, such as after-school programs for kids and services for people with HIV and those who may become homeless. The proposal also fails to fund vital state operations — like the Department of Revenue — which are necessary for daily government functions and services.

The truth is that even if the "emergency" budget passes, service providers will have to close their doors and state agencies will be forced to cut vital services for families. This budget does not buy more time for many service providers and the people they serve before their programs and lives start to fall apart.

It's time for the Governor and lawmakers to consider the many options available to them in order to fully fund programs that invest in children, families, and communities.

We'll be in touch again soon. Thanks for supporting children and families.
- Posted by Rich Miller 23 Comments


* Heh…
After 50 years, The Dead played its last three shows last weekend at Soldier Field in Chicago. Soldier Field was also the last place former frontman Jerry Garcia played with the band July 9, 1995. […]

Among those in the attendance for July 5's final show were basketball hall of famer Bill Walton and Illinois Governor Bruce Rauner.
More from the WSJ…
Though there was a healthy contingent of young people, middle-aged men and women were over-represented. They included Illinois Governor Bruce Rauner, wearing a red plaid shirt and watching the show from an upper deck as members of his security detail eyed the boogying Deadheads around him. With his group, the governor beat the masses to the exit by leaving during the second set.
I knew he was going, but I didn't want to be anywhere near him. An armed security detail can harsh one's mellow pretty quickly.
* Careful how you click on this link, because NSFW stuff, but…
Out of pure luck, my friends and I ended up sitting directly behind Gov Rauner at the Grateful Dead show last night. During an intermission, we actually had a short but meaningful conversation about Illinois legalizing weed to use the tax surplus to fix the rest of the budget, like Colorado. He seemed to agree with me enough that I now have faith in Illinois going legal sooner than later :-) […]

He was really into the show and I caught him singing along more than once.
At least he's open to a conversation.
* The accompanying pic…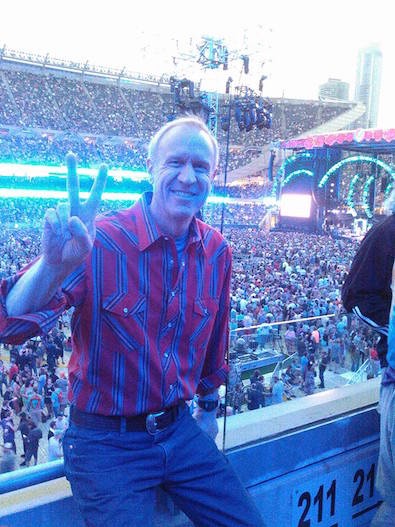 - Posted by Rich Miller 58 Comments


* From a press release…
The City of Watseka has declared a Local Disaster Emergency effective today. The declaration is based on "flooding of homes, businesses and infrastructure. Residents have been displaced and businesses forced to close due to flooding. The declaration shall remain in effect until July 20, 2015 unless sooner rescinded.

Access to Watseka is restricted to the East and South. Several streets in town have been closed and the West Junction of Rts 1 and 24 is closed. Detours around Watseka have been set up by the Illinois Department of Transportation.

A shelter operated by the Red Cross has been set up at Trinity Church on the East side of Watseka. Anyone needing evacuation and or rescue should call 911. The Watseka Fire Department is the Incident Command and is conducting all evacuations and rescue. Anyone evacuating by any other means is asked to call 815-432-2711 an leave their name, address and where they have evacuated to. This is to prevent looking for those who need assistance and have already evacuated.

We request that everyone please observe the road closed signs and barricaded streets and not drive around them. This prevents possible damage to foundations of homes in the flood waters. Anyone observed driving around barricades will be subject to arrest.

Sand bags area available at City Hall for those in need of them. They are limited to 50 per household and you must fill and get them yourself.

More rain is in the forecast for the upcoming week. It is not known when flood waters are expected to recede.

All City departments are operating 24/7 for the duration of this event.

At this time volunteers are not needed as the City departments are able to handle the emergency.

Finally, the city is instituting a curfew effective July 13, 2015 until July 20, 2015 from 10 p.m. until 6 a.m. daily. Please observe this curfew.
Wow.
* And…
The mayor of Quincy says his city will remain under a state of emergency for the time being after it was struck by a strong thunderstorm.

Mayor Kyle Moore said Tuesday that the main streets in Quincy are blocked with fallen trees and live wires. He says those streets should be passable by Wednesday morning and neighborhood streets later in the week.

A powerful thunderstorm with winds as high as 70 mph tore through the Quincy area Monday night damaging homes and knocking out power to tens of thousands in Adams County.
- Posted by Rich Miller 15 Comments


[The following is a paid advertisement.]
Credit unions remain true to one principle – people before profits – and represent a highly valued resource for more than 3 million Illinois consumers during times that post economic and financial challenges. This includes circumstances that arise beyond their control, such as interruptions in paychecks for state workers due to the current budget impasse.
In response to this situation, credit unions from all across Illinois have been proactively working behind the scenes to provide their members and consumers with peace of mind. This includes partnering with Illinois State Treasurer Michael W. Frerichs who last week announced his office's collaboration with Illinois' credit unions to provide more than $50 million in available funding for interest-free loans to state workers during this challenging time. Credit unions from all across the state have stepped up to help their members, consumers and state workers alike with loan assistance programs and other crucial options, such as waiving skip payment fees and allowing early withdrawal of savings without penalty. And that list is growing every day.
To find out which credit unions are specifically reaching out to Illinois families, please go to www.icul.com and contact a credit union near you. During these uncertain times, Illinois credit unions will be there for its members.
- Posted by Advertising Department Comments Off


* AP…
The Illinois Senate returns to Springfield Tuesday facing a critical decision about whether to try to reverse Gov. Bruce Rauner's veto of the state budget.

Democrats who have majority control of the Senate will also consider when to take a vote on a temporary, one-month budget plan the House returned last week.
The Senate Democrats have filed formal override motions, so they may very well override some of those vetoes just for show and just because they can, but the House doesn't have the votes to follow suit.
Rep. Jack Franks voted against every appropriations bill and as of last week was standing firm on any override. So, unless the House Democrats can find some GOP votes (because if Franks stands firm, at least one or two other Dems will as well), then there will be no final overrides.
- Posted by Rich Miller 13 Comments


* News-Gazette editorial…
Madigan wants higher taxes, and Rauner said he's willing to consider raising taxes. Rauner wants some significant legislative changes that Madigan said he won't consider. His idea of a compromise is for Rauner to surrender. Is it any wonder they have yet to make a deal?
* Former GOP state Rep. Bill Black in the same newspaper...
The Republican governor is up against an old, wily Democrat who knows the rules of the General Assembly, is head of the state Democratic Party, has super majorities in both the House and the Senate and is winning the public relations battle in the budget standoff, portraying Rauner as a heartless man of great wealth while Democrats stand up for the poor, vulnerable, aged and infirm.

"They do an excellent job of putting it this way," said Black, "'We're doing what we can to keep your aging grandmother comfortable in her assisted living facility. And we're trying to give your children and grandchildren a decent year in school.' They're very good at winning public opinion and turning it." […]

"I miss being over there," he said. "I miss the people I worked with but I don't miss this stuff. This is what gave me ulcers, gave me a heart attack. This stuff I don't miss at all. You get so damned frustrated sitting over there, watching these people play these games. It doesn't have to be this way. I think that's what the governor is saying.

"But he came into a situation where the deck was completely stacked against him. I think he thought he could divide and conquer, but that's not easily done. I wish him the best in his quest because he's right."
- Posted by Rich Miller 43 Comments


* Woody Bowman was one of the smartest legislators I've ever met…
He received a dual degree in physics and economics from the Massachusetts Institute of Technology in 1963. He received a masters of public administration and a Ph.D. in economics from Syracuse University in the late 1960s.

He then came to Chicago, working as a research economist for the Federal Reserve Bank then teaching economics at the University of Illinois at Chicago through the 1970s.

In 1976, Bowman was elected to the Illinois House. He held his seat until 1990 and headed the House Appropriations Committee for seven years. Bowman was Cook County's chief financial officer from 1991 to 1994.
Woods was a wonk, but he was also a soft-spoken, gentle human being. And he spoke in terms that ordinary people could understand. You listened to him not because he commanded it or because he bragged about his education and experience, but because he was so bright and interesting and innovative. He was truly an exemplary public servant - the kind we need so much more of, but the sort of modest person who never gets a statue or plaque erected on his behalf.
* Years ago, Woody's wife Michele called me and said she wanted to give her a husband a special present - his very own subscription to my newsletter. It was one of the nicest compliments ever paid to me because I figured if a smart guy like Woods wanted a subscription, I must be doing something right in this world.
* More on Woody from Greg Hinz…
Bowman, a liberal Democrat, came out of the 49th Ward, one of a group of reformers that included Ald. David Orr. They challenged the latter days of the rule of Mayor Richard J. Daley and his successor, Michael Bilandic.

"Woody was unique among candidates, and then, among politicians. He was extraordinary not just because he was so smart and decent, but because didn't want anything for himself," said Orr. "…I'm so glad that he and Michelle found each other and had a wonderful life together."

Bowman spent more than a decade in Springfield, serving as chairman of one of the two appropriations committees, before running for state comptroller against another reformer, Dawn Clark Netsch. He lost but became budget director during the tenure of Richard Phelan as Cook County Board president. Bowman became a professor in the School of Public Service at DePaul University before retiring a couple of years ago.

I always found Bowman not only smart in both an academic and worldly sense, but as honest as they come.

"He served with great distinction," said Steve Brown, spokesman for Illinois House Speaker Michael Madigan. "He brought a lot of common sense" to Springfield's budget battles.
* All my best to Michele…
The accident also seriously injured his wife, Michele M. Thompson, a former secretary to the University of Illinois Board of Trustees. Michigan State Police say a 51-year-old California truck driver started the chain-reaction crash, and that he may have been distracted by firefighters in the median who were battling a brushfire. […]

He was driving his Cadillac near the Mattawan exit on I-94, between Paw Paw and Kalamazoo, when it was rear-ended by the semi-truck. That driver, who is considered at fault, was also hospitalized for his injuries, Michigan State Police Sgt. Matthew Waters said.

Mr. Bowman's Cadillac was pushed into another car, and then the semi hit another truck, Waters said. Mr. Bowman was pronounced dead at Bronson Methodist Hospital In Kalamazoo.

Initially, his wife was hospitalized in intensive care but she was later able to telephone DePaul, and she is scheduled to return to Illinois Tuesday via ambulance, said Robert Stokes, director of DePaul's School of Public Service. The couple lived downtown. […]

At the time of the accident, they were driving to an exhibit at the Detroit Institute of Arts, a destination he treasured because its survival had once been threatened by that city's bankruptcy, Stokes said. "He never got there," he said.
- Posted by Rich Miller 21 Comments


* AP…
A frustrated [Chicago] Police Superintendent Garry McCarthy said the laws are so toothless that gang members are more worried about being beaten up by their gangs for losing a gun than going before a judge after being caught with one.

In the first quarter, police arrested 688 people for illegal firearms. By April 1, 60 percent of those people were already back on the street, McCarthy said.

That frustration boiled over last week when he told reporters that a bullet that killed 7-year-old Amari Brown on July 4 was intended for his father, Antonio, whom police described as a gang member with nearly four dozen arrests, including one in April on a gun-possession charge.

"If Mr. Brown is in custody," the chief said, "his son is alive."
- Posted by Rich Miller 39 Comments


[The following is a paid advertisement.]
Illinois is in crisis. Our budget woes are exacerbated by rising rates of costly chronic diseases. Through a penny-per-ounce tax on sugary drinks, the Healthy Eating Active Living (HEAL) Act would generate an estimated $600 million annually to invest in community health programs supporting healthier nutrition and exercise, and to restore cuts and fund prevention in Medicaid.
A recent opinion poll found that this modest tax enjoyed broad support in every part of the state provided the funding is dedicated to health. This reflects growing awareness of the proven dangers of sugary drinks, the largest source of added sugar in the American diet.
In June, a New York Times article featured preliminary results from a comprehensive study that found that a tax on sugary beverages is one of the most effective approaches to lowering body mass index in children for the least cost and greatest return on investment. Also, The Washington Post reported on a study that showed sugary drinks are linked to 25,000 American deaths annually, and more than 180,000 globally.
Legislators can support a healthy and prosperous state by including the substance of the HEAL Act in the FY2016 budget. It's a win-win for Illinois.
- Posted by Advertising Department Comments Off


* My weekly syndicated newspaper column…
After staring at my computer screen for over an hour, I realized that my goal of providing you a succinct and thoughtful analysis of what happened on a very weird day last week in Illinois government was impossible.

Instead, we're going to have to take this in pieces.

• The Court Case: C.J. Baricevic was one of the lawyers representing a host of unions in their successful St. Clair County lawsuit to force the state to pay its employees without a budget. The July 9 victory came just two days after a Cook County judge ruled that paying employees without an official state budget was a clear and total violation of the Illinois Constitution.

Why was St. Clair County's ruling so different?

Well, Baricevic happens to be the son of the county's chief judge, John Baricevic, who was once the county board chairman and is regarded as one of the most powerful Democrats in the region. The younger Baricevic is the local Democratic choice for Congress against freshman Republican Rep. Mike Bost. According to Ballotpedia, the judge in the July 9 case also appears to be up for retention next year in the heavily unionized county.

Hey, I'm not saying nothing bad about no judges. I visit that fine county every now and then. I'm even told the judge in the case isn't the type to be sensitive to such pressures. "He's just a pro-labor guy at heart," explained one area politico, who added that I was "reading too much" into the local political angle.

I'm just saying, is all.

Anyway, it appears that the legal issue of whether state workers get paid without a budget may have to go all the way to the Illinois Supreme Court—if, that is, Attorney General Lisa Madigan is willing to endure the political flagellation she'll most certainly receive for her almost Ahabian pursuit of this great white whale. The Democrat easily could have stepped aside and let the paychecks be processed. But, she's convinced this is a constitutional violation, so onward and upward.

• The Bill: House Republicans filed legislation last week to pay state employees for the rest of the fiscal year even if no budget is approved. That bill was bottled up because the majority House Democrats didn't want to give them credit and wanted to use the worker pay issue to put Gov. Bruce Rauner in a trick bag.

In an email to state employees earlier last week, Rauner pledged that his administration was "doing everything in our power" to make sure workers got paid. So the Democrats decided to make him eat his words by tacking a one-month appropriation for state worker salaries onto a bill to fund some "essential" state services for a month—the same bill that Rauner already warned he would not sign. No Republicans voted to pay the employees, even though they had their own bill, but it passed anyway.

House Speaker Michael Madigan's amendment even took the Senate Democrats by surprise. It was classic Madigan. He put literally everybody in the building except his own caucus on the spot—and further complicated an already extremely difficult overtime session.

• The Governor's Response: Rauner's spokesman started out typically enough with his response to the vote. "Today, Speaker Madigan and the legislators he controls irresponsibly voted for yet another unbalanced budget plan."

That's standard Rauner World language.

But then the response took an unusual twist.

"We also saw the speaker's unwillingness to hold a vote on a tax increase that, absent reform, would suffer bipartisan defeat. The speaker's failure to take up an accompanying revenue plan is a clear signal that rank-and-file members of the General Assembly understand that reform is necessary."

In one breath he totally controls them, but in the very next they're rebelling?

Um, OK.

What's happening here is that Rauner and his people are trying to make it look as though everyone is against Madigan.

Earlier last week, Rauner suggested that Senate President John Cullerton, Chicago Mayor Rahm Emanuel and Cook County Board President Toni Preckwinkle were all working with him and against Madigan. (They weren't.) And on July 9 the governor went to the absurd length of claiming that the speaker's own members were on Rauner's side when it comes to "reform."

In reality, many of Madigan's Democratic members would like to vote for some reforms to help the economy, just not the harsh anti-union measures the governor wants.

This overtime session has been very much like a political campaign, with constantly dueling versions of reality.

Hey, wait. That's the succinct analysis I was originally looking for. Sorry it took so long.
- Posted by Rich Miller 29 Comments


* From the emergency motion for direct appeal…
Movants ask this Court to resolve whether, and to what extent, the Illinois Constitution permits the payment of the state employee payroll when the General Assembly and Governor have failed to enact appropriations statutes. At the heart of the matter is the constitutional separation of powers under which the General Assembly and the Governor must take action to enact annual appropriations statutes. Although the appellate court had settled this issue in AFSCME v. Netsch, 216 Ill. App. 3d 566 (4th Dist. 1991), holding that the Appropriations Clause prohibits the payment of the state eniployee payroll without an appropriation, the Circuit Court of St. Clair County has declined to follow that precedent, necessitating this Court's intervention. This Court should permit direct appeal pursuant to Rule 302(b) from the conflicting temporary restraining orders entered by two circuit courts in this matter of great public importance raising constitutional questions that affect the core of the government's operation.
*** UPDATE *** From the AG's office…
"We absolutely want State employees to be paid their full wages. But we must follow the Illinois Constitution. The law is clear: the State cannot legally pay all employees their full paychecks without a budget. Because there are now conflicting court orders on this critical constitutional issue, we have asked the Illinois Supreme Court to take the appeals in the cases and resolve them. The Court can provide important guidance on what the Constitution allows when the Governor and Legislature have failed to act. Ultimately, as we have repeatedly said, the only way to fully resolve this unfortunate and damaging situation is for the Governor and the Legislature to do their jobs and enact a budget."
* She also filed two other things today…
* Appeal of St. Clair County ruling to appellate court

* Request to assert validity of Cook County TRO with appellate court
- Posted by Rich Miller 55 Comments


* Press release…
Illinois Comptroller Leslie Geissler Munger on Monday announced that her office has finished processing payroll for July 15, ensuring that all state employees will receive their scheduled paychecks without interruption.

The action comes after a St. Clair County Court last week granted Munger's request to pay all state employees in order to comply with the federal Fair Labor Standards Act and avoid potential fines totaling three times the amount of missed payrolls.

"Paying all state employees is the right, legal, and fiscally responsible thing to do and I appreciate the Court's authorization to move forward," Munger said. "We are simply compensating workers for services they are already providing the state and ensuring that we are in compliance with federal law. To do otherwise would not only cause hardship to tens of thousands of employees and their families, but also make the state vulnerable to staggering penalties that we cannot afford."

The Fair Labor Standards Act requires the state pay "covered" employees at minimum wage or face fines from the federal government. However, Illinois' antiquated payroll systems make it impossible to swiftly determine which of the state's 65,000 employees fall under the designation. Even when the respective employees are identified, the antiquated systems require Comptroller's Office personnel to manually enter tens of thousands of reductions in pay rate and corresponding changes in deductions and benefits.

Given those realities, Munger and the Governor's Office of Central Management Services last week asked the Court to allow the state to run full payroll to ensure compliance with the federal law. A Cook County Court initially directed the state to pay only minimum wage for "covered" employees but that decision was later stayed by an Appellate Court. On Thursday, a St. Clair County Court granted Munger's request to run full payroll, giving her the Court Order she needed to legally move forward.

"While the legal process will continue to play out, I am confident that the Court will ultimately see that paying all state employees is the best and only way to protect the state from significant federal fines," Munger said. "At the same time, it provides welcome relief to workers across the state, including those on the front line in serving our communities and most vulnerable residents."
- Posted by Rich Miller 39 Comments


* The quadrennial convention will be held in Peoria…
The Illinois Republican Party has chosen Peoria as the site of its 2016 state convention.

The Peoria County Republican Central Committee will be the local host of the event May 20-22, 2016. It will be at the Peoria Civic Center and Peoria Marriott Pere Marquette. […]

Besides Peoria, finalists were Bloomington-Normal, Champaign-Urbana, Collinsville and Springfield.
Next year's theme?
- Posted by Rich Miller 54 Comments


* Yesterday, House Speaker Michael Madigan handed out a list of seven instances when the Rauner administration refused to testify before a House committee, which he deemed unprecedented and said that if the Obama administration had done the same thing in DC it would be a huge controversy.
* A reporter followed up about whether he might issue subpoenas…
Illinois House Speaker Mike Madigan, D-Chicago, told reporters that Rauner's office had so severely flouted past practice of gubernatorial transparency that he considered issuing subpoenas to get the administration to appear before committees.

"But we haven't done it, because we want to be reasonable, and we want to function in moderation," Madigan said, repeating the talking points that have become his mantra.

"We're not interested in taking extreme actions." […]

"We're going to continue to provide an opportunity to the Rauner administration to participate in our three-part government here in Illinois, which means that they interact with the Legislature. … It's rather routine in the history of Illinois that gubernatorial administrations participate in legislative hearings," Madigan said.
Most of the committee hearings were repeats, and they may have all been political traps. Nevertheless, when the Revenue Committee is looking into gubernatorial office spending, that's still legit, even if it is mainly designed as a gotcha or to make the chairman (a Tier One target) look strong to the folks back home.
Your thoughts?
- Posted by Rich Miller 40 Comments


* Earlier today, we talked about Speaker Madigan's advice to Gov. Rauner.
* The Question: What should Gov. Rauner's advice be to Speaker Madigan?
- Posted by Rich Miller 67 Comments


* Oy…
Hazardous-materials teams from the Springfield Fire Department and other agencies are investigating a powdery substance that was sent in an envelope to an Illinois attorney general's office at 3000 Montvale Drive. […]

Employees are being asked to stay inside their offices while Springfield firefighters conduct on-site testing of the substance. No employees are experiencing any medical problems, authorities said.

Police do have information about the person who sent the package. The FBI has been called in to assist in the investigation.
*** UPDATE 1 *** The AG's office just told me that the police department has given employees the "all clear" sign.
Whew.
*** UPDATE 2 *** The package, I'm told, was from a prisoner addressed to a lawyer.
- Posted by Rich Miller 15 Comments


* An e-mail exchange…
From: Steve Brown
To: Rich Miller
Re: Doin' Somethin' Useful

From: Rich Miller
To: Steve Brown
Re: Re: Doin' Somethin' Useful

From: Steve Brown
To: Rich Miller
Re: Re: Re: Doin' Somethin' Useful

But your fans would love it and you could prove your clout….KC nearly had the whole AL team before the media spanked them, now they partner with the Cards for the last two spots. I think all those tech savvy folks that follow you would be very impressed with your efforts.

From: Rich Miller
To: Steve Brown
Re: Re: Re: Re: Doin' Somethin' Useful

Only if you let me use your emails in the post.

From: Steve Brown
To: Rich Miller
Re: Re: Re: Re: Re: Doin' Somethin' Useful

Are you talkin' about the emails associated with this request? If yes get goin'

If you are talkin' all email we will have to put this under review :)
They don't call him the Press Secretary General for nothin'.
- Posted by Rich Miller 32 Comments


* From Suburban Life…
[State Sen. Jennifer Bertino-Tarrant, D-Shorewood] was a guest Wednesday during the monthly Plainfield Coffee with the Mayor. She commented on the state budget impasse and answered questions about the local impact.

"I am not alone in saying this is a very, very unusual year," Bertino-Tarrant said about her third year in Springfield. "Down there, it's becoming more partisan. We have a very wealthy governor not afraid to say, 'It's my way or I'm coming after you.' "

Bertino-Tarrant compared Gov. Bruce Rauner as the Illinois Republicans' version of House Speaker Michael Madigan, who has been known to have a far-reaching influence on state Democrats.

"Government is a service, not a business, as much as we'd like to think otherwise," Bertino-Tarrant said.
* I asked reporter Vikaas Shanker for the Senator's actual quote about Rauner being another version of Madigan. Here it is…
"Over the years people have talked about Madigan having a thumb on his people. Well, unfortunately, our Republican friends are seeing the same thing now. … I don't work with Madigan, so I say they're getting a little bit of Madigan on their own side."
…Adding… This is becoming a familiar theme. From yesterday's floor debate…
State Rep. Lou Lang, D-Skokie, called GOP lawmakers "minions" and "enablers" of the Republican chief executive. […]

"I don't think anybody on this side of the aisle is a minion," answered state Rep. Dwight Kay, R-Glen Carbon. "We're state representatives and we're here to balance the budget. The derogatory tone is not a good sign."

State Rep. Dan Brady, R-Bloomington, said the display was "political theater."

"It's definitely becoming more intense," Brady said.
- Posted by Rich Miller 35 Comments


* Bloomberg…
Allstate does not hold any general-obligation bonds of Illinois, where the insurer is based, as politicians haggle over a budget for the fiscal year that started July 1, CEO Thomas Wilson said.

"If you don't like the income statement, the balance sheet or the governance, why would you loan them money just because they never defaulted before?" Wilson said yesterday at Bloomberg's New York headquarters. "We have a philosophy that we're not trying to take credit risk in the muni-bond world."

The largest publicly traded U.S. home and auto insurer, whose ads say, "You're in good hands with Allstate," held $8.7 billion of municipal bonds as of March 31, down from about $25 billion in 2007. Wilson said in 2010 that borrowing by U.S. states "is way out of control."

Wilson, who works at Allstate headquarters in Northbrook, said he's told state lawmakers: "How're you going to go broke? Gradually, then suddenly."
* Wilson then added…
He said he's been involved with "Illinois is Broke," a statewide campaign about fiscal issues created by the Civic Committee of the Commercial Club of Chicago.
- Posted by Rich Miller 49 Comments


* Tribune…
Mayor Rahm Emanuel on Thursday said he's encouraged by facets of Gov. Bruce Rauner's proposed pension bill, but cautioned the Republican to tone down his political rhetoric against House Speaker Michael Madigan if he wants to strike a deal to overhaul the state's pension woes and end a budget standoff with Democrats.

The remarks illustrated the role Emanuel is playing during the state stalemate — publicly trying to bring Rauner and Madigan together while continuing to negotiate in private on the city's interests. […]

At an unrelated CTA event Thursday, Emanuel applauded Rauner for trying to address pension funding problems for the state, Cook County, Chicago, Chicago Public Schools and downstate law enforcement in a single package. But the mayor, who has a fiery political reputation, offered Rauner an "unsolicited piece of advice."

"There's merit to having one pension bill where all the interests are addressed, but I don't think it's a good idea to have your politics get in the way of your policy. What I mean by that is, by personalizing somehow that the speaker is the holdup doesn't help advance the proposal that at least deserves merit, a discussion, and is a way of addressing a serious problem that both Chicago, suburban and downstate communities and the county all face together in one way or another," Emanuel said. "I constantly want to urge to lower the personal temperature, keep the conversation and dialogue and trust-building exercise so serious issues like a pension proposal can be heard without the politics getting in the way of progress."
* There was another warning discerned by the Sun-Times, however…
Between the lines, Emanuel seems to be saying that Rauner has backed himself into a political corner. Now that the governor is on record as supporting Chicago's ambitious wish-list, he can't renege without looking like he's flip-flopping and turning his back on the city.

"The governor now is in favor of the police and fire pension [reforms]. That is a good thing. The governor is now in favor, publicly, of a Chicago-based casino to pay a portion of police and fire pensions," Emanuel said.

"The governor is now in favor of things we have talked about for decades about equity on teachers' pensions so students and teachers in Downstate and suburbs are not treated better than teachers and students here in Chicago. He's supportive of some of the things we've proposed for Chicago Public Schools … and also the notion that the rest of the state has a role to play in creating fairness and equity across the system where Chicago taxpayers are not responsible for paying for everybody else's teachers pension and our pensions."
* Now that the mayor has mentioned it, the governor needs to watch out for that flip-flopping meme. From Madigan's press conference…
"He said he wouldn't sign the appropriation for elementary and secondary education either, and if you follow the governor's actions day by day there's a lot of u-turns, a lot of u-turns in a row," says Madigan.
- Posted by Rich Miller 28 Comments


* Tammy Duckworth got a big boost yesterday when she was endorsed by the Democratic Senate Campaign Committee…
Senator Jon Tester, Chair of the DSCC, issued the following statement announcing the Committee's support of Congresswoman Tammy Duckworth in Illinois:

"Tammy Duckworth has spent her life serving this nation and the state of Illinois, and she has a proven record of advocating for veterans, women and working families. Tammy's incredible story reflects her persistence and tenacity, even when the odds are stacked against her, and she brings that same determination to her work on behalf of her constituents every single day. We are excited to support Tammy and we are confident that she will be an outstanding Senator for the State of Illinois."
* But her fellow Democratic candidate Andrea Zopp was not pleased. Tribune…
In a statement, Zopp said she was "saddened and shocked that the DSCC would issue an endorsement without even interviewing me" and accused the group of displaying "total insensitivity to Chicago, African-American women and the democratic process."
* Her full statement is posted on her website…
"Frankly I'm saddened and shocked that the DSCC would issue an endorsement without even interviewing me. I don't know if it comes from their fear of me having raised in only two weeks nearly ¾ of what their candidate raised in two months…or their total insensitivity to Chicago, African American women and the democratic process," said Andrea Zopp.

While Zopp has not yet formally announced, over the past three weeks during which she has explored the viability of running, she has raised nearly $700,000 and broad-based support.

Long-time political activist Leon Finney, who has been part of Zopp's exploratory committee, added his comments.

"Actually we found the DSCC endorsement a sign of weakness and by the way not a little insensitive," said Finney. " The fact that the DSCC would make an endorsement while totally ignoring, interviewing or even reaching out to an exceptional, experienced, self-made African-American female candidate who in just over two weeks has raised two-thirds as much as their 'chosen one' demonstrates how totally out of touch Washington-centered politics are with the nation.

Having lived in Illinois since she completed Harvard Law School, Ms. Zopp has served as the first female, First Assistant State's Attorney, General Counsel for some of the nation's leading corporations, Executive Director of the Chicago Urban League and served on wide variety of boards and commissions. Ms. Zopp is married and has one daughter.
I received at least four urgent e-mails from Republicans pointing to her statement, by the way.
But, just for clarity, a "wide variety of boards" would include Chicago's school board. And "some of the nation's leading corporations" includes Exelon.
Just saying…
- Posted by Rich Miller 37 Comments


* Speaker Madigan held a press conference yesterday and talked about a meeting he'd had with the governor earlier in the day…
"I had a frank discussion with the governor," Madigan said. "And I gave him what I consider to be good solid advice."

He later added with a hint of a smile: "I felt good when I walked out of that meeting."
Any guesses about what that advice was?
- Posted by Rich Miller 132 Comments