* A letter from the governor's office urging the three U of I trustees who will vote on Chancellor Wise's golden parachute to reject it…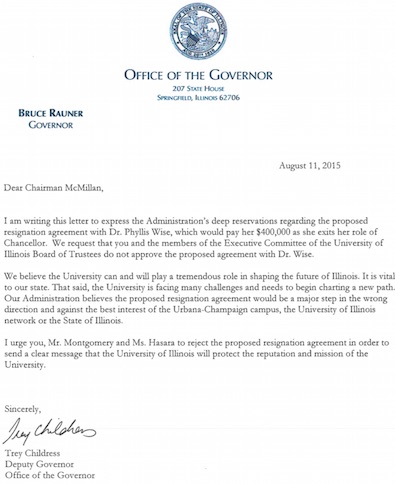 * AP…
McMillan did not return a call. Fellow committee member James Montgomery said the letter could be seen as political interference and a threat since the university relies on state funds.
Yes, I suppose it could. It might also be seen as common sense.
* This was a recently negotiated agreement, not a contractual item…
U. of I. spokesman Thomas Hardy said Monday that the $400,000 lump-sum payment reflects "a negotiated agreement" between attorneys for the chancellor and the university, and reflects her completion of nearly four years in the job.
* More…
Former U. of I. board Chairman Christopher Kennedy, who approved Wise's initial employment agreement, has said that Wise should not get the bonus payment.

"I wouldn't give someone $400,000 to leave peaceably if they (did what she did). My belief is that those emails will reveal behavior that should be investigated," Kennedy told the Tribune. "This is actionable information. You can fire someone for cause for this. When have we started giving money to people who (do this)?"

U. of I. on Friday released about 1,100 pages of emails that show Wise and other campus administrators used their personal email accounts in an attempt to circumvent state public records law, a violation of university policy.
47 Comments












































































































































Sorry, comments for this post are now closed.