* From Michael Robertson at SolidOpinion.com…
Hey Rich,

I watch Illinois politics from afar. (My brother in law lives there.) Your site has unique content and amazing engagement and here's a way to generate revenue with no sales effort. (My state CA has many similarities with IL.)

My company is launching "promoted comments". This is where users can bid to push their comment to the top of the comment list. Users can still comment for free but any user can also pay to have their comment listed in the top 3 slots. It's a fantastic way to generate revenue just using your natural visitor engagement. There's no selling on your part. Commenters are given the option to pay using points (which are purchased with cash) to have their comment at the top of the list. Think of it as a mix between ebay/google ads/comment section. It's super easy to implement. Just replace your current comment code with code from my company SolidOpinion. You get a check each month for 50% of whatever revenue is generated. You get more engaged users, relevant content and revenue!

A little about me. I'm the guy behind digital music pioneer MP3.com. This is my new company. We're launching with Yahoo in their politics section in October and with a major finance site. I'm looking for a few marquee smaller publishers to launch with to show how it will work for any size publisher. Your site looks perfect.

Attached is a mockup of a non-profit news site based in San Diego that may use our technology. Please let me know if you have any questions. I'm happy to get on the phone or answer more questions via email.

– MR
* The attachment…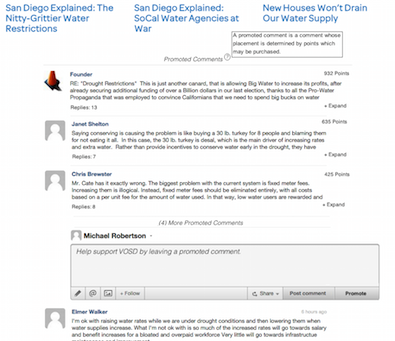 * I had some follow-up questions and he provided some answers. I added some emphasis…
1) How much do they pay to promote each comment?

The publisher (you) can set a minimum but the "market" sets the price much like a seller on ebay. If nobody wants it then you may not even get the minimum. If lots of people want it then they can outbid each other.

Lets say somebody bids 100 points for the top slot. If another commenter wants to list theres above that person they will have to bid more than 100 and so on and so on.

2) What payment method is used?

Commenters buy points using Paypal. It's 88 points per dollar and they buy them in $10 increments.

3) Can they pay to promote somebody else's comment?

Absolutely!

4) How about if I post this email and ask my commenters what they think?

Sure why not? I imagine some will be negative because everyone would rather have everything free. However, creating a market is actually a service to the community because if people feel strongly they have an avenue to insure their voice is heard.

Remember free comments are still available. They're just displayed below up to 3 promoted comments.

There's another benefit you might appreciate. Our commenting engine has a built-in reputation system so your time to manage comments will be greatly reduced. Here's an example of a site running our comment engine: http://nextbigfuture.com/2015/09/nasa-confirms-evidence-that-liquid.html

They aren't running "promoted comments" yet because that isn't available until October 10th. It is very easy for you to turn on/off promoted comments. Our hope is that you have a very un-intrusive way to generate revenue for your site that some users actually see as a service.

Btw, the promoted comment must be relevant to the story or it removed. We believe promoted comments can enhance the content and help publishers generate revenue from their efforts!

Let me know if you have any questions. The company is: SolidOpinion.com

– MR
I'll make the final decision, but I most definitely want your input.
Also, keep in mind that this is not a "pay to comment" system. It's simply a "pay to promote a comment" system.
* The Question: On a scale of 1 to 5, with 5 being the most supportive, how do you feel about switching over to this new commenting system? Take the poll and then explain your answer in comments, please.
web surveys
165 Comments














































































































































































































































































































































































































































































































Sorry, comments for this post are now closed.