The longest-serving member of Illinois' Republican congressional delegation may be facing a challenge in the March 2016 Republican primary.

State Senator Kyle McCarter (R-Vandalia) appears to be preparing a bid to unseat Republican John Shimkus (IL-15), who has been representing Illinois' southernmost congressional district since 1997.

While the rumor has been persistent for a while, reports are that McCarter made several calls over the weekend to downstate Republican leaders, notifying them of his intentions to primary Shimkus in 2016. They say Shimkus' longtime loyal staffers, as well as Governor Rauner's, have unsuccessfully tried to dissuade McCarter from his plans.
McCarter did, indeed, start making calls on Friday.
* Roll Call…
In the last few days, McCarter has been calling various Republicans across the state and has unveiled a new campaign logo (noticeably void of the office he intends to seek) at the Little Egypt parade in Salem on Saturday. According to one GOP source, McCarter may even announce in Collinsville, Shimkus' hometown, even though only a portion of the city is in the 15th District.

The congressman had $1.2 million in the bank on June 30, but is not unbeatable in the primary, according to local sources. At the same time, GOP insiders believer McCarter would need significant help from outside anti-establishment groups to put a real scare into Shimkus.

Shimkus, who was first elected in 1996, has a lifetime 66 percent rating with the Club for Growth, but his 2014 grade fell to 34 percent in 2014. That's the type of score that could attract some attention to the race if McCarter is deemed to be credible. But there is no evidence that the club, or another major outside group, is poised to get involved immediately.
The logo…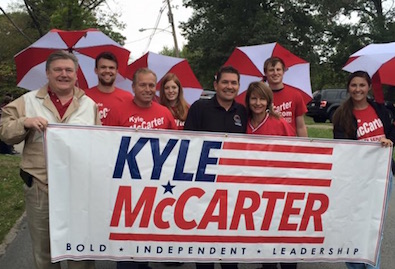 He's never been happy in the Senate, he's not easily swayed by party leaders and probably doesn't care what could happen to him if he runs, so after some initial hesitation, I can now see him pulling the trigger.
34 Comments





































































































Sorry, comments for this post are now closed.