* Retiring GOP Rep. Ed Sullivan is not happy with former Gov. Jim Edgar for bashing Gov. Bruce Rauner…
Edgar + 'doable' = status quo + failure. https://t.co/m8j3QLV0m8

— Ed Sullivan (@EdSullivanforIL) October 26, 2015
Eddie and Gov. Rauner are both supporting Nick Sauer as Sullivan's replacement. But check out who's headlining a fundraiser for Sauer…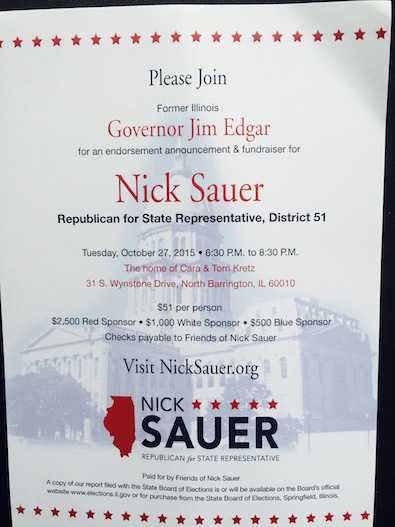 That could be a little, um, awkward.
* Meanwhile…
Today is the day Victor Reyes is holding a breakfast fundraiser for the Democratic Party of Illinois that House Speaker Mike Madigan chairs.

Reyes, the former Daley political operative turned lobbyist, will hold the event at Manny's, the famed political lunch spot at Roosevelt Road and Jefferson Street. It's $2,500 for sponsors and $500 for individuals, according to an invite, which also indicated the speaker himself will be on hand.

Reyes was chairman of the once-powerful Hispanic Democratic Organization, a Daley patronage army that was dismantled during a federal probe into city hiring. Federal prosecutors described Reyes as a co-schemer in the hiring fraud. He was not charged, although witnesses and court records have detailed his extensive influence in city hiring and in the Daley political organization.

More than $134 million has gone into Illinois campaign funds this year, according to the Illinois Sunshine update put out by the Illinois Campaign for Political Reform. That includes more than $5.8 million reported so far this month.
Madigan has been raising a lot of money this year, but there's no way he can keep up with the Rauner folks.
* And speaking of money, an SEIU local is not happy with incumbent Sen. Patricia Van Pelt (D-Chicago)…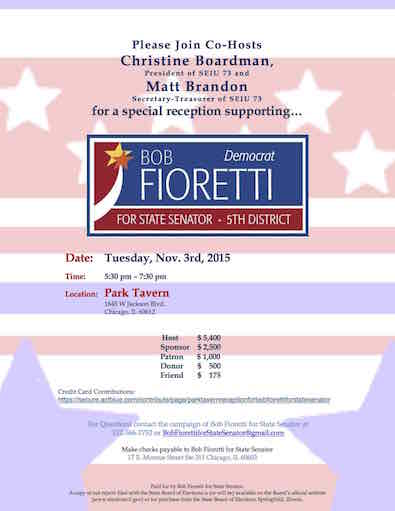 26 Comments













































































Sorry, comments for this post are now closed.