* From the Heartland Alliance…
Many Illinois families are financially fragile. Unfortunately, the increase in auto title lending in our state is only exacerbating the problem. IABG, in partnership with Woodstock Institute, recently released "No Right Turn: Illinois' Auto Title Loan Industry and its Impact on Consumers." The report finds that increasing numbers of Illinois consumers are turning to title loans in an attempt to make ends meet, and ending up in a long-term cycle of debt due to triple-digit interest rates and long loan terms. Not only are we seeing an increase in the number of title loans, but we are also seeing an increase in length of the loan and the amount of fees. The report found that the average length of a title loan is now over 18 months with consumers spending a total of $25.5 million a month to title lenders.
* The full report is here…
Title loans in Illinois are exceptionally harmful because of their combined high interest rate and long loan terms. While traditional and installment payday loans have high APRs (up to 400 percent), those loans have maximum term lengths of 120 and 180 days, respectively, enabling borrowers to pay back loans in installments, but ensuring that borrowers are not paying high rates for excessive periods of time. Small consumer installment loans have longer terms (over 180 days), but are capped at 99 percent APR. Under current Illinois law, title loans have no APR cap and no maximum term, so borrowers can be trapped into paying high rates for years at a time. […]

As the default rate data show, over a quarter of all Illinois title loan borrowers were unable to make payments and defaulted. This means that one in every four title loan borrowers in Illinois lost the means for commuting to work, going to the doctor, or transporting kids.
* One of their charts…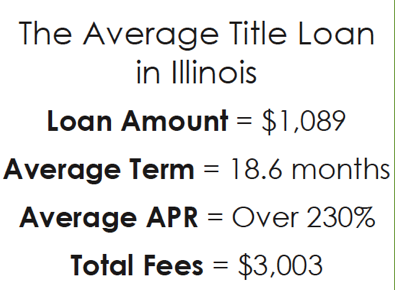 Oy.
* Some of their proposals…
The Illinois legislature strengthen the Consumer Installment Loan Act to require stronger ability-to-repay standards, maximum loan terms, and a rate cap of 36 percent APR.

The Illinois Department of Financial and Professional Regulation (IDFPR) publicly release loan-level data from the state database to allow for a more detailed analysis and monitoring of small-dollar lending in Illinois.

Financial Institutions create and market affordable small-dollar loans with ability-to-repay standards as alternatives to high-cost, predatory products.
27 Comments
















































































Sorry, comments for this post are now closed.