* The Fraternal Order of Police Lodge 7, which represents Chicago cops, is raising money to bail out Chicago police officer Jason Van Dyke…
JVD Bond Fund Account
November 25, 2015

Anyone wishing to donate to the JVD Bond Fund may do so at any of the four locations of the Chicago Patrolmens' Federal Credit Union. Please send a check made payable to Tiffany Van Dyke.
The FOP has a right to aggressively represent its members in contract negotiations, grievances, etc. To me, however, this is just going too far.
* Meanwhile…
After an appalling dashcam video was released to the public, protesters took to the streets to let it be known that they stood for Laquan, and all victims of racist police violence. There have been reports of at least five demonstrators being arrested. The Chicago Community Bond Fund is raising money for their bond. Your donation in any amount is needed.
The whole protest seemed staged to me last night. I mean, the small demonstration appeared confined mainly to the South Loop, perhaps to ensure maximum media coverage. It's no secret that it could be difficult to convince some reporters to hang out in Englewood at night (not to mention some - not all! - of those protesters).
Anyway, back to the Chicago Community Bond Fund stuff. From the twitters…
Three of our people have been taken and arrested. We are marching to 17th and State to get them released. #LaquanMcDonald

— BYP100 (@BYP_100) November 25, 2015
From the Tribune…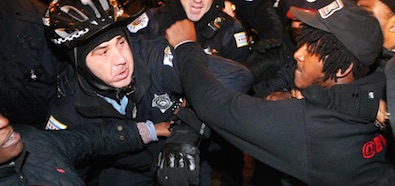 Now, click here and then click here.
* Just about everybody was peaceful last night. It was (thankfully) the usual staged chanting from the usual folks. But one person does appear to have allegedly gotten out of hand. It would help if the protesters recognized that as well. You can't blame the cops for everything in life.
45 Comments






































































































































Sorry, comments for this post are now closed.