* Reader comments will be closed until Monday. And now, per our tradition…
1) What happened to the Burger King tapes?…
NBC Chicago quoted a district manager for Burger King in May as saying Chicago police deleted separate video from a security camera at a Burger King restaurant less than 100 yards away,

While 86 minutes of the video were missing, the city's Independent Police Review Authority said there was "no credible evidence" that police tampered with it. Alvarez repeated that assertion Tuesday.
That's the same IPRA which clears almost every cop it looks at.
* What State's Attorney Avarez said…
"Forensic testing was done on the Burger King surveillance system to determine if anyone tampered with the evidence and the testing did not reveal any such evidence," she said.

She declined to comment on which agency conducted the tests, however.
Somebody needs to track down Burger King's Jay Darshane, who made the original allegations.
*** UPDATE *** Darshane has mummed up…
Darshane told DNAinfo Tuesday that he's been visited by other authorities since then — and will likely have to testify in the case.

Dasrhane declined to comment further, saying he was told not to speak about the incident.
[ *** End Of Update *** ]
2) If you listen to the audio of the snuff video, you can hear what sounds like wind noise, sirens and garbled electronic something or another, but nothing else. So, was this a tech issue (perhaps "ghost" audio that bled through from another source) or what?
…Adding… 3) When, exactly, did Mayor Emanuel, Superintendent McCarthy and State's Attorney Alvarez and/or their staff first find out about what was in that police dashcam video? And what did they do immediately after?
…Adding… 4) What was in the reports filed by the other officers at the scene?
…Adding… 5) Why is this clown still working for CNN?…
HARRY HOUCK: I'm shocked there's no violence. I really am shocked.

BAKARI SELLERS: You don't have to be shocked

HOUCK: Well I kind of thought maybe some — there'd be problems in the inner city.

SELLERS: Why? Why?

HOUCK: Well, you know the thugs like to use this as an excuse to go there out and cause –

SELLERS: The who?

HOUCK: Thugs.

DON LEMON (Host): He's — I don't think you're — He's not talking about the protesters.

HOUCK: Now I'm not talking about these people here. I'm talking about people who will actually go out and riot, destroy property, fight the police.
* Your Thanksgiving holiday plans?
*** UPDATE *** I dunno about y'all, but I'm gettin' rich!!!…
Some years ago my client died leaving behind US$14.7M in my Bank here where I work, nobody has come forward for the claim, and I contacted you because your name and email contact was among the findings, and would love to reinvest the dormant funds to you, since your email contact it's among the matches. Can I present you as the heir to the deceased?

Since I have all necessary details needed to claim the Funds if interested respond with the following to enable us to proceed this matter. 1 Your Full completed names, 2 Telephone & fax number 3 occupation 4 address and age.

Sincerely,

Mr.mark David.
So long, suckers!
/snark
* Gov. Bruce Rauner's chief of staff Mike Z is an old pal of mine. Some folks don't like his boss much, and maybe they don't care for others in that crew [cough!*Goldberg*cough!], but pretty much everybody has a soft spot for Z. So we can't pass up this chance now that he's made Crain's Chicago Business' esteemed 40 under 40…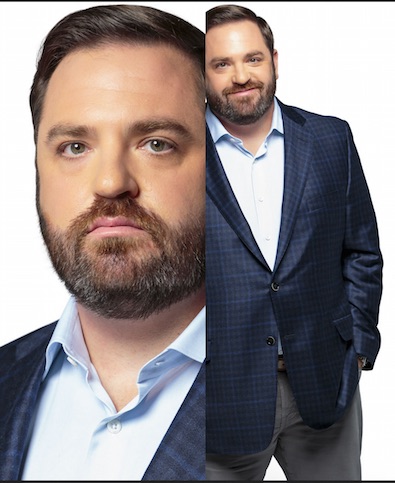 * The Fraternal Order of Police Lodge 7, which represents Chicago cops, is raising money to bail out Chicago police officer Jason Van Dyke…
JVD Bond Fund Account
November 25, 2015

Anyone wishing to donate to the JVD Bond Fund may do so at any of the four locations of the Chicago Patrolmens' Federal Credit Union. Please send a check made payable to Tiffany Van Dyke.
The FOP has a right to aggressively represent its members in contract negotiations, grievances, etc. To me, however, this is just going too far.
* Meanwhile…
After an appalling dashcam video was released to the public, protesters took to the streets to let it be known that they stood for Laquan, and all victims of racist police violence. There have been reports of at least five demonstrators being arrested. The Chicago Community Bond Fund is raising money for their bond. Your donation in any amount is needed.
The whole protest seemed staged to me last night. I mean, the small demonstration appeared confined mainly to the South Loop, perhaps to ensure maximum media coverage. It's no secret that it could be difficult to convince some reporters to hang out in Englewood at night (not to mention some - not all! - of those protesters).
Anyway, back to the Chicago Community Bond Fund stuff. From the twitters…
Three of our people have been taken and arrested. We are marching to 17th and State to get them released. #LaquanMcDonald

— BYP100 (@BYP_100) November 25, 2015
From the Tribune…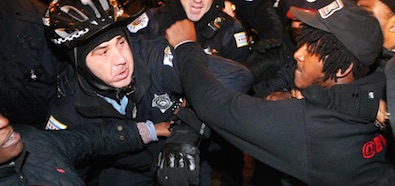 Now, click here and then click here.
* Just about everybody was peaceful last night. It was (thankfully) the usual staged chanting from the usual folks. But one person does appear to have allegedly gotten out of hand. It would help if the protesters recognized that as well. You can't blame the cops for everything in life.
* Reuters…
Illinois' credit rating could move even closer to "junk" if its already large pension liability and budget deficit grow, Moody's Investors Service said on Tuesday.

Last month, the credit rating agency downgraded Illinois just three steps above "junk" to Baa1 with a negative outlook in the wake of a political impasse that has left the fifth-largest U.S. state without a budget for the fiscal year that began on July 1.

"As long as those conditions continue to deteriorate, those are the most likely drivers of the next downgrade," Moody's analyst Ted Hampton said on Tuesday, referring to the pension and deficit problems.

Even if Republican Governor Bruce Rauner and Democrats who control the legislature were to reach a compromise at this point, it would not immediately improve the state's credit standing. That is because any deal would not likely result in a balanced budget halfway into the fiscal year, Moody's said in a report. […]

Moody's said growth in Illinois' chronic unpaid bill pile, a barometer of the state's structural budget deficit, "would elevate liquidity risks and add further credit pressure." The bill backlog stood at $7 billion as of Monday and Moody's projected it could top a $9.9 billion peak reached in November 2010 if the state fails to fill its fiscal 2016 budget gap.
* Reboot…
When Moody's Investors Service downgraded Illinois' credit rating in October, Illinois earned not only the distinction of having the lowest credit score of any state (it had had that for some time) but also became the first state to receive a rating below single-A.

But what does that mean and how can Illinois get out of last place? Can Illinois sink even lower on the credit scale, to a point that investors don't want to buy our bonds?

"There is no floor for U.S. state ratings, despite states' inherent credit strengths and typically very high ratings," Moody's VP-Senior Credit Officer Ted Hampton says. "The majority of states are rated either Aaa or Aa1, and this concentration at the top of our rating scale reflects states' powers – such as the ability to cut general spending – and positive features that include prudent governance practices, moderate debt burdens, and stable, diverse economies."

A month after dropping Illinois to a rating of Baa1 negative, Moody's has released an FAQ document that explains why Illinois fell into its bad credit situation and how it can rebound. Moody's succinctly spells out the causes of the state's credit decline: "governance weaknesses, bill payment deferrals, chronic structural budget gaps, and soaring unfunded pension liabilities."
Subscribers already have my take, but the full report is here.
Thoughts?
* From the Associated Press…
The Illinois Department of Commerce says it has reached tax-break deals with three companies following Gov. Bruce Rauner's recent decision to reinstate corporate tax incentives.

The deals through the EDGE tax-credit program, though, would not provide tax incentives until Rauner and Illinois lawmakers agree on the overdue state budget.

The department did not provide the size of the tax breaks the companies would receive.

Under the deals announced Tuesday, Fabrik Industries Inc. of McHenry would add 25 new jobs and invest $5 million. The company now employs 264 people.
The other two companies are in Rockford and Northbrook.
* The reason I'm singling out the McHenry County company is because the Associated Press just ran a long story about corporate tax credits and featured that county's most prominent state legislator, Rep. Jack Franks…
Though fond of some of the Rauner changes, Franks said they don't address "the underlying program at all."

He believes the EDGE program favors big companies far too heavily, something small businesses in the state frequently complain about.

"I think a better approach would be to lower the tax rates on all corporations," Franks said.
Franks was also quoted in a recent News-Gazette editorial and the Tribune saying this…
"I don't think the EDGE credit program works," said Franks, who sponsored the 2003 corporate accountability law and co-chaired a House study last year on state tax policy. "I think it's a loser, a dead-bang loser."
* Team Rauner asked if I'd seen the above story and then asked if I'd asked Franks about it. I told Rep. Franks what was going on and he responded via text with a statement…
They have tightened up some regulations but still have no way of measuring if there is a return in the investment. Additionally this is not line itemed and blows another hole in the budget.
I told the Rauner folks about Franks' statement and they sent me an e-mail exchange from Rep. Franks…
From: [Jack Franks]
Date: August 10, 2015 at 10:42:47 AM CDT
To: [Richard Goldberg], Robert Stefanski
Subject: Fwd: Fabrik Molded Plastics, Inc.

Gentlemen the attached is self explanatory. This is not only an increase of 100 jobs but also the retention of 400

When I spoke with Mr Wagner he said the state was unhelpful and slow to respond. Can we get someone who is a decision maker to meet with him? I'm happy to answer any questions. Jack

Sent from my iPhone

Begin forwarded message:

From: "Keith C. Wagner"
Date: August 10, 2015 at 10:17:16 AM CDT
To: [Jack Franks]
Subject: Fabrik Molded Plastics, Inc.

Representative Jack Franks,

I appreciate your call and interest in helping Fabrik Molded Plastics with our intentions to grow our business in Illinois. It is good to hear that your willing to put efforts into persuading the state to hear about our plans hopefully offer some assistance to our company. Below is a short narrative regarding what we have been doing so far and what we plan to do in the near future.

Fabrik has been in McHenry County since 1980, 35 years. We are a custom plastic injection molder that employs 400 people and services companies throughout the world. Our primary niche is Automotive products for just about every automobile manufacturer. Our employees range from entry level machine operators to highly skilled executives. We are a growing company that invests within our community and our people. Fabrik continues to pursue interns from high schools and colleges, we also work with local workforce development groups, taking on new hires that have been struggling to find work.

Fabrik is growing our business and our current facility in McHenry will not allow us to meet our customers demands. So as any good business would do, the management team embarked on an analysis of expansion in IL and our options outside of IL. Our intended plan within Illinois, would be to buy the building adjacent to our facility in McHenry and add manufacturing capacity. The growth would cost Fabrik over 5 million dollars and would add 100 jobs in the next 3 years.

As we have been exploring expansion possibilities we have visited several other states and we are considering the potential of utilizing offers that are being made.

In the first quarter of 2015, Doug Martin of the City of McHenry and Pam Cumpata of McHenry County EDC met at Fabrik to have a conversation on our expansion plans for the company. Included in that conversation was Andria Winters of DCEO. The next step was to complete the State of Illinois Project Profile so that DCEO had information on the company and expansion plans. The Project Profile requested that we supply the offers from the other states, which I have declined to provide to DCEO until an Illinois offer is made. Illinois should make an offer if they intend to compete. Hopefully, Illinois will come through with a package that compares to our other choices.

Following the submission of the Project Profile and during the discussion requesting additional information, a representative from the Governor's office contacted Pam Cumpata to inform her that the Governor was suspending the EDGE Tax Credit incentive until a State budget was in place and to my knowledge that is still the case.

On a local level, the City of McHenry and other taxing bodies are doing all they can to help create a financial incentive for us to aid in our decision process. The total amount that has been discussed as an abatement of taxes would equal $30,000 a year for 10 years. The abatement discussions are not going well, unfortunately the school districts that amount to over half the proposed abatement are not open to the idea. One of the school districts is not discussing the project with the City of McHenry, so it does not look good for the abatement to reach even half of the original proposed amount.

The timing of the start of this project is coming closer, we do not have the luxury of time that we had when we began this process months ago. We hope to hear from the State of Illinois in the next few weeks so we can begin to make plans to expand here where our roots are. Fabrik is not a big company with resources that can withstand a long period of courtship and legalities, so we can receive an incentive package that will aid us in expanding our business. We are hoping that a simple incentive plan that helps us financially with our growth plans can be offered by the state.

What can the State do to help is the question that needs to be answered. Training credits are welcomed, but do not add up to an incentive worth the time and efforts.

Keith Wagner
President, Fabrik Molded Plastics, Inc.
Jack did the right thing for his district. Good on him. It's why the Democrat keeps getting reelected in one of the most Republican districts in the state. The man is relentless.
But now he wants to slam the door shut on other districts. Not good.
By the way, I texted Rep. Franks that the governor's office had released his e-mail and didn't hear anything back. I'll let you know if he responds.
*** UPDATE *** From Rep. Franks…
I did not understand your statement that they sent you my email. It had not crossed my mind that they sent you the communication where I asked that they help my constituent.

My criticism of the program remains. It needs to have metrics to determine return on investment It also has to be included in the budget as a verifiable line item. The program needs to be further improved.

Having said that I also have an obligation to help my constituents which were eligible under the guidelines and I did so.

It would serve the governor better to listen to constructive advice instead of attacking the messenger.

To reform Illinois we need to work together. I continue to do so and invite the governor to join me.
Then and now
Wednesday, Nov 25, 2015 - Posted by Rich Miller
* Chicago Tribune, 4:13 pm, October 21, 2014…
A squad car arrived on the scene, and officers spotted the teen — later identified as Laquan McDonald — standing next to a car with a knife in his hand, Camden said. The teen began walking toward Pulaski Road and ignored the officers' requests to drop the knife, Camden said.

"He's got a 100-yard stare. He's staring blankly," Camden said of the teen. "[He] walked up to a car and stabbed the tire of the car and kept walking."

Officers remained in their car and followed McDonald as he walked south on Pulaski Road. More officers arrived and police tried to box the teen in with two squad cars, Camden said. McDonald punctured one of the squad car's front passenger-side tires and damaged the front windshield, police and Camden said.

Officers got out of their car and began approaching McDonald, again telling him to drop the knife, Camden said. The boy allegedly lunged at police, and one of the officers opened fire.

McDonald was shot in the chest and taken to Mount Sinai Hospital, where he was pronounced dead at 10:42 p.m. He lived in the 500 block of North Springfield Avenue, about 5 miles from where he was shot.

Camden said a knife was recovered from the scene. A statement from Police News Affairs said no officers were injured.

Camden said none of the officers who responded had a Taser to use on the teen and were trying to detain him long enough for one to arrive. He said officers were forced to defend themselves.

"When police tell you to drop a weapon, all you have to do is drop it," Camden said. [Emphasis added.]
* As we all know by now, the video tells a much different story…
We'll have more later.