* Apparently, this little scheme is quite popular in Chicago…
For more than a year and a half, state Sen. Patricia Van Pelt (D-Chicago) recruited people into a home-based sales organization that she called "the opportunity of a lifetime."

Other local politicians, including Cook County Circuit Court Clerk Dorothy Brown and Illinois Secretary of State Jesse White, also have belonged to the company, 5Linx. But Van Pelt was one of the most visible company cheerleaders, seen on one promotional video for 5Linx boasting of her BMW and Bentley. She joined the company after she heard about a "million-dollar earner" with 5Linx, she says on the video. […]

In the video, titled "Senator Patricia Van Pelt's 5Linx Platinum Lifestyle," she blurs the line between her public office (a part-time job) and her sales position. Twice on the video Van Pelt's name, title and the seal of the State of Illinois are featured prominently.

Despite the rhetoric in videos from Van Pelt about the wealth potential of 5Linx, she told the BGA that saving money on services is the benefit most people realize after joining.

Van Pelt rose to platinum senior vice president — one of the highest rankings in the 5Linx organization. But she quit 5Linx in June and joined a similar company, Utah-based Ariix international because, she said, she liked that company's products. Ariix contributed $10,800 to Van Pelt's political committee in September.
Have a look at the 5Linx page. Sheesh. No wonder Jesse White (who backed Van Pelt for the Senate) never did anything with it.
* I told subscribers about this earlier today…
Three months after the Illinois Senate rose to honor what seemed to be the heroics of Fox Lake police Lt. Charles Joseph Gliniewicz, a McHenry Republican is asking to take it back.

State Sen. Pam Althoff has made the rare request to strike from the Senate record the mournful resolution honoring Gliniewicz that was adopted in September, days after the officer died.

"Since adoption of Senate Resolution 942 the facts and circumstances related to it have changed," the new resolution says.
I wasn't aware this could be done, but I suppose anything's possible…
Rescinds Senate Resolution 942 and expungement of entries relating to it from the Senate Journal and the Illinois General Assembly website.
* And, finally, an e-mail that was sent to the secretary of state's office…
Greetings;

My name is Chaz Stevens, Executive Director of The Humanity Fund.

I am seeking information regarding installation of our 2015 Gay Pride Festivus Pole inside the Illinois State Capitol rotunda. We'd like the pole's erection to near the Baby Jesus … as you never know, the little one might want to dance the night away!

The 2015 Gay Pride Festivus Pole is approximately 6'6" tall, painted with purple-glitter, covered in the rainbow colors of diversity, and topped with an 8" disco ball.

There are no moving parts, no power requirements, but plenty of opportunities to air one's grievances.

I'm including a couple of links to get you up to speed, just in case you dialed in from another galaxy.

http://www.rawstory.com/2015/12/christian-lawmakers-unintentionally-open-the-door-to-gay-pride-festivus-pole-at-arkansas-statehouse/
http://www.mtv.com/news/2618454/gay-pride-festivus-pole-arkansas-capitol/
http://www.arkansasmatters.com/news/local-news/man-applies-to-place-gay-pride-festivus-pole-at-capitol
http://spectrum.suntimes.com/news/10/155/7654/festivus-pole-gay-arkansas/
http://www.arkansasonline.com/news/2015/dec/01/advocacy-group-requests-gay-pride-festivus-pole-st/

And, for your edification, here are a few pictures of the pole in action.

https://dl.dropboxusercontent.com/u/7008106/HuffPo.zip

Yeah, it's pretty gay looking! Ain't that the coolest?

I'm expecting my application to be accepted in short order, otherwise I'm gonna have some problems with you people!

KINDLY CONFIRM RECEIPT OF THIS EMAIL.

Happy Festivus, see you soon!

Chaz
The pole…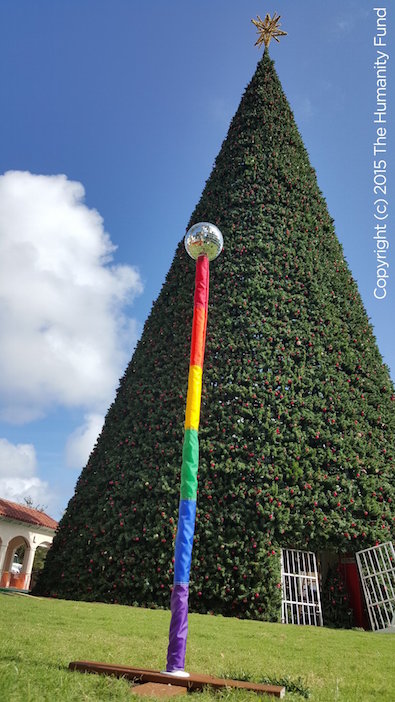 * Related…
* Sandra Salgado: Republican Party "Behind Steve Reick 100%," GOP Primary Opponent Backs Jack Franks


Click here to help buy presents for LSSI foster kids!
24 Comments







































































Sorry, comments for this post are now closed.