* Sun-Times…
Emboldened by the furor over police shootings in Chicago, lawyers for another black teenager gunned down by police nearly three years ago after allegedly stealing a car are fighting to take the images of his final moments public.

So far, City Hall has fought back.

U.S. Magistrate Judge Geraldine Brown shot down an attempt last month by the family of Cedrick Chatman to make public the video of the 17-year-old's Jan. 7, 2013 shooting death. The case is the subject of a federal lawsuit, and the judge issued her ruling the same day a Cook County judge ordered City Hall to release video footage of a Chicago police officer shooting Laquan McDonald 16 times. Chatman family attorney Brian Coffman is now set to ask U.S. District Judge Robert Gettleman on Dec. 9 to overrule Brown.

Meanwhile, Lorenzo Davis, a former top investigator for the city's Independent Police Review Authority who said he was fired earlier this year for resisting orders to justify police shootings, said Wednesday that he saw the video of Chatman's death before his dismissal. His lawyer, Torreya Hamilton, said the Chatman case led to Davis' dismissal from IPRA.

Davis told the Chicago Sun-Times that Coffman's shooting death was an "unnecessary use of deadly force" — and a murder.

"You don't kill a person unless you have to," Davis said.

The officer who pulled the trigger has said that he feared for his partner's life when Chatman made a "slight" turn of his torso during a foot chase, records show. The shooting was ultimately justified in an IPRA report that indicated Fry saw "a dark colored object" in Chatman's hand that he thought could be a firearm. An IPRA spokesman did not comment on Davis' allegations. A spokesman for City Hall's law department also did not comment on the case.
* Meanwhile, the Tribune is demanding that Mayor Emanuel release the Ronald Johnson police shooting video.
- Posted by Rich Miller 17 Comments


* As you all know, there's another guy named Mike Madigan running for state Senate. The other day, the State Journal-Register published an op-ed by somebody named James Durkin entitled "Compromise needed to restore Illinois' standing" with this footnote…
The writer is a Mokena resident and part-time professor of political science and criminal justice at several northern Illinois community colleges. He is not the state representative of the same name.
* And today the Tribune ran a letter to the editor from a John Culloton…
Our Illinois Attorney General Lisa Madigan — who has made a practice of pursuing minor investigations — suddenly has written a letter to the U.S. attorney general requesting an investigation of the Chicago Police Department by the U.S. Department of Justice. Why now?
All we need now is a fake Radogno and we'll have a complete set.
- Posted by Rich Miller 13 Comments


* WQAD…
The Riverview Center in Dubuque announced it will drastically cut services to its clients in both Western Illinois and Dubuque. The center receives funding from both the state of Illinois and Iowa.

At its Illinois offices in Jo Daviess and Carroll County, 85 percent of its domestic violence staff and 33 percent of its sexual assault program staff, will be laid off.
* Daily Chronicle…
Northern Illinois University and Kishwaukee College students said the state suspending funding for the Monetary Award Program has been unnerving, especially as they try to plan for their future.

Rainn Darring II, a 21-year-old senior studying communications at NIU, said anxiety set in when it dawned on him that he might not receive the grant he was awarded – at least not right away. Darring is scheduled to graduate in May, but he was worried that the funds being delayed would push that big day back for him.

"My biggest worry was that I wasn't going to have the necessary funding to register for my spring classes, the final courses heading into my graduation," said Darring, who is also president of the Campus Activities Board. "People in Springfield don't realize they're touching so many lives by stopping this funding."

He's already taken out several student loans since his freshman year.
* Meanwhile, as I write this the House is debating a non-GRF funding bill (SB 2039) which is expected to pass…
House taking up a budget bill that spends $28 million in GRF funds - DOESN'T FUND core and essential community ID/DD and MH services #twill

— IARF (@IARF) December 2, 2015
SB 2039 DOESN'T FUND: Psychiatry, respite care, Autism services, epilepsy services, residential and housing for persons with SMI #twill

— IARF (@IARF) December 2, 2015
*** UPDATE 1 *** Polly Poskin, Executive Director of the Illinois Coalition Against Sexual Assault, just called to say that domestic violence programs were included in the bill which passed today, but not funding for sexual assault victim programs. That's just bizarre.
*** UPDATE 2 *** From Emily Miller…
Domestic violence legal aid is GRF, and not included in the bill. You cannot fund bits and pieces of these services and expect the outcome to be successful. It makes no sense.
*** UPDATE 3 *** IML…
Municipal leaders across the state applaud the Illinois House for passing SB 2039 (Rep. Currie), which could pave the way for the Senate to deliver hundreds of millions of dollars the state owes municipalities.

"When the bill is approved by the Senate and signed into law by the Governor, municipalities will finally have the much needed relief to make ends meet with this crucial funding," said Brad Cole, executive director of the Illinois Municipal League. "There is an urgency to have these funds distributed as rapidly as possible."

IML has been actively working to gain the release of the funds being withheld by the state of Illinois during this lengthy budget impasse. SB 2039 would release specific state money owed to municipalities from various funds such as the Motor Fuel Tax fund, Use Tax revenue, video gaming fees, casino fees, and 911 service fees. These are non-general revenue funds that are otherwise distributed to local governments.

The IML appreciates the leadership of House Majority Leader Barbara Flynn-Currie and House Minority Leader Jim Durkin for generating overwhelming support for this legislation, as well as Rep. Marty Moylan and Rep. David Harris for their continued advocacy on behalf of local municipalities. In addition, the IML thanks Governor Bruce Rauner for his support recognizing the needs of local governments in serving citizens across Illinois. The IML appreciates the bi-partisan support being demonstrated by Senate President John Cullerton and Senate Minority Leader Christine Radogno for scheduling a vote on this legislation for next week.

If SB 2039 is signed into law, hundreds of millions of dollars would be allocated to fund the following areas of importance to local governments:

$582 million for Motor Fuel Tax Fund payments to be used for road improvements
$340 million in Use Tax payments
$154 million to 911 centers
$145 million to municipalities where casinos and video gaming is allowed
- Posted by Rich Miller 62 Comments


* From the New Yorker…
In the past ten years, the city has paid five hundred and twenty-one million dollars in alleged police-misconduct cases, according to a study by the Better Government Association
Now, go read the rest for a truly depressing account of another police shooting.
- Posted by Rich Miller 40 Comments


* Tribune…
House Speaker Michael Madigan said Tuesday that he's been too focused on the state's budget problems to give any real thought to the March primary, declining to say which races his Democratic Party plans to pour money into.

Madigan also did not directly answer a question about whether he'd support Chicago Rep. Ken Dunkin's re-election efforts, after Dunkin twice would not cast votes during Democratic attempts to overrule Republican Gov. Rauner on spending for child care and services for the elderly and disabled.

"We haven't reached any decisions on the primary at all, we've been occupied with the No. 1 issue facing the state of Illinois: the budget deficit," Madigan told reporters.

Madigan also brushed aside an inquiry about the three people challenging him for office, including whether he had anything to do with recruiting additional candidates to make it more difficult for one person to take him on.
The Speaker repeated his line about being too preoccupied with the budget to be dealing with putting up primary opponents against himself. He answered the same way when asked whether the county party ought to rethink its neutrality in the state's attorney race. He's just way too focused on the budget.
And if you believe any of that then you're beyond help.
- Posted by Rich Miller 35 Comments


* WSIL…
"When there is a meeting the speaker says nothing, the senate president talks a lot – and some of what he says is different out here than in [the meeting] and that's a problem," [Senate GOP Leader Christine Radogno] said.

Senate President John Cullerton, D- Chicago, said he wished they would meet more often and he wants to pledge that it will continue but, "The first thing we have to do is see if we can even agree on what the facts are before we even get to the part where we disagree on and [have] different opinions." […]

"I thought it was a productive meeting. I think it was meaningful. I think it was good that we met," Madigan told reporters. "We agreed that we're going to meet again."

Madigan did admit he is quiet in meetings, but defended himself stating, "I learned a long time ago, that when you talk, you don't learn. And my purpose today was to listen, to learn."
Um, OK.
* Cullerton had one of the better lines…
"I think we should pledge to continue to meet, because if we don't meet, how are we supposed to know how to reach a conclusion? What if I wanted to surrender to you? Where was I supposed to go? So here I am, and we're willing to talk."
* Also…
Senate President John Cullerton, D-Chicago, said he was encouraged by the meeting and remains ready to negotiate.

But he also took a shot or two at Rauner's leadership style, saying they governor should have summoned the leaders sooner and more frequently, and he implied Rauner needs to step up when it comes to the budget.

"The budget is our (the Legislature's) problem and he's just the governor? That doesn't make sense," Cullerton said.
And…
"I thought the best part was we agreed to have future meetings," Democratic Senate President John Cullerton said afterward.
* Leader Durkin…
"The mess we find ourselves in today, including the worst credit rating under one party, Democrat control, falls into the hands of the Democrats," a fiery Durkin said. […]

"Rather than meet you half way, our friends at the end of the aisle ran away," Durkin said, adding Democrats view the budget impasse as a "war" without compromise.

"I'm sorry but I've seen this bad movie before. It doesn't end well for the Illinois economy," Durkin said.
* Gov. Rauner…
"I respectfully disagree that any of our ideas are extreme," Rauner said.
* Leader Radogno went all in on the Turnaround Agenda…
[Radogno] threw Madigan's words back at him: "The changes being suggested are reasonable. They are not extreme."
As did Leader Durkin…
"There needs to be a willingness on behalf of Democratic leadership to say that those reform agenda items need to make some progress," Durkin said. "There's got to be reform before we get to anything else." […]

"This never-ending tax-and-spend cycle has driven this state into the ditch," Durkin said. "Revenue is not the answer; it is never going to be the answer."
And…
"I think the governor's very clear about what he is looking for; nothing's changed," House GOP leader Jim Durkin said. "And that's not going to change either. There needs to be a willingness on behalf of the Democrat leadership to say that those reforms, agenda items the governor has specifically stated, that there needs to be made some progress.

"The Democrats talk about their core principle beliefs on certain issues as if they're the only party that has core beliefs. We have some as well," Durkin said.
* Last word…
"I'm not quite sure what the result of today's meeting was," said House Republican Leader Jim Durkin of Western Springs.
- Posted by Rich Miller 39 Comments


* Emily Miller chooses the Golden Horseshoe Award for best political restaurant…
I've spent more time at Alexander's this year than any other year, and there are always heavy hitters dining alongside tables of local families. It's a nice change of pace to venture off campus and be with real people.
It has, indeed, become a non-sandbox session hangout. Even MJM occasionally dines there.
* The Golden Horseshoe Award for best Statehouse bar goes to Boones Saloon…
Boones is the best Springfield bar. There is always a crowd of characters and you are guaranteed a good night after a long stressful day at the Capitol.
* Unless I hear any real objections, I think we need to name the Golden Horseshoe Award for best bartender/waiter/waitress after this year's winner…
Kathleen at the Globe. Has my drink ready when I walk in and handles the shenanigans that occur with the biggest smile on her face.
Honorable mention to Alisha Kulek at the Butternut Hut.
* Today's Golden Horseshoe categories are…
* The Beth Hamilton Golden Horseshoe Award for Best House Secretary/Admin. Assistant

* Best Senate Secretary/Admin. Assistant
Remember that these awards are based on the intensity of your nominations, so please explain your votes. Also, please do your best to nominate in both categories. Thanks!
- Posted by Rich Miller 29 Comments


* Neil Steinberg writes about the problems created after the ouster of Chicago Police Superintendent Garry McCarthy…
Problem One: who replaces him? Someone from within the force who, weaned on the you've-got-my-back-I've-got-yours buddyism that is the air of the Chicago Police Department, knows how things work and could change them were he inclined to. But he wouldn't be; that's how he lasted so long in the first place. Anyone who has risen high enough within the CPD to be on the short list for superintendent should be excluded from consideration.

Bring in an outsider, however, and the rank and file immediately hate him, on general principles, for being an outsider and suggesting that any young cop who arrives with a gun and dream can't grow up to be superintendent. They'll resist with all their might whatever Supt. Not-From-Here tries to do even more than they'd resist someone from within trying the same thing, not that someone from within would do anything beyond symbolic chair shuffling.
He's right, unfortunately.
The city needs more than just somebody new at the top of the force. The entire department needs an attitude adjustment. Some new state laws limiting the powers of the police union might be something to look at. Let's look again at what McCarthy said on TV yesterday moments before he was fired…
Chicago Police Superintendent Garry McCarthy admitted Tuesday on NBC Chicago that the initial press release sent out after 17-year-old Laquan McDonald was fatally shot 16 times by an officer last year was wrong.

"The initial press release was mistaken, no two ways about it," he said. "I guess that's my fault." […]

McCarthy added that he didn't see dash-cam video of the shooting until the day after the press release went out.

"At that point I was too involved in trying to learn the circumstances of this event and what I needed to do internally and externally and communication is a part of that, no two ways about it, but in this particular case my greatest concern was that information came from elsewhere that he had lunged at the officers, which we knew not be the case and that was what I was trying to fix behind the scenes with the FOP quite frankly," he said.
Emphasis added for obvious reasons, because, I mean, what the heck, man? If the FOP is so powerful that it can cow a superintendent into participating in a 13-month coverup, then the FOP needs to be reined in. But I doubt anything can be done about it on the state level because the governor has made anti-union issues his top priority and the Democrats have reacted by retreating to the arms of organized labor.
* Back to Steinberg…
Problem Three is the real problem, underlying all this. It isn't McCarthy's fault, or Emanuel's fault or even Anita Alvarez's fault, which is really saying something, because everything is her fault. That problem is: how do we fix the grotesque undervaluing of human life that is behind the Laquan McDonald atrocity? It's as if even the public doesn't want to notice. It wasn't the 16 shots, horrible as that was, that was the most horrible part of the video. It was the cops letting the teenager lie dying in the street, unaided, uncomforted, almost unnoticed. As if he were a dog. How do we fix that? Cameras might cow cops into grudgingly doing their jobs better, although Jason Van Dyke certainly wasn't inspired to excellence. Besides, cameras break. We need a police force that knows the people they're policing, the dreaded community policing that was tried and abandoned because it costs money and officers we don't have.

The $5 million given to McDonald's family is viewed only as hush money. Anybody noticed another awful injustice: the same family that left him a ward of the state after two abuse investigations ​gets a giant payday at his death? You could hire a lot of cops for $5 million. And those cops could get to better know the people they're policing. And then they will be less inclined to shoot them.
Agreed on all counts, except for the dog part. I'm betting they'd give aid and comfort to a dying dog. The officers walked past that bleeding kid like he didn't even exist. He might as well have been a fly on a windshield.
- Posted by Rich Miller 61 Comments


* Most every media outlet claimed that both sides essentially recycled all their old talking points yesterday. That's mostly true, but the Democratic leaders did focus on something that they haven't really highlighted much in the past…
"Put it all together, and Illinois is awash in debt. Awash in debt, at a time, where Mr. Governor, you have committed to spend over 100 percent, of the amount of money that you estimate will be available this current budget year," [House Speaker Michael Madigan] said.
Before his "awash in debt" comments, Madigan also talked about the state's structural deficit and its unfunded pension liability and then sharply criticized the governor for borrowing to pay for state operations. Afterwards, he noted that bond raters haven't commented at all about workers' comp reform, collective bargaining, the prevailing wage or whatever, and instead have focused their criticisms about the money coming into the state versus the money going out.
What he didn't mention, of course, is that the House and Senate didn't renew the income tax hike after the last election, which would've solved most of those problems.
* And…
House GOP Leader Jim Durkin disputed [Speaker Madigan's] position, saying 12 years of unbalanced budgets passed under "total Democratic control" wrecked the state's finances and drove away jobs.

Senate President John Cullerton responded that "speeches like that won't help," but then went on the attack himself, saying that Rauner's refusal to sign off on tax hikes have "doubled" state IOUs after years in which Democrats had paid down debt.
Discuss.
- Posted by Rich Miller 57 Comments


* Phil Kadner, who is retiring next month after decades as the voice of the Southland, writes about Gov. Bruce Rauner's proposed property tax freeze and accompanying collective bargaining "reforms"…
School districts take more than 60 percent of your property tax dollars and that's largely because the state — you guessed it — has failed to adequately fund public education. School districts do approve pay raises for teachers and that represents a big chunk of their spending. But how many people would support cutting the pay of the teachers in their schools when neighboring districts are paying more? More to the point, perhaps, how many parents would support a school district that faced a teacher's strike?

Most people who move to the suburbs select an area because of the quality of the public schools. Their home values are closely tied to the quality of those schools. I suppose there may be some people who would vote against their self-interest in that regard, but it hasn't happened in any wealthy, Republican suburbs I am aware of, places with some of the best schools and highest paid teachers.

But here's the important point. Even if property taxes were frozen, even if municipalities could decide for themselves what issues they would collectively bargain (an issue where legal scholars disagree) there is no reason to believe that the problem involving school funding would change at all. This state simply doesn't have the money now to adequately fund public education. The governor has provided no long-term solution to the problem because there isn't one in sight.

Once again property taxpayers and school children are being used as pawns in a political game. I'm surprised that Illinois House Speaker Michael Madigan, Rauner's supposed foe, didn't stand up and applaud the governor's maneuver. He's been using this ploy with great success for decades himself.

In recent years, I have given readers the same advice many times.

If a state legislator or governor talks about his devotion to public school children, or property taxes, you ought to assume he is lying.

I do not know if Republicans and Democrats will ever reach a budget agreement. The problems facing this state and the philosophical differences among the people involved seem insurmountable.

However, they can agree on one thing. If you claim you support public education and criticize the property tax system, the people of the state will love you for it. You don't have to do a thing. In fact, you can even make the situation worse, which has happened often.

The flimflam works every time.
- Posted by Rich Miller 41 Comments


* We should've seen this coming…
A long-awaited budget talk among Gov. Bruce Rauner and other Illinois leaders repeated some of the well-worn conflicts that have punctuated the lengthy impasse over state spending and ended with the promise of yet another meeting.

Rauner used his opening public comments to outline top priorities in the upcoming negotiations, calling term limits for public officials and changes to how political boundaries are drawn "easy votes" for state lawmakers.

"Let's vote for the next generation, not the next election," he said.

But shortly after the meeting adjourned, Rauner's chief foil, Democratic House Speaker Michael Madigan, called both the issues Republican talking points for the 2016 campaign, raising questions of whether a budget compromise is anywhere close to reality.

"I don't think that they ought to be advancing political party positions relative to a future campaign" as part of budget talks, Madigan said.
OK, that's pretty rich coming from Madigan. I mean, the guy has forced how many votes on his property tax freeze bill? Those "No" votes by Republicans won't be used in mailers and TV ads? Please.
* But why do I say we should've seen this other stuff coming? Well, let's go back to November 13th when the governor announced his plans for the meeting…
At that point, we will allot 10 minutes for each leader to make his or her case to the people of Illinois — uninterrupted and unfiltered. While you can discuss any issues you'd like, I suggest it may be most productive for each leader to use their 10 minutes on the issues about which they feel most passionately: Speaker Madigan, balancing the budget with specific additional taxes/revenue details; Leader Durkin, the need for reform before revenue; President Cullerton, overall spending levels, pension reform and Chicago's financial crisis; Leader Radogno, economic reforms to improve the jobs climate like workers' compensation reform; and I will focus on term limits, redistricting reform and local control of costs and property taxes.
Emphasis added.
* As such, we can ignore this report from the Illinois Policy Institute's news service…
Illinois' governor has narrowed his agenda to three points he says are not extreme while the leading House Democrat stuck to statements he's made in the past.

During the much-anticipated meeting to discuss the budget impasse now in its sixth month between Republican Governor Bruce Rauner and the four legislative leaders, Rauner said he's willing to raise taxes but wants three reforms: redistricting reform for political maps, term limits on elected officials, and a property tax freeze with local cost controls.

Several items Rauner had previously pushed for that didn't get aired Tuesday afternoon were reforms to tort law and workers' compensation.
C'mon, man. Talking about those three things was his plan all along. Radogno was supposed to talk about workers' comp (which she did in private and subscribers know more).
- Posted by Rich Miller 44 Comments


* Press release…
Attorney General Lisa Madigan today requested the U.S. Department of Justice's Civil Rights Division to initiate an investigation to determine whether practices by the Chicago Police Department violate the Constitution and federal law.

In a letter to U.S. Attorney General Loretta Lynch, Madigan asked for an investigation into the Chicago Police Department's use of force, including deadly force; the adequacy of its review and investigation of officers' use of force and investigation of allegations of misconduct; its provision of training, equipment and supervision of officers to allow them to do their job safely and effectively; and whether there exists a pattern or practice of discriminatory policing.

Madigan said an investigation by the U.S. DOJ Civil Rights Division is necessary and appropriate, given its experience investigating the practices of police departments across the country and based on its experience prosecuting former Chicago Police Commander Jon Burge. An investigation by the DOJ Civil Rights Division also ensures there is an outside, independent review of CPD practices.

Madigan issued the following statement regarding her letter:

"The shocking death of Laquan McDonald is the latest tragedy in our city that highlights serious questions about the use of unlawful and excessive force by Chicago police officers and the lack of accountability for such abuse. Trust in the Chicago Police Department is broken. Chicago cannot move ahead and rebuild trust between the police and the community without an outside, independent investigation into its police department to improve policing practices. I know the vast majority of officers in the Chicago Police Department serve with bravery, honor and integrity. The children in all of Chicago's communities deserve to grow up in a city in which they are protected and served by the police."
The full letter is here.
- Posted by Rich Miller 24 Comments


* Oy…
The mother of a man shot and killed by Chicago police last year said she has rejected the city's proposed settlement and wants it to release dashcam footage of the slaying because it shows her son was unarmed when he was killed.

The mother of Ronald "Ronnieman" Johnson, Dorothy Holmes, told reporters during a press conference Tuesday that she has declined a proposed settlement by the city of Chicago in her federal civil lawsuit over her son's death. Holmes said she will not take hush money from a city that has been doling it out in the millions to cover-up questionable police shootings, like the $5 million paid to Laquan McDonald's family this past summer. […]

Her son was running through Washington Park on Oct. 12, 2014, on Chicago's South Side when Officer George Hernandez shot him to death. Then, a familiar story was told to the press.

Johnson had a gun, Fraternal Order of Police spokesman Pat Camden told the media. (Camden is the same de facto cop spokesman who claimed McDonald "lunged" at police with a knife, causing them to open fire.) Hernandez was not in uniform and driving an unmarked car when he responded to a call of shots fired. Johnson became an automatic suspect because he was running. Camden said Johnson was carrying a gun when at one point he turned toward Hernandez, causing the officer to shoot.

Holmes and her attorney said they've seen the dashcam video and it shows police are lying.

Johnson is seen sprinting through the park with nothing in his hands, they said.

"He's running with palms up," said William Calloway, an activist who speaks on behalf of Johnson's family. "The video's not blurry. It's not grainy. It is clear as day."

"They killed him and he was unarmed," he told The Daily Beast.

Even worse, according to a stunning and volatile allegation by Holmes's attorney, is that police framed Johnson after they killed him by planting a gun on his person.
- Posted by Rich Miller 39 Comments


Democrats across the city are running for the position of Republican ward committeeman in Chicago in an apparent bid to extend their influence within the party.

In the 23rd ward, which is within Mike Madigan's state representative district, Robert Handzik has filed as a Republican. Handzik was among those who circulated petitions for Madigan's fake Republican opponent two years ago. He does not attend county Republican meetings and does not respond to calls or inquiries from the Republican Party.

In the other ward within Madigan's district, the 13th, an unknown candidate named "Gabriel Trejo" has filed. According to Board of Elections records, Mr. or Ms. Trejo has voted in the Democratic primary in the last four elections and has never voted in a Republican primary.

Of the 25 candidates who have filed as of 12:35 pm, 15 have Democratic voting histories. Nine have voted exclusively in Democratic primaries.

Even among those with recent Republican voting histories, a prior history of Democratic voting is evident.

The reason for this burst of activity is twofold.

First, as one of Pat Quinn's last acts before leaving office, he and Mike Madigan passed a series of changes to Illinois election law. Among those changes is a new requirement that Republican ward committeeman sign off on election judges in their ward. Prior to the change, election judges could be placed by the Republican County Chairman.

Bruce Rauner used the older law to good effect in the 2014 cycle by funding an effort to put genuine Republican election judges in precincts across the city. The purpose was to control vote fraud in precincts that had previously been controlled exclusively by Democrats. With the new law, Rauner would now need to get the approval of each Republican ward committeeman to place judges in that ward — an impossible task, if the Democrats control the Republican ward committeman seat.

The second reason is that in 2014, the Chicago Republican Party ran candidates for office across the city, forcing Democrats to campaign in districts in which they had never had a challenge. The newly-active Republican Party caused Democrats to spend time and money in the city. Democrat-controlled Republican committeemen can impede that effort and even prevent it in some districts.

The Democrat-controlled Chicago Board of Elections recently made the process for Republican candidates in the city more difficult by quadrupling the signature requirements for Republican ward committeeman. While a Republican candidate in the 43rd ward, for example, only needed 99 signatures in the last cycle, the new requirement is 404 signatures. The rule of thumb is that a candidate should double or triple the minimum number, meaning that a simple ward committeeman slot can require 1,000 signatures. It's much easier for a well-funded Democrat organization to get this number of signatures than a Republican one in the city.

"We're fed up with Mike Madigan's interference in our party," said Chicago Republican Party Chairman Chris Cleveland. "There is no reason for him to do this, except to use election law to prevent Chicago Republicans from running for office, and to allow vote fraud to flourish."

Republicans are currently contemplating a legal challenge.
- Posted by Rich Miller 38 Comments


* CBS…
The White House is proposing to offer governors individualized reports about refugees in their states.

White House chief of staff Denis McDonough said in letters to all 50 governors that upon receiving a governor's request, the State Department would send back a "tailored report" on refugees resettled in the last month and throughout the year so far. […]

McDonough says the State Department would update the information monthly on a password-protected website. He says it would break down refugees by nationality, gender and age range.

White House Press Secretary Joshua Earnest said Wednesday that the White House "will provide more frequent updates on refugees resettled in their states and increase information-sharing on our extensive security precautions."
* But the governor is rejecting the idea…
Republican Gov. Bruce Rauner was not placated. He still wants Illinois to temporarily halt acceptance of Syrian refugees in the aftermath of the Nov. 13 terror attacks in Paris. Likewise, more than half the nation's governors say they are rolling up the welcome mat. […]

Rauner spokeswoman Catherine Kelly said the letter completely ignores the governor's request that background vetting information be provided to state officials prior to refugee resettlement in Illinois.

The White House "wants to provide limited information after resettlement has already occurred," she said.

"Given the close coordination that exists between state and federal officials on a range of issues related to homeland security, the White House's continued refusal to provide vetting information to states prior to resettling refugees is truly puzzling," she added.
* Lynn Sweet…
In essence, it appears that Rauner wants veto power over the refugees sent to Illinois.
Frankly, I'd be happy if he expended a tenth of this effort dealing with the state's violent street gangs.
*** UPDATE *** Related…
* Chicagoist: Meet The Nuns Who Are Preparing Their West Ridge Home To Take In Syrian Refugees
- Posted by Rich Miller 44 Comments


* From the Institute of Government and Public Affairs at the University of Illinois…
The University of Illinois Flash Index reversed a three-month trend in November and climbed to 106.1. The index measures economic activity in Illinois and shows that the state continues to slowly recover from the Great Recession, which technically ended more than six years ago.

The increase to 106.1 reverses three straight months of decline, which saw the index fall from 106.6 in August to 105.8 last month. The decline indicated only a minor slowing of growth for those three months, as an index of 100 marks the division between growth and shrinkage in the economy.

The U. S. economy remains strong in comparison with rest of the world, said U of I economist J. Fred Giertz, who compiles the monthly index for the Institute of Government and Public Affairs. While state and national unemployment remained stubbornly high for several years during the recovery, rates have come down the last couple of years to pre-recession levels. For instance, the Illinois rate was over 10 percent in 2011 and has fallen to 5.4 percent today. The hope now is that wages will also begin to respond, Giertz said.

"There is no definitive way to isolate the impact on the economy of the continuing state budget impasse," Giertz said. "The growth of Illinois economy has not changed markedly since the situation began in July. At some point, however, deadlock will take its toll."
- Posted by Rich Miller 42 Comments


* Today is December 1st, and that means it's Golden Horseshoe Awards time. What started out as a tongue in cheek thing has grown to a coveted annual prize in some circles.
For you newbies, I judge these awards based more on intensity of the nominations than actual vote counts. If you just nominate somebody without explanation, I'm likely to ignore it. So explain your votes, please.
We'll begin with after-hours entertainment. I'm doing three today because we are on a short schedule this year…
* Best Statehouse-area bartender/waiter/waitress

* Best Springfield political restaurant

* Best Springfield political bar
Please do your very best to nominate in all three categories. And, again, explanations matter more than raw vote totals.
- Posted by Rich Miller 25 Comments


* From the twitters…
Sup McCarthy called to City Hall, left 5th floor approx 8 am, accdg to source "not happy" #RahmChicago #LaquanMcDonald

— Mary Ann Ahern (@MaryAnnAhernNBC) December 1, 2015
Supt McCarthy in City Hall, described as looking glum walking in. Rahm presser at 11a. @wlsam890

— Bill Cameron (@billjcameron) December 1, 2015
Suddenly, mayoral aides are responding with a "no comment" when asked whether MRE will force the resignation of Police Supt. Garry McCarthy.

— Fran Spielman (@fspielman) December 1, 2015
* Meanwhile…
City Hall sources, meanwhile, talked to POLITICO, working to dispel theories that the mayor controlled the release of the explosive police shooting video to protect his own political interests, saying it was attorneys representing McDonald who first approached the city with a settlement offer. City Hall sources say the team representing McDonald reached out to the city on Feb. 27 — three days after Emanuel failed to clinch reelection and was forced into a runoff — asking to settle before filing a lawsuit. 'I can tell you the timing of this was driven by their reaching us, by their desire to settle,' one of the sources said.
…Adding… From earlier this morning…
Chicago Police Superintendent Garry McCarthy admitted Tuesday on NBC Chicago that the initial press release sent out after 17-year-old Laquan McDonald was fatally shot 16 times by an officer last year was wrong.

"The initial press release was mistaken, no two ways about it," he said. "I guess that's my fault."

Police initially said an officer shot McDonald in the chest when the teen refused to drop a knife and continued to walk toward officers. Authorities also said the boy lunged at officers with the knife.

But dash-cam video of the shooting shows an officer shooting the teen several times as he appeared to walk away from police.

McCarthy added that he didn't see dash-cam video of the shooting until the day after the press release went out.

"At that point I was too involved in trying to learn the circumstances of this event and what I needed to do internally and externally and communication is a part of that, no two ways about it, but in this particular case my greatest concern was that information came from elsewhere that he had lunged at the officers, which we knew not be the case and that was what I was trying to fix behind the scenes with the FOP quite frankly," he said.
Ugh.
No wonder he's on his way out.
*** UPDATE 1 *** Sneed…
Chicago Police Supt. Garry McCarthy has been fired by Mayor Rahm Emanuel, sources said Tuesday.
*** UPDATE 2 *** The reporter who forced the city to release the LaQuan McDonald video says there's more…
What did these officers do following the shooting? In the first video released, you don't see them bending down to comfort or render aid to Laquan.

Instead, police moved around some of their vehicles. We know this because video from a car that arrived on scene five minutes after the shooting shows a different configuration of cars than were seen when Van Dyke fired. This is important because each of these cruisers records what happens in front of them thanks to dashcams. Police have said that the five videos they released are the only ones from the scene that night, but police did not release video from the police car that likely shows Laquan's face—and thus likely shows the shooting from the clearest angle.
*** UPDATE 3 *** The problem with throwing him under the bus is there aren't many more bodies left to jettison…
Rahm on his decision to push out McCarthy: "He has become an issue rather than dealing with the issue."

— Dave McKinney (@davemckinney) December 1, 2015
- Posted by Rich Miller 89 Comments


* Finke…
A primary battle could be shaping up in the 99th House District that covers much of the city of Springfield. Republican Kent Gray of Leland Grove filed nominating petitions Monday. Gray is a lawyer and member of the Lincoln Land Community College board. He has also been named campaign manager for Republican presidential candidate Donald Trump.

Republican Sara Wojcicki-Jimenez of Leland Grove has also filed. Jimenez was appointed to the seat two weeks ago to replace former Rep. Raymond Poe, R-Springfield, who was named state agriculture director. Jimenez, former chief of staff to first lady Diana Rauner, was backed by the governor for the appointment. […]

In the 50th Senate District, Bryce Benton of Springfield, a state trooper and member of the Prairie Capital Convention Center board, filed to run as a Republican against incumbent state Sen. Sam McCann, R-Plainview. Benton said McCann has alienated himself with Rauner and other Republicans because of positions he's taken, such as voting to send state worker labor talks to an arbitrator. McCann, though, has been endorsed by the Sangamon County Republican Party organization. […]

A Republican primary could also be in store in the 95th House District represented by Rep. Avery Bourne, R-Raymond. Republican Dennis Scobbie of Litchfield has filed to run against Bourne who was appointed to the seat when former Rep. Wayne Rosenthal, R-Morrisonville, was named director of the Department of Natural Resources. Scobbie is a retired teacher who is a member of the Litchfield School Board.

On Monday, Republican Christopher Hicks of Sawyerville also filed. Hicks works for Incremental Sales and Marketing, which handles sales for a beer distributorship. Hicks criticized Bourne for voting "present" on a bill to send state employee labor talks to arbitration.
Discuss.
*** UPDATE *** These Rauner guys are really quite good at getting people out of the way…
Sangamon County assistant state's attorney Gray Noll will be nominated by Morgan County Republicans to replace Morgan County state's attorney Robert Bonjean III, who has decided not to seek re-election.

Noll, 38, also is a member of the Springfield Park Board and recently was a candidate to replace State Rep. Raymond Poe after Poe was appointed director of the Illinois Department of Agriculture last month. Sara Wojcicki Jimenez, who was First Lady Diana Rauner's chief of staff, was instead appointed to that post.

Noll, a graduate of Illinois College and the Southern Illinois University School of Law, has been an assistant prosecutor in Sangamon County for 13 years. […]

He said if he receives the appointment, he and his wife, Lauren, will move to Morgan County and he will give up his Springfield Park Board seat.
- Posted by Rich Miller 27 Comments


* First, the basics…
Gov. Bruce Rauner will meet with four legislative leaders at 2:30 p.m. Tuesday at the state capitol to continue budget negotiations as the state enters its sixth month without a formal budget in place.

The legislative leaders who will meet with the governor include House Speaker Michael Madigan, D-Chicago; Senate President John Cullerton, D-Chicago; House Minority Leader Jim Durkin, R-Western Springs; and Senate Minority Leader Christine Radogno, R-Lemont.

The leaders haven't met as a group since May.

The governor's office announced Monday the first hour of the meeting will be streamed live online; each legislative leader will speak for 10 minutes, and then the governor will speak. The Southern previously reported that after the public portion, the meeting will continue in private.
* Watch online…
I'll put up a live coverage post this afternoon.
* AP…
Expectations are low for the meeting first suggested by good government groups.
* Tribune…
Few expect any kind of breakthrough, with the meeting derided by politicians in both parties as more about show than substance. As Rauner himself said last month, "What human being likes to negotiate in front of a TV camera and make a compromise on TV? People don't do that."
* Pantagraph editorial…
Madigan has shown in recent weeks that he's still more interested in playing political games and putting non-winning proposals up for votes rather than solving real problems.

At the same time, Rauner has placed too much emphasis on anti-union rhetoric and not enough on solving a long list of financial problems the state faces.

The result is the current gridlock, which is unlikely to be solved today.

However, the solution to the stalemate will only occur if the leaders start to communicate. So while expectations for today should be low, we agree with Sen. Bill Brady, R-Bloomington: "A meeting is better than no meeting.''
* Once again, the Tribune editorial board doesn't explain what reforms it actually supports. They just back their guy against the other guy…
Rauner has said publicly that he's willing to talk about a tax hike to bring in more money to balance the budget, but he wants fundamental changes in how Illinois operates. We stand firmly with him on this. An exercise that simply matches some spending cuts and some tax hikes will help Illinois limp through another year.

But that's not good enough. Just look at that credit rating — the worst in the nation. Moody's warns that the state's credit could drop lower.

The five people who can do something about that will be in the same room Tuesday. Expectations are low. Ambitions have to be high.
* Korecki…
Word is, if the governor and four leaders hope to save some face, it may be with an agreement to move a local aid funding bill — containing money for Illinois lottery payouts, roads and other items. It already passed the House, then stalled once House Speaker Mike Madigan's lieutenants put a hold on it.
Subscribers know more about that particular topic. But keep an eye on it.
Background on the approp bill is here and here.
* From Emily Miller at Voices for Illinois Children…
If this meeting yields payouts for lottery winners and roads (both totally legitimate expenses in the context of an entire budget), but continues the budget stalemate when it comes to social services for children, care for people who suffer from mental illness, meals on wheels for homebound seniors and people with disabilities, infant mortality prevention, early childhood education, services for victims of domestic and sexual violence, breast and cervical cancer screenings, afterschool programs for kids, job training programs, and the entire higher education system, including MAP grants, lawmakers on both sides of the aisle need to start questioning their leaders about where their priorities lie.

It's time for a new framework for budget talks– a framework built around talking about, wait for it, an actual fully funded year-long budget that invests in vital programs for children, families and communities.

We've got to remove non-budget policy agenda items from their current position as a precursor to making any responsible budget decisions.
Discuss.
- Posted by Rich Miller 15 Comments


* Comptroller Leslie Munger's chief of staff just called to say his boss will be able to make the full state pension payment for December. The comptroller couldn't make the November payment, but holiday sales tax receipts and quarterly income tax payments will help the office make the December payment.
The missed November payment will be made sometime in the spring, I'm told.
In the past, the comptroller made a single pension payment during the fiscal year, but Comptroller Topinka was able to make them every month after taxes were increased in 2011.
- Posted by Rich Miller 23 Comments


* I told subscribers about Gonzalez weeks ago. The other two candidates are new, however…
Those watching the Illinois election board's web site closely saw a last-minute time-stamp for a widely-rumored Hispanic candidate to challenge [House Speaker Michael Madigan] in the 22nd district. That happened when Jason Gonzales filed.

So Madigan vs. Gonzales? Maybe this guy could actually give the much-maligned Madigan a run for his money in a Southwest Side race.

But wait. Not last-minute enough. In what insiders see as a Madigan play, two end-of-the-night filers then came online and filed their petitions as well: Joe Barboza and Graciela Rodriguez. So Madigan versus Barboza, Rodriguez and Gonzales. Listen as the air deflates.
The rule of thumb for incumbents with primaries is: The more, the merrier. So, yeah, it wouldn't surprise me one bit if MJM put up those other two.
* Now, on to the caption contest. From Jason Gonzalez's Twitter page…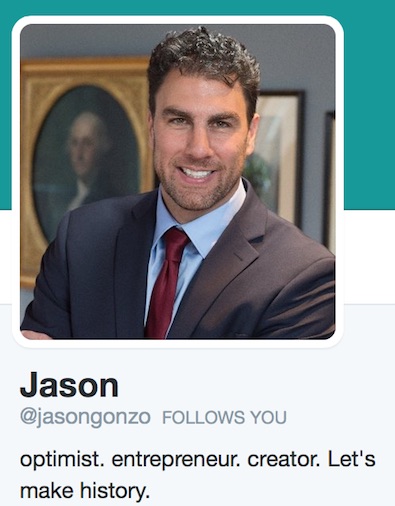 - Posted by Rich Miller 91 Comments


* Press release…
The Kirk For Senate campaign launched its second television ad of the 2016 U.S. Senate race, titled "Trust". The ad highlights the contrast on national security issues between Senator Mark Kirk and Rep. Tammy Duckworth. Since the Paris attacks, Rep. Duckworth has called on the United States to accept 200,000 Syrian refugees–20 times more than the President has requested–while simultaneously voting against the America SAFE Act that would require greater screening of refugees to ensure none are associated with ISIS. The statewide ad buy begins today.

Statement from Kirk For Senate Campaign Manager Kevin Artl:

"The facts remain that ISIS used the Syrian refugee crisis to smuggle its terrorists into France and carry out their tragic and deadly acts. Yet Rep. Duckworth continues to ignore the concerns of the Director of the FBI, Director of National Intelligence and the Director of the National Counterterrorism Center about our government's flawed vetting process which cannot ensure that these refugees are not part of ISIS. Instead of listening to the experts, Rep. Duckworth is doubling down on a reckless plan to let in 200,000 Syrians - 20 times more than the amount the Obama Administration is requesting. Rep Duckworth's plan demonstrates a complete lack of judgment and creates unnecessary security risks for American families."

In 2009, the flawed vetting system allowed two al Qaeda terrorists disguised as Iraqi refugees to settle in Kentucky, according to an ABC News Investigation. This investigation resulted in the temporary halt of the refugee program by the Obama Administration.

Less than a month ago, Rep. Duckworth voted against the American SAFE Act. This bipartisan measure requires the FBI Director, DHS Secretary and Director of National Intelligence to certify that each refugee admitted to the United States from Syria or Iraq poses no national security risk.
* This is a statewide cable TV buy…
* Script and citations…
ANNOUNCER:

ISIS disguised as Syrian refugees attack Paris.

Next target? The US.

Citation:

· Mr. Valls Said Some Of The Paris Attackers Had Taken Advantage Of The Massive Influx Of Migrants Into Europe Fleeing Conflict. ("These Individuals Took Advantage Of The Refugee Crisis… Of The Chaos, Perhaps, For Some Of Them To Slip In" to France, He Told French TV. "Paris Killers Used Refugee Crisis To Slip In," SKY News, 11/20/2015)

· Two Of The Terrorists Bought Ferry Tickets From Leros To Continue Through Europe With Syrian Refugees. ("Paris Attacks: BBC Names Stade De France Bombers As M Al-Mahmod," BBC, 11/22/2015)

Amazingly, Tammy Duckworth still wants to bring 200,000 Syrian refugees to America, even though the FBI says they cannot be safely screened.

Citations:

· But U.S. Rep. Tammy Duckworth, D-Schaumburg, said at a separate event that the country needs to "have confidence in our intelligence services" and not put up walls. "Our nation is better than that," Duckworth said, underlining her support for a measure to allow up to 200,000 refugees from the war-plagued country in the U.S. (Greg Hinz, "Stark Political Split Opens Up On Syrian Refugees,"Crain's Chicago Business, 11/16/15)

· The Head of the FBI Said The Screening Process Is Not 100% Accurate. "I can't sit here and offer anybody an absolute assurance that there's no risk associated with this," Comey said. (Jerry Markon, "Senior Obama Officials Have Warned of Challenges In Screening Refugees From Syria," Washington Post, 11/17/2015)

Duckworth supports 20 times more refugees than the President.

Citation:

· Obama Said He Will Continue With His Plan To Allow 10,000 Syrian Refugees Over The Next Year. (Eric Lichtblau, "White House Affirms Syrian Refugee Pan Despite Paris Attacks," New York Times, 11/18/15)

DUCKWORTH CLIP

"I signed on for 200,000 refugees."

Citation:

· Duckworth Says Publicly She Wants 200,000 Refugees Allowed Into The U.S. (Fox Chicago News: "Reporter on Senator Mark Kirk and Rep. Tammy Duckworth addressing the Syrian refugee crisis" FOX Chicago, 11/15/2015)

ANNCR:

Mark Kirk opposes more Syrian refugees until it can be done safely.

Citation:

· Kirk Calls On Obama To Pause Intake of Syrian Refugees Until There Is 100% Guarantee With Vetting Process (Mark Kirk, "We've Already Let Terrorists In As Refugee," Chicago Tribune, 11/24/215)

For your family's safety: Who do you trust?

KIRK:

I'm Mark Kirk and I approve this message.
Rate it.
*** UPDATE 1 *** Response…
Good morning. In response to Sen. Mark Kirk's new ad, please see the following statement, attributable to Matt McGrath, deputy campaign manager. Please also see the attached document, which goes point-by-point on Sen. Kirk's uncertainty and dishonesty on this matter:

"We agree this is a crucial difference in this campaign. Tammy Duckworth believes leadership comes through strength, not fear. Mark Kirk's worldview, on the other hand, is driven very much by fear and a willingness to compromise American values and to act how enemies like ISIS want us to act.

He has called for the mass incarceration of African Americans and suggested we just drive faster through African American neighborhoods. He suggested the President's goal was to arm the Iranians with nukes, and compared the Iran peace agreement to Nazi appeasement. He wanted to place coffins outside the offices of his political opponents. Now, like Donald Trump, he's appealing to base xenophobia, sowing fear of refugees in the midst of one of the largest humanitarian crises of our time. His ad is false, and he knows it, but worse yet it appeals exclusively to fear and the lowest common denominator. He should be ashamed. Illinois deserves better."— Matt McGrath, campaign spokesman
The attachment is here.
*** UPDATE 2 *** From our pals at Comcast…
Kirk for Senate
Agency: Mentzer Media, DC
12/2/15 – 12/22/15
Chicago Total Buy: $77,050
Central IL Total Buy: $18,702
Networks: FXNC
Dayparts: 5-9A, 9A-4P, 4-7P, 7P-mid, Sa-Su 11A-7P
Syscode / zone / $ by zone
5170 / Chicago Interconnect / $66,140
9804 / DirecTV / $6,150
9810 / DISH / $4,760
7800 / Champaign Interconnect / $11,160
7827 / Peoria Interconnect / $1,632
7829 / Rockford / $3,573
6805 / Sterling - Rock Falls / $1,578
6872 / Galesburg / $759
Total Buy All Markets: $95,752
- Posted by Rich Miller 76 Comments