* Dave Dahl at WTAX also interviewed Gov. Rauner yesterday today. The governor's closing words…
You know, democracy is designed for give and take and compromise. I'm willing to compromise. I have compromised and I always will compromise.

But we've got to stay the course to grow the economy and get value for taxpayers. That I'll never back down on.
OK, then find a way to grow the economy and get value for taxpayers which won't be rejected out of hand by veto proof majorities in both chambers.
Click here to listen to the entire interview. Some fun stuff from the most fun Statehouse reporter.
- Posted by Rich Miller 49 Comments


* HuffPo…
A new report on the state of the solar industry out Tuesday from the nonprofit Solar Foundation shows that the number of jobs in the United States in the solar industry outpaced those in the oil and gas industries for the first time ever.

As of November 2015 there were almost 209,000 people who worked in the solar industry, 90 percent of whom only work on solar-related projects, according to the report.

There were only about 185,000 people working in oil and gas in the United States in December 2015, according to the Bureau of Labor Statistics.

The oil industry has had a rough 18 months, as the price of oil slid from more than $100 a barrel in the spring of 2014 to just over $30 a barrel in recent weeks. The low price has caused layoffs in what had been a robust and growing shale oil extraction business.
* Illinois Clean Jobs Coalition press release…
With President Obama expected to use his final State of the Union speech on Tuesday to highlight progress in building a clean energy economy, a review of actions taken at the state-level shows Illinois, which once was a clean energy leader, is failing to keep pace in the competition for jobs and investments that these initiatives can deliver.

Members of the Illinois Clean Jobs Coalition called on Gov. Bruce Rauner to reverse this trend and to join other governors– including many Republicans– who have taken steps to implement the EPA's Clean Power Plan (CPP), which gives states tools to create strategies to reduce carbon pollution from existing power plants.

Illinois stands out as one of the only states that have yet to announce its intentions on the CPP.

In addition, Oklahoma recently overtook Illinois as the nation's fourth-largest wind power producer, which once led the nation in producing wind energy behind Texas, California and Iowa. Illinois installed no new wind capacity in 2014 or 2015, in part because of fractured state energy policies.

Members of the coalition support the Illinois Clean Jobs Bill (SB1485/HB2607) because it contains policy reforms that give businesses the kind of certainty and predictability they are seeking, legislation that represents the best path to meeting EPA goals because it also fix Illinois' out-of-date energy policies, creating 32,000 jobs and saving consumers $1.6 billion on their electric bills.
Discuss.
- Posted by Rich Miller 19 Comments


* I'm told that the Illinois AFL-CIO went neutral in this congressional primary race today, which is good news for Raja considering this development…
Today the Noland for Congress campaign announced that AFSCME Council 31 has endorsed their campaign for Congress. AFSCME Council 31 is one of the largest unions in the state of Illinois. They represent over 100,000 active and retired members.

"At a time when public employees are constantly under appreciated and under attack I've been proud to stand up for the working men and women that keep our state running," said Senator Mike Noland. "Bruce Rauner has made AFSCME and public employees his number one scapegoat. I've stood up against his turnaround agenda and when I go to Congress I will continue to stand up for policies that support working families."

AFSCME Council 31 are the latest member of organized labor to endorse Noland's campaign. They join the, American Postal Workers Union Local 3140's executive board, Associated Fire Fighters of Illinois, Bricklayers Administrative District Council of Illinois, Sheet Metal Workers State Council, SMART Transportation Division (formerly United Transportation Union), Fox Valley Building Trades, Elgin Trades Council, IFT Local 1211 (Northwest Suburban Teachers Union), Operating Engineers Local 399, Painters District Council 14 & 30, and Teamsters Joint Council 25. Noland's campaign has also announced that over 75 elected officials have endorsed his campaign including Senate President John J. Cullerton and former Senate President Emil Jones Jr.
* In other campaign news…
For the third consecutive quarter since entering the race, Democratic candidate for U.S. Senate Tammy Duckworth increased her fundraising haul and brought in thousands of new grassroots individual donors, raising $1.6 million in the fourth quarter of 2015. The campaign received over 20,800 individual contributions this quarter, the median amount of which was just $20. Duckworth announced her campaign for Senate at the end of March, and thus far has raised more than $4.7 million from contributions this cycle. The campaign has $3.65 million on hand.

"Tammy continues to articulate a vision for a state and country that looks after its people and grows from the middle out rather than the top down, and it's clearly resonating," Tammy for Illinois campaign manager Kaitlin Fahey said. "We're very excited about the growth and durability of our grassroots fundraising network, which is essential to building a campaign that's built to win. Once again we're excited to demonstrate that our campaign will be powered by the everyday Illinoisans Tammy will serve in the U.S. Senate, as opposed to the Wall Street and corporate special interests that fund Senator Kirk's campaigns."

Some key highlights from the report, which will be filed with the Senate Office of Public Records and Federal Elections Commission in advance of the January 31st deadline:

The campaign received 20,856 individual contributions in the fourth quarter, and has received 55,504 individual contributions overall
Of those 4Q contributions, 94.7 percent were for $100 or less
The average individual contribution was $66, and the median individual contribution was $20

The Illinois Senate race is consistently ranked as the top race in the country, and Senator Kirk is routinely listed as the most vulnerable Senate incumbent. In the third quarter of 2015, Duckworth out-raised Kirk by $400,000, and outpaced the only primary opponent who had filed to that point by more than $1 million. Kirk has not publicly released his fourth quarter fundraising numbers.
- Posted by Rich Miller 7 Comments


* Press release…
State Rep. Mark Batinick (R-Plainfield) is ready to file new legislation to address the state's mounting unfunded pension liability. In his first year as a legislator, Rep. Batinick proposed for a series of hearings on offering a lump sum buyout option to current and future annuitants nearing retirement, and spoke about the benefits of this initiative on Fox News Chicago and other local outlets. Now he is prepared to push out the legislation that could potentially net the state billions in long-term savings, while paying owed pensioners.

"Many of those nearing retirement may be attracted to having more control over their retirement assets," Rep. Batinick said, "Yet unfortunately the State does not provide a versatile and competitive alternative to the current pension arrangement. Providing a lump sum payment in exchange for all or a portion of an annuity would provide a voluntary, constitutional approach to addressing the State's pension obligations, while simultaneously providing participants the options and flexibility needed when planning for retirement."

In their May ruling declaring the pension reform bill signed into law by then-Governor Pat Quinn in December 2013 unconstitutional, the Illinois Supreme Court laid a framework for the adjustment of benefits through a legal approach called "consideration," which allows for the adjustment of benefits if both parties agree to the changes. Rep. Batinick's proposal to offer annuitants a lump sum option would meet this requirement by making any proposed buyout program voluntary.

Underscoring the need for bipartisan action on pension reform, the Commission on Government Forecasting and Accountability (COGFA), has calculated the total unfunded pension liabilities of the State retirement systems at $111.2 billion as of June 30, 2014, based upon the actuarial value of assets.

Rep. Batinick has filed the legislation and collected bipartisan support from Representatives Morrison, Jesiel, Sente, and Wehrli, all of whom oversee the Pensions Committee. Representatives Martwick, David Harris, Franks, McDermed, and Andersson have also added their support.
Thoughts?
*** UPDATE *** From Rep. Batinick…
Rich,

I'd like to address some of the comments in the thread. They are comments I have heard for months.

1. Why would a retiree take an accelerated payment?

A. There are federal tax consequences to taking a monthly annuity. Rolling some or all of your "net present value" into an IRA allows that money to grow tax free. You can also structure your income so that you still qualify for a property tax freeze. Two pensioners from the household may have large federal tax bills. This provides flexibility.

B. You can't will a pension. Some people would like to pass on something to the next generation. You can will an IRA.

C. I'm sure some people would simply like to "take their money off the table". Can you blame them when you look at how the state operates?

D. Many of the "net present values" are well over $1M. We are not talking about small sums.

E. Some people would just prefer to control their own finances.

2. How does the state save money? The accelerated benefit would be offered at a 25% discount to the state.

3. Can the state afford it? The bill limits the number of people each year by making it an election at retirement time. Only those retiring will be presented this option. This prevents a "rush to the door" while also focusing on the group that would help cash-flow the most. It's more expensive for the state to not do the deal.

I discussed this plan with several state employees and CPA's. The concept is sound and well-liked by both.

This has often been offered in the private sector. There it has always been an all or nothing deal. My bill offers a partial payout. This I believe is key. Many people would like to have the stability of a pension but maybe also some lump sum that they can will to the next generation or use for whatever they wish.
- Posted by Rich Miller 115 Comments


* These guys are so hair-trigger thin-skinned…
The Illinois Republican Party today called on State Rep. Elaine Nekritz (D-Northbrook) to identify which specific reforms proposed by the Governor she would support as part of a bipartisan agreement to balance the state budget.

In a news report by the Illinois News Network, Rep. Nekritz said "the fix must include several things: reforms, cuts and revenues," but in the same breath "criticized the governor and Democratic leaders for digging in their heels" — as if she is somehow independent from "Democratic leaders" and not a part of the impasse.

"In Northbrook Rep. Nekritz pretends to be independent from Mike Madigan, but in Springfield she's one his top lieutenants," ILGOP Executive Director Nick Klitzing said. "She can't have it both ways, claiming she supports non-specific reforms while blaming the abstract 'Democratic leaders' for digging in their heels. She votes to elect Mike Madigan speaker, so unless and until she publicly identifies the specific reforms she could support, she is equally responsible for gridlock and decline as Mike Madigan. If Elaine Nekritz is truly independent, now's her chance to stand up to her 'Democratic leaders' and publicly outline which of the reforms proposed by the governor she believes are 'the levers that have to be pulled in order to get out of this.'"

As a reminder, Governor Rauner has asked legislators to support six reforms to help turnaround Illinois: legislative term limits, redistricting reform, local control of bargaining and bidding, workers' compensation reform with causation, lawsuit reform and pension reform.
Here is what she actually said…
Democratic Representative Elaine Nekritz says the fix must include several things: reforms, cuts and revenues.

"Those are the levers that have to pulled in order to get out of this and it's just not that hard if reasonable people will come together."
Apparently, there's no hope for reasonableness from the IL GOP.
Sheesh.
*** UPDATE *** From the state party…
Rich,

I am emailing to follow up to your post regarding the ILGOP press release.

We are also calling for "reason." We are asking for legislators like Rep. Nekritz to tell the Governor and Republican House members what they would agree to rather than waiting for permission from Speaker Madigan. Rep. Nekritz is blaming Democratic leaders for not compromising, but then she's not doing anything about it.

We are simply asking for someone - anyone - to have the courage to speak up and meet us in the middle with substantive reform ideas.

Thanks,
Nick
Yeah, that's exactly what they're doing. Encouraging her to meet in the middle.
Right.
Sorry, but one doesn't "encourage" an elected state legislator to compromise by using a misanthropic rhetorical club.
- Posted by Rich Miller 83 Comments


* From the press room…
Reps. Demmer and Guzzardi have canceled their Thursday 10:00 a.m. press conference. The topic of the press conference was the "Future Caucus."
Apparently, Illinois' future ain't ready for a caucus.
*** UPDATE *** The press release…
On Thursday, a dozen young legislators in the Illinois House will announce the launch of the Illinois Future Caucus.

The Future Caucus is a bipartisan group of young leaders who believe that cooperation, not conflict, should be the dominant political paradigm, and who are committed to working together to address the challenges facing the next generation of Illinoisans. Its founding co-chairs are Rep. Will Guzzardi (D-Chicago) and Rep. Tom Demmer (R-Dixon).

The group will work in conjunction with the Congressional Future Caucus and similar groups in eleven other states.

Also attending the press conference will be Steven Olikara, the founder of the Millennial Action Project, the group that coordinates the Future Caucuses around the country. Olikara is flying out from Washington, D.C. to lend his support to the new group.

WHAT: Press conference announcing the launch of the Illinois Future Caucus

WHO: Reps. Guzzardi and Demmer and colleagues from both parties and from around the state; Steven Olikara, founder, Millennial Action Project

WHERE: Blue Room at the Thompson Center

WHEN: Friday, January 15, 10:30 a.m.
Notice how the space time continuum is messed up in that release? They're launching it on "Thursday" with a press conference on "Friday."
Heh.
- Posted by Rich Miller 39 Comments


* From the twitters, with a hat tip to a commenter…
Radogno says she "almost wishes" the name of the "turnaround agenda" would fade away. #twill

— John Gregory (@johngregoryx) January 11, 2016
* The Question: Your new name for the Turnaround Agenda?
- Posted by Rich Miller 134 Comments


* What the heck?…
The Cook County Jail is on lockdown.

The sheriff's office reports 18 percent of the jail's staff did not show up for their 7 a.m. shift Tuesday.

In order to keep corrections officers safe, all inmates must remain in their cells unless they have a health issue or courtroom visit scheduled.
…Adding… Tribune…
The 142 correctional officers gave reasons ranging from illness and family issues to the weather for not showing up for the 7 a.m.-to-3 p.m. shift, according to Cara Smith, a spokeswoman for the Cook County sheriff's office.

Smith said jail officials attempt to "avoid lockdowns at all costs," but they are not uncommon because of understaffed shifts. "I would say it happens maybe once a month, maybe more frequently,'' she said.

On an average Tuesday first shift, about 83 of 794 workers take the day off, Smith said.

"They have lives and kids like the rest of us do,'' Smith said. "Our staff have very difficult jobs working at the jail. It's a delicate balance."
- Posted by Rich Miller 57 Comments


* Senate Republican Leader Christine Radogno…
"The corruption in the police department and potentially with City Hall has taken over and has significantly weakened the mayor, who I thought would have played a much bigger role in this," she said. […]

"He's frankly failed the people of this city and lost the confidence of the voters," Radogno said.

When asked by a moderator to pretend Emanuel was calling her on the phone for advice, Radogno responded: "I would tell Rahm 'You are whistling past the graveyard if you don't get to your Democratic brethren and get them into the room to negotiate some real long-term solutions for the city and the state.' "
OK, wait.
The mayor has been "significantly weakened" by scandal. He's "lost the confidence of the voters" because he's "failed the people."
Yet, he's still supposed to have some sort of outsized sway over his "Democratic brethren"? Keep in mind that Emanuel has never had the sort of influence over the General Assembly that Richard M. Daley had.
- Posted by Rich Miller 18 Comments


* Greg Hinz…
Democrats and Republicans alike "know that the answer (to the state's lagging economy) isn't to just put in a massive tax hike," Rauner said. "If they really thought that, they'd have done it" already, with Democrats employing the supermajorities they have in the House and Senate.

Rauner conceded that, though he's "an optimist by nature," the war over the budget and related reforms has been "tough." But he summarily rejected the argument made by Chicago business leader Tyrone Fahner, head of the Civic Committee of the Commercial Club, that the price of this war is too high, with the state's unfunded liabilities growing an estimated $33 million a day and institutions like the University of Illinois suffering from disrupted funding.

Fahner "couldn't be more wrong," Rauner declared. "There's not a single businessperson in the state who's come to me and said, 'Put in a massive tax hike and forget all of that other (structural reform) stuff.' "
* To refresh your memory, here's what Fahner told Greg earlier this week…
But a few will speak for the record. One of those is Tyrone Fahner, a rock-ribbed Republican who once served as Illinois attorney general and now heads the Civic Committee of the Commercial Club, which represents the state's biggest corporations.

"Not having a budget is harmful to the interests of the state," says Fahner, echoing almost verbatim recent comments by Madigan. "What the state needs now is for the speaker and the governor to sit down and govern."

But what about all of the changes in things like workers' compensation and collective bargaining that Rauner is demanding as the price of a budget deal?

"He has a long term—three more years—to push (the rest of) his agenda," Fahner says. "But things would be better if we had a budget."
- Posted by Rich Miller 48 Comments


* Finke…
Rauner said he will continue to press his "turnaround agenda" this year and plans to announce some new proposals shortly. They will include initiatives for education reform and purchasing reform, he said.

"Hopefully, they will be more quickly adopted, but we'll see," he said.
…Adding… He previewed some of his education reforms last fall…
Throughout the conversation, he expressed disappointment surrounding the need to address the Illinois fiscal crisis before turning to education agenda items such as opportunity scholarships, course choice access, lifting the charter school cap, and Education Savings Accounts (ESAs) for students with special needs. Rauner also predicted that the strength of the teachers unions throughout Illinois will set the stage for a political battle when these items emerge next year.

"I wish I was pounding right now on education bills in the legislature. I can't do everything at once, I'm pretty good but I'm not that good," he joked.
Hat tip to a commenter.
* Riopell…
Rauner suggested changes in how the state funds schools could be part of a budget deal. Previously, House Republican Leader Jim Durkin of Western Springs said that would have to be put off, but Democratic Senate President John Cullerton has said the effort should continue.

"If he says … let's have the funding formula be part of our grand bargain now, that's fine," Rauner said. […]

Suburban mayors who fear their share of income taxes will be slashed to cover the state's deficit in a final budget deal will have to keep watching.

"I don't want to speculate about what the final budget numbers would look like," Rauner said. "We've talked about certain reductions at certain levels from (the local share). My preference is not to have to do that."

"As part of a grand bargain, I'm not going to sit here today and say what will or won't be in any final (budget)," he said.
- Posted by Rich Miller 16 Comments


* Mark Fitton…
"Clearly, the biggest disappointment is our failure, so far, to get Speaker Madigan or the legislators that support him to really negotiate in good faith with us to get structural reforms," Rauner said Monday. […]

Rep. Elaine Nekritz, D-Northbrook, said she thinks there are areas where Rauner and Democrats can come together, including on portions of the governor's agenda.

But she said Rauner has to take a realistic look at the makeup of the Legislature..

"The governor has overreached given the fact there are Democratic supermajorities in the House and Senate, so to go for the nuclear option just isn't possible."
* Riopell…
Gov. Bruce Rauner is marking his anniversary in office Tuesday by echoing some of the themes that got him into office, saying both that he's ready to compromise and criticizing what he called the "stunning failure" of state lawmakers as a historic budget stalemate drags through a seventh month.

"We aren't doing our duty if we don't come together and get bipartisan compromise and get a balanced budget. We're failing," Rauner said Monday. "The General Assembly, stunning failure."

Rauner, a Republican, says he's still optimistic Democrats including House Speaker Michael Madigan will advance some of the pro-business proposals in a package Rauner calls the Turnaround Agenda. He says it's a necessary first step in passing a budget, but Democrats criticize the plan.

"That doesn't feel like compromise to me," state Rep. Elaine Nekritz, a Northbrook Democrat, said. "That feels like, 'Do it my way, and everything will be fine.'" […]

"I don't think either the Democrats or the Republicans are going to be able to hang this budget dilemma solely on the other," [David Yepsen, director of the Paul Simon Public Policy Institute] said.
* Dan Petrella…
"To me, the real responsibility for the failure to have bipartisan compromise really rests with the speaker and the legislators who are supporting him," Rauner said.

While other Democratic leaders, including Senate President John Cullerton of Chicago, have been open to private discussions, they have been "unwilling in public to buck the speaker," the governor said. […]

Madigan spokesman Steve Brown said Rauner bears the responsibility for the lack of a budget, noting the governor could have used his amendatory veto power to balance the Legislature's approved budget, which had a $4 billion deficit. Instead, Rauner vetoed all but the portion funding elementary and secondary education.

As for the governor's proposals not making it through the Legislature, "it's a question of the governor not being able to persuade either the Legislature or . the voters of the state that this is critical to getting a budget in place," Brown said.
* Chris Fusco…
"Many members of the General Assembly, in private, along with the mayor of Chicago, in private, agree that much of our agenda makes sense," Rauner told the Chicago Sun-Times Monday, the day before the first anniversary of his taking his oath of office.

Later, he said, "Frankly, if the mayor and the [Senate] President [John Cullerton] were willing to do in public what they talk about in private, I think we'd have worked something out by now. But they are afraid to buck the speaker."

When asked to name the names of other Democrats in his corner, Rauner sidestepped the question.

"There are many …" he said before pausing briefly. "Publicly?" he then asked.

The governor then continued: "There are, I'll say, many in the Legislature — in private — and there are many business Democrats in Chicago who are very supportive of us. And they're saying 'Stay strong. Don't back down.' People know we need change." […]

"The governor chose to commemorate his first year in office, but rather than celebrating what happened, the year will be remembered for what didn't happen," [Emanuel press secretary Kelley Quinn] said. "Illinois is one of only two states without a budget . . . $7 billion in bills that haven't been paid and college students who are still waiting for their state aid money. With a record like that, it should come as no surprise that he wants to pass the blame to others."
But…
Audience question: who will defect from leadership? Radogno says she doesn't see change coming from rank and file members. #twill

— John Gregory (@johngregoryx) January 11, 2016
* Finke…
"Big change doesn't come quickly or easily. It's OK. We'll get there," he said.

Rauner again blamed Madigan, the longtime House speaker, for being an impediment to passing the budget.

"I can't tell you why the speaker is disproportionately focused on the next election," Rauner said. "I'm a little bit baffled by it. He's always put politics ahead of policy by about 10-1. All I can do is stay persistent."
* AP…
Rauner also bemoaned the volume of insignificant bills passed by the Legislature, referring to the lawmaking body as a "do-nothing General Assembly." He criticized them for focusing on bills that don't deal with the state's problems, including addressing the state's $111 billion pension debt.

Lawmakers passed more than 500 bills last year, including one that Rauner signed into law making pumpkin pie the official state pie.

"Virtually none of them dealt with our problems," Rauner said of the bills. "And I love pumpkin pie, and I'm glad, I'm glad it's the state pie. I love it. But you know what? We have a pension crisis. They pass a pie bill. They don't pass a pension bill. Come on."

[Madigan spokesman Steve Brown] also took issue with Rauner's comments, noting that some of the accomplishments the governor listed in a Sunday editorial in the (Springfield) State Journal-Register happened because of his collaboration with lawmakers.
Rauner's op-ed is here. Brown is right on that point.
- Posted by Rich Miller 24 Comments


* Gov. Rauner told me yesterday that a recent article in Investor's Business Daily entitled "Illinois Is The Sick Man Of America; Will Bruce Rauner Save It?" was far and away the best analysis of the impasse that he has ever seen. To Rauner, the author summed up the situation perfectly.
A sampling…
But in some bizarre inversion, Rauner is the one under pressure to fold and return to business-as-usual politics in Illinois. Even some of the governor's own putative allies are turning up the heat. These include legacy Republicans such as former Gov. Jim Edgar, one of the key architects of the state's current pension mess, and some weak-kneed business leaders.

But it's mostly the usual suspects such as the unions and their allies. This includes the New York Times, which just ran a major hit piece on Rauner claiming he's the front man for a cabal of wealthy financiers out to hurt the state's citizens to further their own ideological interests.

The Times, however, couldn't find room in its 3,000-word extravaganza to even mention Madigan or Cullerton, speaking volumes about its true agenda. Instead, it focuses on Rauner's union reform proposals.

Make no mistake: The unions and public employees were the top beneficiaries of the Illinois train wreck. Illinois can't be fixed without curtailing their clout. It's a testament to how much power unions have in Illinois that it was considered a great victory for reform when exhibitors at McCormick Place no longer had to pay a union electrician to plug in their printers.
Go read the whole thing before commenting, please. Thanks.
- Posted by Rich Miller 72 Comments


* AP…
Gov. Bruce Rauner said Monday he will outline a plan to get out from under court-ordered spending that's plunging Illinois further into debt during a seven-month budget stalemate.

Even without a budget, the state has been required to continue spending on things such as Medicaid and services for people with disabilities because of federal consent decrees and court orders.

Rauner said in an interview with The Associated Press that getting out from under those will "be a big part of our plan going forward," but he declined to offer specifics on his idea, which one analyst said would require court approval. […]

"He can't simply say we're not going to provide services people have a fundamental right to," said Ed Yohnka, director of communications and public policy for the American Civil Liberties Union in Illinois. Not having a budget will only make it harder for Rauner to show the state is complying with funding requirements, Yohnka said. "If the governor has a magic wand he could wave today for the state to become complaint, we welcome him to use it. It doesn't exist," he said. "These are hard, persistent problems. You actually have to do it."
* And Natasha Korecki at Politico points to recent court action…
Rauner made those remarks days after a court-appointed monitor told a federal judge the state failed to comply with a decree aimed to protect adults who suffer from developmental disabilities. In fact, the monitor, Ronnie Cohn, said the state's system serving those adults reached a "crisis," point, adding that without a state budget, those in the system face "unprecedented difficulties" including safety concerns. "Until such time as concrete steps are taken to enact a State budget and address the staffing crisis and resulting decrease in service quality as well as lack of development in the community, the Monitor finds noncompliance with this compliance standard."

Read the report: http://bit.ly/1SfhapV

Last year, advocacy groups sought relief from a federal judge, saying the state — faced with billions of dollars in unpaid bills and no spending plan — stopped paying agencies that provided services to those with disabilities, putting providers at risk of closure. The judge ordered the state to pay for those covered under the Ligas consent decree.

'Significantly worsened' — "The current Monitor's experience in Fiscal Year 2016 thus far is that the status of such resources has significantly worsened. In the current report, there is a finding of noncompliance in this area," Cohn said in court papers.

Testimonials from Cohn's report flag a severe staffing crisis due to low wages.

– "In my 40+years working in the disabilities field in Illinois, I have never encountered such a staff recruitment problem. I would characterize (it) as a desperate situation."

– "The most obvious risk is when you truly need two people present and on duty, but you may have only one staff member."

– "Providers are reporting double-digit vacancy and turnover rates; staffing programs at bare-minimum levels and focusing staff resources solely on the safety of individuals."

– "The agency has a 20% vacancy rate in direct support positions and is taking steps to move people into larger residential settings due to the inability to staff smaller settings. The agency has closed residential intake despite a long waiting list."

GROUPS POINT AT LAWMAKERS AND GOV OFFICE — "It's shameful that the state expects that our most vulnerable can be cared for by our lowest paid workers. But for over a decade lawmakers and administrations have ignored the pleas of the community that they provide the resources necessary to recruit and retain a high quality workforce." — statement from a coalition of disability organizations
* Related…
* Not-for-profits' plea to state leaders: Think of the seniors, disabled: The message delivered Monday by several not-for-profit service agencies in Jacksonville to state leaders regarding the ongoing budget impasse was simple. "I don't care what side of the aisle you are on, just get it done," said Prairie Council on Aging executive director Nancy Thorsen. "I'm even willing to take some cuts. Just get it done so I know what I have to live with."
- Posted by Rich Miller 36 Comments


2020?
Tuesday, Jan 12, 2016
* AP…
The top Republican in the Illinois Senate says "it's possible" the standoff over a state budget could last for several years if Democrats aren't willing to compromise.

Sen. Christine Radogno spoke Monday before the City Club of Chicago.

She says if Illinois continues to spend money at current levels without raising taxes, the state's backlog of unpaid bills could reach almost $25 billion in four years. That's based on a report from Republican Gov. Bruce Rauner's budget office.

Radogno says "While I hope it doesn't happen, I think it's possible."
* Reboot…
Radogno said she couldn't rule out the possibility that the state will continue to operate with an "autopilot" budget until June 30, 2020, when the bill backlog is projected to skyrocket to $25 billion.

Referring to a question about whether House Speaker Michael Madigan is willing to wait out Gov. Bruce Rauner until the end of his term in 2018, regardless of the consequences, Radogno said she thinks it's possible because there's no incentive for Madigan and Democrats to change the status quo.

"Madigan and his Democrat cronies are being rewarded with unprecedented amounts of cash from special interests — tens of millions," she said. "And when they're bundled together to individual legislators and campaign committees, it could end up being hundreds of millions of dollars cash to protect the status quo, which is failing the people of Illinois."
- Posted by Rich Miller 40 Comments


* I decided to use some of your questions from yesterday when I interviewed Gov. Bruce Rauner, although I kinda modified a few…
What is your single most significant accomplishment as governor?

In October of 2014, you said, "Pushing any specific labor regulation is not my priority at all." What changed?

Do you have any specific data about what the return on investment would be for your Turnaround Agenda?

If you accept the fact that neither you nor Speaker Madigan are going to compromise your basic principles, do you think it's time to try something different to break this stalemate?

Are you willing to go four years with no state budget if you don't get want you want on your agenda?
* Before you listen to his answers, a warning. I took Oscar with me because he loves the grounds at the governor's mansion, but he didn't get a chance to run around before the interview. Stella, the Rauner family dog, wasn't in town, either, so he was looking all over for her.
The bottom line is Oscar started barking toward the end of the interview. Loud. Insistently loud. The little guy really wanted to go outside and play. So, end of interview.
*** UPDATE 1 *** We killed the audio link because too many people clicked it. Try clicking here instead.
* And here's a photo of Oscar tearing up the turf, post interview…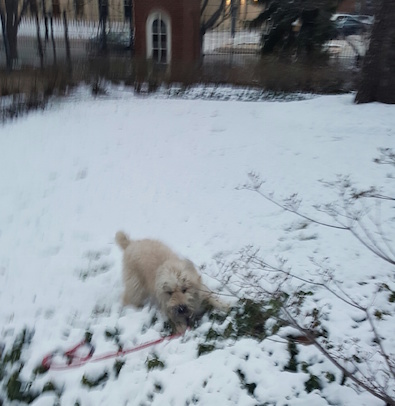 Gov. Rauner sat for other interviews, and we'll have more on them in a bit.
*** UPDATE 2 *** A reader put together a "rush" transcript…
Miller: I saw your op-ed in the SJ-R, but what do you think so far in one year has been your single most treasured accomplishment?

Rauner: I really have to say three: Having a "world record" education fundin' for Illinois – most we've ever had despite no budget. That's a big deal to me. Gettin' innovative contracts with the 17 unions. That's a big deal. And then saving over $700 million from the operating costs of the government.

Miller: Number one, though, all the Republicans voted against that bill and then you signed it – any regrets on that?

Rauner: None at all. We need education funding.

Miller: In October of 2014, you said to IRN "pushing any specific labor regulation is not my priority at all." So what happened? What changed?

Rauner: Nothing has changed. Why do you say something has changed?

Miller: Well you have been pushing for different labor laws.

Rauner: You and a couple of the other guys don't see the difference. I'm not sayin' that communities can't collectively bargain. I'm not sayin' collective bargaining rights get stripped away. I'm not sayin' that people can't join unions. A lot of communities agree with you and others and they want to pay more taxes for prevailing wage. Terrific! They want to pay higher taxes to support collective bargaining in government. Terrific! I got no problem, I just don't want one community telling another community how to do it. That's not advocating some labor law.

Miller: Well it is.

Rauner: It's not – it's local control of government, not a labor law. That is democracy at work, getting the democracy to the level of the people. This is empowering the people of Illinois - that is what the agenda is about. 100%

Miller: One of the things that several of my commenters have been asking for months, including one of the top commenters I have on the blog, is do you have any –

::Oscar barks, making his presence known::

Miller: Oscar stop.

Miller: Do you have any specific data about what the return on investment would be on your Turnaround Agenda? For instance, what is the benefit to the state in dollars and cents for your agenda?

Rauner: We have quantified a lot of that stuff. We can send that to you. This is why I am frustrated when the Speaker says this is not related to the budget. For example, if we can get business regulatory change so I can recruit manufacturer's here and more transportation companies here, and more businesses here, we can generate billions of new revenue without raising tax rates. That's directly tied to the budget. And if we can get the pension reform I'm asking for and the local control of government costs, we can save billions for the taxpayers that's directly related to the budget.

Miller: Billions?

Rauner: Billions.

Miller: Because the Illinois Policy Institute did a study on prevailing wage and they didn't find much savings at all, you're looking at ¾ of a point.

Rauner: I'd have to see the study. ¾ of what point?

Miller: ¾ of a percentage point on their property tax bills.

Rauner: That's a lot of money.

Miller: When I took a look at their numbers it's probably half that, so it's less than half of a percentage point. That's not billions of dollars.

Rauner: I didn't say prevailing wage alone is billions per year, it's a lot, it's many, many hundreds of millions. All of those changes together - Local control is billions. Because local control on pensions, what gets collectively bargained, the prevailing wage, HUGE. Some agree with you. Fine! I'm not saying they can't do what you want but why do the communities who agree with you tell the communities that agree with me how to run their communities? Where does that come off? That's not what democracy is about.

Miller: Well there is some dispute over whether you can even do that at the local level.

Rauner: Well I don't agree it's disputable but let's have the dispute – that's fine.

Miller: It's getting us nowhere because it's not being accepted, there are veto-proof majorities in both the House and the Senate. You said recently to Dan Proft that we aren't' going to get a budget until Mike Madigan changes. And Mike Madigan is not a guy who changes very often. So if you accept the fact, I don't know if you do or not, that neither you nor the speaker are going to compromise on what you call your "basic principles" –

::Oscar bark::

Miller: Oscar stop.

Miller: Do you think it's time to try something different to break the log-jam?

Rauner: Well I am up for your suggestions. Let me dispute a couple of your assumptions. I have compromised and I will compromise. There are no one of my six bills that I say have to be the one that passes and any bill that does pass can be tweaked. There is nothin' that is off the table for me in terms of what will happen. But what we can't do – and I said this in the op-ed you read – a massive tax hike and nothing else? No. Failure. That's a disaster for the state. That we can't go there.. And the reason I am optimistic, the Speaker and I get along perfectly well, it's not a personal thing. It's always spun that we hate each other. Not true. The reason I am cautiously optimistic is that Mike has done things in the past that have really ticked off AFSCME or the teachers union or whoever and yes, do some of what I'm recommending do that? Yes, but he's done it before. It's not like it's unheard of for him.

Miller: I agree with you. So I don't disagree I just don't see him doing it yet. Do you see him cutting a deal before the primary? Or before the General Election?

Rauner: I don't know what timing he is going to choose. You know my buddies over in the Democratic caucus, some say that there's a chance he'll do it soon, others have said there is no way it's happening before the primary. And more and more are sayin' no way until after the general. At some point we got to lead.

Miller: How do you get there? You've faced complicated situations in business. You didn't become who you were by just waiting everyone out.

::Oscar growing increasingly agitated::

Rauner: I haven't played every card in my hand, I haven't done everything I can do. I'm just going to keep doing what I can do to try and get a compromise.

Miller: Are you going to wait four years? Before we get a budget? Your entire term?

Rauner: Here's the thing – I will not sign off on a tax hike that doesn't have reforms in it.

::Oscar barking madly::

Miller: Oscar please!!

Miller: So, four years? Are you really willing to wait four years?

::Oscar continues barking as if to stop the interview all together::

Miller: Are you really willing to wait four years?

Rauner: I'm not waiting, I'm working my ass off 24/7.

Miller: Ok, are you willing to work your ass off and get nothing 24/7 for four years?

Rauner: We've already got a lot in the first year. I'm all about improvin' the future for the people of Illinois.

Miller: (After a pause) Uh-huh.
- Posted by Rich Miller 63 Comments


While motor vehicle-related deaths are on the decline as the result of a successful decades-long public health-based injury prevention strategy, firearm deaths continue unabated—the direct result of the failure of policymakers to acknowledge and act on this ubiquitous and too often ignored public health problem.

Firearm-related fatalities exceeded motor vehicle fatalities in 21 states and the District of Columbia in 2014, the most recent year for which state-level data is available for both products from the federal Centers for Disease Control and Prevention. That year, gun deaths (including gun suicide, homicide, and fatal unintentional shootings) outpaced motor vehicle deaths in Alaska, Arizona, Colorado, District of Columbia, Georgia, Idaho, Illinois, Indiana, Louisiana, Maryland, Michigan, Missouri, Nevada, New Hampshire, Ohio, Oregon, Pennsylvania, Tennessee, Utah, Vermont, Virginia, and Washington (see table on next page for additional information). The number of states where gun deaths exceed motor vehicle deaths has increased from just 10 in 2009—the first year of data analyzed by the Violence Policy Center.
According to the study, Illinois recorded 1,075 vehicle-related deaths in 2014, compared to 1,179 gun-related deaths.
- Posted by Rich Miller 55 Comments


* From a Daily Herald editorial…
It should be remembered that Rauner wasn't elected in a state that leans heavily Democratic because of a charming smile and a clever political strategy.

He was elected because of a simple truth: Illinois has become a state of disrepair. Just last week, another report came out showing people fleeing in droves.

This much should be clear: We can't repair ourselves with the status quo.
* Leader Radogno spoke to the City Club today…
Radogno says status quo is not sustainable.

— ILSenateGOP (@ILSenateGOP) January 11, 2016
Radogno asks question - Do you want the status quo in IL? Rising debt? Crushing taxes? A failing jobs climate and dysfunction?

— ILSenateGOP (@ILSenateGOP) January 11, 2016
Radogno says the time is now to rise up and demand action from legislators and your government. IL needs change to be a powerhouse again.

— ILSenateGOP (@ILSenateGOP) January 11, 2016
I'm more than just willing to stipulate that the status quo is lousy. I would second that motion with gusto.
But I would apply that to both the pre-Rauner status quo and the Rauner status quo.
What this state did before Rauner was not good, to say the very least. Pat Quinn deserved to lose. But now, after a year of Rauner at the helm, we have a new status quo, and quite a lot of things have gotten worse.
I don't want to go back a year, and I don't want to remain in this crazy impasse, either.
But from the looks of things, we're pretty deeply stuck in the quicksand of ego, power and ideology, which means neither status quo will be overcome.
- Posted by Rich Miller 54 Comments


* Politico…
The Supreme Court appeared ready Monday to bar public sector unions from collecting "fair share" fees from non-members, a move that could reduce union membership drastically and drain union coffers.

At oral argument Monday in Friedrichs v. California Teachers Association, four justices appeared skeptical of the court's own holding in the 1977 Abood decision, which ruled the fees constitutional. Under current law, public employees covered by union contracts may opt out of paying any fees toward the political activity of their union. But states may pass laws that require those dissenting members to pay a fee to cover their portion of collective bargaining costs. Such provisions, on the books in about two dozen states, are being challenged in the case by Rebecca Friedrichs and eight other California teachers. […]

The conservative swing vote in Friedrichs, somewhat surprisingly, is Justice Antonin Scalia, who has supported fair share fees in past decisions. But in Monday's oral arguments he seemed sympathetic to the plaintiffs. "The problem is that it is not the same as [in] the private sector," he said, adding that the issue "may require a rule change." […]

The central question of the case is whether collective bargaining is an inherently political activity. The Friedrichs teachers say it is, and argue that it's a violation of their First Amendment rights to make them pay for it. At Monday's arguments, Scalia appeared to agree with this premise. "Everything that is collectively bargained with the government is within the political sphere," he said.
Thanks to a commenter for the link.
And the New York Times agrees.
Discuss amongst yourselves.
- Posted by Rich Miller 92 Comments


* Press release…
Democrat Brad Schneider (IL-10) launched his first campaign television ad of 2016, highlighting his commitment to confronting gun violence. The ad comes out as President Obama unveils executive actions on curbing gun violence.

The 30 second ad features Schneider's personal connection with gun violence and highlights that his very first speech in Congress called for action on background checks for gun purchases.

Schneider's ad, "Background" can be viewed HERE.

Background:

After winning election in 2012, Schneider's very first speech on the House Floor called for action on confronting gun violence. That speech can be viewed HERE.

During his entire time in Congress, Schneider was a tireless advocate and leading voice for gun safety measures, voting to increase funding for the National Instant Criminal Background Check System by $19.5 million, while also cosponsoring the Gun Trafficking Prevention Act and the Public Safety and Second Amendment Rights Protection Act of 2013.

For his votes to prevent gun violence, Schneider earned an 'F' rating with the NRA.
Schneider's primary opponent Nancy Rotering has been making the gun issue a top priority in her campaign.
* Rate it…
…Adding… While we're at it, here's the front page of Raja Krishnamoorthi's first mailer. It's a trifold…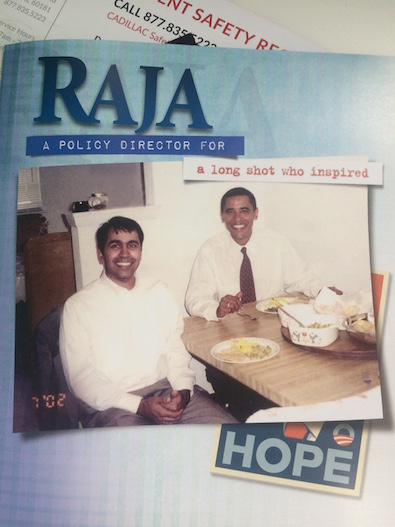 - Posted by Rich Miller 15 Comments


* Finke…
Laurence Msall, president of the Civic Federation of Chicago, said Rauner deserves credit for refocusing everyone's attention on the state's budget crisis, even if a permanent state budget hasn't been enacted.

"I think the governor has really taken the Illinois Legislature and the state Capitol building to a point of complete recognition that the budget and the financial crisis facing the state is the highest priority," Msall said. "Everything that happens in the Capitol is now impacted or tied to the state budget for better or worse." […]

"He came forward with his budget proposal on time without asking for an extension. He deserves credit for that," Msall said. "The problem was, after he introduced his budget, they spent four months trying to put back the (previous) budget. That left them about four weeks to spend on the 2016 budget."
Um, if the budget was the state's "highest priority" it would've been done by now.
But, he's right that everything is now tied to the budget, including eliminating the prevailing wage and most local collective bargaining rights, workers' comp reform, etc.
And the time they had to deal with FY 16 had nothing whatsoever to do with it. It's January and there's been no concrete progress.
* More…
"I don't think it's fair to say that after the first quarter of a four-quarter ball game, we're going to condemn the team or say it's great," Yepsen said. "It's a new administration. There's a lot of gears to grind. He's new to the political community."
Agreed, but what we've seen so far this month is a renewal of hostilities. There's been no discernible readjustment.
- Posted by Rich Miller 40 Comments


Uh-oh
Monday, Jan 11, 2016
* From the Illinois Commission on Government Forecasting and Accountablity…
With the first half of FY 2016 completed, a few observations regarding revenues can be offered. The performance of the large economic related sources is mixed. While the largest source, persona l income tax, has performed somewhat stronger than expected over the first six months, the same cannot be said for corporate income tax and sales tax which have failed to meet even modest expectations.
Personal income tax receipts are down 15.7 percent so far this fiscal year compared to last fiscal year, which is a bit better than expected. Corporate income taxes have plunged 33.3 percent, however, and sales tax receipts are down 1.9 percent.
* And then there's this…
* More on that from Mike Shedlock…
It was another disastrous month for the Chicago PMI. Economists expected a bounce back from last month's unexpected dip into negative territory. Instead the numbers reflect what's best described as a two-month crash.

The Econoday Consensus Estimate was a guess of 50 in a range of 48 to 53. The actual reading of 42.9 was far below any economist's estimate. […]

Service Economy Headed for a Slowdown?

The Chicago PMI is a bit different because it contains a mix of both manufacturing and service companies. That makes matters worse given economists generally consider the service economy to be in good shape.
- Posted by Rich Miller 33 Comments


* Kerry Lester…
Though the state has entered its seven month without a budget, one Republican lawmaker tells me the impasse between GOP Gov. Bruce Rauner and the Democratic-led legislature could stretch into NEXT January. Barrington Hills Rep. David McSweeney says he's heard predictions the state could go without a budget until after the November election.

"It's absolutely disgusting where we stand right now," McSweeney says. The legislature begins its spring session on Wednesday.
Unless there's some miracle, nothing's gonna happen this January. If the final deal involves raising lots of taxes, then it'll be tough finding votes until after the November election. So, January of next year is not outside the realm of possibilities.
However, if they do a Fiscal Year 2015-type budget deal (lots of sweeps and other one-time things, plus some cuts with no Turnaround Agenda items), then something could happen sooner.
- Posted by Rich Miller 48 Comments


A proposal to recall Mayor Rahm Emanuel will move onto its next phase, State Rep. LaShawn Ford said.

Ford met with House Speaker Mike Madigan Friday to discuss the proposal ahead of a Town Hall with contistuents and other lawmakers this weekend.

While the bill has been filed and sent to the Rules Committee, Ford says he's in the process of "counting heads" to see how many would support the recall legislation. He needs 71 votes for it to pass the House and currently he has eight cosponsors.

Madigan has not yet said whether he supports the bill or would even call it. He told Ford, "You have your work cut out for you," Ford said.
That's the understatement of the month.
- Posted by Rich Miller 7 Comments


* Sun-Times…
The cash-strapped city of Chicago paid $74.7 million in fees last year to banks, law firms and other businesses that helped it borrow money — a record tab that will rise as more fees get tallied and one that comes as the city pays higher costs to dig itself out of its deep financial hole.

Altogether, City Hall borrowed $4.6 billion through the municipal bond market in 2015, with firms that worked on those deals netting $28.3 million in fees, a Chicago Sun-Times examination of city records found. On top of that, City Hall paid $46.4 million in other borrowing-related fees through the first three quarters of the year; fees for the fourth quarter have yet to be disclosed.

Most of the firms that help the city with borrowing and other financial transactions have long done business at City Hall. Some also have been political supporters of Mayor Rahm Emanuel, whose plan to fix the city's finances relies in part on ending costly and risky financial deals from the past.

But, to do that, the city keeps borrowing. And many of the fees associated with borrowing have gone up, a consequence of the city's credit rating dropping to "junk" status in May. The downgrade also is resulting in the city paying higher interest rates on long-term borrowing deals — costs that can add up over decades.

It's a trend Chicago taxpayers might have to get used to: Emanuel is planning another $4.15 billion in bond sales in 2016, starting with a $500 million deal this month, according to documents he's shared with aldermen.
* The Tribune drills down into the new borrowing proposal…
The most controversial element is $335 million in scoop-and-toss borrowing over the next three years. The proceeds would be used to pay off loans coming due with money coming in from the new loans, a technique that pushes debt onto future generations at higher cost. […]

The city also plans to borrow $700 million to convert $500 million in variable-rate water system debt to fixed-rate debt and pay a $200 million fee to terminate a related "swap contract" that provided a hedge to the original variable rate debt.
That $200 million "swap contract" debacle could've paid for a whole lot of stuff. Just sayin…
* Related…
* Emanuel wants $6 million in new tobacco taxes — to pay for CPS student program

* Chicago's Orange Line goes back and forth: Mayor Rahm Emanuel's administration last summer sold $1.1 billion worth of bonds, with much of that money being used to rid City Hall of [Mayor Daley's[ Orange Line deal and others that Emanuel aides say have become a financial drag… It's not the only Daley deal the city moved to end early using proceeds from the July bond sale. City Hall also used $2.4 million to buy back the city's 911 computer and radio system from investors. Bond proceeds also were used to pay $35 million in debt from Daley's acquisition of the Michael Reese hospital site, which he hoped to use to house athletes for the 2016 Olympics; $62 million to settle a dispute with investors in four downtown parking garages the city privatized in 2006; $18.5 million to settle a dispute involving the parking-meter privatization deal of 2009; and $195 million to terminate interest-rate swap agreements on earlier borrowing.
- Posted by Rich Miller 4 Comments


* Bernie…
Gov. BRUCE RAUNER's family foundation gave $100,000 in 2014 to Turning Point USA, a Lemont-based not-for-profit that identifies itself as a conservative activist organization.

"For too long the left has outperformed the right in grassroots organization," states a 2014 year-in-review group newsletter. "TPUSA is here to change that.

"Our mission is to identify, register, educate, empower, organize, and mobilize student activists that believe in free markets and limited government," it adds, saying it will organize an "army of activists." […]

"Throughout the spring semester TPUSA will bring its Big Government Sucks campaign to over 1,000 college campuses nationwide," the newsletter says. […]

In the 2014 newsletter, it notes that Rauner keynoted an event for the group, and it features a picture of Rauner and Kirk raising clasped hands, and a quote from Rauner that says, in part, "One of the greatest patriots and one of the greatest advocates for limited government and great conservative principles in the entire United States is Charlie Kirk. I think the world of this young man. He's a superstar. I personally will do everything I can to help him expand his reach throughout the United States because his vision of America is the right vision for America."
Former Illinois Congressman Joe Walsh (described as its "chief activist") spoke to the group at its winter meeting.
- Posted by Rich Miller 18 Comments


* From an October 29, 2014 press release by the Bruce Rauner campaign…
As of today, Pat Quinn has doled out nearly $500 million in the last four weeks. In the last two days alone, he doled out $36 million.
* One of those grants was to SIU for lighting campus pedestrian pathways near the quad. Quinn announced the grant in late September, just days after his office did this…
[Kevin Bame, vice chancellor for administration and finance at SIU] said the grant came about from Quinn after his office asked school officials in September 2014 to submit to him a request for a capital project, specifically one that dealt with campus safety. SIU chose this project, as the plan to install LED lights should brighten up those interior parts of campus, Bame said.
So, essentially, Quinn begged the university to help him make a campaign point by finding a suitable project. No wonder a Democratic state legislator introduced a bill to stop that sort of thing.
The grant, by the way, has since been frozen by the Rauner administration.
- Posted by Rich Miller 20 Comments


* Gov. Bruce Rauner is doing several one-on-one reporter interviews today. What question(s) do you think he should be asked?
This is a serious question, so no snark, please.
- Posted by Rich Miller 78 Comments


* Despite the push-back, I don't doubt that Gov. Rauner told Sen. Durbin something at least close to this a year ago…
"'If you have a problem with the union, call me,'" Durbin recalled saying to the governor. " 'I'll sit down at the table with you. And if they're being obstructionist, I'll say it publicly. I'll back you up.'"

"He says, 'You don't get it,'" Durbin said. "'This is not about negotiating with them. They just have to go away.'"

Lance Trover, spokesman for Rauner, responded later that Durbin "has a history of exaggeration and today takes it to a whole new level. The governor never said that."

"The timing of Senator Durbin's comments are peculiar given that he never spoke out while his party ran Illinois into the ground the last 10 years. While we thank the former majority whip for his thoughts, its seems a little ridiculous taking budgeting advice from elected officials like him in Washington, who have not passed a balanced federal budget in years."

Durbin also said during the interview that others have also told him Rauner made similar comments about unions going away.

"He's said it to legislators, 'cause I've recounted this conversation," Durbin said. "They said, 'Oh, he said the same thing to us.' So this is not a new statement. He's pretty unequivocal."
- Posted by Rich Miller 34 Comments


* Press release…
More and more school districts around Illinois are finding it harder to fill teaching positions and find qualified candidates for the teaching positions they are able to fill, according to a newly released survey from Illinois' regional superintendents of schools.

The Teacher Shortage Survey, developed by the Illinois Association of Regional Superintendents of Schools (IARSS) and conducted at the beginning of the 2015-2016 school year, found:

* 60 percent of Illinois school districts responding report trouble filling teaching positions
* 75 percent of those districts are seeing fewer qualified candidates than in past years, with the numbers much higher in rural districts and in central and northwest Illinois
* 16 percent of schools have had to cancel programs or classes because of teacher shortages with particular problems in special education, reading/English/language arts, and math and science

Jeff Vose, the Regional Superintendent of Schools for Regional Office of Education No. 51 covering Sangamon and Menard counties and president of IARSS, said the survey results help give education officials statewide a better sense of the problem they knew was developing but couldn't quite substantiate.

"With this survey, we now have some solid data and more detailed information. We hope this will jump start the conversation," Vose said. "We want to work with local school districts, the Illinois State Board of Education, the Governor's office and legislators to address this growing crisis."

The regional superintendents surveyed all three types of school districts – elementary districts, high school districts and unit districts (which contain both elementary and secondary schools). The data showed that staffing shortages are particularly problematic for secondary schools with 80 percent of high school districts and 87 percent of unit school districts noticing fewer quality candidates applying for positions.

In an analysis of the survey, the report identified a combination of factors contributing to the teacher shortage, including: educators leaving Illinois, educators leaving the profession, fewer students enrolling in teacher training programs, out-of-state educators unwilling to relocate to Illinois and out-of-state educators who would be willing to relocate but are unable to meet the state's licensure mandates without substantial delays and meeting additional requirements.

The survey analysis also highlighted five areas of critical concern:

· Simplify and expedite processes for applicants;
· Expand reciprocity that more closely matches other states' requirements when comparable to Illinois;
· Enhance Illinois recruitment of in-state and out-of-state candidates;
· Modify regulations to support educators as professionals; and
· Explore possible alternative routes to licensure and/or obtaining endorsements not currently available.

The Teacher Shortage Survey was developed by (IARSS) and conducted between August 25 and Sept. 2, 2015. The survey results were submitted to Goshen Education Consulting, Inc. for the survey analysis. The survey was completed by 62 percent of the school districts in the state, or 538 districts. The survey had a margin of error of +/- 3.5 percent and a confidence level of 99 percent.
The full report is here.
This has become a national problem. Click here for some background.
- Posted by Rich Miller 34 Comments


* From Rolling Stone Magazine's interview of Rev. Gregory Seal Livingston, who is organizing protests against Mayor Rahm Emanuel…
How specifically does your organization hope to impart the changes you wish to see?

Firstly, we're looking at applying economic pressure on January 15th. We want to affect trading at the exchanges that Friday. We want to see if we can throw them off. We believe those are the people Rahm listens to, and they won't want us down there disrupting the trading.
Livingston's Coalition for a New Chicago helped plan the #BlackChristmas protests on Michigan Avenue last month.
This is, essentially, politics by other means. As with the Michigan Ave. marches, the idea is exactly how Livingston explained it: Push Emanuel's pals to complain to the big guy.
* Meanwhile, the Sun-Times looks at how the Chicago Teachers Union is funding some of this anti-Emanuel activism…
Fueled by the CTU's $48.5 million sale of a Gold Coast apartment building in 2014, the Chicago Teachers Union Foundation Inc. has handed out millions of dollars in grants.

The foundation only had assets of about $80,000 and gave just $12,000 in scholarships a couple of years ago, before receiving a huge infusion of money from the apartment building.

In 2014, the CTU's foundation doled out about $1 million in grants, according to its federal tax returns. And the foundation increased that giving to nearly $2 million last year, labor leaders say.

Some of those contributions went to purely charitable or educational groups, including the DuSable Museum and Mercy Home for Boys and Girls. Records show hundreds of thousands of dollars from the foundation also went to groups that are highly active in the pitched policy debates between Emanuel and the CTU, which is calling for Emanuel's resignation.
The rest of the list…
Kenwood-Oakland Community Organization.
Brighton Park Neighborhood Council.
Albany Park Neighborhood Council, now known as Communities United for Quality Education.
Logan Square Neighborhood Association.
Pilsen Alliance.
Enlace Chicago.
Raise Your Hand Illinois.
Crossroads Fund.
Blocks Together.
- Posted by Rich Miller 27 Comments


* My Crain's Chicago Business column…
Gov. Bruce Rauner made some news the other day when he went on Dan Proft's WIND-AM/560 radio show and whacked Mayor Rahm Emanuel but good.

"It's so unfortunate the way the mayor is failing the people of Chicago and he's looking to blame other people for it," Rauner told Proft. The mayor has done "virtually nothing" to reform the city's government and its schools, he added.

Rauner wasn't totally wrong on either point.

As a buddy of mine says, Emanuel is a better mayor than Richard M. Daley was, but he's not nearly good enough. Daley set the bar very low and Emanuel is just barely clearing it, which is frustrating to anyone who thought he would do a much better job.

Yes, police shootings are down under Emanuel, but nobody could ever say that the policy changes have been anywhere near adequate.

Yes, some crime rates are down, but shootings are up.

And, yes, Emanuel's finally doing something that Daley always ran away from by raising property taxes. But Emanuel let the finances of the city and the schools fester for more than four long years before tackling the problem.

The school funding issue is what set off the governor. Emanuel's budget for Chicago Public Schools has a gigantic hole in it, and he expects the state to patch it for him. When Rauner said, yet again, that he wouldn't provide any assistance unless Emanuel helped him pass his turnaround agenda, the mayor lashed out. The city's school kids are "not a pawn in a political game in Springfield to get an agenda done that people don't agree with," Emanuel fumed.

OK, but if you expect help from Rauner, then you must play ball with him. If you don't, then you can't put all the blame on him when you're laying off thousands of teachers.

It might be impolitic for a governor to so heavily criticize a mayor, but it's important to remember that this isn't new for Rauner. As a private-equity investor, he wasn't reluctant to use tough talk when people didn't meet his expectations.

Remember that 2014 campaign story about how Rauner allegedly threatened to "bury" a female executive who was considering suing him? "She will never get another job anywhere, ever. I will bankrupt her with legal fees," he allegedly said.
Go read the rest before commenting, please. Thanks.
- Posted by Rich Miller 12 Comments


* My weekly syndicated newspaper column…
"He has taught us how to deal with him," explained one top official in Gov. Bruce Rauner's administration when asked why the governor has once again cranked up his public criticism of Illinois House Speaker Michael Madigan.

You may already know that the governor blasted both Madigan and Chicago Mayor Rahm Emanuel during an appearance on Dan Proft's WIND-AM/560 Chicago radio program last week.

After accusing Emanuel of being "afraid" to take on Madigan, Rauner said the reason for this was self evident: "The speaker has been the most powerful politician in the state of Illinois for decades. It's the main reason we're in such big trouble as a state."

Rauner went on to essentially blame Illinois' "long-term, slow death spiral" on Madigan and said the majority party "likes the status quo," claiming the house speaker is "not sensitive" to the real-world problems of the middle class. "He's got a great system, he controls it. And right now, they're unwilling to change. And without change, we'll never get a true balanced budget."

So, what the heck happened here? The governor seemed to mute his criticisms of Madigan in the closing weeks of 2015, even mostly holding his fire when Madigan skipped the last leaders' meeting just before the holidays.

New year, new attitude, apparently.

The governor has reportedly come to the conclusion that Madigan is not now and may never be willing to negotiate in good faith. Rauner's basically tired of negotiating against himself—pulling ideas off the table and never seeing any corresponding movement from the other side.

And he's not completely wrong, either—at least about the negotiating part.

Madigan's fellow Democrat, Senate President John Cullerton, has been trying to find a way to give the Republican Rauner some victories on things like workers' compensation reform and local government costs. There was, for instance, reportedly more progress on workers' comp during that non-Madigan leaders' meeting last month.

And Cullerton is reportedly eyeing a recommended compromise from the Illinois Municipal League on binding arbitration for local governments. The idea would allow arbitrators to take into account a government's fiscal condition when deciding a case. They can't do that now, so even if their compromise is a ruling forcing the existing status quo on the two sides, that might still be far too costly for a government that has found itself in a fiscal hole.

But Madigan is said to want no part of even this smallish proposal.

Madigan has raised truly gigantic amounts of money from labor unions in the past few months. Those unions are allowed to give the same amount again after the March 15 primary, and Madigan will need all the cash he can stockpile for the fall campaign.

So, angering the unions before Madigan's position is secure appears unlikely.

OK, so why did the governor throw his longtime friend Emanuel under the bus last week?

The mayor had apparently indicated to Rauner that he would act as a go-between in the governmental impasse and try to convince Madigan to find a way to compromise.

The governor has complained for months that Emanuel is privately saying one thing to him and publicly saying another. And now the governor is convinced that Emanuel has taken sides. The mayor is "hiding behind the speaker," the governor told Proft.

And then he piled on Emanuel, calling the mayor's public comments about opposing a federal investigation into the city's legal department "incredibly disappointing."

"How tone deaf can you be?" Rauner asked rhetorically about a mayor already under intense fire for not doing enough to reform the police department and then turning a blind eye after a federal judge rebuked five lawyers in that office in the past year for withholding evidence in two police misconduct cases, according to the Chicago Tribune.

In other words, he's attempting to punish the mayor for siding with Madigan and punishing Madigan for not cooperating.

Will it work? Doubtful, but it'll help him feel better, for sure, and lock down his base's support. The governor isn't exactly a popular guy in the city, and Emanuel has effectively pivoted back on Rauner in public, blaming him for the impasse and accusing him of using the city's public school students as pawns in an unwinnable game.

As for Madigan, his people firmly believe that Rauner has lost the match and has yet to realize it. So, expect them to wait Rauner out, at least for now.
Thoughts?
- Posted by Rich Miller 17 Comments


* The takeaway for me here is that Mayor Rahm Emanuel wants to remind Gov. Bruce Rauner that he also has wealthy friends who will side with him in any war. Greg Hinz quotes some folks talking smack about Rauner's inability to get a budget deal on background, but then turns to Ty Fahner…
But a few will speak for the record. One of those is Tyrone Fahner, a rock-ribbed Republican who once served as Illinois attorney general and now heads the Civic Committee of the Commercial Club, which represents the state's biggest corporations.

"Not having a budget is harmful to the interests of the state," says Fahner, echoing almost verbatim recent comments by Madigan. "What the state needs now is for the speaker and the governor to sit down and govern."

But what about all of the changes in things like workers' compensation and collective bargaining that Rauner is demanding as the price of a budget deal?

"He has a long term—three more years—to push (the rest of) his agenda," Fahner says. "But things would be better if we had a budget."
Fahner has reportedly been saying the same thing in private for a while now, but nobody has been able to convince him to come forward.
* But keep this in mind…
Rauner, who pretty much paid for his own election campaign, may not care about the carping, says one insider wise in the ways of gubernatorial politics. "When a guy doesn't give a damn about where he's going to get his financial support, he can do what he wants," that source says. Hedge-fund mogul and fellow master of the universe Ken Griffin "could walk into the room and tell Bruce he's worried, and Rauner would throw him out. . . .He doesn't give a [expletive deleted] about what anyone else thinks."
* And, remember, Rauner has some very thick strings he can pull, too…
A state labor panel said last week that it will hold a hearing later this month on a complaint from the Chicago Teachers Union alleging Chicago Public Schools has failed to make good on salary increases mandated in a contract that expired June 30.

A ruling against the cash-strapped school district could force CPS to pay union members about $26 million in back pay, CPS said in papers filed with the Illinois Educational Labor Relations Board.

The labor board said it will also hear the CTU's allegation that the district has refused to enter into a final stage of contract talks known as fact-finding, which is required before a strike can take place. The CTU said the district's stance violated state law and constituted an unfair labor practice.
Discuss.
- Posted by Rich Miller 83 Comments


* Nothing like burying this on a Friday afternoon after declaring a contract impasse. Here's our hero Bruce Rushton at the Illinois Times…
Faced with a lawsuit from Illinois Times and three opinions from the state attorney general, Gov. Bruce Rauner has released his appointment calendar.

The release today that came via Brown, Hay and Stephens, the Springfield law firm that is representing the governor in the lawsuit filed by the newspaper, details the governor's meetings held last April, when he left a Holocaust remembrance ceremony early and did not respond when Illinois Times asked where he had gone. The governor later told the State Journal-Register that he had left the ceremony to meet with House Speaker Michael Madigan, D-Chicago, and Senate President John Cullerton, D-Chicago. That meeting is memorialized as "leader meeting" in the calendar released today.

The attorney general's office has issued three opinions, one to Illinois Times, another to the Chicago Reader and a third to the Associated Press, stating that the governor's calendar is a public record under the state Freedom of Information Act.
Should be interesting weekend reading.
…Adding… The letter sent by the Rauner administration to Rushton's attorney is here.
- Posted by Rich Miller 12 Comments


* From a recent Tribune editorial…
In the next few months, air travelers from Illinois likely will no longer be able to flash their driver's licenses as proof of identity to get through security and board a plane. Those cards don't meet stringent federal standards under the REAL ID Act.

Travelers with Illinois licenses will need a passport to pass through security, even on domestic flights. This won't go into effect until spring or summer. But as of Jan. 10, Illinois residents won't be able to use a driver's license to gain entry to federal buildings and U.S. military bases that require identification.

Cue the grumbling from Illinois residents.

And cue the whining from Illinois officials, who say they just need a little more time and money and legislative cooperation to get this done.

Please. […]

"We'll be meeting the legislature [this] year to get their sense of how doable this is," Druker said.

It had better be doable. It was doable in 2008, 2009, 2010, 2011 … you get the idea. But state pols dragged their feet and hoped the feds would — what? Get distracted?
* No, they assumed the feds would do what they just did. Back down…
Feds Announce No Changes to Security Procedures at Airports Until January 22, 2018
Illinois DLs and IDs remain acceptable forms of identification to board commercial airplanes for minimum of two years

The Department of Homeland Security provided an update today on the REAL ID Act, announcing that there will be no security changes at airports for at least two years, with any changes beginning no sooner than January 22, 2018.

As a result, Illinois driver's licenses and ID cards will continue to be accepted as primary forms of identification to board commercial airplanes for domestic travel.

The Illinois Secretary of State's office will continue to work with DHS and the Illinois General Assembly on the Real ID Act.

Henry Haupt
Deputy Press Secretary
Illinois Secretary of State Jesse White
By the way, federal building access is on a facility by facility basis. According to Henry, you can still use your driver's license at places like the Rock Island Armory, Scott Air Force Base, etc.
* And there are some very real concerns about this federal law. From the Illinois Policy Institute's news service…
Ed Yohnka with the ACLU of Illinois says Illinois and other large states like California and New York are being quote "bullied" into compliance by the federal government to get what the ACLU amounts to a national ID card. Despite the federal government being wary of calling the national mandate a national ID, Yohnka says REAL ID is a national ID because it links all states' ID databases together, something Yohnka says is not secure.

"The idea that somehow we will be more secure and our data will be protected when this goes national doesn't really pass the test of what we see each and every day in the media and each and every day in the public in terms of our own data."

One example Yohnka provided is someone possibly leaving a laptop with access to the database at a coffee shop. And, he pointed out, a nationally linked system will only be as strong as the weakest state's security.

Find yourself living paycheck-to-paycheck? If REAL ID is implemented it may mean trading in a week's worth of lunch to get the ID that complies with federal standards. Yohnka says getting a REAL ID will be labor intensive and not something applicants could pick up almost instantly, as is done now with the state's current ID.

"You would have to make several trips to validate who you were. You'd have to produce several source documents, including an original birth certificate."

Yohnka says at the end of the process of providing all the documents the applicant would then go home and wait for the ID card to arrive in the mail. Meanwhile Yohnka says for people who are struggling financially REAL ID will be even more burdensome.

"Do you have to chose between renewing your driver's license and eating lunch for a week? These are real questions for people who live at the margins and unfortunately from all the data we see there are far too many folks who are living paycheck-to-paycheck."

Yohnka estimates if REAL ID is implemented in Illinois, as the federal government is pushing the state towards, it could put the price of a driver's license to more than $100, whereas it now costs $30. The Illinois Secretary of State's office couldn't say how much it will cost individuals but estimates overall implementation of the ID will cost taxpayers $60 million dollars, and there's little indication of what the yearly costs thereafter would be.
- Posted by Rich Miller 7 Comments


* 3:01 pm: From AFSCME Council 31…
At the wrap-up of today's negotiating session between AFSCME Council 31 and the Rauner Administration, the Governor's representatives said they would refuse to participate in any further bargaining sessions and claimed that negotiations are at an impasse. AFSCME executive drector Roberta Lynch rejected that claim and said the union is prepared to continue to negotiate.

Lynch issued the following statement:

"We are shocked that the Rauner Administration would walk away and refuse to continue negotiations. The Governor's rash action invites confrontation and chaos — it is not the path to a fair agreement. The people of Illinois deserve leadership that is focused on working together and getting things done, not someone who demands his own way or nothing at all. With no state budget to fund the public services that Illinois residents rely on and no union contract for the men and women who provide those services, the last thing the people of Illinois need is another manufactured crisis from a governor unwilling to do the hard work of compromise.

"In reality, there is no impasse between our union and the Rauner Administration. Until the final minutes of today's meeting, both parties continued to exchange proposals on many issues. There has been no hint that the administration would simply refuse to continue to negotiate. If they will not return to the table, our union will take legal action. It is a violation of state labor law for a party to declare impasse where none exists.

"The parties do have areas of serious disagreement. For example, the administration wants to double employee's costs for health care, making the state's health plan the worst in the nation for any state workforce. It would also would freeze wages for four years, which coupled with its huge hikes in health costs would take money from the pockets of working families. Our union believes that public-service workers, like all working people, deserve wages that can sustain a family and health care they can afford. We also disagree with the administration's insistence on eliminating safeguards that prevent unfettered privatization of public services.

"Despite our differences, AFSCME remains committed to finding common ground. We've been successful in reaching fair agreements with every Illinois governor of both parties for the past 40 years. But that can't happen if the Rauner administration refuses to remain at the table and negotiate.

"As a candidate, Bruce Rauner repeatedly threatened to impose his extreme demands and force a strike in order to do so. That's why unions representing state employees backed legislation to provide for arbitration as an alternative means of reaching a fair agreement. When the governor vetoed that bill, he pledged to work in good faith to reach a settlement—a pledge he has broken today.

"Public-service workers in state government keep us safe, respond to emergencies, protect kids, care for the most vulnerable and fulfill countless other essential functions in every Illinois community every day. They deserve a governor who respects the work they do and who will work in good faith to reach an agreement that's fair to all."
*** UPDATE 1 *** According to the tolling agreement, this matter now goes to the Illinois Labor Relations Board, which will decide whether or not an impasse exists. Click here.
*** UPDATE 2 *** Lance Trover…
"Today marked the 67th day of negotiations with AFSCME. Like every previous session, AFSCME rejected all of the Governor's core proposals and insisted that they would never agree to those proposals despite our good faith efforts to address union concerns.

"In light of that position, our negotiators asked AFSCME if they believed we were at impasse. If so, both parties signed a tolling agreement establishing a Labor Board process by which that determination can be made. AFSCME insists that the parties are not at impasse while rejecting the offer for additional sessions next week.

"After a year of no meaningful progress, we must now evaluate the benefit of future sessions given AFSCME's intransigence. In light of their answers today, we will now decide if the previously-agreed dispute resolution process should be considered."
The administration also has a chart which "summarizes the status of the negotiations with AFSCME, while comparing it to its previous contract and the contracts the administration has already reached with 17 other unions representing state employees." Click here.
…Adding… Re-reading the Trover statement you'll see that the governor has not yet formally declared an impasse. That's an important distinction here. The governor now has to decide whether to take this to the ILRB.
*** UPDATE 3 *** Press release…
Democratic State Representative candidate Tony DelGiorno, who is vying for the 99th Illinois House District, issued the following statement and called upon the Governor to return to the bargaining table and lift his unreasonable demands.

I am disappointed that it has come to this. It has been clear since the Republican gubernatorial primary in 2014 that the Governor has a hatred for public servants and the unions that represent them. One year after his inauguration, we are on the verge of a lockout or a strike – either of which fails to serve the taxpayers of Illinois. This all or nothing politics is not serving the people of Illinois well. Governing is best done when both sides work together to serve the people. No one side has all the answers. I urge the governor to continue working with AFSCME to reach a compromise. Had enough of our representatives had the gumption to override of the Governor's veto of the union arbitration bill, we would not be in the situation we are today.
Nothing yet from the appointed incumbent, Rep. Sara Wojcicki Jimenez (R-Springfield).
*** UPDATE 4 *** The administration notes that AFSCME has canceled next week's scheduled bargaining session, not the Rauner people, which is significant here.
*** UPDATE 5 *** From AFSCME's Anders Lindall…
No bargaining dates were scheduled for next week. The administration asked very late if we could meet then but our committee was unavailable. Instead AFSCME offered to meet at any time in any of the following three weeks.
- Posted by Rich Miller 93 Comments


* I suggested this weeks ago…
The Cook County Democratic Party Executive Committee has called a meeting for Thursday to reconsider an endorsement in the [state's attorney] contest, party spokesman Jacob Kaplan said.

In August, Cook Democratic leaders voted to remain neutral in the contest.

That was largely because of a divide in the party, with Cook County Board President Toni Preckwinkle backing Foxx, her former chief of staff, and House Speaker Michael Madigan, D-Chicago, and influential Ald. Edward Burke, 14th, in Alvarez's corner. Also running is former prosecutor Donna More. […]

Since the video's release in late November, Alvarez's support among Latino and African-American politicians has waned. Ald. Roderick Sawyer, 6th, long a Foxx backer, said he believes Foxx now has the votes to win the endorsement.
If Foxx is slated, ward organizations controlled by Madigan, Burke, etc. will be forbidden to pass literature for or help any of her opponents - a rule change pushed by Madigan.
I think Politico had the story first this week, by the way.
*** UPDATE *** Press release…
DONNA MORE ACCUSES DEMOCRATIC PARTY BOSSES OF CAVING TO PRECKWINKLE

Democratic Party Re-Slating Session Set for Next Thursday

Chicago – Jan 8, 2016 Cook County State's Attorney candidate, Donna More is blasting any attempt by Democratic Party bosses to re-open the slating process for the express purpose of selecting Kim Foxx.

More, who is the only former federal prosecutor and state prosecutor in the Democratic primary race is lashing out at what she sees as a blatant attempt to "force feed an unqualified candidate down voter's throats."

More asserts, "It's obvious that my campaign represents a real threat to Democratic bosses who are more interested in maintaining the status quo than in restoring trust and public confidence in the State's Attorney's Office."

As for the party's re-slating plans next Thursday, More decried, "Just another example from the political power brokers that this race is more about politics than about independence, transparency, fairness or justice." Adding More, "This is simply another sordid maneuver by Democratic Party bosses, led by Toni Preckwinkle to get her handpicked candidate Kim Foxx selected."

More, who on last Wednesday officially kicked off her '70 Days to Victory Campaign" ahead of the March 15th primary, made it clear that she will be a prosecutor who will be free of political influence in making sure that justice and fairness prevail.
- Posted by Rich Miller 30 Comments


* Phil Kadner…
Leon Fields, of Glenwood, along with hundreds of other motorists, are discovering they are personally involved in the ongoing state budget impasse between Gov. Bruce Rauner and the Democrats who control the legislature.

"They hit me with a $20 late fee because they ran out of money down in Springfield to mail out license plate vehicle sticker renewal notices," the 68-year-old Fields told me during a telephone call. "Every year, we get sticker renewal notices from the (secretary of state), and this year no notice. Nobody told me they had stopped sending out notices. I didn't get any warning from the state. Didn't see anything on TV.

"You came to expect those notices a few months before your sticker had to be renewed, and we live in a world where we all expect those kinds of notices, bills from utility companies and such, reminding us it's time to pay. And this state just stopped it. And then they told me because I was more than 30 days past due in renewing my sticker, I had to pay a $20 late fee."

Shortly after talking to Fields, I traveled to the secretary of state's station in Orland Park and quickly ran into a bunch of vehicle owners who were first finding out that the renewal notices stopped going out in September, that their plate stickers had expired and they owed a $20 late fee.

An employee at the Orland Park office estimated that about every other customer coming in to renew their vehicle sticker was being dinged with the late fee, and almost all said they had no idea that the secretary of state had stopped sending out the notices. […]

Jennifer Valauskas, of Orland Park, had just paid a $20 late fee on her license plate sticker when she stopped to talk to me.

"I think it's really unfair because I never got the renewal notice," she said. "This is ridiculous. How many people is this happening to? Where is all the money going that they're collecting from these late fees? It's just ridiculous that our politicians screw things up, and we're the ones who have to pay for it. They aren't even paying the state's bills."
* The Question: Should the secretary of state's office waive the late fee until the impasse is resolved? Take the poll and then explain your answer in comments, please.
surveys
- Posted by Rich Miller 68 Comments


* Dold plays the concern troll…
Republican Rep. Bob Dold of Kenilworth was in the middle, telling the Daily Herald editorial board Monday that additional background checks would be a "common sense step forward" but saying Obama moving forward without Congress could "poison the well" for the future.

"My concern is obviously on the process," Dold said.

Dold is facing a re-election campaign against either Democrat Brad Schneider or Highland Park Mayor Nancy Rotering, who have both also tried to make guns a key issue in the campaign.
The "process" is broken. Whether you're with Obama or not, you have to admit there's no way to get any sort of gun limits passed through Congress right now. And the well has been "poisoned" for years.
* Then Dold got trolled…
Rep. Bob Dold planned to bring a felon to President Barack Obama's State of the Union speech next week as a guest, but he withdrew the invitation Thursday after learning that a Waukegan woman had accused the man of threatening to kill her in 2014 and obtained a restraining order against him.

Durrell McBride, 30, of Zion, served six years in state prison for armed robbery and was released in 2011, state records show. He was on parole until 2013.

Dold, a Republican from Kenilworth, announced this week that McBride would be his guest at Tuesday's speech. An aide to Dold said McBride worked in sales and owns a "small business for his motivational speaking engagements."

In a news release, Dold said he had he met McBride and was "inspired by his success story." McBride "has worked tirelessly to lift himself up" since his release from prison, Dold said in the statement.
The prison stint wasn't and isn't a problem. It's what happened afterward…
A Dold spokesman said neither the congressman nor the Lake County YouthBuild program that recommended McBride knew of the situation.

"Congressman Dold has a long history of efforts to prevent domestic abuse, including his Zero Tolerance for Domestic Abusers Act, and does not tolerate violence against women of any kind," Dold spokesman Brad Stewart said in a statement. "Immediately after learning of this, Congressman Dold notified Mr. McBride that, in light of this information, he would no longer be attending the State of the Union as Congressman Dold's guest. […]

"Mr. McBride was the 2013 YBLC Alumni of the Year and interned at YouthBuild Lake County for the past year," said Laurel Tustison, executive director [of Lake County YouthBuild]. "He was an outstanding student and we were unaware of this personal situation with the restraining order when we recommended him for the trip."
Oops.
…Adding… Meanwhile…
Three House Republicans on Wednesday voted against the reconciliation bill that would defund Planned Parenthood and repeal Obamacare while one Democrat voted for it. The bill passed the House of Representatives 240-181.

Republican Representatives Bob Dold (R-Ill.), Richard Hanna (R-N.Y.), and John Katko (R-N.Y.) broke ranks with 239 of their Republican colleagues and opposed the bill while Rep. Collin Peterson (D-Minn.) was the only House Democrat to vote for the bill.
- Posted by Rich Miller 15 Comments


* Hospitals freaked out when towns like Urbana tried to make them pay their full share of property taxes, so they turned to the state. The attorney general helped negotiate a compromise. But an appellate court has ruled that law unconstitutional…
The state's 2012 charity care law has been declared unconstitutional by the Fourth District Appellate Court in a ruling that also scored a major victory for the city of Urbana and local taxing districts in a long-standing legal battle with the Carle health system.

A jubilant Urbana Mayor Laurel Prussing said Wednesday the decision vindicated the city's position to fight Carle and the state law after Carle properties became tax-exempt, taking $60 million of assessed value with them.

It also vindicated the city's decision to turn down Carle's offer to pay Urbana for some city services to make up for some lost tax revenue, she said.

"People kept saying you should take the money and run," Prussing said.
The ruling is here.
* More…
"The Legislature could wait (until the Supreme Court rules), but issues will continue to mount," Msall said. "The Illinois Department of Revenue needs some direction from both the Legislature and the (Rauner) administration on how to handle pending applications."
I fully expect the Illinois Hospital Association will start a major legislative push this spring.
* More…
A lower court sided with the hospital, but the appeals court reversed that decision, saying the Illinois Constitution allows lawmakers to exempt only property "used exclusively" for "charitable purposes."

"An unconstitutional statute is unenforceable from the moment of its enactment," the ruling states. […]

Since 2012, Prussing said, the city has lost 11 percent of its assessed tax value since Carle was relieved of paying $6.5 million a year in property taxes — the vast majority of which went to Urbana and its school district.
* From the Illinois Constitution…
SECTION 6. EXEMPTIONS FROM PROPERTY TAXATION

The General Assembly by law may exempt from taxation only the property of the State, units of local government and school districts and property used exclusively for agricultural and horticultural societies, and for school, religious, cemetery and charitable purposes.
I suppose a main argument will rest on whether the word "exclusively" in that sentence also applies to "charitable purposes," even though there is quite a separation. The appellate court used the 1870 Constitution's language to claim that it does…
The property of the state, counties, and other municipal corporations, both real and personal, and such other property as may be used exclusively for agricultural and horticultural societies, for school, religious, cemetery and charitable purposes, may be exempted from taxation; but such exemption shall be only by general law.
Maybe.
Also, "exclusively" doesn't have to be 100 percent. It has to be "primarily," according to previous court rulings.
- Posted by Rich Miller 36 Comments


* Tribune…
An organization representing African-American firefighters and paramedics on Thursday asked the U.S. Department of Justice to expand its probe of the Chicago Police Department to include the Fire Department, saying hiring and disciplinary practices there are unfair.

The African-American Firefighters & Paramedics League of Chicago also demanded that Mayor Rahm Emanuel dismiss Fire Commissioner Jose Santiago, alleging that Santiago has failed to investigate claims that minority firefighters are disciplined and demoted unjustly.
* The city is apparently violating a court consent decree…
They say under that decree, the fire department should be 30 percent African-American – equivalent to the black population of Chicago.

But that's not the case – the group says of the total 4,800 firefighters and medics on the force, 783 are black – a total of just under 17 percent.

They say that's down from the 1,000 black members back in 1980.
* Their union contract codifies the consent decree…
In December 2005, the percentage of uniformed African-Americans on the Chicago Fire Department totaled 19.2 percent. At the end of 2015 it stood at 16.9 percent. […]

"The contract says that in all ranks we should have fourty-five percent of minorities. Thirty percent should be black, 15 percent should be Hispanic," Boggs said. […]

The fault in not meeting the 45 percent threshold these firefighters say lies not just with the City but also the union that represents Chicago firefighters. […]

"They agreed to this contract," said Boggs, "and they have never held the city accountable for the 45 percent."

In a statement Union President Tom Ryan said, "Local 2 has no control over the City's hiring process."

According to city figures, 92.3 percent of Chicago firefighters are male and 7.7 percent female.
The police and firefighter unions are playing right into Gov. Rauner's hands.
Sheesh.
* And the mayor, of course, stood by his fire commissioner…
"Since 1980 the DOJ has been working with the fire department on their promotion policy and we've been cooperating and working with them and we will continue to do that," he said.
Emanuel has pushed an innovative program to give city hiring preference to public high school graduates, which was, of course, opposed by the union.
- Posted by Rich Miller 20 Comments


* Several folks have been saying for weeks that the Chicago Police Department needs more Tasers. But as this article points out, Tasers may not be the real answer…
The logic sounds reasonable in theory. In practice, however, it's hard to tell if Tasers reduce shootings. In fact, Chicago expanded its use of Tasers in 2010 by 300%, but there was no recorded decrease in police shootings. On the other hand, police shootings have dropped overall since 2010.

Meanwhile, data elsewhere has shown that Tasers can actually increase the rate of deadly violence. A 2009 study by Dr. Zian Tseng found that when Tasers were introduced to more than 50 California Police departments, sudden death incidents rose by 600%. A late 2015 Stanford University meta-study of the current state of research didn't find such clear-cut evidence of harm, but also didn't find evidence that the introduction of Tasers by police forces reduced injury or death.

"Current research does not support a decline in police shootings with a broader deployment of Tasers," Louis Hayes, a working police officer who also trains fellow officers as part of the Chicago-based Virtus Group, tells Quartz via email. "Generally speaking, officers tend to use Tasers as an alternative to fistfights and wrestling matches, not as a substitute for deadly force."

Much more helpful than Tasers, Hayes tells Quartz, would be training that emphasizes "strategic thinking—specifically a philosophy that values distance, protective cover, containment tactics, and a calm demeanor."

In Chicago, Emanuel's touting of Tasers seems especially tone-deaf and confused. In early 2014, Dominique Franklin Jr., died after Chicago police officers Tased him during a minor arrest for theft. He fell, hit his head, and never woke up.
Distance, protective cover, containment and calmness.
Exactly right.
That way, a kid wielding a baseball bat isn't shot to death, along with an innocent bystander.
* Meanwhile…
Twenty-two Chicago Police officers have been disciplined — and there has been a dramatic increase in video and audio usage — in the one-month period since the lack of audio in the Laquan McDonald and Ronald Johnson shooting videos prompted a warning from the acting superintendent.

Punishments ranged from a mere reprimand to a three-day suspension or loss of leave, according to Police Department spokesman Anthony Guglielmi.

"The disciplines were not over a destruction of equipment, but officers failing to use the cameras properly, [i.e. syncing the audio; uploading videos at the end of their tour; inspecting the cameras to ensure they work correctly]," the spokesman wrote in an email to the Chicago Sun-Times. […]

"We've seen a 75 percent increase in user uploads of video at the conclusion of their tours," Guglielmi said.
* 2nd City Cop has a different take…
Or how about this - the Department, which always buys crap equipment from the lowest connected bidder, bought crappy equipment, then failed to maintain the crappy equipment. Then, since the political pressure became too much, actually paid MASSIVE amounts of overtime to the officers in the "technology section" to actually go out to the districts and perform the routine maintenance that had been lacking for the past two, three or four years, resulting in…..a sudden increase in compliance!

In Chicago? Never!!!
* And after just a week of the new year…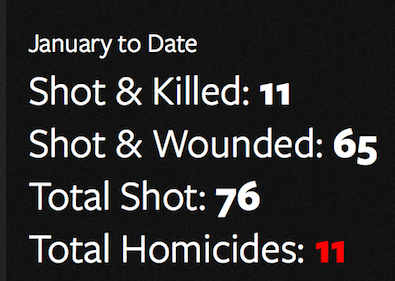 Through January 6th, a person was shot in Chicago every 2 hours, five minutes.
Oy.
Not to be Mr. Obvious or anything, but Chicago has to put this police scandal behind it with some real and immediate reforms so it can tackle the even bigger issue of gun crimes.
- Posted by Rich Miller 19 Comments


* Tony Arnold…
Laquan McDonald, the teenager shot 16 times by a Chicago police officer in October 2014, was one of eight wards of the state killed in street homicides last year, according to a newly released report by the watchdog of Illinois' child welfare system. That number is more than twice as many as in any other year of the past five.

Denise Kane, the inspector general of Illinois' Department of Children and Family Services, singled out the eight wards killed in street homicides in her latest annual report. She found that in the same time period the previous year, three wards were killed in street homicides.

Kane's report says wards killed in the state's 2015 fiscal year, which ran from July 1, 2014, to June 30, 2015, were teenagers, with the youngest being 14. In Illinois, wards can age out of the child welfare system at age 21. […]

In a statement, Andrew Flach, a spokesman for DCFS, wrote, "The Department is aware and concerned any time a child in the care of the state dies. However, the statistic should serve as a reminder that children in the care of the state are no more or less immune to the increased threat of street violence than any other child in the state."
That statement appears a bit heartless, no?
- Posted by Rich Miller 15 Comments


* They ain't calling him Rahmbo any more…
Mayor Rahm Emanuel on Thursday ordered an independent "third-party review" followed by retraining in the Law Department division that employed a senior attorney who resigned in disgrace after concealing evidence in a police-shooting case.

Two days ago, the mayor told reporters it was "not possible" that his Law Department was part of the "code of silence" he has openly acknowledged exists in the Chicago Police Department.

When asked whether the Law Department should be included in the sweeping federal civil rights investigation of the Police Department he once called "misguided," Emanuel said. "No. They're working where they are."

On Thursday, the mayor who has shifted gears repeatedly in the ongoing furor over his handling of the Laquan McDonald shooting video appeared to change his tune — again.

"I don't direct the Justice Department. But if they come [into the Law Department], we're going to cooperate and work with it. But there's work we can get done . . . I'm going to get going on what we need to do," the mayor said.
His initial response to questions about expanding the civil rights probe to include the law office was eerily similar to his response to the probe of the police department. And the flip-flop took about the same time to manifest itself.
Apparently, he did little to no reflection during his Cuban vacation.
- Posted by Rich Miller 20 Comments


* James Krohe writes: "Does the French Revolution hold lessons for Citizen Rauner?"…
Drowsy after a heavy holiday meal, I settled in to finish Stefan Zweig's classic 1934 biography of Marie Antoinette. As I drifted in and out of sleep, the Versailles in Zweig's account of the final days of Louis XVI and his queen faded and was replaced in my imagination with the people's Versailles at Second and Monroe, which shares with the palace outside Paris the same elaborate etiquette, the same sycophancy, the same ambitious courtiers – and the same resentful crowds outside the gates, yearning to pull it down.

One of them, of course, is Bruce Rauner, who famously, bought himself a governorship so he could bring down from the inside a regime that is complacent, corrupt and sclerotic. He did not come to Springfield to head a government, but to foment an insurrection. When Rauner looks at the unionized public sector workers and their politician-protectors, he sees the privileged clergy and the aristocracy of old France. The government that served them was tottering under the weight of debt left by decades of foolish extravagance, and the petit bourgeoisie was up in arms about paying the taxes needed to retire it. The only interesting question was, who would push it over, and in what direction?

As in 1770s France, Illinois is split between liberals who would reform a bad system by altering the basic contract between public workers and government, and those who distrusted reform because it might drain the energy from the fight they really want, which is to alter the basic contract between citizen and government. Rauner is usually characterized by the press as merely an unconventional politician, but I suspect he prefers to think of himself as a revolutionary of sorts, like the many French aristocrats who demanded liberty in the name of The People. He is devoted not to a career but a cause; if by winning the revolution he loses the office, he will be satisfied. […]

I began to wonder whether the revolutionary generation portrayed by Zweig has other counterparts at the Statehouse. If Rauner embodies the ambitions of the Commune, Mr. Madigan is a Girondist to his core. That faction stood for the politics of the legislative chamber; Rauner will take comfort in the fact that the Girondists were defeated by the politicians of the streets, who roused the ignorant against them with half-truths and executed them en masse during the Reign of Terror, which, if things work out Rauner's way, will happen again on Election Day, 2016. […]

But temperament is not a program. The French Revolution was a profound reordering of society from top to bottom, but the new Illinois imagined by Rauner the governor utterly lacks that kind of boldness. Rauner seems more likely to end up as our Jacques Necker, France's director general of finance in the late 1770s, who aimed to restore the finances of the state but ended up proposing only puny efficiencies of the sort contained among the recent recommendations of Rauner's consolidation task force.
You have to go read the whole thing. You may or may not agree with him, but it's very cleverly written. Love me some Krohe.
* And John McCarron invokes French history in his own column about the feud between Gov. Rauner and Mayor Rahm Emanuel…
After all, the mayor has home field advantage in this phase of the game. This is politics. And when a guy who you thought was your friend, a guy who you thought would help you out of a jam, turns out to be neither, well, it's time to start counting votes, taking names, calling in chits.

The mayor is pretty good at that. Just ask former U.S. House Speaker Newt Gingrich or former mayoral candidates Gery Chico and Jesus "Chuy" Garcia.

Three hundred years ago there was a brilliant but low-born French poet and playwright whose talents earned him the patronage and companionship of nobility. Until, that is, he offended the Chevalier de Rohan, who proceeded to have the young writer horsewhipped.

Rahm Emanuel may be no Voltaire, and Chicago no pre-Revolution Paris, but now that the Chevalier de Winnetka has reminded the mayor who he is, this contest may be headed to a whole new level.
Except there isn't much Rahm can actually do to Rauner.
- Posted by Rich Miller 27 Comments


* Jay Levine during the break…
Gov. Bruce Rauner is looking into moving his Chicago office from the James R. Thompson Center to the Michael A. Bilandic Building across the street.

CBS 2 Chief Correspondent Jay Levine reports the governor said he wanted to complete a sale of the Thompson Center by late next year, but appears ready to move out a lot sooner.

A spokesman for the governor concedes "the Bilandic building is among the options being explored, but no decisions have been made."

Two sources tell us the governor himself recently toured the building checking out possible new digs.
Sneed is told Rauner's minions have spent a lot of time scurrying around the Bilandic Building's 10th floor since the governor's massively expensive tented vacation en famille on Morroco's Saharan sands.
At a time when displaced families in southern Illinois are complaining about how the state stopped the home buyout program in their flood plain, this move probably isn't a great idea.
- Posted by Rich Miller 41 Comments


* The basic message here is that the people organizing the splashy, made for TV Chicago protests might want to start redirecting their energies into the real work of voter registration and GOTV. Greg Hinz…
[Cook County State's Attorney Anita Alvarez] has been attacked so often and her office stumbled on so many big cases that her victory road, while real, is narrow. She likely needs her two foes to run fairly close to each other.

[Challenger Kim Foxx] is picking up some major political backing, with township committeemen in West and South Cook County gravitating toward her. But what she really needs is an outpouring of rage from the African-American community and, so far, that has not translated into a voter registration drive in black neighborhoods. Foxx dearly needs to move what's been happening in the streets to the polling place.
There's just a little over 2 months left until primary day. If Alvarez wins, the protesters' cause is gonna be badly damaged, despite all the goofy bloviators in the national media.
- Posted by Rich Miller 21 Comments


SIU has borrowed against several reserve funds, heavily reduced administrative and discretionary spending, laid off about 25 employees and eliminated or left vacant another 50 positions. The university has stopped operating programs — such as research programs and training programs — that were funded by state grants but are no longer solvent because the state money has dried up and isn't getting replaced. It's covering the cost of MAP grants for about 7,700 students (the grants can reach $5,000 per student each year), but is warning recipients — all of whom are low income — that if the state doesn't fund the grants, they may well be on the hook for the money. […]

Western Illinois University has spent much of its general reserves and is now borrowing from reserve funds that were never expected to be used for operating costs — like transportation funds that were earmarked for a new parking lot or health center funds set aside for a specific purpose. The result is that some areas of the university are having to delay projects, even though those areas do not depend on state funding. […]

WIU, in response to years of slowly reducing appropriations and enrollment declines (the university's enrollment has dipped from roughly 13,000 students in 2006 to 11,100 students this fall), offered early retirement incentives to nearly 60 employees and plans to lay off around 50 faculty members in the near future. It has also begun exploring cutting academic programs with low enrollment. In the summer, EIU also announced layoffs. […]

The University of Illinois System has an administrative hiring freeze in place while it awaits state funding. This year the system expected to get $62 million in MAP grant funding from the state. Its appropriations last year were $660 million. Like other universities in the state, the system is spending down reserves, reducing spending and looking for operational efficiencies as it goes into a second semester without state funding, according to a spokesman. […]

For example, covering MAP grants for the year has cost DePaul University in Chicago about $17 million. At least one private college, the Illinois Institute of Technology, had to deny students MAP funding for the spring semester because it was uncertain it could cover the costs and remain financially solvent. Additionally, some community colleges aren't funding the grants, either. The result, officials say, is devastating for socioeconomic and racial diversity. (The Illinois Senate did pass a bill that would have funded MAP grants, but the measure has not passed the House of Representatives.)
Not to mention enrollment declines of 4 percent at SIU Carbondale this year.
- Posted by Rich Miller 52 Comments


* Reuters…
Jan 7 Illinois' ongoing state budget battle is being downplayed by Governor Bruce Rauner's administration ahead of a $480 million bond sale - the state's first in 20 months.

An impasse between the Republican governor and Democratic lawmakers has left the fiscally shaky fifth-largest U.S. state without a budget for the fiscal year that began July 1. But an online investor presentation posted Dec. 30 for the Jan. 14 bond sale gave a generally rosy assessment of Rauner's dealings with a Democratic-led legislature.

Illinois Budget Director Tim Nuding emphasized actions taken to patch a hole in the fiscal 2015 budget and provide some fiscal 2016 funding to local governments, lottery winners, federal grant recipients and others.

"Another example of the legislature working together to solve problems," he said, without discussing the factors blocking a budget accord. Those involve Rauner's push for collective bargaining curbs, legislative term limits and redistricting changes, and business-friendly moves like making it harder for injured workers to collect damages from their employers.
* But the Bond Buyer looks past the feel-good investor presentation and focuses on a different document…
Illinois' first bond offering statement in 20 months prominently lays out a trove of warnings about the state's stressed fiscal condition, from failed pension reforms and budget gridlock to its weakened credit and negative swap valuations. […]

"Particular attention should be given to the investment considerations described below which, among other things, could affect the financial condition of the state and therefore result in a repayment risk for investors, and could also affect the liquidity/market value of the bonds after they are issued," the offering statement warns. […]

"The state's financial condition has been materially adversely affected by the budget impasse," says the offering statement which additionally warns that the bill backlog is expected to grow significantly. […]

"The state's financial condition is now materially worse than the state's anticipated financial condition" if the reforms had been upheld, the offering statement says. […]

Additionally, liquidity and bank risks are posed by the state's $600 million of floating-rate paper from a 2003 issue, although the variable-rate debt represents just a small piece of the state's $26 billion GO debt portfolio. […]

The offering statement reports that the state may seek to undertake a cash flow borrowing […]

The offering statement reports that as the state rating falls, fees of the credit providers and interest rates on any advances adjust.
Whew.
Also, cash flow borrowing makes sense when money is so tight, but they resisted doing it all last year.
…Adding… Tribune on a report from S&P…
The agency said that while "it might seem obvious" that the state's credit rating should be downgraded from its current A- position — already the lowest in the nation — Illinois has provided data that shows it has "sufficient internal liquidity" to make debt payments through the end of the current spending year, which ends June 30.

"A budget crisis does not necessarily constitute a debt crisis," S&P wrote. "From a global ratings scale perspective, we still view the state's ability to meet its debt obligations as they come strong… In fact, to formulate an argument otherwise, in our view, requires overemphasizing the state's budget politics relative to its fundamental ability to pay its debt service."

Still, the agency warned that while the state's credit is not worthy of a downgrade at this time, "we also do not currently see a pathway to upward rating migration anytime soon." S&P noted that continued spending despite a drop in revenues following the 2015 income tax rollback means Illinois could face a bill backlog of nearly $10 billion, noting a large accumulation of bills by the end of the budget year "could tip the state's rating lower."
- Posted by Rich Miller 90 Comments