* This made the rounds of social media over the weekeend…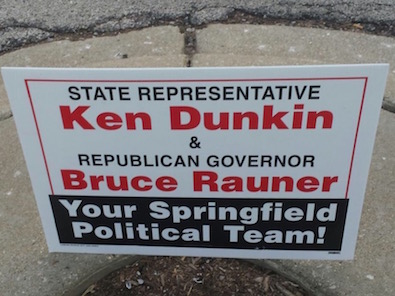 Heh.
* But Dunkin ain't giving up. Far from it…
State Rep. Ken Dunkin wants House Speaker Mike Madigan to let legislators vote on a bill that would eliminate red-light cameras and speed cameras in Illinois, pointing to the recent federal bribery conviction of a former Chicago official who helped establish the city's red-light camera program.

"All I'm asking today is for Speaker Mike Madigan to call House Bill 141 that's been held hostage in the Rules Committee since last spring," Dunkin, a South Side Democrat, said at a news conference Sunday at the corner of 76th and Stony Island in the shadow of a red-light camera. […]

Dunkin claimed the cameras are a money-making scheme, do not improve safety and were born of corruption that was evidenced by the recent conviction of former Chicago Transportation Department official John Bills, who accepted bribes to steer business to the company that established red-light cameras in Chicago. […]

"There's no (legislative) member in their right mind who would not support this legislation," said Dunkin, who noted the highly unpopular red-light and speed camera programs allow for residents "to be gouged and to be played by the scam of the century."
That's a smart move. Obviously, red light and speed cams are hugely unpopular. Whenever former West Side state Sen. Rickey Hendon had a tough race (or was doing ads for someone who did) he'd always highlight his (or his candidate's) opposition to red light cams. It's a great issue.
* However, there are two glaring omissions in the above story.
1) During the 2011 veto session, the General Assembly took up this issue…
Chicago Mayor Rahm Emanuel is lobbying hard for a bill that would allow the city to use red light cameras to catch speeders near school zones and parks.

The measure quickly passed the Senate two weeks ago, but some representatives say it could face stiffer opposition in the House, which is expected to vote this week.
The House passed that bill, SB 965, by a vote of 64-50. Wanna guess who one of those "Yes" votes was in that relatively close roll call? Yep. You're right.
2) The vast majority of spending in Dunkin's primary has been done by a group called IllinoisGO. That group is run by Greg Goldner, who was hired early on by RedFlex…
The O'Malley commissions also went to pay for an Arizona condominium, a speedboat, a Mercedes-Benz, even Bills' June 2011 retirement party when he left the city and soon took a job on Redflex's payroll working with Resolute Consulting. The consulting firm, owned by longtime Chicago political power broker Greg Goldner, was hired by Redflex around the same time the company was pushing to expand its red light cameras to include speed cameras.
Just to be super clear here, nobody has ever suggested that Goldner did anything unethical or illegal. I'm not making that suggestion either, and neither should you.
But at least we now know that IllinoisGO is most definitely not coordinating with Dunkin's campaign messaging.
/snark
28 Comments



















































































Sorry, comments for this post are now closed.