* Tribune…
Marty Durkan, who's running as a Democrat for a water reclamation board seat, spent around $50,000 on a mailing for Ald. Michelle Harris, who's the Cook County party's endorsed candidate for Circuit Court clerk.
* From a reader…
A front and back mailer I got today. What Bruce Rauner has to do with the Cook County Circuit Clerk or the MWRD I have no idea, but it must poll well or something.

Also, in the 10 years I've lived in Cook County I have never voted in a Democratic Primary so they may want to check their universe sampling.

I was honestly confused what the [heck] I was getting until I read it word-for-word which is never good for a mail piece. And why is it paid for by Durkan (which is an unfortunate name to have for a Democratic candidate in Cook these days)? Since this obviously went to a lot of people (see above) couldn't they have funneled it through the state party and saved a ton of cash?
Rauner doesn't exactly poll well in Cook these days.
* The mailer…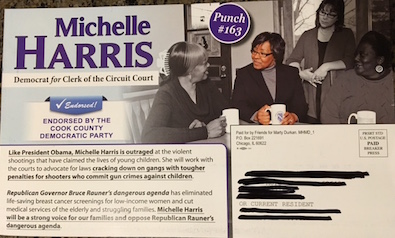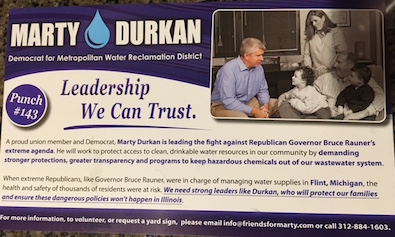 Click here to help buy presents for LSSI foster kids!
19 Comments
























































Sorry, comments for this post are now closed.