* Veto message…
To the Honorable Members of
The Illinois Senate,
99th General Assembly:

Today I veto Senate Bill 2043 from the 99th General Assembly, which would explode the State's budget deficit, exacerbate the State's cash flow crisis, and place further strain on social service providers and recipients who are already suffering from the State's deficit spending.

SB 2043 Would Exacerbate Our Budget and Cash Flow Deficits

Senate Bill 2043 would appropriate $721 million for the Monetary Award Program (MAP) and community colleges programs. Senate Bill 2043 proposes the same funding levels for these programs as were included in the unconstitutional, unbalanced budget passed by the General Assembly last year, which was opposed by many legislators, including Democrats, and which I vetoed.

Despite its constitutional obligation to balance the budget, the General Assembly has not put forward a plan to pay for these programs, whether through spending reductions, revenue, or cost-saving reforms. The Governor's Office of Management and Budget concluded that Senate Bill 2043 would add $721 million to the State's budget deficit.

Today, the Comptroller reports 48,000 vendor vouchers waiting to be paid, a $7.2 billion backlog of bills, and a grand total balance of $145 million in the general funds. This bill would spend money the State does not have.

Moreover, Senate Bill 2043's unfunded spending would significantly exacerbate the State's current cash flow challenges. To protect and prioritize General State Aid payments, the Comptroller would be forced to further delay payments for other goods and services across State government, putting social services further at risk. We have already seen that the State's deficit spending is harshest to social service providers and our State's most vulnerable residents. Senate Bill 2043 would further delay those payments at a time when those recipients are already under fiscal stress.

A Better, Constitutional Way to Fund Higher Education

The Constitution and our obligation to taxpayers require a balanced budget. Recognizing this, legislators in both the House of Representatives and the Senate put forward a plan to pay for higher education spending – not just those programs included in Senate Bill 2043, but also funding for our public universities. I thank them for their leadership.

House Bill 4539 and Senate Bill 2349 would appropriate $1.6 billion for higher education programs, while Senate Bill 2789 would authorize the Governor, Comptroller, and Treasurer to identify and implement funding by reallocating funds and reducing spending in other areas. Together these bills would fund MAP, community college programs, and our public universities, without exploding the deficit or exacerbating the State's cash flow crisis. This is a far more fiscally responsible – and constitutional – plan for funding higher education.

Therefore, pursuant to Section 9(b) of Article IV of the Illinois Constitution of 1970, I hereby return Senate Bill 2043, entitled "AN ACT concerning appropriations", with the foregoing objections, vetoed in its entirety.

Sincerely,

Bruce Rauner
GOVERNOR
I imagine we'll be seeing some react soon.
*** UPDATE *** Responses will be added as they come in. Illinois Treasurer Michael Frerichs…
"The Governor hurt the working poor and local taxpayers today."

"Last year, we made a promise to 130,000 students and their families that we would help pay for college so they could achieve a better life. I don't know when it became fashionable to not honor a promise."

"Not doing so also hurts taxpayers. Community colleges are funded with local tax dollars. This veto ignores our responsibility to local governments, needlessly shifts this burden to local taxpayers and flies in the face of support for local control."

"Yes, our state faces financial challenges. I agree difficult decisions are necessary. But the decision to ignore people who have demonstrated a willingness and ability to help themselves does not reflect my priorities or the values of our great state."
* Senate President Cullerton…
"I'm disappointed in the governor. He had a chance to back up his promises with funding. Instead, he let these students down, again. I don't understand how he can propose funding student financial aid on Wednesday, and then turn around and veto it on Friday."

The Senate President will discuss with fellow Senate Democrats what steps to take next regarding the legislation.
* Rev. Dennis H. Holtschneider, C.M., president of DePaul University…
"DePaul University is disappointed that the political impasse has resulted in the state's failure to meet its obligation of providing MAP awards to students in the state of Illinois. In keeping with our Catholic Vincentian mission, DePaul is announcing today that it will honor the Monetary Award Program (MAP) grants awarded by the Illinois Student Assistance Commission to DePaul students this year. That means 4,500 current DePaul students can be certain the university will stand with them during this impasse.

"In addition, thousands of high school students in Illinois are currently choosing which college to attend in the fall. Uncertainty about MAP funding should not create additional anxiety in making the college choice that best meets their academic and career goals. Therefore, DePaul will honor the MAP grant next year for all new entering students — freshman or transfer – who applied for financial aid by the cutoff date to be announced by the Illinois Student Assistance Commission, if the state continues at a budgetary impasse into next year.

"Given our mission, we also will do as much as we possibly can to maximize our support next fall for all our students who choose to continue to pursue degrees at DePaul.

"DePaul makes this decision with the full expectation that the state of Illinois will ultimately have a budget that funds the MAP program, as it has for decades prior to this year. DePaul calls on Illinois' elected officials to put aside political differences for the good of all students in Illinois who use MAP to become productive and employed citizens of our state.

"The mission of DePaul University is to provide a world-class education to all who come through its doors, especially those with great financial need and those who are the first in their families to attend college. For decades the state of Illinois and the federal government have been partners in serving low-income students. Until Illinois gets its fiscal house in order and implements a sustainable budget, DePaul must step in and make every effort to assure its students that DePaul will support them the best we can."
* Sen. Gary Forby…
"I am disappointed in the governor. He had a chance to help students who are struggling economically and give them the chance to work toward a better and brighter future," said Forby. "It is important we continue to work for Illinois students so they can be competitive in the workforce. I wish the governor would have seen eye to eye with us on this one."
* Illinois Federation of Teachers President Dan Montgomery…
"Governor Rauner's veto of tuition assistance for low-income students and funding for community colleges was expected but incredibly disappointing. It's also hypocritical coming just two days after he delivered a speech touting education as his top priority while failing to mention his budget proposal included a 25% cut to universities and colleges across the state. Refusing to ask the very wealthy to pay a dime more while students sacrifice and suffer at his hand reveal Governor Rauner's true priorities, and investing in working families isn't one of them."
* Sen. Daniel Biss…
"Today, Gov. Rauner vetoed Senate Bill 2043, which would have provided a lifeline to the 130,000 low-income students who rely on the MAP grant, as well as to Illinois' cash-strapped community college system. The governor indicated that rather than fund these programs without a dedicated revenue source, he would prefer that the General Assembly pass a bill that gives him the authority to find the money elsewhere in state government.

"A better approach would be for him to propose a balanced budget of his own, with a clear spending plan and adequate revenues to pay for it. For some reason, Gov. Rauner refused to do this during his budget address Wednesday, but as far as I'm concerned, late would be better than never."
- Posted by Rich Miller 88 Comments


* The conservative Heartland Institute complained about Gov. Rauner's budget address this week, issuing several comments which pointed out what they considered to be a glaring Rauner omission…
"I applaud what Gov. Rauner is trying to accomplish with his proposed budget, but I'm skeptical anything will change in Illinois' political culture that will undo this state's rapidly approaching fiscal reckoning.

"As for the education portion of the address, I would have preferred that the governor spent less time pointing how much he is increasing funding on education, and instead spent more time speaking on how he would like to improve school choice options for Illinois families.

"Hearing him say that one day he would like to see every child in Illinois have the opportunity to attend the school of their choice, including secular and religious private schools, without their family being penalized financially would lift the spirits of school choice proponents all over the state."

Tim Benson
Policy Analyst
The Heartland Institute

"Gov. Rauner's call for an increase in education funding fulfills a promise from his run for office. While this is a realistic approach given the dynamics in the Illinois legislature, it is a missed opportunity to call for more education choice.

"More money will not provide all students access to a good education. Education choice is the only avenue to quality educational access for Illinois children. Illinois must embrace full education choice. Until it does teacher unions, district administrators, and politicians will continue calling for increased school funding no matter how much they receive."

Lennie Jarratt
Project Manager, Education
The Heartland Institute

"Illinois is in the midst of an eight-months-long impasse over the 2016 state budget between Republican Gov. Bruce Rauner and the Democratic legislature. Rauner's speech has not soothed the residents of Illinois. According to a 2013 Gallup 50-state poll, Illinois residents are the least confident in their state government, the lowest among the 50 states by a significant margin. This week's budget address could not have possibly increased the confidence of a single resident of Illinois."

MaryAnn McCabe
Government Relations Manager
The Heartland Institute
* Today, speaking to reporters, Rauner said this…
"I want every parent to have a choice about its schools. Whether they're low income, or high income, they should have good options. I'm a passionate believer in choice for parents."
He has often said this, but I suppose it was odd that he didn't include it in his budget address.
- Posted by Rich Miller 20 Comments


* CBS 2…
The governor said the way to fix the [Chicago Public School] district's budget woes it is a state takeover of the school system, something the Illinois General Assembly has not authorized.

"If Chicago Public Schools continues just to say 'Send cash, we're out of money, we're going to have to fire thousands of teachers,' I think the legislature will say, 'No, that's not a good scenario. We should have the state Board of Education take over.' I believe that's very likely," he said. […]

"I personally believe once the legislature really understands what's going on, they will give us that authority. I believe that that is coming and that will happen. Once the facts are known, I believe that they'll give us that authority. There are some lawyers who believe that the state board does have the authority themselves unilaterally to take over. I'm not sure I agree with them. There may be a legal fight about that. I don't know, I'm not an attorney," he said.
* But CPS' borrowing and its budget cuts have bought it some time…
Springfield Democrats will be able to wait out Rauner a while longer — likely until the Legislature's post-election veto session in November, under the timetable Claypool suggested.

"We've bought ourselves some time," Claypool concluded. Finances could get a little tight in July but then the district will get its second-half property tax payment, he said. "The irony is that the governor who's calling out CPS leads a state with $7 billion in bills and can't pay them."

In the phone call, Claypool, who has been arguing that the state's current aid formula shortchanges CPS, conceded that the system's reprieve was temporary.

He also said that "hundreds of millions of dollars" in further management efficiencies are coming but will take perhaps a year to flesh out and implement. He declined to indicate what they are but said they're not from closing more schools.
* Raw audio from the governor's press conference…
- Posted by Rich Miller 19 Comments


* From the Illinois Policy Institute's news service…
Should Illinois raise the legal smoking age from 18 to 21?

A proposal by Sen. John G. Mulroe, D-Chicago, would do just that.

Mulroe, surrounded by public health advocates, pitched the idea Thursday in a news conference. He said the change would serve the public well for several reasons, among them:

* Smoking is deadly, and the proof's available on every pack of cigarettes in the form of a warning from the U.S. surgeon general.

* Smoking is expensive to the individual. A two-pack a-day habit in some areas (notably Chicago) can run a person $24 a day or more than $8,700 a year, Mulroe said.

* Smoking is expensive to the state. The senator and public health advocates said $5 billion annually is spent in Illinois treating smoking-related illnesses, and $2 billion of that comes from taxpayer-supported Medicaid funds.

* Raising the legal age for the purchase and possession of tobacco is a research-proven way to cut use among young people. Mulroe said research also shows that if people make it to 21 without smoking, they likely never start.

Mulroe said he's not targeting smokers, many of whom have told him they support raising the legal age.

"The smokers tell me, 'It's a good bill, John,'" and when he asks why, they respond, "I wish I'd never started smoking."
* The Question: Should the smoking age be raised to 21? Take the poll and then explain your answer in comments, please.
panel management
- Posted by Rich Miller 37 Comments


* Why the heck would he release this?…
An in­tern­al poll con­duc­ted by Lin­coln Park Strategies for state Sen. Na­po­leon Har­ris (D), ob­tained by the Hot­line, showed his Rep. Tammy Duck­worth (D-08) lead­ing the primary with 64% of the vote. Former Urb­an League CEO An­drea Zo­pp (D) took 6%, and Har­ris took 3% (Feb. 4-7, 800 LPVs, +/-3.5%).

A memo to Har­ris from the poll­ster said, "Duck­worth is in a strong po­s­i­tion (prob­ably a little stronger than I would have guessed)" but "there is tech­nic­ally a path."
Technically a path? He's at 3 percent in his own poll. Hilarious.
The full poll is here. Harris even released the results of negative push questions on himself. For instance, 65 percent said they'd be less likely to support a candidate who did not support gay marriage. And 84 percent said they'd be less likely to support a candidate "who has been accused of underpaying their employees."
Oof.
That "path" looks awful tiny to me.
* According to the poll, voters are gonna stick with Duckworth…
And on a scale from zero to one hundred percent, where 100 would mean you are absolutely certain and a 50 would mean you are unsure, what would you say are the chances you will end up supporting Tammy Duckworth in the Democratic primary election for U.S. Senate this March?

Very strong chance (90-100%) 64%
Strong chance (70-89%) 18%
Fair chance (51-69%) 4%
Even chance (50%) 13%
Don't know/refused (0-49%) 2%
* Favorables…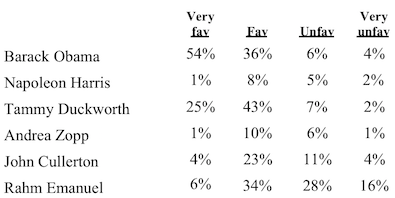 Obama's favorables are still huge among Democrats here, Rahm's aren't as bad as I thought they'd be and Harris and Zopp are almost non-entities.
* Presidential…
Hillary Clinton 54%
Bernie Sanders 31%
Other 2%
(Undecided) 11%
(Refused) 1%
* We don't usually get full polls like this, so let's look at some other things…
I am now going to read a few descriptions of different characteristics a candidate for U.S. Senate might have. Please rate each on a scale of 0 to 10, where 10 means that characteristic is a very important characteristic for a candidate for Senate to have, and 0 means that characteristic is not important at all for a candidate for Senate to have. You may use any other number between 0 and 10.
The responses…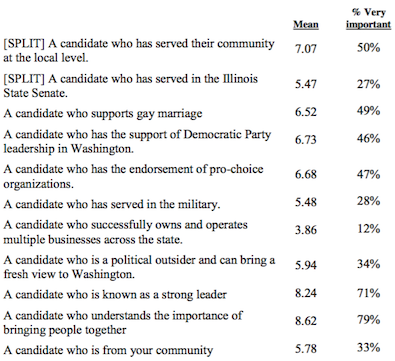 Illinois Democratic voters apparently say they want strong leaders who can bring people together. And they're not much interested in state legislators, "outsiders" and those who own multiple businesses. Gee, I wonder why?
/snark
* And…
Now I am going to read you a series of statements supporters of candidates running for U.S. Senate have made. Please rate each on a scale of 0 to 10, where 10 means that you agree strongly with that statement, and 0 means you do not agree with that statement at all. You may use any number between 0 and 10.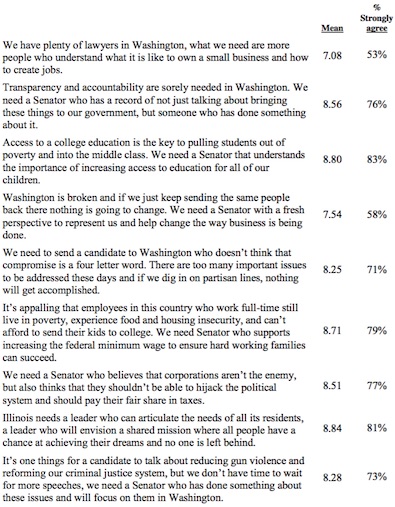 Again, the state's Democratic voters want people who aren't afraid to compromise, aren't anti-business but aren't in the pockets of the business lobby.
- Posted by Rich Miller 18 Comments


* From a letter to the editor in the Freeport Journal Standard…
The Floating Boat Dock with Canoe/Kayak Launch is in jeopardy of not getting installed at Tutty's Crossing again in 2016. Our Illinois Department of Natural Resources' Boat Area Access Development Grant of $64,600, approved in March 2014, will not release the funds until an Illinois State Budget is approved. It was reported that Illinois House Speaker Madigan may not bring a budget to the floor until November, after the elections. So, no Floating Boat Dock with Canoe/Kayak Launch in 2016.
What??? No Floating Boat Dock with Canoe/Kayak Launch at Tutty's Crossing in 2016? Say it isn't so!
/snark
- Posted by Rich Miller 51 Comments


* From the Illinois Policy Institute's news service…
The group pushing for a voter referendum to change how political maps are drawn in the state say recent opposition to their proposals is misleading and shows the naysayers are running scared.

House Speaker Michael Madigan was asked if President Obama's recent support of redistricting reform the Commander in Chief said should allow voters to pick their politicians and not the other way around is an easy concession for Governor Bruce Rauner.

Madigan was ready with a letter from the group The People's Map, which raises concerns about the Independent Map Amendment Group's proposals.

Madigan said the Independent Map Amendment proposal "has components that work against established constitutional and statutory requirements on minority representation on redistricting."

"The Independent Map proposal would negate the protections that were put in place," Madigan said. "There's no questions about that." […]

Madigan said the Independent Map group has ulterior motives.

"What the proponents of the Independent Maps want," Madigan said, "is to change the underlying law and constitutional requirement in Illinois to advantage themselves in federal court action. That's what they want."

[Jim Bray with Independent Maps] said what Madigan and other opponents want is to hold on to their map making power.
So, what's MJM talking about when he says the Independent Maps group has ulterior motives?
* The full document Madigan referenced can be read by clicking here. An excerpt, with some emphasis in the original and some added…
When drawing a map today, the General Assembly must follow federal law. Federal law requires that the map must not dilute a racial or language community's ability to elect candidates of its choice. However, state law is more stringent in that it requires the General Assembly to also maximize the influence of racial and language minorities, including a requirement in the Illinois Voters Rights Act that the General Assembly draw influence and cross over districts.

Proponents of the Independent Map proposal claim the proposal protects the interests of minorities, but it actually reduces minority interest and establishes a lower standard than currently required in Illinois. Under their proposal, the map should not "dilute racial or language community's ability to elect a candidate of its choice." This is essentially the federal law, which every state is already obligated to follow and is a lower standard than current state law.
Interesting.
And nobody, but nobody has bothered to cover this because if a reformer says something it must be true.
This complaint deserves a fair hearing and I'll post a reply on this particular topic if Independent Maps sends me one.
* Also…
The proposal eliminates the current requirement that districts be compact, which means the Commission can gerrymander and create odd shapes to pack minorities in fewer districts.
Go read the whole thing and tell us what you think.
*** UPDATE 1 *** The Independent Maps response avoids the question…
The Independent Map Amendment is entirely consistent with the state statute People's Map is referring to and elevates the importance of protecting racial and language minorities by codifying in the Constitution specific protections for these groups during the redistricting process.

State and federal laws can be changed at any time. By putting these protections directly into our state constitution, we are creating another layer of protection for minority voting rights.
*** UPDATE 2 *** They sent another response…
The proposed amendment would put minority voting protections in the Illinois Constitution for the first time. The Illinois Voters Rights Act would remain in statute and is not in conflict with the protections in the constitutional amendment. The counter argument from the People's Map is that the IVRA requires influence and crossover districts. Criteria #1 in the proposed amendment includes those as well. It states "(1) the redistricting plan shall not dilute or diminish the ability of a racial or language minority community to elect the candidates of its choice, including when voting in concert with other persons;" That's what influence and cross over districts are.
Still doesn't address the issue.
- Posted by Rich Miller 35 Comments


* Tribune…
The state's debt to Chicago's Catholic Charities, Illinois' largest social services agency, now tops $25 million because of the state's ongoing budget impasse, forcing the agency to do something it's never done before — appeal to priests and parishioners to lobby politicians in Springfield on behalf of the needy.

The cash reserves that have kept the archdiocese agency alive until now are quickly running dry as the state falls further behind in paying its bills. Services that for years the state has hired the charity to provide are not covered by the budget proposed Wednesday by Gov. Bruce Rauner, said Rep. Greg Harris, a Chicago Democrat who heads the House Human Services Appropriations Committee.

In a letter going out to parish priests Friday, Monsignor Michael Boland, president and CEO of Chicago's Catholic Charities, is urging parishioners to remind their legislators that lives are at stake if the financial crisis isn't resolved. The agency provides services across Cook and Lake counties, from in-home care and early childhood education to feeding the homeless and substance abuse treatment.

"The safety net is fragile to begin with in social services," Boland said in an interview Thursday. "Our elected officials have to realize these are human beings we're talking about — human lives. Once these things start to unravel, it creates less options for people. … For us, some of these situations can be life or death."
* I asked Catholic Charities for the appeal they're sending out. Here it is…
Every 30 seconds someone counts on Catholic Charities for help. We are now asking for your help. Please lend your voice to advocate for the State of Illinois to end its budget stalemate and pass a budget that cares for the poor and most vulnerable in our communities.

Catholic Charities is currently owed more than $25 million by the State of Illinois - a number that grows by at least $2 million per month.

Please take time today to call your state elected officials with this simple message, "I am a voter in your district. I am contacting you on behalf of the poor and vulnerable people who depend on our state's safety net of human services, especially the more than 1 million people served by Catholic Charities of the Archdiocese of Chicago."

If you do not know who your state representative and senator are, please call the State Board of Elections at (217) 782-4141 or visit www.elections.il.gov and click on "New District/ Official Search." You can find more information and a template advocacy letter at www.CatholicCharities.net on the homepage.
So far, they're being pretty polite. But if they crank this up full bore, watch out.
*** UPDATE *** Gov. Rauner was asked about this today and said, essentially, that Catholic Charities ought to put pressure on Madigan…
"I'm glad they're doing it… Speaker Madigan is holding up the entire process. Unilaterally, one person is holding up the process. Many Democrats in the General Assembly have told me in private they'd like to work out a grand compromise. President Cullerton, in private, we could've already worked things out. But every time we work out a compromise on an issue, like this pension bill that he and I agree [on]… Speaker Madigan? Crush it. Hold it off. One person, one person is holding up progress here. And that one person is trying to force a big tax hike, but he won't support a tax hike unless Republicans vote for the tax hike. This is not right. This is not gonna happen."
- Posted by Rich Miller 39 Comments


[The following is a paid advertisement.]
Despite increased costs resulting from the regulatory environment, credit unions are the only financial institutions which overwhelmingly offer free checking accounts. A recent study by Moebs Services confirmed that nearly 74% of credit unions offer free checking to their members, while only 46% of banks offer the same. In the aftermath of the financial crisis, new regulatory requirements have significantly increased compliance costs for all financial institutions. For many, the cost has been passed on to customers in the form of fees associated with financial transactions. However, credit unions continue to offer financial services at the lowest possible cost – sometimes even free – to consumers.
Experience the credit union difference. Visit ASmarterChoice.org to locate a credit union near you!
- Posted by Advertising Department Comments Off


* We often see critiques of Illinois from right-wing groups like the Illinois Policy Institute or business groups like the NFIB. But here's one from the left end of the spectrum. Marilyn Katz writing in In These Times…
The past few years have been rough on the people of Illinois. By the end of 2015, Illinois had lost more than 1 million jobs, 795,700 of them during the Great Recession of 2007-2009 alone. At the end of the "recovery," Illinois has experienced a net loss of 83,900 private sector jobs since the beginning of 2007—losses that continued with another 3,000 jobs lost in 2015.

But the gross numbers don't tell the whole story. Not only have jobs been lost; a different, poorer workforce as a whole has emerged.

In manufacturing, construction, transportation and information services, 287,400 jobs were lost during the recession years. In the main, they haven't come back. The only significant growth areas were for jobs in leisure and hospitality, health care and retail—sectors typically associated with low wages.

While Illinois still suffers from higher unemployment than the nation as a whole (5.9 percent as opposed to the nation's 4.9 percent), the change in the kind of jobs even those employed can get has impoverished the vast majority of people in Illinois. Those at the bottom, the lowest 20 percent, have seen a 15 percent decline in income; those in the middle have seen at least a 4 percent decline. And the median income for all but the highest earners in Illinois had declined by more than $5,000 per household. […]

Even with the Great Recession, Illinois's GDP grew by nearly $100 billion, from $586 billion in 2007 to $642 billion in 2015. It would have been good news if that growth had benefitted all. Instead, 97.2 percent of all income growth—that's right, 97.2 percent—went to the top 1 percent of wage earners, with the top 1 percent enhancing their individual incomes by 35 percent while we in the 99 percent saw flat growth (0.2 percent)

As of 2012, the average income of the top 1 percent in Illinois was $1,366,958, while the average for the 99 percent was $46,000 and change. In other words, the small group of those at the top had an average income 29 times that of the rest. Today in Illinois, 50 percent of us earn less than $36,000 a year; 20 percent, less than $15,000.

Some of this is not new. Illinois has long been one of 15 states where the rich have benefitted most in recent decades, with 64.9 percent of all growth going to the top 1% since 1979. For those with a sense of history, there is a more than a degree of irony here. The 1 percent's share of wealth in Illinois was virtually the same in 2007 as it was in 1928—22.5 percent in 1928, 22.8 in 2007—before unions and battles for racial and gender equality leveled the playing field for decades. All told, since 1979, Illinois' top 1 percent increased their incomes by 177 percent; the bottom 99 percent saw a decrease of 1.2 percent.
Not pretty.
- Posted by Rich Miller 37 Comments


* Mike Riopell…
But [Rep. David Harris, an Arlington Heights Republican] says Rauner's address showed there is room for compromise.

"We don't need everything on the list," he said. "He did not mention redistricting, he did not mention term limits. It can be argued that those things may not have a direct impact on the budget."
OK, but that still leaves local government collective bargaining "reform" (which will have to be drastically toned down because Rauner's proposal might actually be worse than his abandoned "right to work" demand since it takes just about all bargaining powers away from unions, but union members still have to pay dues), tort reform (despite all the screaming about venue shopping, I can see at least some value for having a centralized place to file things like asbestos suits so people aren't running all over the country), and workers' comp reform (ain't gonna happen the way Rauner wants, but there are alternative ideas, like number 5 on this list).
It's doable if the governor and the Democrats are willing to sit down and work things out.
* Related…
* Illinois' economy slips but also shows a little move up: A report out today does a pretty good job detailing the weakness of the economy in Illinois and, to a slightly lesser extent, other Great Lakes states over the past couple of decades. But in what the study sponsor says is somewhat of a fluke, it also shows Illinois' economic competitiveness improving a bit between 2012 and 2014… The good news: The state's overall competitiveness climbed from 46th in 2012 to 39th in 2014. Why the bump up if we're headed to Hades in a handbasket? "Overwhelmingly because of the overall economic recovery here" from the subprime recession, says chamber foundation Chairman Doug Whitley. "We have so many large and diversified companies here."
- Posted by Rich Miller 8 Comments


* Press release…
Governor Bruce Rauner today announced his support of legislation that would save Illinois public schools more than $200 million through unfunded mandate relief.

"Providing districts with this relief costs taxpayers absolutely nothing, but will save districts millions," Governor Bruce Rauner said. "By freeing districts from these costly mandates, schools will have more flexibility to invest their resources in classrooms and teachers. It's a win for students, parents, districts and taxpayers."

The legislation eliminates restrictions on third-party contracting, which eases limitations and financial pressures on school districts. This type of mandate relief is already provided to Chicago Public Schools and this legislation extends this relief to every school district in Illinois. In addition, it eases the requirement on schools to offer drivers education and physical education classes.

Third-party contracting relief, drivers education mandate relief and physical education mandate relief are three of the 27 proposals from the Government Consolidation and Unfunded Mandates Task Force.

"School district unfunded mandates drive up property taxes and limit local control," Lt. Governor Sanguinetti said. "As a mother of three, I think local school districts and parents should be deciding what's best for our children, not Springfield. We need to give the power and flexibility back to local communities and parents, and this bill does just that."

Illinois school districts have been forced to comply with nearly 150 unfunded mandates in the past 25 years, with the General Assembly enacting more than 135 unfunded mandates in the last 15 years.

"Mandate relief is an issue of critical importance to school districts across Illinois. Countless state mandates impact nearly every aspect of every district across our state," said State Senator Jason Barickman (R-Bloomington), the chief sponsor of SB 3098. "Relief from these costly mandates is essential to giving districts the flexibility they need, and allows them to direct their limited resources to the classroom, where they are needed the most."

"Schools desperately need relief from burdensome unfunded mandates that are passed down to them by the state and federal government," said State Representative Ron Sandack (R-Downers Grove), chief sponsor of HB 6164. "The provisions of this bill will give our local schools a great deal more flexibility so they can make their educational offerings more student centered and cost effective."
Chicago has an exemption on janitorial services (which has been a disaster), but this legislation appears to cover every service.
* From the proposal's synopsis…
In provisions allowing a board of education to enter into a contract with a third party for non-instructional services currently performed by any employee or bargaining unit member, removes a provision that requires any third party that submits a bid to perform the non-instructional services to provide a benefits package for the third party's employees who will perform the non-instructional services comparable to the benefits package provided to school board employees who perform those services.
*** UPDATE *** As the Chicago janitorial contract clearly shows, school districts are often not careful enough when they contract out. One suburban school is having a big problem now…
Thousands of students are in jeopardy of going without a hot lunch or breakfast in Elk Grove Township Elementary District 59 starting in May, when food service provider Sodexo plans to withdraw early from its contract.

Superintendent Art Fessler said Sodexo officials told the district they lost $500,000 last school year and are on track to lose another $500,000 this year if they stay on through the end of the annual contract.

Now the district is scrambling to find a new food vendor to prepare meals between May 1 and June 15, the last day of school. […]

Larry Fullmer, a Sodexo district manager, said in an emailed statement that "unforeseen economic circumstances and operational challenges" led to the company's decision to exercise a termination clause in its contract with District 59.
- Posted by Rich Miller 52 Comments


* The Tribune crunches the numbers…
(T)he state faces a $6.6 billion budget deficit. Under the proposed budget, Rauner assumes he'll be able to find $2.7 billion in savings by reducing health benefits of state workers, reining in state payments for pensions and making agencies operate more efficiently. But Rauner would need help from lawmakers and a new contract with state workers to realize much of those savings. The governor also is hoping to avoid having to pay back $454 million that his administration borrowed from special funds last year to help get through the budget impasse [but he'll need legislative approval for that as well].

That leaves a roughly $3.5 billion hole. Rauner didn't spell out how he would bridge it.
And yet he vetoed a budget that was $4 billion out of whack.
* Related…
* Editorial: State budget speeches 2, actual state budgets 0
- Posted by Rich Miller 18 Comments


* The anti-Chicago stuff never ends with this governor…
"President Cullerton and some others have made a threat," said Governor Rauner. "They've basically said, publicly, 'We won't support funding schools, unless we come up with a plan to bailout Chicago.' This is a big deal – big deal. That is not fair to the students and the families of Illinois, that we hold up school funding for a Chicago restructuring and a bailout. Chicago Public Schools has been mismanaged for decades," said the Governor.
Um, no.
What Cullerton and others want is a much more fair, just and equitable school funding formula that would de-emphasize sending money to wealthy school districts (like the one the governor lives in) and instead refocus the General State Aid formula to benefit poorer districts.
* I know the governor understands this because of his remarks to the Illinois Legislative Black Caucus Wednesday night…
"We do not have a fair way to pay for our schools in Illinois. We overly rely on local property taxes, which means low income kids have to have lower income schools. That is not fair. That is not what America is about. That is not equal opportunity.

"We're gonna change the way we pay for our schools. We're gonna rely less on local property taxes and rely much more on state General Aid for schools. And increase that state aid so it goes disproportionately to low income schools. We're going to get that done. Working together, we'll get that done."
He says one thing to reporters and the complete opposite to black legislators.
Enough.
If you want to work together to get something done, then start doing it.
- Posted by Rich Miller 33 Comments


* From a commenter…
One of your commenters said something about every time Madigan said something about Rauner and "extreme" he thinks of the 90's band of "More than Words" fame.
In case you don't remember the song or the band, click here. Just a warning, though, it'll give you a nasty case of ear worms.
* The commenter said he was bored last night, so he took the concept "to an illogical Onion level" and created a fake press release…
Surviving members of Extreme seek to distance selves from Rauner agenda

"More than words," said former lead singer.

SPRINGFIELD, IL — Faced with yet another round of withering political criticism from ranking Democrats regarding Republican Gov. Bruce Rauner's agenda, surviving members of the once-popular 90's band Extreme sought to distance themselves from the first-term governor's policies.

"This is more than words," said Extreme frontman Gary Cherone, who, along with bandmate Nuno Bettencourt, climbed the Billboard charts with the band's 1990 album Pornograffitti.

Cherone said he personally tried to contact Rauner earlier this week to encourage him to drop his Extreme agenda.

"I've tried to talk to him and make him understand," Cherone told reporters who gathered for the band's hastily assembled press conference.

The plea from the band was ignored, according to numerous sources, and Rauner again called for approval of his agenda during his Wednesday budget speech.

Extreme's public efforts to distance themelves from Rauner's agenda come as Illinois House Speaker Michael Madigan launched yet another criticism of the governor.

"We're all better served … if we follow the traditional approach, people become reasonable with each other, move away from Extreme agendas, recognize that the No. 1 problem facing the state of Illinois is the budget deficit," Madigan said following the governor's budget speech.

Madigan, an influential Chicago Democrat, over recent months has similarly derided Rauner-backed political ads as "Extreme" and repeatedly encouraged the governor "to stop operating in the Extreme."

Cherone, who confessed the situation had torn his heart in two, said the band could no longer remain silent in decades-old obscurity and decided to go public in an effort to make it clear that while Donna Arduin did in fact attend a 1991 performance at the Lansing (Mich) Civic Center, there is not now nor has there ever been any formal tie or coordination between Extreme and any member or associate of the Rauner administration.

Contacted Friday, the governor's office had the following response: "Lad di da da di da. Thanks, ck," Catherine Kelly said.
- Posted by Rich Miller 26 Comments


* Sun-Times…
A day after Gov. Bruce Rauner accused a broke Chicago Public Schools of getting special treatment from the state, his handpicked state education team launched a financial investigation of Illinois' largest school district that could lead to the takeover the governor is seeking.

CPS must turn over detailed financial information about cash flow, bonds, payroll and major contracts by March 4. That's according to a letter sent Thursday by Tony Smith and James Meeks, the superintendent and the board chairman of the Illinois State Board of Education, about CPS' "concerning financial situation."
* Tribune…
ISBE said CPS was put on "financial watch status" in March 2015. That allows the state to require financial information "relevant to a proper investigation of the district's financial condition and the delivery of appropriate state financial, technical, and consulting services to the district," ISBE said in its letter.

Financial information sought by state officials also includes three-year financial projections and assumptions, monthly payroll amounts and debt schedules that could determine if more state aid or other revenue are needed to pay off debt instead of financing operations.

"As you may be aware, an investigation into a district's financial condition is the first step in a process of determining if conditions exist for 'certification of financial difficulty,'" ISBE said in its letter. […]

A CPS spokeswoman said much of the information requested by the state is already publicly available and repeated the district's position that Rauner has no authority under state law to impose any oversight. She suggested that the governor, by calling for a law to allow CPS to declare bankruptcy, was responsible for the extraordinarily high interest rates the district recently paid to borrow $725 million.
* CBS 2…
A CPS spokesperson released a statement blaming Rauner for harming CPS's finances.

"CPS has cut its budget deficit by nearly a third, and done everything in our power to keep cuts from our classrooms," the statement said, in part. "The last time Governor Rauner offered his financial advice … Chicago taxpayers were forced to pay even more for our bonds, and we cringe at what his latest venture could cost our children."
* More…
Claypool retorted that the state's arrangement with its largest district, where nearly eight of nine children are poor, is a "raw deal," and he urged other districts by name to lobby for a fairer funding formula.

"We have to come together as citizens of this state to fight against the governor for the children who are most disadvantaged," Claypool told reporters,. "That is a statewide issue. It is important to us in Chicago but it's important in communities throughout the state of Illinois."
The ISBE letter is here.
* Meanwhile…
A state board that oversees school labor disputes ruled against immediately reinstating raises for education and experience to members of the Chicago Teachers Union, but could reconsider the teachers' request at a later trial.

A cash-strapped Chicago Public Schools told the union over the summer that it wouldn't pay the "steps and lanes" raises while the parties negotiated a new contract to replace the one that expired June 30.

In November after several months of bargaining, the union filed a grievance with the five-member Illinois Education Labor Relations Board asking for immediate help. Three of the board's members were appointed by anti-union Gov. Bruce Rauner.
The ruling was unanimous.
- Posted by Rich Miller 61 Comments


* From ICPR…
Hi Rich,

Here's this week's Illinois Sunshine update - we added up all of the funds on hand for both parties, and found that Dems have over $34 Million and the GOP has over $28 Million.

Just one month before the March 15th Illinois Primary, both political parties in Illinois have amassed major war chests to aid their goals of upsetting (or defending) the balance of power in state government. The Democratic side, consisting of Senate, House, Leadership, and Party Committees, currently holds over $34 Million. Illinois Republican funds, consisting of those plus the Governor's committee, currently have over $28 Million ready to spend. The top three Super PACs in the state, each with an individual balance of over $1 Million, have a total of $16 Million in the bank.

This all amounts to nearly $80 Million in cash on hand between both parties. This is in addition to the $17 Million already spent in the first month and a half of 2016.

Democratic funds come mostly from rank and file committees and the Leadership committees (which have fewer contribution limits than a normal PAC.) The Republican side is financed mostly by the Governor's candidate committee, which maintained an impressive and steady balance for most of 2015.

Senate, House and Super PACs

The 39 Democratic State Senators have over $10 Million in their committee funds, while the 20 Senate Republicans have $2.8 Million. Of that $2.8 Million, $550,000 comes from Republican Leader Christine Radogno's PAC. Another $300,000 is from the committee for Sam McCann, who faces a fierce primary race for the 50th District.

In the House, the 71 Democratic members have raised $16.8 Million, while the 47 Republicans have only $4 Million available. Illinois House Republican Leader Jim Durkin's committee makes up $820,000 of House Republican funds.

Last but not least, there are three Super PACs that have set themselves apart in this election cycle by raising far more than any others (the fourth most funded, Personal PAC, has $690,707 on hand.) These totals are not included in the parties' "Total Funds" above, but there are clear links between two of these committees and the Republican Party. The goal of Turnaround Illinois is to support the Governor's agenda, and it has become the second highest donor to Liberty Principles PAC. The two groups also share donors. The IllinoisGO connection is more tenuous, but many believe it exists to fund Democrats who are willing to support the Governor's agenda. Their heavy involvement in the Dunkin vs Stratton race has given weight to this theory.

These groups have already made a statement in certain races, and will almost certainly continue to do so until the General Elections in November.

Here's the link to the entire update: http://conta.cc/24cVDmd. It is also included below.

Best,

Sarah Brune
Executive Director
Illinois Campaign for Political Reform
- Posted by Rich Miller 15 Comments


* I had a brief moment of levity with Gov. Rauner last night. I was at the Illinois Legislative Black Caucus' annual dinner and saw an AFSCME lobbyist with a small green button. I asked if I could have it so I could give it to the governor, who was a few feet away…
Rauner: What's this?

Me: It's a present. Put it on.

Rauner: What does it say?

Me: 200 Percent Union.
Rauner laughed and said he'd never wear it but would add it to his collection and put it in his pocket.
* So, at least I covered myself. Any other gift ideas? Humor only. No meanness, please…
Join us in wishing @GovRauner Happy Birthday! Sign his card here: https://t.co/hzaXCRI9Ft pic.twitter.com/sI7srdRKj2

— IL Republican Party (@ilgop) February 18, 2016
- Posted by Rich Miller 106 Comments


* Fox Springfield…
The running total on Comptroller Leslie Munger's website shows the state has a bill backlog of more than $7.1 billion.

A senior Rauner administration official says the governor is not opposed to borrowing to start paying it off.
* The Question: Should the state borrow to pay off its bill backlog? Take the poll and then explain your answer in comments, please.
polls & surveys
- Posted by Rich Miller 74 Comments


* Illinois has had a "performance-based funding" statute on the books (Public Act 097-0320) since 2011. The idea is pretty good and it has received some national kudos. A brief explanation from the governor's office…
- The universities' performance formula generally focuses on:

o Completion data, including degrees awarded and degrees per 100 students
o Time to degree data, including graduation rates in 150% of time (6 yrs for a BA)
o Cost efficiency, including cost per credit hour and cost per completion
o Success of diverse populations, including Pell-eligible, adults over 25, African-American and Hispanic students
o Success of student pursuing high-need fields, specifically STEM and healthcare
o 3 year averages of all data

- The community colleges' performance formula generally focuses on:

o Completion of degrees and certificates, including a focus on at-risk students
o Transfer rates to a four-year institution
o Advancement of remedial students and adults over 25
o Momentum points
* This is an incentive program. But the state hasn't put much money behind the effort in the past, so the schools haven't really paid much attention to it.
In FY 15, for instance, just $6 million was allocated for universities and only $352K for community colleges.
Gov. Rauner's new budget has greatly upped the ante, with $50 million for four-year schools, and over $9 million for community colleges.
* The problems facing higher education right now are existential, with several schools on the brink of closing. So, this program is admittedly small-ball stuff. But it's also the sort of thing we should be doing more of… if only we had a budget.
- Posted by Rich Miller 22 Comments


* From the Illinois Department on Aging's budget book…
Enrollment in the Department on Aging's Community Care Program (CCP) has significantly grown over the past 10 years, from 40,965 enrollees in 2005 to 83,787 enrollees in 2015, a 105% increase over a decade. Looking forward, the growth in Illinois' aging population will also more than double by 2030, with an expected 57 percent increase in individuals aged 60 plus over the next 15 years. Sustaining CCP as it exists today will cost an additional $93.3 million in the next six years assuming the completion of the managed care transition by FY2018.

* The Community Reinvestment Program is a new initiative targeted to older adults who are not eligible for CCP who need assistance to live independently in the community.

* The initiative represents a long term strategy to maintain community-based supports for our current aging population as well to address the anticipated growth in the population its first year at a funding level of $225 Million.

* Transition individuals who are non-Medicaid eligible to a new Community Reinvestment Program ("CRP").

– Non-Medicaid eligible clients will have their DON score applied to the new service cost maximum table to derive a new individual spending allocation.
– CRP will provide greater flexibility of services. The AAA Network (Area Agency on Aging) will be utilized as the mechanism for the coordination of preventative services.
– Similar to other states, Illinois' approach will maintain a service package for individuals that do not meet Medicaid eligibility requirements.
– This approach will maintain the Department's commitment to maintaining individuals in their own home and community and delay the number of admissions in nursing facilities, which is currently a large portion of the Medicaid budget at $1,583,008,257 per year out of the total spending for Medicaid Long Term Care.
* SEIU Healthcare is calling this an almost $200 million budget cut for 44,000 seniors…
1) The Bruce Rauner proposed FY17 budget dramatically cuts home care for seniors through a $197.6 million cut to the Illinois Department on Aging budget.

2) The Rauner budget would do this by splitting the Community Care Program (CCP), which currently provides home care services for roughly 84,000 seniors, into two programs: one for those covered by Medicaid, and a new "Community Reinvestment Program" for seniors not in Medicaid.

3) This proposal, if implemented, would have a substantial negative impact on the 43,700 seniors who the Rauner budget indicates would be moved to the "Community Reinvestment Program"

· The $197.6 million cut represents average cut of $4,520 in services annually per affected senior
· $4,520 is a 43% cut in services compared with the average amount of services seniors receive currently.

4) In CCP right now, the average cost of care per senior per year is roughly $10,430. The average cost to Medicaid of a nursing home is around $52,000 a year, or about five times as much.

5) The Rauner budget gives NO DETAILS about the nature of these cuts. The Illinois Department on Aging Budget presentation indicates that for seniors moved to the "CRP"

· There would be a different set of services available than those available to them now
· There would be different set of service cost maximums their services could not cost above.
- Posted by Rich Miller 20 Comments


* At first glance, Congressman John Shimkus' TV attack ad about state Sen. Kyle McCarter looks even more unbelievable than the Club for Growth spot which accuses Shimkus of being one of the most liberal Republicans in Congress.
But the Shimkus folks did their homework, even if their rhetoric is way over the top. Watch the spot by clicking here.
* Script…
It's Washington vs. you. Washington insiders picked Kyle McCarter. In Springfield he sides with the Chicago machine, voting to urge Congress to create Obamacare, and funding Planned Parenthood. Kyle McCarter doesn't even live in our district. John Shimkus does. He's fought Barack Obama, voting 66 times to limit or repeal Obamacare. It's Kyle McCarter and the Washington insiders, or John Shimkus and you.
* From SR 254…
Resolves that the time for a national solution to the American healthcare crisis that threatens the economic and physical health of the people of Illinois and people across the country is now and recognizes the urgent need for a national solution to the healthcare crisis that meets key criteria for comprehensive health care reform set forth by President Obama and Health Care for America Now.
Believe it or not, McCarter is recorded as voting "Yes" on that resolution.
And House Amendment 4 to SB2454 appropriated funding for "Family Planning Programs." McCarter is recorded as voting "Yes."
That's gonna leave a mark.
* Meanwhile, here's Sen. Sam McCann's new TV ad…
Script…
Hi. I'm Sam McCann. Representing hard working people, making sure their voices are heard. That's the most important thing I do. Sometimes that upsets powerful people, but that's okay. Sticking up for you and what you believe is what's important. That's what this race is really about. I'm being attacked because I did what was right for this district. Powerful politicians shouldn't be able to punish hard-working families. Not if I have anything to say about it. I'm Sam McCann, asking for your vote.
Discuss.
* Related…
* Bernard Schoenburg: Local Republican leader critical of Gov. Rauner's 'ambush' at GOP Lincoln Day Dinner
- Posted by Rich Miller 35 Comments


* From the governor's press office regarding the House passage this week of the so-called AFSCME "no strike" bill…
"Illinois taxpayers cannot afford HB 580 – it's a $3 billion tax hike masquerading as a labor bill. If it becomes law, it will dig Illinois' fiscal hole even deeper, further squeezing social services and, ironically, it will lead to layoffs.
* Tribune editorial…
On Tuesday, Madigan's House dissed the governor by passing a dangerous bill that would take the AFSCME negotiations out of the governor's hands and submit the two sides to binding arbitration. A three-member panel would look at AFSCME's desires and the governor's offer and pick a winner. No let's-split-the-difference compromise based on what Illinois could actually afford. Just pick a side. Feel lucky? The Rauner administration doesn't. The stakes are absurdly high: The union's demands could add another $3 billion in spending over the life of the contract.
* Part of AFSCME's response…
The governor's wildly exaggerated claim appears to reflect not union proposals but existing costs. AFSCME's proposals on general wage increases would average just $58 million a year more than Rauner's proposals over four years. AFSCME's proposals on health care, steps, overtime and holiday pay do not increase status quo costs or employee compensation. Moreover, AFSCME has made clear that its latest proposals are not its bottom line, and that in contrast to the Governor's adamant refusal to continue negotiating, the union is willing to negotiate further.
* Here's the union's cost comparison of wage proposals on the table in January, when talks ended. These are year by year, beginning Fiscal Year 2016 through FY 19…
* So, I asked the governor's office for deets and they sent me this…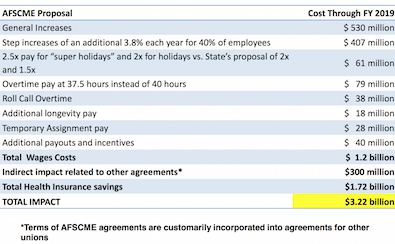 * I then asked AFSCME for a more detailed rebuttal…
Rich —

Here are the facts of the administration's purported $3 billion claim. Clearly, as stated in what we provided to you yesterday, their numbers are wildly exaggerated and attempt to misrepresent status quo provisions as if they reflected new or added costs.

General Wage Increase- The administration's figure is $530 million, including rollup for FICA and pension); my number is $497 million over four years. Either way it's pretty close.

Step Increase- Their number is inflated by the inaccurate assumption that all step-eligible employees will receive steps for all four years of the contract. In fact, of the 40% of all employees eligible to receive steps, nearly half (45%) will reach the top step prior to the last year of the contract. Further, their calculation neglects the attrition savings that, as we pointed out yesterday, generally make steps cost-neutral (that is, steps are paid for by the savings realized when employees retire at step 8 and are replaced by new hires at step 1). Finally, the Union proposal does not change the current agreement so does not represent a new or additional cost.

Holiday Pay- The Union's proposal does not change the current agreement, so this does not represent a new or additional cost.

Overtime Pay- The Union's proposal does not change the current agreement, so this does not represent a new or additional cost.

Roll Call Overtime- The Administration withdrew its proposal and agreed to current language, so this does not represent a new or additional cost.

Additional Longevity Pay- The Union on Jan. 8 withdrew its proposal to increase longevity pay.

Temporary Assignment Pay- The Administration withdrew its proposal and agreed to current language, so this does not represent a new or additional cost.

Additional Payouts and Incentives- I have no idea what this refers to.

Indirect Impact of AFSCME agreement- The administration is charging $300 million in phantom costs that are associated with the impact of the AFSCME agreement on other union agreements. Those costs should be assigned to those other collective bargaining agreements, not AFSCME's.

Health Insurance Savings- As we explained yesterday, the union's health insurance proposal essentially represents the status quo, so it does not represent a new or additional cost. The Administration claims a value of $1.72 billion, which I suspect they produce by multiplying the savings in their FY 17 proposed budget ($566 million by 3 years). However, this savings is for the entire group health insurance program. Of the approximately 275,000 active employees and dependents enrolled in the state's group health insurance, I estimate that just 80,000 (about 30% of the total) are AFSCME members and their dependents. So here again, the Administration is jacking up purported costs by including costs associated with other state employees and university employees, not just the 38,000 AFSCME state employees.

I hope this is helpful to you.

Martha Merrill
Director of Research and Employee Benefits
AFSCME Council 31
- Posted by Rich Miller 52 Comments


* WGN TV…
Hillary Clinton had some harsh words for Illinois Gov. Bruce Rauner and Illinois Republicans Wednesday during a campaign rally in Chicago.

"When I look at what's happening here in Illinois, the Republican agenda to roll back the clock on everything that made the middle class strong in the 20th century, it's pretty terrifying," Clinton said.
* Sun-Times…
Clinton also took swipes at Rauner, who gave his budget address Wednesday despite the fact that the state had operated without a budget for more than eight months because of gridlock in the Legislature over the governor's "Turnaround Agenda."

"His plan would turn Illinois around, all right," Clinton said. "All the way back to the time of the robber barons at the start of the 19th century."
20th Century. 19th Century.
Does she ever talk about the future?
* No offense meant at all to senior citizens, but Clinton not only talks mainly about the past, she also seems to surround herself with older people, and then wonders why she isn't attracting any young folks to her campaign…
Tuesday night in New Hampshire, 83% of voters aged 18-29 chose Sanders, according to exit polls. And those voters were a full one-fifth of the electorate. Sanders also won 78% of first-time voters. The only age demographic Clinton won? People 65 and older. […]

Clinton lost the vote among women Tuesday night, 44% to Sanders' 55%, according to exit polls.
She also got clobbered among younger women.
* And guess who her new state press secretary is…
Delmarie Cobb named Illinois Press Secretary for the Hillary For America campaign on Feb. 2, 2016. Since then Ms.Cobb no stranger to politics has been busy on the campaign trail making sure that Hillary is not only visible in Illinois but that she connects with the community.
Yes, the same person who backed Clinton in 2008 and who derided the Obama campaign's pursuit of young voters. The same person who called Obama's supporters kool aid drinkers. The same person who said, when speaking of her client Roland Burris, "We should be happy as Illinois citizens, because now we actually do have a senator who wants to be there."
Of all the people who could've been chosen to be the face of Clinton's campaign here and it's Delmarie Cobb.
* She's probably gonna murder me for suggesting this, but wouldn't somebody like Rikeesha Phelon have been a much better pick? She's young, respected by just about everyone and, above all, she has mad skills.
American politics is always about the future. Well, at least it is for the winners. Losers generally inhabit the past.
/rant
- Posted by Rich Miller 75 Comments


DOA
Thursday, Feb 18, 2016
* Tina Sfondeles at the Sun-Times…
According to Rauner's budget documents, he's proposing $36.3 billion in spending but just $32.8 billion in revenue. The $3.5 billion difference is for "working together or executive management," according to an administration official.
Forgetting for a moment that this fiscal year's deficit isn't addressed in next fiscal year's budget proposal (which makes it even further out of whack), let's take a look at this "executive management" proposal.
* From the budget book…
• Establish a wide array of spending reserves recognized and clearly enforceable by the comptroller;
• Reduce provider rates that are currently set in statute;
• Reduce or modify statutory transfers out of any state funds;
• Reallocate balances from other state accounts into general funds; and
• Alter or delay payments under continuing appropriations.

Passage of this legislation would allow the executive branch to make the needed spending reductions to bring spending in line with revenues and balance the budget. If enacted, the governor would neither reserve nor reduce General State Aid or early childhood education funding, ensuring we balance the budget while maintaining early childhood and General State Aid as our state's top priorities. Furthermore, the governor would closely consult with the general assembly in making the difficult decisions necessary to balance the budget. In addition to protecting funding for General State Aid (K-12) and early childhood education, these powers could not extend to the Road Fund, debt service or payment of pension benefits to retirees.
The powers are extraordinary…
"I am troubled by proposals that would appear to return to the days of skipping pension payments and raiding local funds to prop up state spending. That won't help our state and it won't help our local communities," Cullerton said in a statement.
Remember how the governor came after local revenue sharing money last year? Well, every mayor in the state ought to be freaked out about this request.
* But, whatevs. It's not going anywhere…
Giving Rauner more budget power seems equally unpopular among Democrats. State Rep. Elaine Nekritz, a Northbrook Democrat, said the idea "gives me a lot of pause."

House Speaker Michael Madigan, a Chicago Democrat and Rauner's chief budget foil, highlighted their differences when asked about Rauner's argument that previous governors have been given additional budget-cutting powers and pressed for what was different this time.

"The person occupying the governor's office," he said.
- Posted by Rich Miller 49 Comments


* From Gov. Rauner's budget address…
We must fully fund this foundation level as a first step toward reforming our school funding formula. Our current formula doesn't meet the needs of our children. Past attempts to fix the formula didn't work because they pitted communities against each other.

This year, we are already seeing this cynical strategy being deployed. After years of financial mismanagement, our largest school system is threatening a lawsuit against the state. Such a course could set back funding formula reform for years to come, and ignores reality.

Not only did Chicago Public Schools ask for the current arrangement, they are benefiting from a special deal. CPS receives an extra $600 million more every year than school districts with similar student demographics. Any school funding reform proposal that involves taking money from one school district and giving it to another, is doomed to fail.
OK, first of all, if a federal lawsuit is filed and the plaintiffs win based on discriminatory school funding (and we're worst in the nation, according to Senate President John Cullerton, which leads him to believe a suit could be successful), then that'll radically change the playing field in favor of places like Chicago.
* Now, onto that $600 million figure. It was featured prominently in a recent Tribune op-ed by Senate Republican Leader Christine Radogno…
• Chicago has 18 percent of the state's special education student population, but it receives 30 percent of state special education block grant funding.

• Chicago has fewer than 19 percent of all students in the state, but it receives approximately 27 percent of the state's personal property replacement tax paid by corporations.

• Chicago has 30 percent of all low-income students in the state, but it receives more than 50 percent of all free breakfast and lunch dollars, 42 percent of poverty-based education funding and 37 percent of early childhood funding for at-risk students.

• Chicago's population accounts for 25 percent of communities that receive supplemental property tax funding, yet CPS receives 88 percent of Property Tax Extension Limitation Law (PTELL) adjustment dollars.

All told, sweetheart deals yield CPS an additional $600 million in state education funding.
* I asked the Senate Democrats for a response…
Rich,

Two docs attached.

1 – Staff memorandum walking through legislative history that got us to the current school funding formula, along with staff's rebuttal to Leader Radogno's Trib op-ed from early December, and a walk up to how the SGOP maybe got to their $600 million figure

2 – An ISBE report indicating that if CPS were treated like all other districts, they would've received an extra $219.3 million from the state (not $600 million)

Both are exciting reads for a Wednesday night.

Enjoy.
* According to the SDEM staff memorandum, Rauner and Radogno are counting personal property replacement tax money received by both the city of Chicago and CPS. So, an argument about school funding ought to stick to school funding and not include municipal funding.
The staff memo also points out that the PTELL adjustment formula for CPS is the same as for all other districts…
• The adjustment corrects the "double whammy" problem that existed in the GSA formula for tax capped districts:

o Districts subject to PTELL cannot collect as much revenue as they might if they were not capped.
o The General State Aid Foundation Grant formula assumes that they can access a certain percentage of local property wealth, which tax caps prevent, and so those districts would lose out on GSA Foundation funding.

• The adjustment has nothing to do with enrollment in a district but instead compares the current Equalized Assessed Valuation (EAV) of the district to the EAV at the time the district was subjected to tax caps.
The staff analysis claims that if the $58 million in PPRT was taken away from CPS, the district would get $50 million back from the foundation formula grant.
* You think pensions are hard to understand? Try school funding.
- Posted by Rich Miller 32 Comments


* The governor's budget book explains his pension reform plans. Here's one of them…
Funding Formula Based on Payroll

The funding formula that determines the state's annual contribution to the pension systems sets the contribution at a level percentage of payroll for the years remaining in the funding schedule to try to provide a level of certainty in annual payments. Over the years, changes to the pension systems have excluded some payroll from the funding formula. Beginning in fiscal year 2017, the proposed plan calls for all payroll to be included in the calculation of contributions in order to provide more level payments. This would include the payroll for "Tier 2" members (those first hired after December 31, 2010).
Phase-In of Assumption Changes

The proposal includes a five-year phase-in of state contribution variations (up or down) caused solely by changes in actuarial assumptions (including revised investment return and discount factor assumptions) as set unilaterally by each pension system board. Changes in assumptions have increased pension liabilities by more than $12.5 billion in the last two years, causing significant deviations from the initially projected State contributions. Increases or decreases in state contributions attributable to assumption changes would be smoothed in over five years, which is the same period used for smoothing the effect of the deviation of actual investment returns from return assumptions. This phase-in will facilitate long-term planning for state pension contributions and will reduce payment volatility.
* From Sen. Daniel Biss, who has worked on pension reform for quite a while now…
Just an FYI:

What BVR calls "Funding Formula Based on Payroll" and "five-year phase-in of state contribution variations" both create "savings" by totally artificially and unjustifiably backloading the payment schedule.
* I asked him to explain…
"Funding formula based on payroll" means this:

We're supposed to fund our pensions based on a "level percentage of payroll". So the actuaries project how much payroll will grow over the years and that determines how steep the ramp is. If they assume payroll will grow fast, that results in a more backloaded funding schedule; if they assume it will grow slow, that's a more frontloaded schedule.

This proposal says that instead of basing it on payroll which counts toward the pensions, it's based on total payroll. What's the difference? Total payroll includes salary that's above the pensionable salary cap. But because the salary cap grows more slowly than the top salaries (ESPECIALLY for Tier 2 but likely also for Tier 1), that means they're replacing the correct definition of payroll with a totally irrelevant one that happens to grow more quickly and therefore backloads the payments.

"Five-year phase-in of state contribution variations" means that when the pension board drops the investment return assumption, instead of making the proper (larger) payments based on the new assumption, they're phasing that change in over 5 years. So the pension board says "we expect 7.5% investment returns" and the state says "OK, well we'll start paying attention gradually, but only completely do what you tell us is required in 5 years." In other words, during the course of those 5 years the state is deliberately putting in less money than the pension board expects to be necessary to meet the funding target.

What's frustrating is that you can play these games forever. This stuff is complicated enough that if your goal is to find some confusing but ultimately bogus justification to pay less you have a very target-rich environment. I thought we weren't supposed to do that any more though!
Biss is such a poindexter.
- Posted by Rich Miller 68 Comments


* According to the Chicago Tribune editorial board, nobody but dorks should fret that the governor submitted a clearly unbalanced budget yesterday…
Gov. Bruce Rauner addressed the Illinois General Assembly on Wednesday, outlining his plans for next year's state budget. The poindexters whipped out their calculators.

But the crucial takeaway was broader than an exercise in number-crunching: We're at the end of the road in Springfield. No more pavement, nothing but dirty orange barricades and languid yellow warning lights.
* But a pox on that unbalanced budget approving General Assembly…
No one would have guessed on June 25, 2015, when Rauner vetoed the unbalanced-by-$4-billion budget Democratic leaders sent him, that the state would have no spending plan today. Yet here we are.
Unreal.
- Posted by Rich Miller 74 Comments


* Instead of being a horrific outlier, we're apparently more like America than any other state…
Hi Rich,

With the results of the earlier primary-election states greatly affecting which candidates stay in the presidential race — raising the question of which state truly deserves the top spot in the primaries — the personal finance website WalletHub today released its 2016 Electorate Representation Index.

To determine which states fairly represent the U.S. electorate, WalletHub's analysts compared the 50 states to the U.S. across five key categories: 1) Sociodemographics, 2) Economy, 3) Education, 4) Religion, and 5) Public Opinion.

Illinois' Resemblance to the U.S.

Overall Electorate Representation Index: 94.35%

Individual Category Index:

Sociodemographics: 96.93%
Economy: 96.62%
Education: 97.09%
Religion: 87.67%
Public Opinion: 93.45%

For the full report, please visit:
https://wallethub.com/edu/electorate-representation-index/18190/
- Posted by Rich Miller 25 Comments