* From a Mark Kirk campaign polling memo…
GS Strategy Group conducted a statewide survey of 600 likely general election voters in Illinois March 30-31, 2016. The survey yielded a margin of error of +/- 4.0% at the 95% confidence level. The survey tested a number of issues, including the current state of the U.S. Senate race in Illinois along with some current event issues that are important to both Illinois and the United States. Below are some key findings from the survey.

THE UNITED STATES SENATE RACE

Today, the race for U.S. Senate in Illinois between Mark Kirk and Tammy Duckworth remains incredibly tight (Duckworth 42.7%, Kirk 39.6%), and almost 18% of voters are undecided. Independent voters are nearly evenly split in their choice between Duckworth and Kirk.

Kirk's numbers are strengthened by voters' belief that he is an independent voice for Illinois in Washington, DC. By 2:1, respondents agreed with the statement Mark Kirk is a thoughtful, independent leader. This positive definition of Kirk as a thoughtful, independent crosses the political spectrum, with even a plurality of Democrats agreeing (33%) and by a 3:1 margin, independents agree (48% to 16%).

U.S. SUPREME COURT NOMINATION

Over 60% of voters say the U.S. Senate should hold hearings and a confirmation vote for President Obama's nominee to the Supreme Court. Illinois voters know about Mark Kirk's independent position on the issue, bolstering his moderate image.

NATIONAL SECURITY

By large majorities, Illinois voters believe there is a likely chance America will be the target of another terrorist attack within the next year, with more than half of respondents saying it is extremely (27.6%) or very (28.1%) likely. Additionally, nearly 60% agree with Mark Kirk's position that we should not allow Syrian refugees into the U.S. until it can be done safely. National security issues are a major vulnerability for Tammy Duckworth's candidacy.

When voters learn about Kirk's and Duckworth's positions on the issues, Kirk's record wins. From the Syrian refugee crisis to her economic record to her failures at the VA, Duckworth is vulnerable on her extreme record.

Bottom Line: While the ballot test between Mark Kirk and Tammy Duckworth remains incredibly tight, the issues voters are focused on and most passionate about provide an edge to the Kirk campaign. Duckworth's positions on key national security issues, such as her support for allowing 200,000 Syrian refugees into the US, put her at odds with the great majority of Illinois voters. Further exacerbating the challenges to her candidacy are her clear partisan record and failings at the VA.
The full memo with more questions and results is here. Make sure to take a look at them.
* The claim that Illinoisans know about Kirk's position on the Supreme Court issue is only partially true. A large plurality believe he did show independence, but even more don't know…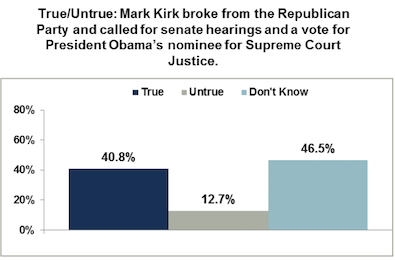 That will change, obviously, as the campaign kicks into higher gear.
* And check out these results…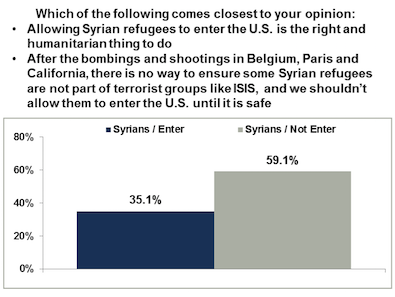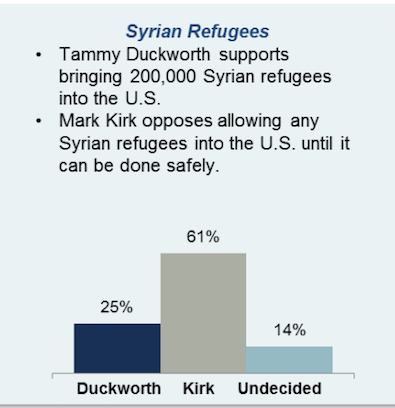 Duckworth flatly denies she ever said she wanted to accept 200,000 Syrian refugees, but a recent WaPo article on the topic quotes some Chicago reporters as saying she did. Duckworth may have misspoken, but whatever. I don't expect Kirk to ever give up on that one.
23 Comments




































































Sorry, comments for this post are now closed.