* If you don't know him, let me assure you that Kyle Hillman ain't no Raunerite. Here he is on Facebook today…
This was a photo of an elementary school in my neighborhood. That is lead paint falling on kindergarten rooms. This school STILL has lead paint falling in hallways.

CPS knew about this. They knew the school fire doors worked improperly, that the fire alarm was broke in the main building. All of these were considered OK.

The school has been gutted by a funding formula CPS put in place. The school has no technology teachers, no librarians, after-school programs have been gutted and our social worker is hanging on by the grace of his nonprofit.

You know what they do get in Illinois Prisons? Library Services! Mental Health Services! Educational Services.

So yeah the Governor's solution of REDUCING funds for CPS is madness, but what he said today wasn't wrong. If Claypool doesn't want his schools to be called worse than prisons… FIX THEM!

"Frankly, the Governor's comments comparing Chicago schools to 'crumbling prisons' are disrespectful and beneath his office." via Claypool.

You know what is really disrespectful and beneath (their) office? Allowing schools like this to happen, our Mayor owns this.
* Kyle's photo…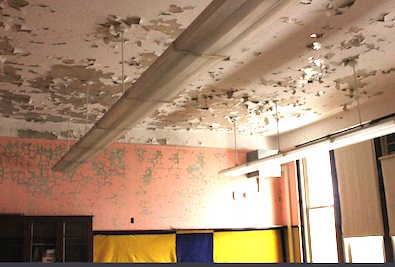 …Adding… Kyle says this pic was taken in Gale Elementary in Rogers Park.
* On the other hand…
On a day that saw both Gov. Bruce Rauner and Mayor Rahm Emanuel refer to Chicago's public schools as "prisons" — Emanuel admittedly caught in a slip of the tongue — supporters of CPS took to social media to prove the politicians wrong.

#NotAPrison became a rallying cry on Twitter for parents, teachers and administrators. They posted examples of good things happening in the city's schools — in spite of a funding crisis — from talent shows to campus cleanups, and even the occasional hug.
42 Comments





























































































































Sorry, comments for this post are now closed.